What are the best wood carving tools for beginners? If you're just getting started in wood carving, you may be overwhelmed by the sheer amount of different wood carving tools out there and not know where to begin.
As a result, we've compiled a list of wood carving tools for beginners that anyone just getting started in woodcarving would require in order to get started and achieve some quick and satisfying results. We also have a special list of wood carving tools, with a strong emphasis on chisels only. If you're looking for chisels, take a look at our article on wood carving chisels for beginners.
What are the Best Wood Carving Tools for Beginners
A variety of different woodcarving tools are available for beginners. So it's important to find the right set that will meet all your needs.
For example, if you're looking for a versatile knife with various features like serrated blades or one designed specifically for detail work in small spaces, then this BeaverCraft S01 Spoon Carving Set is a great option for both whittling and carving alike. 
With a sloyd knife + a hook knife included in the kit, this carving toolset is perfect, especially for people that would specifically want to start with spoon carving.
These Knives however can carve other things with a hook knife great for curves and sloyd for straight edge carving. The BeaverCraft S01 set has an attractive price tag making it quite a bargain given the quality of blades and the handles.
All these make BeaverCraft S01 set, at the top of our list as the best wood carving tools for beginners.
If you're looking for a set with variety then Flexcut SK107 is your best bet. Flexcut SK107 is yet another awesome wood carving tool for beginners, this set comes with a set of 11 items in a tool roll. there are 10 knives made from durable stainless steel, which can be used to create deep cuts into hardwoods while still maintaining an edge even after prolonged use due to their carbonized tang.
Their small-sized blades are a must-have for detail junkies. Yes if you love working with small spaces and details or intend to do so along the way then this set will serve you well.
with Flexcut SK107 you don't need to worry about buying wood for your first project. it comes with a block of wood printed with a design. It's a good place to start as you get accustomed to handling carving knives.
other items on the pack include manuals to get started, a tool roll with 11 pockets, and a strop. with this set, you're set you won't think of going back shopping for some time.
it's however worth noting that this set is meant for whittling or miniature carving where a lot of force is not needed. If you want a set that can withstand heavy mallet pounding I suggest looking at our other entries. Nevertheless, this is a top brand in the carving niche and has been known to make some of the best wood carving tools for professionals so it's worth your money!
On the other hand, BeaverCraft S14 Spoon Carving Kit is another good wood carving tools starter set. Unlike our best wood carving tool for beginners above in this set, they have included a whittling knife and a good one too! This is a set that includes everything you need to get started on various projects as it has a hook knife, whittling knife, gouge, and free ebooks to get you started.
The steel of the blades is of good quality and will serve you well for a long time. the fit and finish are where beaverCraft shines and this entry is not an exception. The brand has done a good job of designing a handle that feels comfortable in your hand. However, a few left-handed customers have complained it does not sit well in their hands.
The beaverCraft S14 has relatively bulky knives which allow you to comfortably work on bigger projects. you should however be very careful especially with the gouge to avoid inuring your thumb.
check out our review of good carving gloves for beginners.
Flexcut KN700 Deluxe Palm & Knife Set is also an excellent option for beginners.
With tough stainless steel blades that resist rust with a strong oak handle, this kit is an affordable alternative to more expensive carving tools which require regular maintenance and sharpening.
Wood carving for Beginners: Projects Ideas
A list of wood curving beginner projects to get you started on the process.
* Wood Curved Spoon:
It is a simple project that makes a nice gift or décor; this will also be your first time using gouges and chisel, but it's not too difficult for beginners. The steps are outlined in detail with diagrams below.
Instructions:
Wood Curved Spoon
Materials:
A block of wood (any type), gouge or chisel, sandpaper. Optional materials include dyes, stains, or sealer if desired.
Steps:
Begin using one hand to hold down the material while carving with the other hand; always keep tension on the carving tool by applying weight from the body rather than arm strength alone.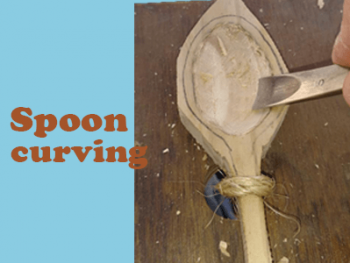 * Draw lines across your block of wood as shown on the diagram; these will help you determine how much material needs to be cut off and what angle at which it should be cut
* Carefully carve along each line with a gouge or chisel. Do this until there is enough space for scooping up liquid foods (about ¼")
* Sand down edges when finished carving – this will take care of sharp corners and smooth out rough spots
* Wooden Nickel Piggy Bank:
This is a perfect way to teach kids about saving money while making something beautiful simultaneously; this little pig can help make their pocket change sweeter than ever!
Instructions:
Wooden nickel piggy bank
Materials:
a small pine board, about 12 inches long and ¾ inch thick. You'll also need some finishing nails of the same size as your dowel (or you can use staples). Additionally, sandpaper to smooth out any rough edges, wood glue for added strength, paint, or finish of your choice.
Steps:
Cut off two lengths from one end of the board to make it square like in this diagram.
These should be at least four inches high. With such a height, when they are put together, their tops meet on top and stand up taller than the height you want your bank to be. Mine is around six-and-a-half inches tall, including my baseboards (I used a triangle instead).
The next step is to cut a dowel into two pieces that will form the curved shape of your bank. I found it easiest to use an old piece of the curtain rod. You want them at least half as long as the height of your board. Also, make sure they are on opposite ends, so they curve in when you put them together.
* Miniature Lighthouse Table Lamp:
Here's an easy-to-make lamp design that has both form and function. If you want a fun hobby, then try building your own miniature lighthouse.
Instructions:
Miniature lighthouse table lamp
Materials:
A small block of wood, an old pencil or dowel, a drill, and some screws. Optional materials include stain or paint if desired.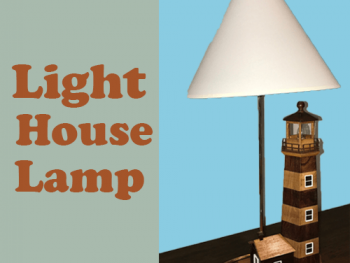 Steps:
* Drill a hole through the top of the wooden block for the base; this should measure approximately ¼ inch wide by ½ deep.
* Cut out two pieces from the side of the block that will form archways on either end. These are each about one inch high at their lowest point.
* Thread pencil/dowel through the hole in the base and out the other end of archways to create a loop.
* Thread string through holes on either side for hanging or lighting.
Wood carving tools for beginner summary
In a nutshell, there are many options available for woodcarving tools designed specifically for beginner carvers of all ages and skill levels. The best way to find the right set or individual pieces for your project is by reviewing each product thoroughly so you can choose what's perfect for your needs.
We did not include power wood carving tools or other electric wood carving tools for beginners in our list of the best wood carving tools for beginners because we believe a beginner should learn all the fundamentals of carving using manual tools before moving on to power tools. However, if you want to learn more about power tools, you should read our comprehensive article on  power tools for wood carving.
Remember that investing in high-quality products means saving money in the long run due to their durability and performance on any surface near water or heat sources like fireplaces!
Now that we know what wood carving is and have a style in mind and an assortment of awesome tools, let's dive right in on the 8 easy steps!
Is pine a good wood for carving? find out