You have some interior paint leftover from that last project, and you are wondering; Can you use Interior Paint Outside?
Yes, you can, but why use interior paint on external surfaces?
People fall in love with different paints, probably due to their colors, shades, or tints. They even go a mile to try and apply the paint to their properties to make them look incredible and attractive. But have you ever imagined how disastrous it could be to use the wrong paint on the wrong surfaces?
For centuries now, paint has been associated with aesthetics and has been used on walls, vehicles, and even furniture. But you should know that there is more to painting than just colors. 
Can you use interior paints on exterior surfaces?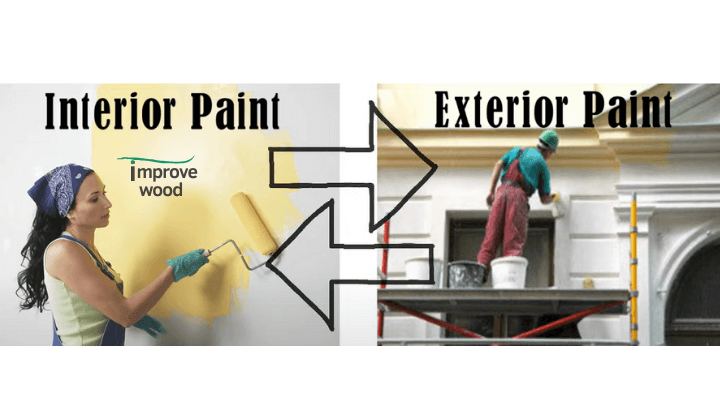 Yes, you can, but it is not recommended. Many people choose to use interior paint on exterior surfaces because it is less expensive or simply because they have some leftover paint from a previous project. Interior paint lacks the same formulation as exterior paints, making them difficult to apply on external surfaces.
If you decide to work with interior paints outside, you will have to use one or more coats of exterior clear coat sealer, depending on the amount of exposure. You can also use interior paint as an exterior primer. Still, you will have to scuff the surface with sandpaper and later use quality exterior paint in the same medium to seal it.
On the other hand, it reaches a point where you have a lot of leftover exterior paint, and you ask yourself if you can use exterior paint to decorate the inside of your house. Technically you can, but I would recommend you get clear answers from here before you fully decide to use exterior paint on the inside.
Effects of Using Interior Paints on Exterior surfaces
The idea of using interior paints on exterior surfaces seems to be perfect at first until you are forced to repaint the surfaces after a short period due to harsh climates and other factors that interior paints cannot withstand. Below mentioned are the effects of using interior paints on exterior surfaces.
It fades, cracks and flakes more quickly.

Interior paints are specially formulated to be used inside, and therefore they can not resist harsh weather conditions and extreme temperatures.

They lack special pigments and binding resins, thus making the finish to be too porous.

Using interior paints together with exterior paints reduces exterior paints into a cheaper finish.

Using interior paints outside means repainting the surface after a few years, so make the right choice to save your time and money.
Paint Components
1. Pigments
They are finely grounded particles that are put in the paints to provide color and hiding properties. There are two types of pigments, namely,
Prime pigments– These are pigments responsible for wet and dry hide in paints. The pigments are divided into two main types, inorganic and organic. Inorganic paints like red oxide and umber are best for exterior paint usage, but they have duller colors. On the other hand, organic paints have brighter colors, are naturally transparent, and do not last long as inorganic paints.
Extender pigments– It is a naturally occurring substance added to paint or coating to improve their durability. Apart from that, they control paint gloss, add extra bulk to the paint and provide other film performances on scrabbed surfaces.
2. Bases
There are two types of bases in paints, and they include;
Water-based paints-Also called latex paints, they are made up of pigments and binders blended with water. They have a higher drying rate, are easier to clean, and are less toxic, making them environmentally friendly. They are ideal for painting ceilings and walls as they are durable and flexible.
Oil-Based paints are made up of pigments, solvent thinner, oil resin binder, and natural oils such as soybean and synthetic alkyds.
Although oil-based paints are known for drying slowly, containing toxic chemicals that make them less environmentally friendly and are difficult to clean, it contains resins and pigments that form a long-lasting, durable film after drying.
3. Binders
They are components that hold the pigments together to create a durable dry film on the surface. Binders are modified to produce quality paints that provide scrub resistance, adhesion, washability, and gloss resistance to surfaces.
4. Solvents
They are vehicles that allow the smooth flow of paints from cans to surfaces. They carry and spread the binders and pigment color to the surfaces.
Although all paints are made up of basic solvents, ingredients, additives, resins, and pigments, you should know that paints are manufactured for different purposes; hence different paints have different properties. To understand more about solvents, let's look at interior and exterior paints.
Different Types of Paints
1. Interior paints
They are specially formulated to be used inside your house. Though not as durable and water-resistant as exterior paints, Interior paints are less toxic to the environment, and they can also withstand washing and scrubbing for an extended period.
2. Exterior Paints
They are used in painting outside walls of different buildings. Exterior paints are durable and can withstand harsh weather. In addition, resins and other additives are added to the paints to prevent them from fading, cracking, and flaking.
Differences Between Interior Paints and Exterior paints
Now that you know the basics of interior and exterior paints and know that both paints change their colors no matter the surfaces they are applied on, it is time to tackle their differences. Below mentioned are factors that determine the differences between the two types of paints.
1. Durability
Exterior paints are highly formulated to withstand harsh weather conditions and last for a long period. It consists of components that prevent the surfaces from wear and scrubs, making it more durable than interior paints. However, interior paints are durable and can withstand scrubbing and cleaning, but not for a longer period like exterior paints.
2. Binding Resins
They are components that give the coatings their names and also carry the paint pigment until it cures. Binding resins determine how paints adhere to the surfaces. Interior paints use epoxy and silicone as their binding resins, while most exterior paints are made up of acrylics binding resins as they are more durable.
3. Pigments
They are responsible for the coloring of paints. Interior paints have less harsh odors and are environmentally friendly as they are made up of organic paints. On the other hand, exterior paints are mixed with harsh chemicals that prevent them from fading and increase their durability.
4. Additives
Due to changes in weather and temperature, additives are added to exterior paints to prevent cracking, fading, and growth of fungus on the walls. As interior paints are less likely to encounter harmful situations, they contain fewer additives.
5. Levels of VOCs
Volatile Organic chemicals. They are substances that release hazardous fumes that are dangerous to human health. Interior paints have fewer VOCs than exterior paints, which have a higher percentage of the chemicals as they are made to last longer and be used outside.
6. Cost
Though not that great, there is a cost difference between interior and exterior paints. Interior paints tend to be more affordable than exterior paints as they do not contain many chemicals and additives.
Conclusion; Can you use Interior Paint Outside?
If you have already used interior paints on your exterior surfaces, it's okay. However, if you are still debating whether to use them or not, it's time for you to go and grab a can of Venetian blue satin paint and use it on your exterior surfaces.
You can also choose to work with Hybrid interior/exterior paints as they can be applied on both surfaces. Ensure to read the manufacturer's information carefully before working with the paints, as some contain harmful VOCs, which can damage your health if not properly handled.
Although all paints are made up of the same basic components, you should know that different paints are manufactured with different properties and purposes. Just as exterior paints are to be used outside, interior paints should also be used to avoid wastage of money and time.