Are you wondering how you will give your leather craft works a three-dimensional appearance using the wood carving tools available in your store? Well, using wood carving tools on leather can be a time-consuming activity, but with a little practice and the right wood carving tools, it will be possible for you to create very appealing leather works. Now, can you use these wood carving tools on leather?
Yes. It is possible to use wood carving tools on leather. However, unlike standard woodworking tools, wood carving tools are designed for creativity and artistic works. Still, the long handles and different blade shapes may give them an advantage over leather carving.
The long handles in wood carving tools will ensure you have maximum control while carving leather. Keep in mind that it is not all wood carving tools that you can use on leather. As an exception, you can use only a few wood carving tools, such as the V and U gouges.
Difference Between wood carving tools and leather carving tools
Although wood carving tools can cut straight lines, trim, and bevel the leather, the finished product will not be as perfect as if you had used a leather carving tool. This is primarily because wood carving tools are designed to work well with wood grain.
The actual leather carving tools make good cuts since they are designed to penetrate the grain of the leather. However, if you don't have any other options and are stuck with only woodcarving tools, make sure that when using woodcarving tools on leather, you use more power to allow the tool to penetrate deeper into the grain of the leather
Wood Carving tools that you can use to carve leather
The following are the wood carving tools and ways in which you can utilize these wood carving tools to carve leather.
Chip carving knife
As a woodcarver, it is quite obvious the first tool you will probably have is a chip carving knife which you primarily use for whittling and chip carving. 
A good chip carving knife will not only be useful to you when carving your wood but also when carving your leather. The high carbon blade makes it suitable for bold cuts on leather. It can be a good replacement for a swivel knife.
woodcarving Mallet
A mallet is necessary for most relief carvings and other more complex projects in wood carving. You will mostly use it together with a chisel. When cutting a wood block, a woodcarver will use it to drive the chisel into the wood.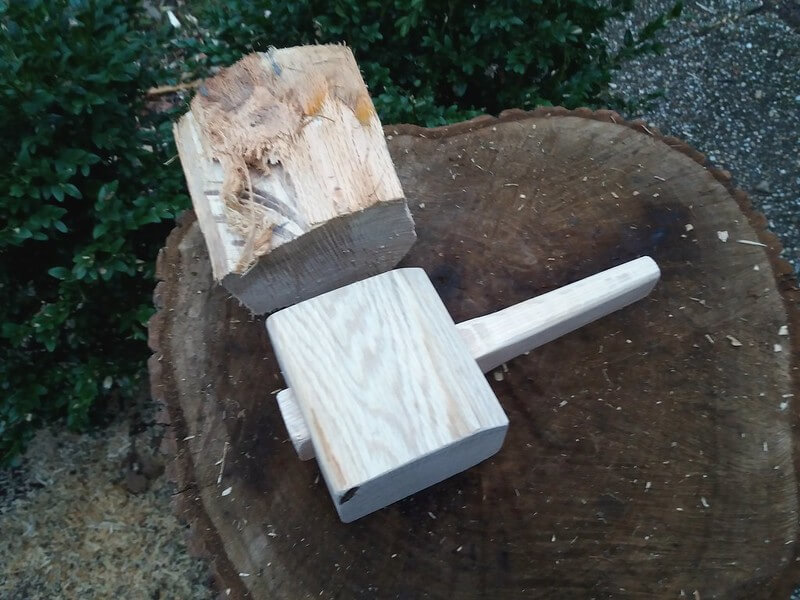 In leather carving, we use a mallet to drive the stamps used to mat down the background and create shading and patterns. Therefore you can use a wood carving mallet in leather carving.
V and U gouges
You have V and U gouges, but you are wondering how you will use them to curve leather. First, is it possible to use them to carve leather? Yes, it is. You can push V-gouge into your leather to carve out a line and depth of material into your piece of leather.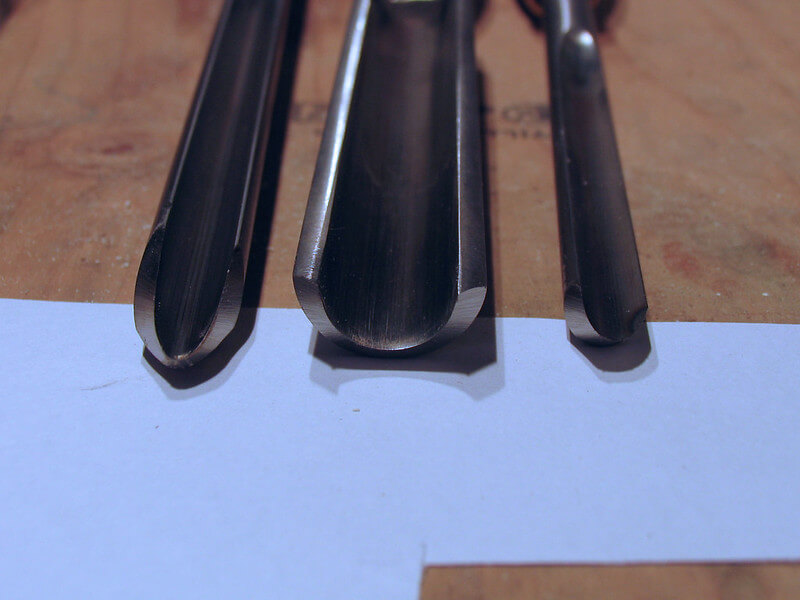 But what about U-gouges? Can they help you with leather carving? Yes. The U-shaped blade in your tool will help you cut grooves into your leather's surface. The groove it cuts will allow your leather to bend easily around the corners.
How you can use wood carving tools to carve leather
Keep the available woodcarving tools sharp
When using wood carving tools on leather, you have to apply pressure because wood carving tools are not designed for the grain of the leather. A sharper blade will cut through the leather more easily, as well as more accurately.
Therefore, using sharp woodcarving tools on leather will produce fine and accurate cuts. On the other hand, a dull blade will be more difficult to push through the leather, requiring more pressure and increasing the chance of injury or mistake.
Therefore, ensuring your tools are sharp will help you easily produce great quality work and ensure your safety when working with the tools. However, whichever way you sharpen your tools, ensure that the blade is in its best form to carve your leather.
Be more careful when using woodcarving tools on leather
Trust me; without protecting yourself, you do not want to use woodcarving tools when carving leather. You should wear safety goggles when working with these tools on leather to protect your eyes from any stray leather particles that fly towards your eyes unexpectedly during carving. 
You should also ensure your hands are well protected by wearing cut-resistant gloves. If at any moment you switch your hands during carving, wear these gloves on both hands. If not, at least ensure that the hand holding the piece of leather is safe from any harm using gloves.
Plan your design on a marble board
If this is your first time doing the leather carving, please remember that you will do them on marble in most leather carving projects.
As a woodcarver, it is essential to have a marble board; if you have one, it will be a very useful tool for leather carving projects. To use the marble board effectively on leather, hold the piece of leather you want to work on and mark the areas to cut according to your desired design.
However, you should ensure that you have enough space to fit your entire design on your marble board as you carve and that everything will remain proportionate. That way, you will utilize your marble board to carve your leather.
Tools I need for carving leather
Whether you are doing leather carving for leisure or commercial purposes, you will need good tools for carving your leather. You may not be in a position to get all the tools you need for leather carving, but if you have the main tools necessary, you will be good to go.
Several tools, such as a Leather swivel Nicking Knife and Tandy Leather Craftool, will help you get the desired quality for your leather carvings.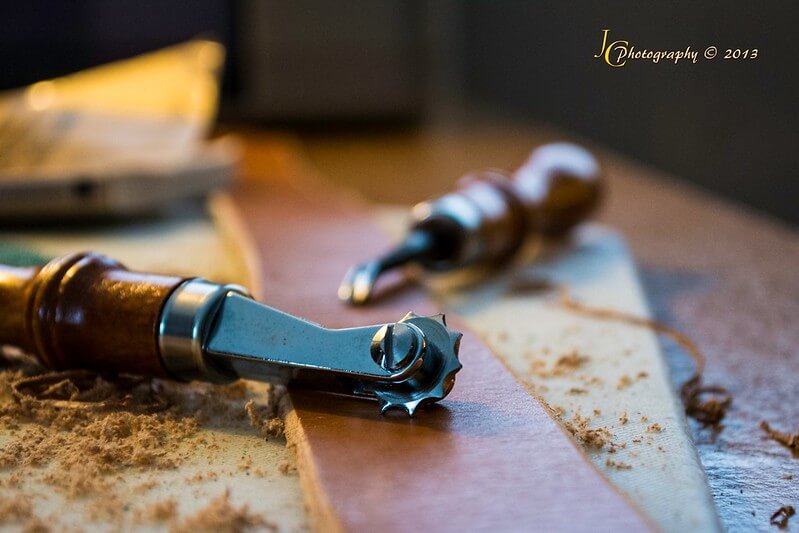 I would also recommend Craftool Pro Flat Head Poly Maul if you are after quality leatherwork. This mallet has helped me greatly and is convenient when working with leather compared to a normal woodworking mallet.
You will find it heavier and smaller thus, it is simple to cut through the denser layers of leather, but you could also use it on your wood carving tools.
How to effectively use a swivel knife to carve each line into the leather.
When carving leather with it, hold it straight up and down with your index finger in the U-shaped dip at the top. Then, with care and gentleness, trace the tip of your knife blade over each line of the pattern you've drawn on your leather.
Remember to maintain consistent pressure for each cut to ensure that all of your carved lines have a similar depth. In this case, I recommend that each cut be nearly half the thickness of your leather.
If you're making a final decorative cut on your leather, I recommend holding your swivel knife vertically and pulling it gently but carefully towards you. Make sure your decorative cuts are nearly half as deep as the primary cuts you previously carved with the swivel knife.
Furthermore, your cuts should begin deep and gradually become shallower as they move across the design to give it a finished and professional appearance.
I suggest you make decorative cuts as the final carvings in your design. After you've added all of the other textures and alterations, you can use these cuts to accent your design.
Conclusions
Therefore, you can use wood carving tools on the leather without worrying about the quality or appearance of your final product.
If you use any of the tools I have mentioned above, like swivel knives, you will have quality work when you use them correctly.
However, you can opt for pure leatherworking tools if you want your leather works to be more outstanding than your competitors if you are doing it for commercial purposes.