For wood finishing, you can use any wax. The most common type is carnauba wax, though bee wax is also extensively used.
Wax is mainly used to complement other finishes. It is also used over oil finishes such as tung oil or various finishes such as shellac. The advantage of wax is that it can be polished to give a delicate glow and is easy to renew.
Bee wax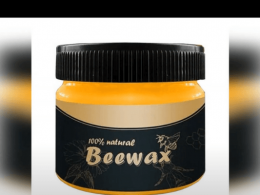 Bee wax is a type of wax produced in the beehive or honeycomb.

It contains natural ingredients, making it safe for use because it has no chemicals.

It is water-resistant.
It is affordable.
It is a natural product that is widely available.
Cons
It requires frequent reapplication, making it a high-maintenance product.

It becomes damaged when exposed to heat, forming white rings on the furniture.
Carnauba wax
This is the type of wax extracted from the leaves of the Brazilian Carnauba palm.
It offers good protection and a lasting appearance to your furniture.
It is not sticky.
It dries quickly and enhances the look for a perfect finish.
It protects the wood from UV rays.
Cons
It is not environmentally friendly because it contains chemical additives.
Not safe for food.
It could cause health problems.
The most available and reliable carnauba wax you can get is Carnauba wax solid bar.
What are the differences between Carnauba wax vs Bee wax
1. Carnauba wax vs Beewax: Source
Bee wax can be found in beehives and other bee-inhabited areas. It is the oldest type of wax. The Carnauba palm is used to extract carnauba wax. It is the most widely used vegetable wax.
2. Carnauba wax vs Beewax: Availability.
The most widely available is bee wax, since it is available quickly from beehives, whereas carnauba wax is derived from the Carnauba palm found in Brazil.
3. Carnauba wax Color vs Beewax Color.
Yellow bee wax has been purified, filtered, and has a slight odor; the white bee wax is nearly odorless and bleached either naturally by the sun or through chemical processes. On the other hand, carnauba wax may come in dark yellow or light beige.
4. Carnauba vs beeswax uses.
In woodwork, both carnauba and bee wax enhances the appearance given by the finish. Paste wax that is heavy on carnauba Carnauba is mainly used in flooring. Bee wax is mainly used on antique furniture.
5. Price.
The more expensive is carnauba wax since it has been subjected to paraffin chemical processes. On the other hand, you can use beeswax directly or treat it with chemicals to add color.
6. Binding ability

.
Carnauba wax is more able to bind than bee wax.
7. Texture.
Bee wax is stickier than carnauba wax, which is less sticky.
8. Solvency.
Carnauba is highly soluble in water, thus providing better protection against water.
9. Ease of application.
Carnauba wax is easy to apply; it dries quickly and produces a warm glow. When comparing carnauba wax to bee wax, you need to consider the ease of application.
On the other hand, the bee wax is relatively soft and sticky, giving the most natural-looking finish. However, it has been replaced by better waxes since it remains sticky for a long time and is too soft to protect.
10. Melting point:
Carnauba wax protects the surface from harmful UV rays with a melting point of 82–86 °C. On the other hand, bee wax has a melting point of -63 °C. Bee wax is made up of high paraffin, which feeds the wood, seals it, and protects its surface from moisture and sunlight.
See how to bend wood
Factors you would consider before buying carnauba wax or bee wax.
1. texture
The easiest way to find the best wood wax for your project is to evaluate the hardness of your wax.
Therefore, you should be aware that; soft waxes are easy to apply but offer little protection against wear, making it difficult to obtain a bright light with the soft wax. Hard wax is more difficult to apply, but it offers the best protection and a brighter finish.
The best recommendation and best for the shinier finish is the Carnauba wax bar since it is also effective on large projects and wood lathes.
Carnauba wax is hard, while bee wax is moderately soft.
2. Ingredients used.
Check the components used to manufacture the wax before selecting any wood wax. Consider choosing one with natural components. This is because wax-containing chemicals will harm the condition of your hardwood floors and furniture. Therefore, choose the one with natural wax.
Cargen Natural Beewax is highly recommended because it is entirely made of natural beeswax and contains no GMOs, paraffin, or unknown ingredients, making it healthy to use.
3. Price.
When it comes to price, you should go with the cheapest option. Bee wax is cheaper than carnauba wax; we opt for bee wax. Cargen Natural Beewax is the best and most affordable bee wax.
4. Wax coating of the polish.
When applied to the surface, carnauba and bee wax form a coating. Carnauba wax is less sticky and hard, making a firm coating, whereas bee wax is sticky and relatively soft, requiring many layers to form a strong coating.
Adam's Buttery Wax is the best for new, longer-lasting protection on your coating.
5. Quality.
Before buying, always consider the characteristics of wood wax. Bee wax has outstanding qualities, such as dirt and water resistance, and is perfect for cleaning wood surfaces and furniture.
The original BEE'S Wax Old World Formula Furniture Polish is the best available, with high quality and reliability.
6. Where to apply.
Some varieties of wood wax may be more suitable for a given project than others. Carnauba wax solid bar is the most recommended for flooring.
7. Ease of application.
When choosing a type of wood wax for your project, consider its easy application. The easier it is to apply, the more manageable and cost-effective the work becomes for you. Carnauba wax is easier to apply, but bee wax spreads faster because it gives a softer surface that is less susceptible to harm.
8. Durability.
Choose a wood wax that will maintain your furniture for a long time.
Carnauba wax vs Bee wax A summary
A waxed surface has a fine physical quality that makes you want to touch it regardless of the application or type of wax used. Despite the differences between Bee and Carnauba Wax, each of the two has its way of giving you a good outcome.
As a result, choosing the finest wood wax between carnauba and bee wax will heavily influence your taste and preferences. Finally, remember to read the instructions or directions of the product to ensure a safe procedure.