What you Ought To Know About Interior and Exterior Paints
It's everyone's dream to have their homes painted with beautiful colors. But what happens when you realize that you have applied the wrong paint on the wrong surface? Paints are known to beautify and give life to our homes. They are also made of the same basic components, but this does not conclude that all paints are the same. There is always a big difference between Interior And Exterior Paints.
 Whether you are planning to paint on your own or hire someone to do the job for you, you should know that different paints contain different properties and are made for different purposes. Before we discuss exterior and interior paints, let's first look at the basic ingredients of paints.
Basic Components of A Paint
In general, paints contain four basic ingredients, and they include.
1. Binders
They are components that provide a binding effect and directly relate to the paint's performance. In most cases, binders are highly associated with adhesion, washability, gloss retention, and scrub resistance in paints.
2. solvents
They are vehicles that allow the easy flowing of paints from cans to the surfaces. Although different types of liquid vary depending on the type of paint, you are working with. You should realize that pigments, binders, and solvents used are responsible for the type of coat you see in the paint can.
3. Pigments
They are flawless particles put in paints to provide color and hiding properties. There are two primary types of pigment, and they include.
Prime pigments. They are pigments that contribute to wet and dry hide in paint. They also give colors to the paints through organic colorants that provide brighter colors and inorganic colorants that produce dull and earthy colors.

Extender pigments. They are cheaper pigments that

give paints

extra bulk. Even though extender pigments only provide dry hide in pants, they are also used to control gloss and provide additional performance for scrub resistance. Good examples of Extender pigments are zinc oxide and calcium carbonate.
4. Additives
They are components that give your paint different physical effects. Listed below are good examples of paint additives.
Thickening agents

Surfactants

Biocides

Deformers

Co-Solvents.
To understand the difference between interior and exterior paints, you will understand what interior paint is and what exterior paint is. Shown below are quick overviews of interior and exterior paints.
Exterior Paints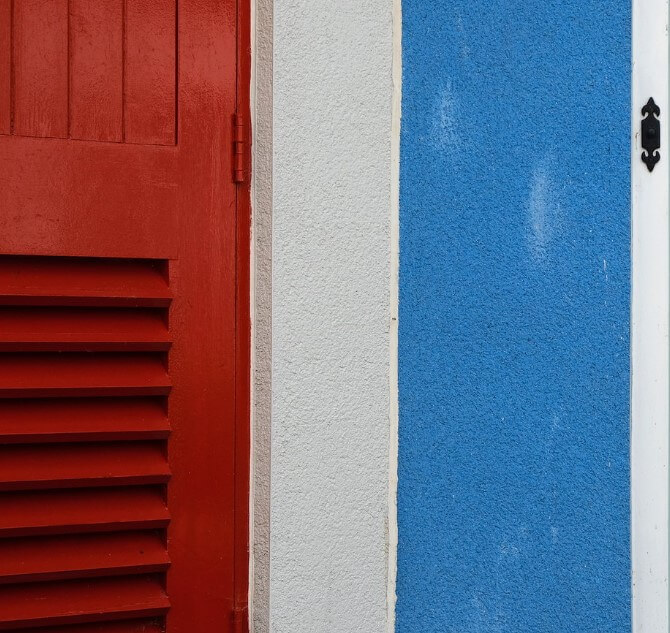 They are types of paints for the outside. Exterior paints contain extra resins and additives that enable them to withstand harsh weather conditions, cracking, and fading. Good examples of exterior paints recommended for usage are Apple Barrel Acrylic paint, colors, and Rust-oleum painters touch acrylic paint.
Interior paints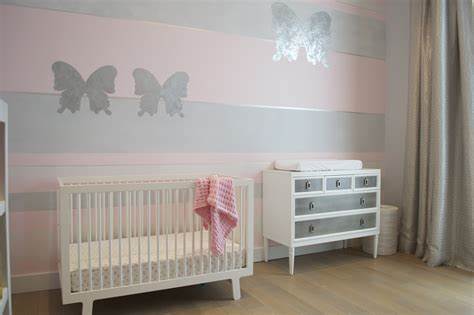 They are types of paints on the inside surfaces of your house. Interior paints contain brighter colors and low VOCs. They are cheaper than exterior paints and can withstand scrubbing and washing, although not constantly.
Even though paints are made with different properties, have different qualities, and are applied on different surfaces, it will be better for you to know that all paints change their applied surfaces when used.
Can you use interior paint on the exterior?
Interior paints should not be used outside because they lack the necessary additives to withstand the elements. Aside from the durability issues, interior paint is thinner than exterior paint, so it doesn't adhere well to exterior surfaces and requires more coats to achieve the same coverage.
Difference between exterior and Interior Paints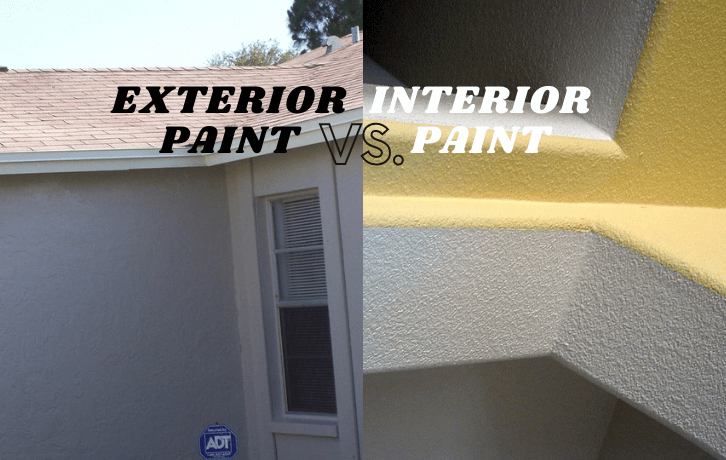 Now that you know the basics of interior and exterior paints, it is time to look at the differences between the two types of paints.
Shown below are factors that lead to their differences.
1. Cost
Though there is no greater difference in cost between interior and exterior paint, there is some difference. Exterior paints are made up of extra additives, resins, and chemicals that enable them to hold up to the surface, thus making them more expensive than interior paints.
2. Pigments
The main function of pigments is to add color to paints. So interior paints use organic pigments which are brighter, have less harsh odors, and are safe to inhale. On the other hand, exterior paints are made up of non-organic pigments, which contain harsh chemicals that make them durable and less likely to fade.
3. Binding Resins
Exterior paints use acrylic binding resins, which makes them strong, durable, and hard. In contrast, interior paints use epoxy and silicone binding resins with good odors and are suitable for inner paints.
4. Durability
Durability in paints varies between the type of paints chosen and their gloss level. Though interior paints are durable as they can withstand scrubbing and washing for an extended period, exterior paints are highly durable because they are specially formulated to resist harsh weather conditions.
5. Additives
Different paints have different levels of additives. Exterior paints contain more additives than interior paints as made to resist fading, last long, and withstand harsh weather.
6. Levels of VOCs
Volatile Organic chemicals are harmful chemicals that release hazardous fumes that are dangerous for human health. Interior paints contain low levels of VOCs while exterior paints contain high levels; hence used in the open air.
7. Dry time
All paints tend to dry when exposed to open air and heat, but water-based paints dry faster than oil-based paints. In the case of interior and exterior paints, exterior water-based paints dry quicker.
8. Resistance To Physical Damage
Due to strong resin bonds, exterior paints are hard to chip off compared to interior paints, which chip off easily when scrubbed or washed for a long period.
9. Adhesion
It is the formation of strong bonds between one material and the other in paints. In most cases, both interior and exterior paints adhere well when applied to surfaces, but exterior paints last long and stick the best.
10. Moisture resistance
Every day and every season comes with different weather conditions. Some might be tough, while others are friendly. Since interior paints are meant to be used inside, they do not have to deal with harsh conditions. But exterior paints are specially made to withstand harsh weather conditions such as rains and thunderstorms, making them water-resistant.
11. Outgassing
Exterior paints are made up of harmful chemicals, additives, and VOCs, making them durable and weather-resistant. This makes the paint outgas immediately after it dries up, and the process continues for several years. However, outgassing does not occur in interior paints as they contain less toxic chemicals and additives.
12. Fade Resistance
Once you compare interior paints to exterior paints, interior paints are not made to withstand UV rays for a long period. They contain organic pigments that fade easily when exposed to sunlight.
Also read: Can you use Interior Paint Outside?
Can You Use Exterior Paint Inside?
Is exterior paint more durable than interior?
A mid-grade and "best" paint found in any paint store will usually contain certain ingredients in its recipe to withstand all of these problems and will last anywhere from 10 years to a lifetime against peeling, cracking, and fading. In fact, when used indoors, exterior paint can do more harm than good.
Bottom Line: Interior vs Exterior Paints.
Although all paints are meant to beautify our homes and give them a fancy and attractive look, you should know that different paints contain different properties and are manufactured for different purposes. It will be best to avoid getting into many expenses if you use exterior paints outside and interior paints. From the guide above, you will be able to understand the difference between exterior and interior paints. Happy painting.