Wood evolved as a functional tissue of plants and not as a material designed to satisfy our needs as woodworkers. As such, wood as a material for woodworking crafts is quite unstable. Stabilizing the wood means protecting it from all the elements that destabilize it.
Through years of woodworking, a lot of advancement has happened in terms of methods of stabilizing the wood. Today we have a wide variety of finishes we can use to protect this precious material.
How do you preserve woodcarvings?
Whether protecting a wooden desk or a woodcarving the principles of wood finishing remain the same. In this article, we will look at all the methods we can deploy to preserve a woodcarving
How do you preserve woodcarvings – A comprehensive guide
How do you preserve wood carvings?
Short answer:
To protect woodcarvings the wood will have to be sealed with a layer of protective finish. The type of finish to pick will be dependent on many factors including personal preferences.
Wood carving just like woodworking uses wood as the main material. Finishing in both these crafts is therefore identical. Though there may be small discrepancies. In this guide our main references as we uncover the numerous ways to finish a carving project will be Flexner's Understanding Wood Finishing and Jewitt's Complete Illustrated Guide to Finishing.
These are both great books to have as reference coursebooks. I have added the links to the books should you wish to purchase them.
Why woodcarvings must be preserved
Wood is a vascular tissue. Pick up any piece of wood and view it under a microscope and it will reveal that the surface is indeed like many soda straws packed together. the openings are referred to as pores.
These pores allow moisture exchange between the wood and the atmosphere. The moisture exchange never stops happening as long as these pores are open or in other words for as long as the wood is bare.
Even wood that seemingly looks dry will still pass on moisture. The only times the moisture exchange stops are when the wood achieves an equilibrium known as equilibrium moisture content(EMC).
But the EMC is not a permanent state. A kiln-dried wood that has attained EMC can still draw moisture from the atmosphere if stored in an area of higher humidity.
Moisture exchange has adverse effects on wood. For starters, all wood movement causing warps, checks, splits, and twists can be traced to moisture exchange in wood.
A coat of finish like poly will create a barrier to stop the moisture exchange hence stopping most of the wood movement.
Finishing will also ad protection from other elements like UV damage that greatly decolorizes the wood.
Finishing can be grouped in several ways:-
Film building finishes
Varnish
Use over: bare wood, painted wood, stained wood
Use under: wax
Do not use: if skinned over or thick in the can, with other brands of varnish, over a waxed surface
Varnish is perhaps the most popular wood finish on the market and it's with good reason. Varnish including polyurethane is the most durable wood finish available it also offers the best protection.
However, varnish finish is the hardest to apply successfully. Varnish may come either as water-based or oil-based.
Both are either applied with a brush or by use of spray equipment. Varnish is a film-building finish and can therefore build thick layers for extra protection. But be careful as the coat gets thicker it tends to give a "plasticky" look that tends to make some people 'grumpy'.
The good thing about varnish is it cures to a clear coat meaning it can go over other finishes like stains or paints. Paints and stains tend to be less protective hence a layer of varnish locks them in and protects them from scratch and moisture damage.
For all your outdoor carvings consider sealing them with varnish. A good option is Minwax Polycric. It is easy to apply with a brush and maintains the true color. Very ideal for small to medium projects and offers remarkable protection. For the big guys like chainsaw carvings protect them with Enduro-VAR II
How To apply varnish with a brush
Thin the varnish slightly, if desired, using the manufacturer's recommended thinner. The thinned varnish will penetrate slightly more and stay workable longer than thick varnish.
Liberally spread varnish over the carving by brushing.
Allow it to slightly penetrate the carving for about five minutes.
Wipe off the excess varnish with a rag.
To remove all the varnish from any crevices, use a dry, soft-bristle brush, wiping the brush off on an old terry cloth towel as you go.
Take your time removing the excess varnish. If it is allowed to build up on the surface, the carving will look as if it's been coated with plastic.
Allow the carving to dry for 24 hours.
Repeat the sequence each day for three days.
Varnish Pros and Cons
Pros
One of the most durable finishes
Heat, water, and chemical resistant
Long-lasting
Available in gloss, satin, or flat finishes
Gives a slightly golden tint that enhances some woods
Cons
Slow drying
Petroleum-based
Gives off an odor until dry
Requires solvent for cleanup
Gives a golden tint to the wood
Shellac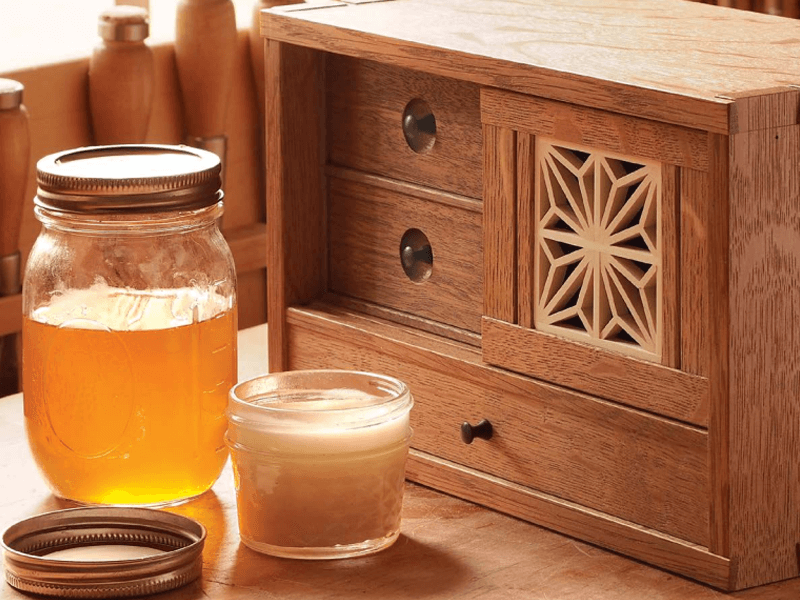 Use over: bare wood, painted surfaces, non-alcohol-based stain, varnish
Use under: any finish that does not contain alcohol
Do not use: if the wood is damp, on a humid day
Shellac unlike varnish is a natural resin secreted by the lac bug commonly found on trees indigenous to India and South Asia.
You can purchase shellac premixed or as flakes. If you buy the flakes you will mix them with denatured alcohol. The flakes should be well stored in a cool dry place. Premixed shellac should not be older than six months.
Given such a short shelf life it's better to buy shellac flakes and mix them yourself when you need to use them. Again mix only the needed quantity as any reminders will not be used.
Shellac may be sold either with its natural wax or dewaxed. If you happen to get yours with the wax you can easily strain the solution carefully as the wax will have settled at the bottom.
If the wax is not strained it creates major adhesion problems so make sure to strain your shellac if it's not dewaxed from the manufacturer.
Shellac comes in a variety of colors. It can also be mixed with aniline stains or other alcohol-based stains. When you use shellac it will color and seal your carving at the same time. Check out our recent post staining over shellac for more on shellac.
How to apply shellac to a carving
Apply with a brush. Work quickly because the alcohol evaporates fast.
Allow about two hours between coats. Normally, you will apply three coats.
If you're applying it as a sealer coat, a ½ cut is recommended. Apply one coat liberally and let dry.
Shellac Pros and Cons
Pros
Easy to apply
Adds warm luster to wood
Can be used as a base to minimize the end-grain absorption of paint
Fast drying
Derived from renewable material
Cons
Should not be applied in humid weather
Has a short shelf life when mixed
Has a weak resistance to heat, water, solvents, and chemicals
Only available in gloss sheen (sheen could be flattened with steel wool or a flattening agent)
Paste wax
Use over: bare wood, any other finish
Use under: nothing
Do not use: under varnish
Paste wax is one of the earliest wood finishes. Paste wax is now in wide use as a top finish used on top of other finishes like varnish, lacquer, and shellac. When used with these finishes it is buffed to bring a high sheen.
Wax can still be used on its own as a finish. Paste wax comes as a solid but turns into a paste when thinned with mineral solvents.
Wax is not as protective as the options that we have discussed so far but it still has its place as an indoor wood finish. Wax and oil finishes do not alter the color of the wood though they exemplify the richness of the grain or figure.
If you want to tone your carving when using wax as a finish you can buy one that is already stained. There is little to no difference between the paste wax products for wood finishing available in the market.
How to apply paste wax
Rub the brush or rag on the wax to collect some of the polish.
Apply a light coat over the total carving, getting into the crevices.
Reload the brush as necessary.
Allow the wax to set for about five minutes.
Buff the carving with a dry brush to bring out the sheen of the polish. Again, get into all of the crevices.
Buff the surface with a soft, lint-free rag to deepen the shine on the high areas of your carving.
For more shine, apply another coat.
Paste wax Pros and Cons
Pros
Easy to apply
Can produce a satin to a bright sheen
Keeps the natural color of wood
If colored can be used as a stain
Protects from dust and grime
Cons
Dries soft
Least protective of all finishes
Least durable of all finishes
Penetrating Finishes
Linseed oil
Use over: bare wood
Use under: linseed oil stain, varnish, paste wax
Do not use: if thick in can
Linseed oil is a nontoxic wood finish, It's also known as flaxseed oil and is extracted from the flax plant. In the world of decoration, it is used to protect exterior and interior furniture. It is popular around the world as a protective sealant.
Linseed finish oil comes in two forms namely; raw and 'boiled'. Raw linseed oil can take weeks to dry, even after wiping all the excess oil on the wood. If you're on a tight schedule and working on a household interior piece, it is advisable to not use raw linseed oil. 
On the other hand, boiled linseed oil contains liquid driers, these are catalysts that accelerate drying. Under warm temperature boiled linseed oil takes overnight to dry. All of the linseed-based oils must penetrate the surface of the wood to dry. You must wipe any excess off the surface, or the residue will get gummy and never dry properly.
For best results, use only fresh linseed oil because after a container is opened, it can become thick and gummy over time. Don't use it in such a state because it will never dry properly
How to apply linseed oil
Saturate the wood with the oil and keep it wet for about 15 minutes.
Wipe off the excess with a clean, lint-free cloth.
Dry brush to get any residue out of the crevices.
Apply additional coats every 24 hours. Usually, three coats are enough. Make sure you don't have buildup on the surface of the wood. It must penetrate the wood to dry properly.
Linseed oil Pros and Cons
Pros
Easy to apply
Can be mixed with varnish for a more durable finish
Provides a good medium to mix with artist oils to thin them or to make your stain
Gives nice color to wood
Transparent, so it shows the wood grain
Cons
Has an odor
Not very durable
Not water resistant
Not UV resistant
Slow drying
will continue to yellow
Can cause rags to spontaneously combust, so rags need proper disposal
Danish oil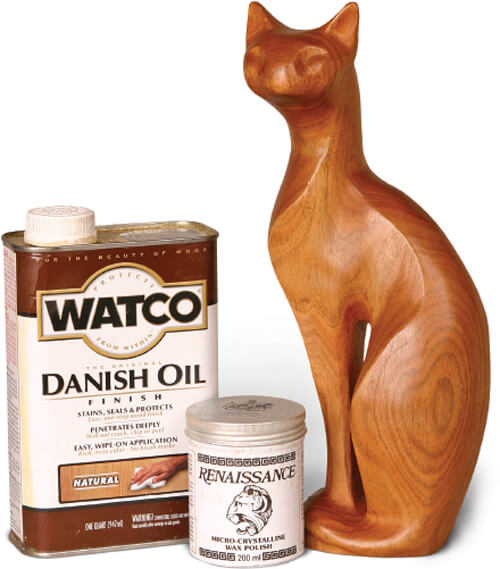 Use over: bare wood, stained wood
Use under: paste wax, varnish
Danish Oil is a mixture of both linseed oil and varnish. Due to wide varieties of mixtures manufacturers tend to brand their danish oil products however they see fit. Which can be confusing for an inexperienced woodworker.  E.g. In stores, you will find products labeled as Antique oil Finish, Bush Oil, and Tung Oil Finish which is all Danish Oil.
Danish oil can be applied to any type of woodcarving. It can also be mixed with paint thinners, gloss, or satin polyurethane varnish. When applied, it is absorbed into the wood which protects, nourishes, and 'feeds' the wood from inside. It provides a more stable and resistant finish than boiled linseed oil.
Danish oil is easy to use and easy to maintain. Re-applying a thin coat once or twice a year will keep your woodcarving looking naturally fresh.  It enhances the natural color of wood, making it darker. Always test the Danish Oil finish on a scrap of wood close enough to the carvings to ensure you're satisfied with the results.
Danish Oil consists of hydrocarbons distilled in petroleum oil blends which makes its surface harden well when applied. These blends are highly volatile and flammable thus, Avoid smoking while working with danish oil.
How to apply Danish oil
Danish oil is best applied using lint-free cloth i.e. T-shirt material or fine brush 
Apply a minimum of 2-3 coats
Each coat should take 20 minutes, then wipe off the excess well  to avoid dry stickiness 
Each coat should be left to dry for 4 – 24 hours in a warm room
Danish Oil Pros and Cons
Pros
Easy to apply
Adds color depth and richness to dark and dark-stained woods
Improves the sheen.
Waterproof
Non-toxic
Dries faster
Protects the wood
Cons
Needs regular maintenance
Yellows the wood over time
Less durable
Extremely flammable
Tung oil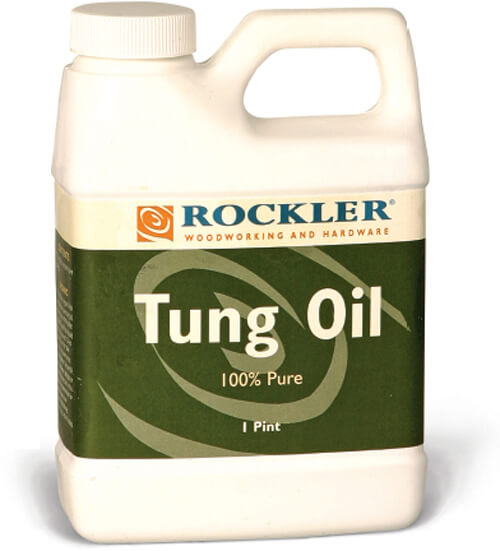 Use over: bare wood, stain, shellac
Use under: oil-based stain, oil-based paint, paste wax
Do not use: with varnish or thinner, with water-based varnish
Tung oil is the earliest and finest natural wood protection in the world. Its use dates back to the Song Dynasty and was used to waterproof ships. Tung oil hardens when exposed to air and is transparent and has a deep wet look. It can be used on any wooden surface and is also resistant to water and alcohol.
Today, tung oil is sold as 100% pure without solvents. This makes the application process long and time-consuming. It takes two days for a coat to harden, and 7 coats are needed to get a durable and protective finish.
Tung oil contains natural non-toxic resinous solvents that provide better protection and durable coats.
How to apply tung oil
Saturate the wood with the oil and keep it wet for about 15 minutes.
Wipe off the excess with a clean, lint-free cloth.
Dry brush to get any residue out of the crevices.
Apply additional coats every 24 hours. Usually, three coats are enough to create a low sheen.
Tung oil Pros and Cons
Pros
Easy to apply
Versatile
Complement natural wood pattern and attractive
Doesn't yellow over time
Food safe
Non-toxic
Cons
Expensive
Difficult to store
Unpleasant odor
Slow penetration
Coloring the wood
Stain
Stains contain mixtures of coloring agents, suspended or dissolved in a solvent or 'carrier' substances like oil, water, alcohol, or polyurethane.
To understand stains one begins with knowing the types available and their properties. There are mainly three types of stains; oil, water, and gel stains.
Today, we will focus on oil stains. An oil stain is a dye or pigment added to linseed oil and thinned with mineral spirits. They are easy to apply and dry slowly, giving you enough time to wipe the excess off. Oil stains also give wood a smooth thick finish and extra protection.
When dry, stains work well with other finishes. You can also apply oil satin over any finish to color dents and scratches. If you choose to apply oil satin, you should apply a coat of finish to keep the colorant from being wiped off. Ultimately, stains that are thin with mineral spirits can be mixed to adjust the color of the wood.
How to apply stains
Apply the stain with a soft brush or a lint-free cloth.
Remove excess stain with a lint-free rag or a dry brush.
The harder you rub, the more stain you will remove.
Pros and cons of oil-based stain
Pros
Changes wood color
Makes wood look richer and expensive
Cons
Highlights flaws in wood e.g. Tool/mill marks, i.e. Dents, scratches, and gouges
Highlights Blotching in pine and cherry woods
Paint
Paint is a coloring material used to cover any surface. It is mainly used as a decorative and protective finish for wood. Paint is affordable, easy to maintain, and washes off easily with mineral spirits. 
Most people love to paint because it is the easiest to apply and there are so many options when finishing with color.
Long-term exposure to the atmosphere causes paint to deteriorate in stages. First, it becomes dull; then cracks, and finally crazes. Since it does not serve the purpose anymore after deterioration, the best way to remove it is with a paint-and-varnish remover also called 'paint striper'. However, the paint is permanent and might be difficult to restore the original color of the wood.
How to apply paint
Prepare the surface to be painted.
Determine how thick or thin you want the paint consistency (thin with water).
Apply colors with a good-quality brush.
Don't rush.
Seal with a light coat of clear spray finish.
Pros and Cons of paints
Pros
Easy application process
Easy to maintain
Good coating power
A wide range of color options
In-expensive
cons
Flaking and cracking
Recurring paint problems
How do you preserve woodcarvings: A summary
A bare wood contains pores that allow moisture exchange between it and the atmosphere. The moisture exchange can result in problems such as warps, splits, and twists.  
So how do you preserve wood carvings? By applying a coat of finish on the wood. Below are the common types of finishes:
Firm building finishes e.g., varnish, shellac, and paste wax.
Penetrating finishes e.g. linseed oil, Danish oil, and Tung oil.
You can also use stains or paint to color the wood.
You can try either of these finishes if you want your woodcarvings to look more attractive and last longer.