Staining is a necessary aspect of any woodwork's finishing kit. Staining, however, can be difficult, especially if you have a busy schedule. As a result, you may be concerned about the time it will take for the stain to dry before applying any paint.
Under normal circumstances, the stain will take anywhere from 24 to 48hrs to dry to touch. However, Every stain is unique, and drying durations vary greatly between brands and products. The type of wood and its moisture content may also come into play.
If it's your first time with stains, you're in the right place; let's get over some stains 411
What is a wood stain?
Stain combines colorants (maybe dyes or pigments), binders, and thinners.
Water-based stains: dry completely for a minimum of 24 to 48 hours before applying polyurethane.
Oil-based stains: Oil-based stain's internal interior purpose takes a recommended time of 8 hours to dry before applying a topcoat. In contrast, those used for exterior purposes generally take 24-72 hours.
Gel-based stains: Each coat of gel stain requires about 24 hours to dry before applying the next one.
Lacquer stains dry in less than half an hour but must cure entirely between coats.
Metalized dye stain: they require as little as 15 minutes of drying period between coats.
Water-soluble aniline dye stain takes 12 to 24 hours to dry, depending on the atmospheric conditions.
What is the Significance of Wood Staining?
Wood stain provides color to wood and enhances the texture.
It enhances the wood piece's thickness and the unique and interesting areas.
Stains also help to cover imperfections, scratches, and other weaknesses in your woodwork.
Is it ok to paint stained wood? Find out here
How do you apply the stain?
Use a natural or synthetic brush to apply stains to the surface.
You can apply it to the surface by wiping it with a clean cloth or a foam brush.
You can dip the wood piece into the solution or spray it on the surface.
Types of wood stain
1. Water-based stains;
Dry the fastest in a controlled environment.
They are the weakest and require multiple coats to get the desired outcome. Some of the best water-based stains are General Finishes Water-Based Wood Stain.
2. Gel-based stains,
as far as drying is concerned, it requires a reasonable period to dry. The best gel-based stain presented in the market is the Unicorn Spit Gel Stain and Glaze
3. Oil-based stains
always take the longest, but you may not need a third or fourth layer as a productive trade-off.
However, most companies today make at least one blend that falls under any of the categories. Tried & True Danish Oil, Pint is one of the best in the category.
4. Varnish wood stains
use varnish as a binder. One of the most popular varnishes used as a binder is polyurethane.
Polyurethane is a kind of synthetic liquid resin. Unlike water- and oil-based wood stains, polyurethane-based wood stains protect your wood from heat and chemicals.
You won't need to add a finish if you utilize polyurethane-based wood dyes. This stain dries off very fast, but you must be careful when using it as it tends to become splotchy.
Because it dries quickly, it immediately wipes off the excess polyurethane wood stain. The best varnish wood stain you can have is Minwax 630500444
5. Lacquer wood stains
have a distinctive smell because it contains xylene, toluene, and other solvents.
Because of these solvents, lacquer wood stain dries faster and is easier to apply than other wood stains.
They take up to 15 minutes after application to dry, making them best for professionals. Deft 37125015138 Lacquer is one of the best.
6. Metalized dye stains/ non-grain raising stains
are wood colorants mixed with acetone and other thinners?
You can spray them on the surface because they are thin.
They dry off fast, making them the best for commercial applications. GenCrafts Pouring Neon Acrylic paint is considered to be the best.
7. Water-soluble Aniline dye stain
date from the mid-nineteenth century. They are the most traditional sort of wood stain. They were traditionally used to color clothing but are now used to stain wood. These colors are available in powder form and dissolve quickly in hot water. The amount of dye you dissolve dictates the brightness of the coloring.
They dry up pretty fast, but the best thing about them is you can lighten or darken the color quickly. For more intense color, apply the second coat, while for a light color, use a damp or clean rag to lighten its color. Consider using Variety Pack 7 (10 Colors) Mica Powder as they are considered the best in their category.
Factors affecting drying time of stains.
Drying times can also vary depending on the set of conditions such as;
1. The type of stain.
When shopping for wood stains, you will come across many sorts and brands, and you will notice that different manufacturers specify varying drying durations.
Some brands require only a few hours before applying the second coat, but others require up to 8 hours and overnight to dry. Furthermore, it may take up to 24 hours before it is safe to apply varnish, wax, or oil to the surface.
2. The amount of air circulating in your room
Working in a well-ventilated area reduces stain drying time. You can also use the exhaust fan in your workshop if one is available. You can open the doors and windows if you don't have an exhaust fan.
3. The temperature of the environment.
The perfect temperature for staining wood ranges from 50° to 90° Fahrenheit.
Always keep an eye on the stains because the brand differs and the stain bases may change drying time. Find a time of day when the humidity is between 50 and 70 percent if you want your stain to dry quickly. The stain will take longer to dry if it exceeds or falls below that level. To speed up the drying process, use a dehumidifier set to 50% humidity.
How long does it take for the stain to dry?
The drying time for stain varies from 1 hour to 48 hours on average.
As previously said, you must consider various elements for a stain to dry thoroughly. The average drying time for the various types of stains (for one application) under normal conditions would be:
2hrs for interior oil-based stain.
2hrs for interior water-based stains.
48hrs for exterior oil-based stain.
24hrs for exterior water-based stain.
10hrs for a gel stain.
Exterior and interior stains.
You can apply stain to any woodwork whether you want to use it indoors or outdoors.
As a result, we'll look at the interior and exterior stain drying times. Wood stain makers create numerous formulae with distinct properties to adapt to these widely varying situations; the different formulations, the outside and interior fittin-different drying times.
Interior wood stains
They are created using a similar basic process. Whether the product is oil-based or water-based, it is technically designed to dry quickly. Because most interior situations are rather similar in temperature and light exposure, this is the case. As a result, many wood stain brands and blends can dry in as little as 2 hours.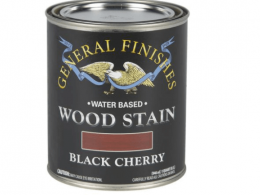 I recommend General Finishes Water Based Wood Stain. It is Formulated to provide workability similar to oil-based stains.
Exterior stains
They differ more in terms of their material composition. As a result, their drying times tend to differ more.
For example, an outdoor stain will require you to wait at least 12 hours before applying the next coat. It is designed primarily for external stains that are water-based.
On the other hand, some stronger blends require a total of 48 hours before you can apply another coat effectively. This happens, for example, when you apply oil-based stains.
For this reason, Ready Seal 512 5-Exterior Stain is considered the best as the product will blend itself and can be applied in any temperature range for proper application.
In every case, you must always look at your can's drying necessities before proceeding.
How to tell if your stain is completely dry.
After learning how long it takes for the wood stain to dry, you may be wondering how to tell if the stain has completely dried. Therefore;
In the case of oil-based stains, ensure the surface is no longer sticky and there is no odor.
When water-based stains no longer feel cool when touched, they are dry, and dust will form with gentle sanding.
Is it possible to reduce the stain's drying time?
You can shorten the drying period of a stain, though sticking to the recommended drying time is preferable. If you speed up the procedure, the stain will not have as much time to penetrate as deeply, among other things.
Wood stains dry faster when the temperature is higher. For the stains to dry, manufacturers often utilize a temperature range of 70-80°. The stain will dry faster if the temperature rises roughly 80-90°F. However, avoid extreme temperatures (over 90°) because they can negatively impact you.
A fan is an excellent technique to speed up the drying of wood stains without generating any negative consequences that higher temperatures might have. Oscillating fans are suggested in this situation because they provide steady movement and a similar drying pattern.
Thinner coatings dry quicker than heavier coats. Wipe away any excess discoloration using a clean cloth or brush to get the coat as thin as possible. The disadvantage of this procedure is that it can entirely remove the coat as you wipe.
How long does it take for the stain to dry – Summary
It is advisable to wait for the stain to dry completely before applying polyurethane. Polyurethane is mixed with a wet stain resulting in a poor finish due to the poly's diminished bonding capacity to the stain.
Also, because the stain is not a finish, it does not protect your wood. As a result, you will need to clean away any extra stains before applying your chosen finish to protect it from moisture.