Staining helps protect pressure-treated wood and prevents it from cracking and splitting when the season changes. Wood is an excellent renewable building material. Nevertheless, when any woodwork comes in contact with the ground or is exposed to high moisture levels, it may lead to biological and insecticidal deterioration.
For example, wood from most tree species can be damaged within 5 to 8 years due to insect and fungi attacks. Therefore, knowing How to stain pressure-treated wood prolongs the service life of the wood to 20-25 years in humid conditions.
How to Stain Pressure Treated Wood
Step 1. Prepare the surface you want to paint.
Clean the surface you want to paint. The simplest way of washing new wood is to knock loose any dirt or residue using a pressure washer. On the other hand, you will require additional effort to remove the stain or built-up grime for older wood. Buy a specially developed wood cleaner for any wood structure, and follow the product's instructions for a thorough cleaning.
The best wood cleaners include;
Method All-Purpose Cleaner

– used on

all types of surfaces. Check on Amazon.
Trinova Wood Cleaner-for stains and spills, Check on Amazon
Green Works Multi-Surface Cleaner that is eco-friendly Check on Amazon
Pledges Dust and Allergen Multisurface – Cleaner for removing accumulated dust and allergens.
Lysol Multi-Surface Cleaner – for grease and grime. Check on Amazon
Mrs. Meyer's Multi-Surface Cleaner for germs and bacteria. Check on Amazon
Guardsman Clean and Polish For Wood Furniture; it conceals scratches and protects the wood from Uv rays. Check on Amazon
Weiman Wood and Furniture Cleaner revive the look by quickly removing cracks, fad, and dirt. Check on Amazon
Therapy Wood Cleaner;

brings back the original look of the woodwork by cutting all the dust and grime.
Step 2. Test the moisture level of the wood.
There are a few practical ways to test the moisture level in the wood.
The bead test. It is performed by simply dripping small amounts of water on the wood surface, and if the water beads, then the wood has retained moisture.

Another alternative is simply pressing a nail into the wood to test for wetness.
If water oozes out around the nail while it is driven into the wood, you should allow more time for the wood to dry.
For accurate moisture level results in the wood, you should use wood moisture meters.
Check: Best Wood Moisture Meters
Step 3. Choose the right time for your project.
Check that you should not expect any rain in your area; the weather forecast should help you in this.
Staining requires about 24 to 48 hours to dry; therefore, you will need to be sure that it will not rain during that period.

Also, learning how long the stain will take to dry thoroughly might help you decide when to do your staining.
Step 4. Prepare your selected wood stain.
Mix the stain thoroughly. Either ask the hardware personnel to do so during the purchase, or you can shake it well at home. Stir the stain frequently as you work to ensure a successful application.
Step 5. Test the stain to check whether you like the appearance.
Before rushing to complete your staining project, first, apply the stain on an inconspicuous spot. Select a small area and brush on the stain; allow it to dry before staining the entire surface.
The test spot will help you ensure that you will be happy with the outcome and confirm if the stain will go the right way without any issues, such as wetness.
Step 6. Apply at least one layer of the stain.
If you like the color, continue staining the rest of the pressure-treated wood surface.
Note better when applying the stain on the pressure-treated wood; back brushstrokes will bring up additional coats that may cause a different color.
Therefore, if you are staining a vertical wood surface, begin at the top to ensure that you will cover any drips or runs on your way down. Also, beware that exposed ends of wood may require additional staining for more excellent absorption.
What is pressure treatment?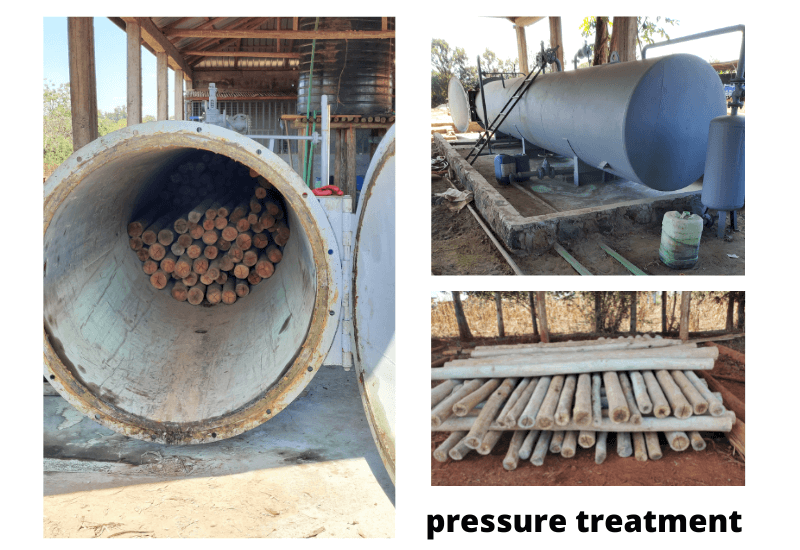 Pressure treatment of wood is a process that forces wood preservative chemicals into the wood's cell structure. The chemicals then act as a barrier between the wood and any biological deterioration agents to increase the period of life of the timber. Pressure treatment protects the wood from attacks by termites, fungi, and bacteria that cause wood decay. It also enhances the durability of the wood hence making it worth the investment.
What is staining wood?
A stain is a substance that changes and enhances the natural color of your wood. They penetrate the wood deeply to highlight the grain, intensify the existing ones or change the color.
Stains provide a level of protection from elements, but their primary function is for decorative use, coming in a wide range of colors.
The Best wood stains include Extra Durable Wood stains.
What is the purpose of staining wood?
Wood swells when it becomes wet and shrinks when dry. The weather cycles could be harsh on the wood, causing it to split, crack or lead to checks and other appearance problems.
In previous years, people used to wait for at least six months or more before staining projects that used pressure-treated wood. However, there is no longer waiting for newer treatment products like micronized copper preservatives to treat YellaWood brand products.
Nowadays, considering your area's weather, it takes up to 30 days after completion for your project to be ready for finishing.
Stain colors for Pressure Treated Wood.
Many homeowners think you can't use a coating on top of wood treatment.
So long as you select stains that add value to the pressure-treated wood, you have a wide range of colors to choose from amongst them.
For newer woodwork built using pressure-treated wood, you should go for a light-colored wood stain because the moment you go dark with your paint, you can't go back.
On the other hand, older decks pick a little more of a shouting color to help cover the flaws.
check out how to clean old decks with solid stains
Most excellent colors for pressure-treated wood.
Endlessly Toxic. Kona Brown is a darker, tropical-inspired wood stain that complements the color on older pressure-treated wood that requires more imperfections.
This brown stain color looks great with both classic and modern home styles.
Beautiful Brown.

Dark Mahogany is a gorgeous rich brown color that looks good on rustic-treated wood surfaces.
It is light in color and is designed to enhance the beauty of the wood itself and allow the grain to shine through.
Mountain top masterpiece.
Mountain Cider is a light, sunny brown stain that appears excellent on pressure-treated wood.
With notes of red and a touch of buttery yellow hues shining through the color, this cedar-inspired finish improves the beauty of your woodwork.
Ensure that you know the type of wood used to build your project and if it was kiln or air-dried to ensure proper stain adhesion to pick the best color for your stain.
The tools and materials.
You must use the right tools and materials for a successful outcome in every woodwork.
All are available on Amazon. Click to check the price.
The best stains for pressure-treated wood.
Most pressure-treated woods have a green appearance. The two types of stains are water-based and oil-based stains.
Both the stains penetrate the wood and protect it against harsh weather conditions that would damage it.
Water-based stains contain resin and pigment that stick together as they dry.
This stain has less odor, is cheaper, dries fast, and is a breeze to clean up.
However, you must apply this stain in less durable layers than oil-based stains.
An advantage is that they are more resistant to mildew than oil-based stains.
Oil-based stains are more expensive but durable, helping preserve the wood better.
These can be rolled, sprayed, and brushed on.
When working with them, ensure that you keep stirring the stain.
The best staining products include:
All are Available on Amazon. Click to check the price.
It creates an elegant finish, is easier to use than regular stain, and does not penetrate the wood.
It is a non-drip formula, the most common choice, and dries completely in 8-10 hours.
It creates an opaque appearance; it is scented and includes ten bottles, each bearing a different color.
It glazes over the existing finish and dries in an hour or less.
It is excellent for a vertical surface to refinish, bought in a half-pint of 1-quart quantity, and complements the natural beauty of the wood.
Benefits of Staining Pressure Treated Wood
Using high-quality stains on pressure-treated woods increases surface protection.

Staining pressure-treated wood acts as a type of body armor. While the pressure treatment protects the wood from insects and rotting, the stain provides enhanced water and stain resistance for the surface.

Any quality stain comprising high-grade natural pigments will give a lasting color to the pressure-treated woodwork. The stains create an instantly gorgeous finished project.

The high-quality results in long durability.
Factors to Consider When Staining Pressure Treated Wood.
Weather conditions of your area.
For an effective staining process, it would be best to have dry weather, not a rainy or humid one. Therefore, look at your weather forecast before staining.
The type of stain to use.
Consider checking the color and transparency when deciding the type of stain to use on pressure-treated wood. Transparency is the amount of wood grain you want to see after staining. Color, on the other hand, complements your style and the appearance of your wood surface.
SUMMARY.
This article acts as a guide to every woodwork enthusiast on staining pressure-treated wood. It guides the reader on the colors to select when staining pressure-treated wood, the tools and materials required, and the steps to take for an appealing outcome. It further helps the reader understand pressure treatment and the pressure treatment methods.
The article also recommends the best products in the market for staining pressure-treated wood and where to find them. It also helps the reader comprehend the benefits of staining and the factors to consider when staining pressure-treated wood.
Conclusion.
Looking at how to stain pressure-treated wood, staining can be a very tedious job that requires a lot of patience. It can also be overwhelming to select the stain for pressure-treated wood.
However, this article has provided a guide to help you navigate the process easily.
If you don't have time or are worried about the outcome, you can hire a professional to do it for you if you do it yourself.