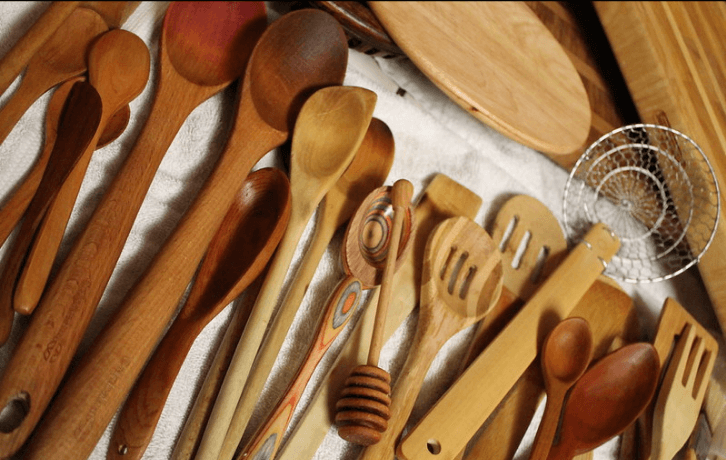 Having wooden spoons in your kitchen is one thing, and taking proper care of them is another. Taking good care of your wooden spoons makes them last longer, retain their beautiful natural look, and be food safe. Shown below are ways of How to Take Care of Wooden Kitchen Utensils.
It is always best to use wooden spoons to prepare delicacies for your beloved ones or see them in your kitchen. But what happens when your beautiful wooden spoons start to fray or crack? Cracking in wood is generally caused by many reasons, just as shown below.
Why do your wooden spoons frequently crack or look fuzzy?
Going for cheaper quality:
Many people prefer to buy cheap wooden spoons all over the market, forgetting that cheap is always expensive. If you want your spoon to retain its beautiful natural look and last long enough to be passed on to your next generation, you have no other choice than to invest in solid woods such as cherry and maple.
2. Putting them in a dishwasher 
 Washing wooden spoons with a dishwasher is many people's most famous mistake. It is not advisable to soak your wooden spoons in a lot of water that contains strong detergents as it reduces the quality and strength of the wood.
3. Not finishing your wooden spoon.
Finishing your wooden spoons is one way of ensuring that your item is likely to withstand heat, water, wear, and tear, and it also adds a protective layer and prevents the growth of bacteria. 
4. unpleasant smells
Although an unpleasant smell doesn't make wooden spoons crack, it may help you realize that the spoon is not well cleaned and may lead to food poisoning. To avoid such a smell on your spoons, you should rub them with lemon, vinegar, or baking soda.
5. Not wiping your utensils after cleaning. 
When you wash your wooden spoons in a dishwasher, you overexpose them to water. Exposing your utensils to air dry without wiping is another mistake that most commit. After washing your wooden spoons, it is advisable to wipe them thoroughly with a dish towel to prevent them from absorbing excess water.
6. Leaving the wood fibres to be worn down 
They start to grow soft and tear down after using wooden spoons or any other wooden kitchen utensils. If you do not prevent that, the quality and durability of your spoon will start to degrade and later become useless. To rejuvenate your spoon, use sandpaper and steel wool to sand down the wood until you obtain a fresh layer, and then season the spoon to give it a naturally beautiful look.
7. Use your wooden spoons to stir food that causes bacteria.
Stirring foods like raw meat, eggs, or fish using your wooden spoons encourages the rapid growth of bacteria, leading to food poisoning. It is recommended to thoroughly wash your wooden spoons and any other wooden items in your kitchen when they contact raw meat.
After reviewing the activities that can cause your wooden spoons to crack, it is clear that all you want is to keep them in good condition, but some may question this. How Should I Care for Wooden Kitchen Utensils? I want to keep my wooden spoons from breaking. If you don't know how to go about it, I got you. Below are the right tips to keep your wooden spoons from cracking.
How to properly care for your wooden kitchen utensils, so they look like new for a long time.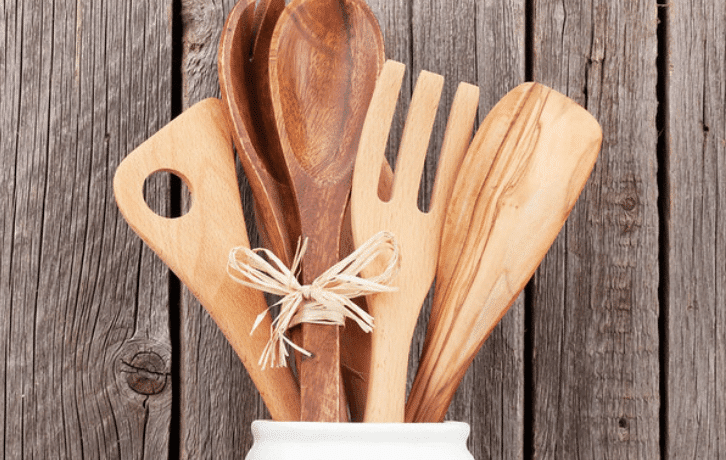 1. Hand washes them every time.
Handwashing your wooden spoons helps prevent them from absorbing excess water, making them soft and fuzzy. Wash them immediately after using them. 
2. Refurbish them occasionally.
If you realize that your wooden spoons are becoming fuzzy and rough, you need to take action before the pandemic becomes uncontrollable. Using a 320 grit sandpaper or steel wool pad, rub the wood surface to obtain a smooth surface. After scratching the wood surface, wash it and dry it with a dishtowel.
3. Finish your wood routinely.
Finishing your wooden spoons on a regular basis helps to prevent stains and heat damage. There are a variety of known food-safe finishes, but the best is usually food-grade mineral oil. The oil extends the life of the spoons while preserving their beautiful natural appearance.
4. Remove excess moisture from your wooden spoons using a dishtowel. 
After washing your wooden spoons, wipe off excess water using a dish towel to prevent them from taking in too much moisture, which may lead to the wood surface warping and cracking.
5. Treat Stains
Stains on our wooden spoons are generally caused by colourful foods that stick on them. There are two known ways of treating the colours, and they include:
Wash the item with hot water and soap.

Scrubbing the item with lemon and baking soda, then washing
6. Prevent smells
Preventing smell is one of the best ways of ensuring that you stay with your wooden kitchen items long enough to pass them on to the next generation. The most recommended way of dealing with the smell of your wooden spoons is to use lemon, and it leaves your items smelling fresh. 
7. Dry them in the air for some time.
Though it is advised that you wipe your wooden spoons after cleaning, that doesn't guarantee that your utensils are completely dry. After brushing your spoons, small water particles remain on them, which accumulate and lead to splinting and cracking. 
After washing and wiping your wooden spoons with a dish towel, please keep them in an open area to dry completely before storing them.
See more on finishing carving here
Is it safe to use a cracked wooden spoon? 
No way, you're not going to be able to cook with a cracked wooden spoon. When your wooden spoon develops a crack, it is easy for food to accumulate in it and it is difficult to clean, allowing bacteria to grow. The best thing to do with cracked wooden spoons is to toss them and buy new ones.
The bottom line on How to Take Care of Wooden Kitchen Utensils
Having wooden spoons in your kitchen is one thing, and taking care of them is another. The first step to making your wooden spoons last long enough for your children to see is to take proper care of them. If you do not know how to take appropriate care of your wooden spoons, this article offers good guidelines.