Plywood has grown in popularity in recent years since it is readily available, cost-effective, and strong. However, regardless of how durable it is, if not properly cared for, it can become prone to moisture and mildew, which are major enemies of any woodwork. As a result, we need to develop a way to increase the lifespan of our plywood by keeping it free from moisture.
Moisture can cause the plywood to split, bend, or even rot. Your concern about waterproofing plywood has led us into intensive research on How to Waterproof Plywood which has resulted in us conducting a few experiments in our workshop to bring you this guide.
There are different ways of waterproofing plywood. However, the method you pick will depend on the type of plywood you have and the kind of project it has been used for. How then do you go about it and get the best outcome? Without further ado, let's get into details.
How to Waterproof Plywood – Prep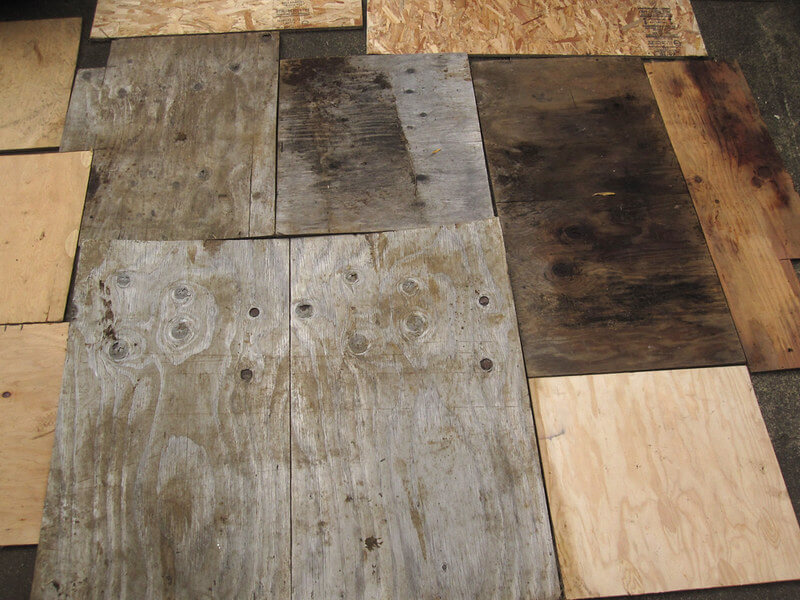 1. Prepare the plywood.
The plywood needs to be ready before you apply any waterproofing material.
Using a brush or cloth, clean the surface of the plywood sheet and remove any dirt stains you find.

If there is a presence of any rough spots on the sheet, apply a wood filler. This will render a uniform smoothness and aid in preventing any gaps in the waterproofing.

Allow the wood filler to dry and harden before going to the next step.

Immediately the wood filler dries, and wipe down the sheet with a wet cloth. That small amount of moisture will raise the wood's grain a little, helping the sealer bond to the plywood sheet.

Lastly, lightly sand the plywood with medium-grit sandpaper (60-100 grit). This will aid in smoothening the sheet and getting rid of any rough spots that could clog the paint/seal.
2. Apply the sealer.
If you are applying a brush-on sealing method, paint it on with a roller or brush just like you would normally do. Ensure that you acquire maximum coverage and allow the first layer to dry before applying the second.
Moreover, some waterproofing and materials may require a third coat. It might not be very necessary, but it will cause you no harm.
On the other hand, if you are using the spray method, read the manufacturer's guide carefully. This is because if the spray-on sealer is not used properly, it will lead to:
Inadequate use of the sealer to cover the surface maximumly and

a spotty concentration, with lots of sealer in some places and very little in others.
The reason why these cautions are vital is that spray-on sealers are almost invisible and hard to control, unlike brushed-on sealers.
Therefore, when using a spray-on sealer, be very intentional with where you are aiming the can.
3. Keep watch as you allow it to dry.
Give the plywood up to 24hours to allow it dry. Once it has dried completely, you are free to install it.
After installing, add a bit of sealer over the screws and nails to ensure it remains watertight.
Lastly, even if the plywood is now waterproofed, ensure that you check them out every few months to ensure that water isn't causing damage without your knowledge.
The damage made by water will be easily noticeable; therefore, this should be just a simple check-up to ensure all is well.
How to Waterproof Plywood: Best Methods
Plywood can be used for both exterior and interior projects. If you are using the plywood in an area where moisture and mold are not a concern, you may probably get away with only an anti-fungal preservative, which is quite simple to apply. If you want waterproof plywood used in an outdoor project, we need to use something more substantial for protection, such as a waterproofing membrane because of large exposure to moisture. It is not difficult to apply the layer, although the approach differs from using a spray-on preservative.
The key point to Note: Ensure that the method you are using to waterproof is compatible with the type of project.
You can use various methods to waterproof plywood, but we have concentrated on the best methods and products used together in our research.
Epoxy is a common type of sealant that can be easily used on plywood. Its advantage is it protects the wood while letting it keep its natural color. Moreover, epoxy is tough enough and hence suitable for indoor and outdoor applications.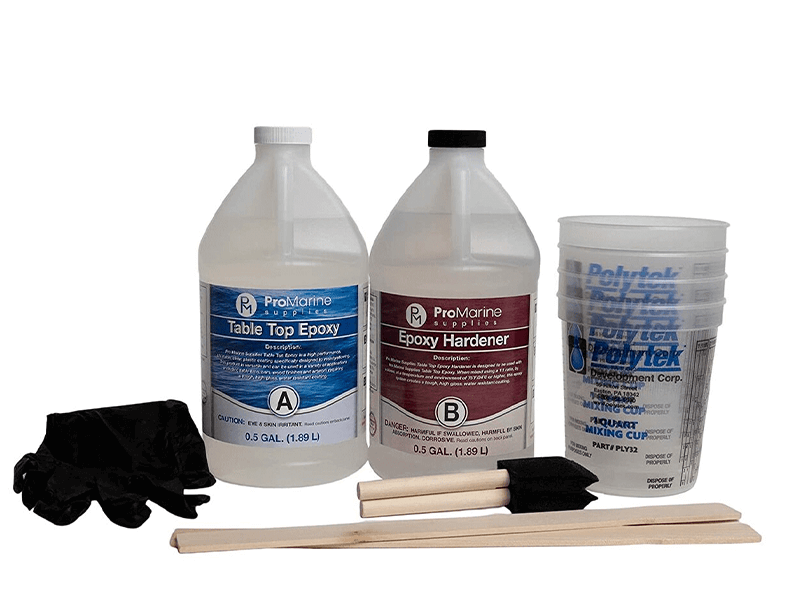 To apply epoxy:
Sand the surface to remove any dirt, debris, and loose particles.
Apply the epoxy sealant while following the guidelines. This means you apply the epoxy in an even layer while it is still in the liquid state. When the epoxy constituents meet, they tend to dry and harden faster to create a layer of protection on the plywood surface.
Moreover, another advantage of epoxy is it creates a hard, long-lasting layer stronger than the paint or hard oil. This translates to it can resist the elements for a long time.
Also, it can be reintroduced without needing to get rid of the older layer of epoxy.
However, there is a limited variety of material in terms of coloring or tinting the plywood.
Hard wax oil penetrates the surface of the plywood and protects it against moisture. Using hard wax oil is easier than using a sealant or latex coating.
Wax is however not as good as resins in waterproofing.
Hard wax oil can be applied evenly across the wood surface, but you have to give it time, then you soak and seal it up. Moreover, you should ensure that you use a penetrating oil that is designed for your wood. That one is meant to be used for waterproofing and keeps the wood moist enough to keep its flexibility and strength.
When applying penetrating hard wax oil, start by:
sanding the surface to get rid of any dirt, debris, or loose particles.
Next, apply the oil in an even layer.
According to the penetrating oil used, it would be necessary to add another coat once the first one has dried.
However, penetrating oil best works for plywood that has not been exposed to elements. Even though it offers some protection, the constant wind, sunlight, and exposure to moisture will dry out the oil before the surface even dries.
Therefore, I would recommend you use penetrating oil for plywood that will be used for interior purposes. Despite how easier and less time-consuming it is than other waterproofing materials, the oil will need to be reapplied more frequently unless the plywood remains out of the elements.
3. Paint or spray-on Latex.
Painting is one of the most popular and cost-effective methods of waterproofing plywood. Latex-based paints or polyurethane offer a protective layer that seals the porous surface.
When applying paint or spray-on latex;
Prepare the surface by sanding it smooth to help the paint bond to the wood and create a smooth, desirable surface in texture and visuals.
After sanding, apply the first layer of the paint; you can use a primer or a spray-on latex.
You can apply another coat after the first one has dried, if necessary.
A spray-on latex is as essential as paint because it also offers a coating that sticks to the surface and seals the porous plywood. If the plywood isn't directly exposed to the elements, then a couple of spray-on latex will be enough.
4. Using drying oil.
Plywood injected with hot drying oil is more resistant to moisture penetration and is the easiest way of waterproofing plywood.
Steps of applying a drying oil
Heat the drying oil in a water bath up to 50-60° C to enhance the ideal penetrating properties.
Carefully apply the heated oil to the plywood board with a brush. Pay more attention to the ends of the plywood sheet.
Carry out forced drying of the sheet by ironing the surface with a 200° C iron. You can also use a hairdryer to do this.
After drying, apply a new layer of drying oil and put the iron or hair dryer to work again.
Continue applying the drying oil until it can't be absorbed anymore into the plywood.
5. Using PVA glue.
Position the wood on a flat surface, then apply a layer of PVA glue.
Allow the first layer to absorb properly into the plywood.
Apply the second layer of the PVA after the first one has dried.
Continue doing this until the glue spots start to appear on the wrong side of the plywood board.
Turn over the plywood board and repeat the waterproofing process.
When applying PVA glue, the plywood should be laid on a flat surface, and you allow it to dry naturally. However, this method has a long waiting period. The plywood sheet will be protected from moisture for 3-4 days.
6. Use Water-based paint.
When using water-based paints to waterproof plywood, you should make a careful selection whereby the paint must be water-resistant and refine the plywood sheet.
Water-based paints are the best option when using plywood in residential areas because it is less poisonous and dry faster. If the plywood is being used outside, you can use enamels sold in finished or concentrated products.
After choosing your paint, follow these steps:
Carefully sand the plywood with sandpaper as the initial step. This will offer more reliable protection from moisture.
Next, using a brush or roller, coat the surface with acrylic primer.
Let the primer dry for 2 to 3 hours.
Fill in all the small cracks and defaults in the plywood surface by making a putty.
If there is any excess putty, remove it by re-grinding the surface.
Sand it over with a primer and allow the plywood to dry completely.
Paint the plywood with the chosen paint.
7. Use of laminate.
In this method, the waterproofing material is covered with plates of plastic, metal, or a special film.
Application: How to laminate
Apply resin to the surface of the plywood, which has been preheated.
Then place the plywood sheet under a press, with which the plates are mounted on the plywood.
After that, the ends of the plywood are treated with protective compounds.
8. Use of Varnish.
How do you select the best varnish to waterproof your plywood? Choose the ones that dry quickly, those that are fairly hard, elastic, and water-resistant.
Moreover, the varnish is a great way of waterproofing plywood without adding any conspicuous thick coating. Most varnishes leave a pleasing glossy appearance once they are dry.
Varnish is best for above-water marine applications; for instance, it is best for the upper parts of a wooden boat or the above-water section of your dock. So long as it is above water, it will resist salt, mildew, and moisture for so many years.
Steps of using varnish
First, using sandpaper, sand the plywood sheet.
Next, clean the plywood and apply a layer of primer.
Allow it to dry completely.
Apply the varnish to the surface, making long strokes using a brush or roller.
Allow the varnish to dry completely.
Apply another coat.
Importance of waterproofing plywood
Increases durability.
Plywood is less moisture resistant; thus, it will damage faster if exposed to the elements. In addition to that, plywood used indoors can also be affected by water leakages similar to the one exposed to rain and snow. However, when the plywood is waterproofed properly, you can expect a lifetime of 20-40 years.
Protection from moisture and UV rays.
When plywood is frequently exposed to moisture and heat, it will warp quickly.
For example, an extremely flat plywood sheet will be turned into a modern art piece if it rains in hot seasons. The bends and curves might appear interesting, but they create a terrible floor, deck, or sliding.
This is the reason why one should waterproof their plywood to ensure that it lasts long enough.
Prevents decay.
Although plywood doesn't completely split, exposure to moisture for a long period will cause rot just like it would to normal wood.
Wood rot doesn't look bad; it smells bad and weakens the wood materials. Therefore waterproofing will save you from dealing with slowly disintegrating plywood.
Hinders dry rot.
Normal rotting and dry rotting are similar, just that the causes are different.
Dry rot happens when microscopic fungi are on the wood surface and is nearly hard to see until it is too late. Dry rot doesn't need much moisture; the damage happens after the wood has dried and the fungi are already growing.
Minimizes splitting.
When wood is exposed to water, it causes splitting. The wooden layers separate, destroying the sheet.
The worst thing about splitting is, that it is hard to notice, such that you may realize it very late when other parts of the wood have been destroyed. Therefore giving you the need to waterproof your plywood.
Factors to consider in waterproofing plywood
When in the process of waterproofing plywood, there are things that you must take note of keenly, such as;
1. Types of Waterproofing.
There are several types of materials used to waterproof plywood. The waterproofing material that you will most often get is a spray-on or paint-on type of waterproofing.
Normally, this type of waterproofing is a liquid latex that you apply when the plywood is wet. As it dries, it creates a layer that will protect it from moisture. This material is available in any hardware store and is easy to apply without seeking professional assistance.
Moreover, some sealers and oils can guard plywood against moisture, and membrane systems, and sheet plastics, are both used to prevent the damage caused by moisture. Most importantly, you should note that the kind of system or material you use should work best for your project.
2. Ways of applying.
How you apply your liquid will depend on whether you use plywood for building or finishing material.
Mostly, you can apply the liquid using a brush or roller. You can spray on it other times using an electric sprayer like the one you use to spray paint.
From another perspective, if you are using plastic sheeting to waterproof your plywood, it needs to be stapled and tacked up. The same applies when interlocking membranes too.
Interlocking membranes are only used when the plywood you have will be used under natural stone or tile. Moreover, for finished plywood, you will be required to apply spray-on sealer only since you want to ensure that you retain the existing appearance of the wood.
3. When you are following the manufactures instructions.
When learning how to waterproof plywood, you must follow the guidelines of the manufacturer.
For example, let's say you are waterproofing plywood under a ceramic tile. You have to follow the instructions given by the tile manufacturer to ensure that you are using the correct method of waterproofing.
Following the given instructions not only applies to when you are waterproofing but also to every plywood. Using the correct guidelines will lead you to a very good outcome.
How to Waterproof Plywood a summary
In conclusion, remember and note that every project is different, and you would like to make sure that you are using the right kind of plywood and protecting it in the right way before you even begin.
If not done correctly, then you will realize that you will repeat the same project soon. Water and mold growth are enemies to houses, but you can prevent all this by ensuring you follow the correct guidelines for waterproofing plywood.