Is chainsaw carving hard? This is a question I get asked a lot by people who want to join the world of chainsaw carving.
In all honesty, chainsaw carving is not hard to learn. Anyone can invest the time, patience, and consistency, and they will learn fine. Chainsaw carving takes time to master, but it is not difficult to learn.
That said, chainsaw carving is a combination of two skills, operating a chainsaw and carving wood. These two skills are not complicated to learn and incorporate into an artwork.
In this article, we look at some tips that can help you learn and improve your chainsaw carving skills.
Is chainsaw carving hard- Quick learning tips
Safety is paramount gear up
I can not emphasize this enough safety equipment is important. Get yourself all the required chainsaw PPE. Chainsaw carving has a high health risk not to mention accidents can happen at any second. Being cautious and gearing up ensure that no money or time will be used in the hospital.
If you want to learn chainsaw carving as fast as humanly possible, then professionalism in this field will surely give you an edge. To check out all the required chainsaw safety gear check out Chainsaw carving for beginners.
Practice chainsaw dexterity with basic cuts
All tools have a learning curve. You use a certain tool long enough and you will understand it better. When using a knife, you can notice an area that gives a great advantage if used but noticing such detail means you spent a great deal of time using the knife.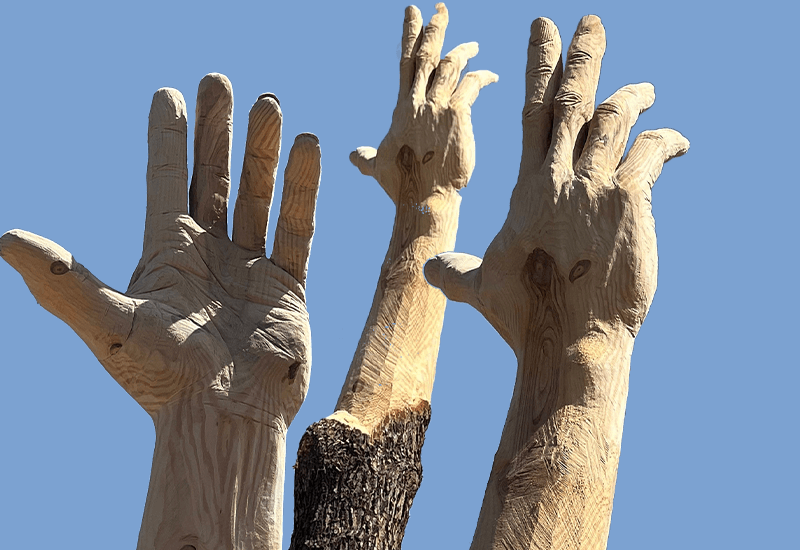 Chainsaws are no different; you can only know how to use your saw if you use it regularly. Some of the best things to learn from are the basic cuts. Practicing cuts is a simple exercise, yet it teaches a lot in terms of positioning, pivoting, and general chainsaw dexterity. Even for experts that have logged for years practicing the main carving cuts with a chainsaw can quickly help to propel your carving skills.
Learn some basic chainsaw maintenance
Learning other side skills may seem like a plan derailer. But on a closer look, it's not learning side skills like chainsaw set up, cleaning, and sharpening not only saves you money but also greatly improves your understanding of how chainsaws work.
Every time you need to sharpen a chainsaw if you don't know how you will be forced to get someone to sharpen it for you. This will cost you a couple of bucks and also you will be forced to take a break while the chain is being sharpened and even if you have an extra chain it still interferes with the creativity besides chainsaw sharpening is not hard to learn.
You also do not want to work with a blunt chainsaw a minute longer; Blunt chainsaws are quite dangerous and may cause serious accidents.
When you learn how to take apart a chainsaw and bring it back together with no issues you will not only understand how it works from the inside but will also know how to use it better.
Find good beginner-friendly wood
While you could carve any wood, especially with aid of power tools like chainsaws, be careful when choosing the wood. The choice of wood may make learning easy or frustrating. For the basic cuts, any species would do but be sure the log or branches as thick enough to practice the cuts on.
As you're moving up to more complex structures, look for wood that is soft not something like oak. Oak is hard and requires more patience to work with a chainsaw. check Best Chainsaw for oak trees
We have a list of the favorite woods for chainsaw carving, if you are new to chainsaw carving woods check it out.
Tool Maintenance and storage
Chainsaw carving is an expensive craft it wouldn't make sense to buy all the expensive gear and blow it in a few months. Tool storage is important and you should store your tools well.
The right use of tools also ensures that they serve you longer. You treat your tools well, and they will serve you better. Don't run a bar on a chainsaw that the manufacturer does not recommend.
All chainsaws have recommendations for sprocket size, chain pitch & gauge, and bar gauge & length make sure to check yours before switching anything.
Is chainsaw carving hard to learn: A summary
In summary, chainsaw carving is not hard to learn. But, it's important to consider the fact that there are two skills here to be learned therefore patience, time, and consistency is quite valuable.
There are other additional skills that will help you learn quicker as discussed above. When learning this art always remember safety first.
Be positive and you will soon be chainsaw carving like a pro and probably selling as you carve. All the best stay motivated.