Outdoor wood surfaces are more at risk than interior wooden surfaces for exposure to the elements. Wooden floors or furniture situated outside are more exposed to fluctuating weather conditions such as an immense amount of moisture in the air and heat. Moreover, these surfaces are more prone to scratches given the higher level of traffic expected, especially on wooden floors or furniture, which often become playgrounds for children, pets, and wild animals.  
Your choice of outdoor polyurethane is crucial in providing the best protection for your exterior wooden surface from tear, wear, warps, and splits due to the mentioned conditions.  
This article provides a professional selection of the best Water-Based Outdoor Polyurethane for your exterior use.  
Water-Based Outdoor Polyurethane (Buying Guide)
Before settling on a specific brand of polyurethane for your outdoor use, it is essential to understand that there exists a distinction between interior and exterior polyurethane products. While exterior poly can be used for interior applications, it is not advisable. Interior poly cannot be used for outdoor purposes. This is because interior poly lacks some chemical elements that make exterior poly suitable for outdoor conditions, such as direct UV rays.
The choice for a water-based poly product is also based on several other factors. For instance, in addition to excellent formulations that allow for UV protection, being water-based makes these products comparatively easy to apply and clean up.
Moreover, most poly products, especially oil-based ones, often have an irritating odor that can be a problem for some people. To overcome this problem, water-based poly has the advantage of often having very little to no odors. Another crucial advantage of water-based poly that makes them suitable for outdoor use is that they have a considerably shorter drying time allowing for more coats to be applied within a shorter period.
Advantages of water-based Polyurethane
Easy to work with
No exposure to VOCs makes it the healthier option to work with
Faster Drying time
Most clear finish to maintain the natural look of the wood
Lasts for a long time.
Properties of Outdoor Polyurethane
Excellent mechanical properties such as resistance to UltraViolet rays
Resistant to scratches, wear, and tear
Protects against moisture absorption
Aesthetically pleasing
Top Picks- best water-based outdoor poly
Best water-based outdoor polyurethane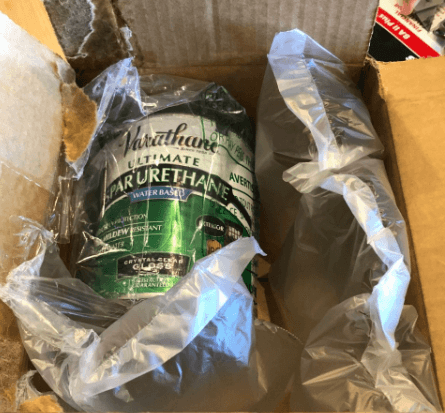 For wood surfaces ranging from furniture to windows, fences, and more that are located outdoors, Rust-Oleum 250041H is the best water-based poly out there. This product stands out due to several advantages it has over other products. Beyond providing the obvious protection from UV rays, it is durable, enabling it to last for a very long time, eliminating the need for constant re-application due to harsh conditions. Other factors that make this a unique product include:
Its water-based formula means it is easier to handle than oil-based products, which require much care.
Moreover, it cleans up easily since only water and soap are required.
It is odorless, making it safer in terms of health to work with. This type is safest for people affected by emitted VOCs by the oil-based variation.
Has a faster drying time. Consequently, applying up to 3 coats in a single day is possible.
Once applied, the poly does not yellow and provides additional protection from mold and mildew.
The end look is polished and clean, highlighting the natural look of the wood.
It does not require brushing.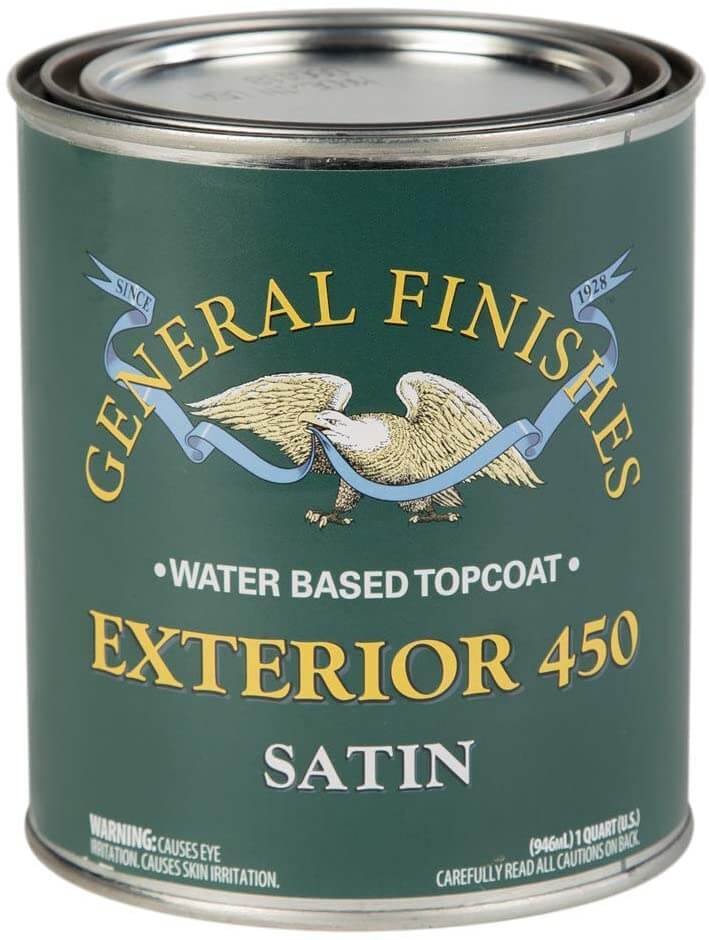 This water-based poly is the best overall product in the market due to its applicability on various exterior wooden surfaces. Like other products, this one is easy to apply and clean up. Very little care is needed during application since it does not emit VOCs. During clean up only water and soap are necessary. Qualities that set it apart include:
It offers protection against UV rays by incorporating a special formulation that absorbs the sun's rays.
It is safer for the individual's health and friendly to the environment as it does not produce VOCs.
Protects against the build-up of mold and mildew on the wooden surface.
Easy clean-up.
Despite these good qualities, one drawback of this particular water-based poly is that it might cause yellowing of the wooden surface.
Best Interior/Exterior polyurethane–Deft Finish Gloss 
This is the overall third best water-based poly for several reasons. First and foremost, this product stands out due to its versatility. It can be used for interior and exterior wood projects such as furniture and floors. Therefore, this poly product eliminates the need for you to have a variety of products for indoor and outdoor projects. Unique qualities of these products that set it apart from the rest include:
It is economical since it eliminates the need for you to spend money on two different products.
Like most other water-based poly, this product is more durable than most oil-based products.
It produces very low VOCs and is odorless. Consequently, it is not only safe for the individual handling it, but it is also environmentally friendly.
Water-based means this poly product is easy to handle and clean up with only soap and water.
Another important quality of this product is that having a dry time of 2 hours means that it can be re-applied multiple times during the day.
Its UltraViolet rays' protection qualities are top-notch, have excellent weather resistance qualities, and are durable.
The main drawback of this product is that it can cause yellowing on white painted wooden surfaces. 
If your needs are a water-based product that incorporates all the qualities of all the water-based poly products and adds to them, then this is your top choice. This poly product is unique due to the special formulation that allows it to be applied to wooden surfaces that have already been painted or primed. Unlike most water-based poly products that are only applied to wooden surfaces that are not painted, this product can be used on already painted wooden surfaces. Moreover, being able to be applied to interior and exterior use means that the product can be used to make old wooden surfaces such as furniture look new. Qualities that make this product stand out include:
It can be used on painted and primed surfaces.
It can be used for interior and exterior projects.
Provides excellent protective qualities from UV rays and harsh weather conditions.
Other protective qualities include protection from mold and mildew, oxidation of the surface, and bird droppings.
Being water-based, this product is easy to handle and clean up,
Moreover, unlike some other products, modern masters do not cause yellowing of the wooden surfaces it is applied.
One drawback of the product is that it is quite expensive. 
ZAR is a water-based poly product with the widest range of applications in terms of the number of surfaces it can be applied to. These range from exterior wooden surfaces, marine brightwork surfaces (above water-line), stained exterior doors- including fiberglass and steel doors, natural wood siding, patio furniture, fences, gables, and other wood surfaces exposed to direct sunlight and the harsh extremes of weather. Besides exemplary protection against the elements, this poly is very durable. Its topmost qualities include:
Protection against UV rays and oxidation.
Unique, eye-catching amber color finish.
Water-based makes it easy to apply and clean up with soap and water.
Consider ably fast drying times.
 A summary
The choice for a water-based poly product is often determined by the specific qualities that set aside water-based products from oil-based ones. For instance, most importantly, water-based poly products are easy to use since they do not produce harmful fumes and odors. Moreover, given their faster drying time, they are ideal for applying within a shorter period. These products are easy to clean up too. The products selected here represent the best of the best for water-based poly for your exterior wooden surfaces. We hope our selection proves a valuable guide when deciding which water-based poly product to settle for.