Polyurethane is one of the most durable and protective wood finishes available. It comes in both water-based and oil-based formulations. However, there are minor differences between the two; in most circumstances. you can stain polyurethane stain with either a brush or a cloth.
Polyurethane varnish is the finish that is most widely brushed by a majority of woodworkers. It is also the finish that is always used in many instructions on how to brush. It is best to use a brush since it makes it easier to evenly spread polyurethane on flat surfaces and corners.
But brushes vary in terms of how well they prevent bristles from coming out, how much finish they can hold, and how comfortable they are to use. With so many brushes on the market, it might be difficult to know which one to buy; however, with this guide, it will be simple to select the best for your project.
Best Brushes For Polyurethane – Our Top Picks
Reviews of the Best Brushes For Polyurethane
Why you should consider buying this type of Brush
It is of high quality
Investing in a high-quality brush rather than a low-quality brush to save money will indeed pay off in the long run. Purchasing this Wooster brush ensures you get a better application and more value for your money. 
Wooster Brush Company is most renowned for its highly efficient brush and other equipment. Its high-quality items have deservedly earned a place in the market since its establishment in the nineteenth century.
Effective for soft finishes
This silver punching is designed to provide flawless finishes without leaving any brush marks, ultra-thin filament, flexibility, and even softer.
In addition, the bristles are incredibly aligned and smooth with any paint and polyurethane. However, you'll notice, if it is applied to wood and finer and lighter water-based coatings, that it works better.
Unique brush with excellent bristles.

Wooden handle to make painting comfortable.

Lasting with quality ferrule in stainless steel.

During painting, it tends to hold a lot more paint.
Best when used in coating wood products
The natural-bristled Minwax polyurethane brush was manufactured for use in wood finishing products. There are three sizes available: 1.2 inches, 2 inches, and 2."
This brush is ideal for water-based finishes and stains and therefore is developed for polyurethane applications. The natural bristles offer more excellent absorption and hold the layer.
Minwax brush comes with a ferrule in stainless steel, and the braids almost have a glass finish.
Designed to be used for a variety of water-based paints and stains.

Features a ferrule made of stainless steel.

Compatible to use with Minwax Polyurethane.

If not maintained well, the bristles may fall off over time.

It tends to lose bristles during the application, ruining the work.
It is compatible with all paints.
This purdy series is a handcrafted brush that makes no compromises in terms of quality. After brushing, the brushstrokes are designed and made to return to their original state. Experts highly recommend it for both exterior and interior painting work.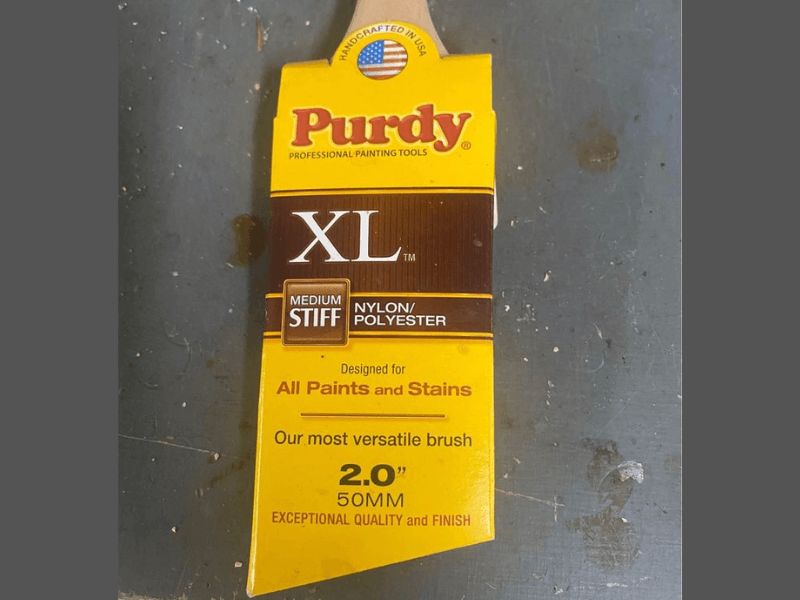 Furthermore, it comes with a keeper that guides the bristles to take on their original shape and extend their life span.
The keepers are covered in wax to prevent the penetration of water. They are also designed for increased airflow so that the probability of mould growth is eliminated. 
It was also designed specifically for the application of polyurethane. The brush is a little rigid and suitable for outdoor projects under different temperatures and humidity levels. The rigidity kept by these brushes provides them with excellent results for external projects.
Adds more brightness to your products.

Sustainable bristles.

Smooth finish, high performance.

It doesn't always have the best angular trim.
It is long-lasting
Since the bristles are made of high-quality nylon and gold polyester, it is excellent for applying on latex, oil-based paints, and other types of oil-based finishes such as polyurethane.
It has a golden polyester thread that holds up well in hot weather and is resistant to tearing and wear. A metal-plated steel ferrule holds the filament. Because of the sturdy ferrule, your bristles falling out should not be your worry.
excellent quality brush.

Ideal for home improvement projects.

Has bristles that perform well.

Affordable.

Since it is firm, it is not suitable for outdoor painting.

A little large for small hands.
The brush is ideal for staining, painting, cleaning, doing touch
This chip brush is excellent for staining, painting, cleaning, repairing, and adhesive applications. The handles on these brushes are made of solid hardwood. The best thing about Pro-grade brushes is that they provide users with superior grip and durability.  
These brushes are quite cheap and offer great value to both pros and beginners.
These are excellent utility brushes for varnishes, staining, glueing, and creating artwork. Tin ferrules are attached to the handles of these brushes. 
Easy to clean up with soap and water.

This brush is efficient and suitable for a wide variety of uses.

Long-lasting and easy to use.

They are suitable for rough coats.

The brush is not of high quality, and the bristles tend to fall off if not handled properly.
Best when you only want to use it once
You will receive a good-sized foam brush that can reach those hard-to-reach corners in any highly carved wood piece.
A white plastic brush handle with an inbuilt stiffener blade gives a secure hold while producing consistent and clean results.
For those who want to use a brush and throw it away, the price is set in a fair price range.
Cost-effective.

Blade stiffener is built-in.

There are numerous sizes available.

You cannot reuse the brush.
It produces an excellent and smooth finish.
When it comes to brushes, Wooster is a well-known brand. The Gold Edge paintbrushes are made with exclusive formula and contain a chemically tipped polyester. The filament is lovely and supple as it removes brush marks.
The bristle stiffness pushes the paint further onto the surface and provides excellent control for single-pass and sharp cuts. It works well with all enamels and paints.
This Wooster Gold Edge varnish brush is designed to produce semi-professional results.
The smooth bristle ends ensure a uniform coating.

Long-lasting and easy to use.

It's simpler to reach the corners with this brush since it is angled.

It works well and does not leave unwanted stroke marks.

It isn't easy to clean since it retains a lot of paint.

Over time, bristles become hard and take a long time to dry.
Have good natural and long handles
Hiltex is a brush designed exclusively for customers looking for an excellent set of brushes for applying polyurethane. These are specialized brushes for use with water-based polyurethanes and paints. This collection includes a total of 5 brushes in a variety of widths.
The high-quality polyester bristles are held in place by sturdy all-natural handles. All of the handles are long enough to provide an excellent painting, staining, or vanishing experience.
The bristles are held firmly in place on the wooden handle by a sturdy stainless ferrule, ensuring that the bristles remain firmly in place even after extended use of the brush. All of the handles are designed to be easily adjustable, even in the smallest parts of your project.
High-quality paint brushes with a wide range of applications.

Have natural solid wood handles and a larger paint-holding capacity.

Fairly priced.

The brushes are not reusable.
Suitable with oil-based paints on internal and external projects
The uniqueness of Magimate paintbrushes has been tested and proven. These brushes are of high quality. They are suitable for interior and exterior projects requiring latex, watercolour, varnish, epoxy, or oil-based coatings. 
When using your Magimate paintbrushes, you can work with oil-based, water-based, and anti-rust paint.
These can be used on a variety of surfaces, including rough, semi-rough, and smooth. This brush has long handles and is ergonomically designed.
Handles are made of smooth wood.

It holds paint well and distributes it evenly.

Assurance of quality.

Affordable.

If the brushes are not properly handled, bristles are likely to shed during application.

They are not suitable for big projects.
Compatible with various finishes and paints
Redtree Industries produces a wide range of high-quality tools suitable for use with various paints and finishes. They created this brush after extensive research. When it comes to coating, it performs admirably.
Redtree paintbrush bristles are good and provide all-around performance for your project. The handle is made of varnished wood and has a user-friendly design that makes it very easy to use.
It performs well in all areas.

With ease, it paints urethanes, varnishes, and enamels.

It gives better outcomes.

The brush is a little steep and difficult to bend, but it delivers a smooth coating.
See our best wood lathes
Best Brushes For Polyurethane – Conclusion
If you want to accomplish your project flawlessly, you'll need to invest in the best brush for polyurethane application.
You need to consider some elements before selecting the best polyurethane brush. Before making a purchase, you should consider the type of bristle, style, width, ferrule type, quality, and handle.