DEWALT is a renowned powerhouse when it comes to producing state-of-the-art power tools. It boasts quality products across the board, and it is no different for its circular saws. DEWALT circular saws are particularly hailed for the performance and power they provide.
However, not all DEWALT circular saws are the same. It is important to understand their distinct attributes to better identify which models are best suited for your intended use.
Herein, we will take a deep dive into the best DEWALT circular saws available in today's market.
Recommended Reading: Dewalt Mitre Saws Compared
The Flexvolt DCS578B is arguably the crème de la crème of DEWALT circular saws. It is a full-size cordless rotary motion saw that packs a hefty punch and boasts of an impressively safe design. In fact, this model is estimated to be 47% more powerful than any other circular saw in DEWALT's full-size DCS575** line.
Power and speed
It runs on a hefty 60V charge that enables the saw to operate at a no-load speed of 5800 RPM. Notably, this power is generated from a single 60V battery, adding to the saw's convenience. Over and above, the saw is very capable of cutting through thick and dense materials with utmost ease.
Blade size
It also features a 7 1/4" blade that reaches a maximum cutting depth of 2 9/16" at a bevel capacity of 90 degrees. In terms of safety, the Flexvolt DCS578B features an electric brake, integrated LED lights, and a rafter hook.
Additional features
The LED placements enable users to maintain precision and safety even when working in dimly lit areas, while the rafter hook allows for safe storage. More importantly, the electric brake ensures the blade halts every time users release the trigger to prevent any sudden accidents. Also noteworthy is its lightweight design and durability thanks to its magnesium flat-base.
Reasons to Pick
Safety: This circular saw is packed with highly impressive safety features including an electric brake, LED placement, and rafter hook.
Powerful: With 60V of steady power, this is arguably one of the most powerful DEWALT circular saws on the market.
Magnesium Build: The use of magnesium for its construction ensures the saw is lightweight while also making sure it lasts for long.
Ease of Use: It is relatively easy to use and handle the Flexvolt DCS578B. In addition to being lightweight, it is cordless, offers extra lighting, has a trigger for easy control, and has a contoured grip for easy handling.
Factors to Consider
Price: The only downside of the Flexvolt DCS578B is that you will have to pay a premium price to enjoy its premium features.
Do not let the 20 volts fool you; the DEWALT DCS570B is also a worthy contender for one of the best circular saws in the market. The one thing it has over the Flexvolt DCS578B is its brushless motor design which maximizes the saw's power efficiency.
It can run for longer without compromising its power output or overheating. Moreover, it runs at an impressive speed of 5500 RPM under load. On the whole, its 7 ¼ inch blade cuts at a 90 degrees angle, reaching a maximum cutting depth of 2 9/16 inches, enabling it to make a whopping 330 crosscuts on a 2×4 board.
It also features a rafter hook for safe storage, as well as blade angle and depth adjustment levers for maximum precision. What's more, its flat base is made from aluminum, making it a lightweight option.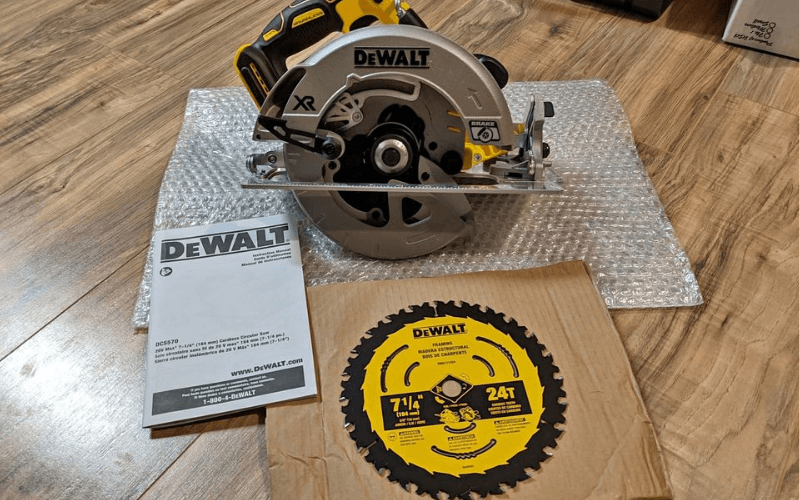 Reasons to Pick
Compact Build: This saw comes in a compact, lightweight design that makes it rather easy to maneuver with and operate even in tight spaces. Added to this advantage is that it is cordless for maximum portability.
Safety: Its rafter hook and ergonomic grips make this one of the safer circular saw models in the market.
Affordable: You will not have to cough up a hefty amount to buy this model.
Factors to Consider
Battery Compatibility: Noteworthy, this model is only compatible with specific DEWALT battery types. Therefore, you are required to be very cautious when you plan on replacing your batteries.
When it comes to the DEWALT DWE575SB, safety, and durability is the name of the game. This model's primary feature is its electric brake which is purposely designed to maximize user safety. It operates automatically in that it stops the blade every time the motor shuts down, minimizing the risk of accidents.
Moreover, the brake also stops the blade whenever there are pauses in-between cuts, further adding to its safety. This feature also allows for maximum durability since it protects the blade from extensive wear and tear. Other notable features in this regard include its carbide-tipped blade and magnesium build.
The latter offers maximum durability compared to steel and aluminum constructions, while the former ensures the blade is capable of aptly resisting abrasion and wearing even during extended use. In terms of performance, the DEWALT DWE575SB operates at a speed of 4600 RPM and a maximum bevel capacity of 57 degrees.
Reasons to Pick
Safety: Its high-end electric brake feature helps maximize user safety at all times.
Durability: In addition to its magnesium flat base, the saw's blade has a carbide tip and the electric braking in-between cuts ensure your saw will last for longer.
Dust Blower: This model features a dust blower that minimizes the amount of sawdust produced during cutting.
Factors to Consider
Speed: This model is not as fast as other circular saws within its range.
Corded: Portability is somewhat limited as this model comes with an electric cord attached.