Your woodworking projects deserve to be treated with the very best finishes available, and one of the best on the market today is an epoxy resin. These finishes offer incredible durability, flexibility, and resistance to cracking and peeling, making them perfect for use on surfaces such as countertops, furniture, and floors. Their versatility also means that they're great for use on outdoor wood structures like decks and fences, so you can protect your outdoor spaces from the elements all year long.
Epoxy resins work as both sealants and glue, and they are extremely versatile in their applications, able to bond with nearly any surface without leaving behind any sticky residue or tackiness that could ruin the overall look of your creation.
If you're working with epoxy resins, however, the choices of choosing the best epoxy resin for your project can be overwhelming – but they don't have to be! With this guide, we will help you pick the best epoxy resin to use on your woodworking projects, and give you some tips on how to get a flawless finish every time.
The Best Epoxy Resins for a Flawless Finish on Your Woodworking Projects
our top picks
the best epoxy for woodworking
Best Epoxy Resins for Wood: Review
Best tabletop epoxy
Pro Marine Supplies is arguably the best epoxy resin for wood. It is very versatile and works for almost any type of wooden furniture, including artwork, Table Tops, Bars, Wood finishes, and many more. In addition, this product offers one of the most significant coverage. It also has a smooth finish and is resistant to blush.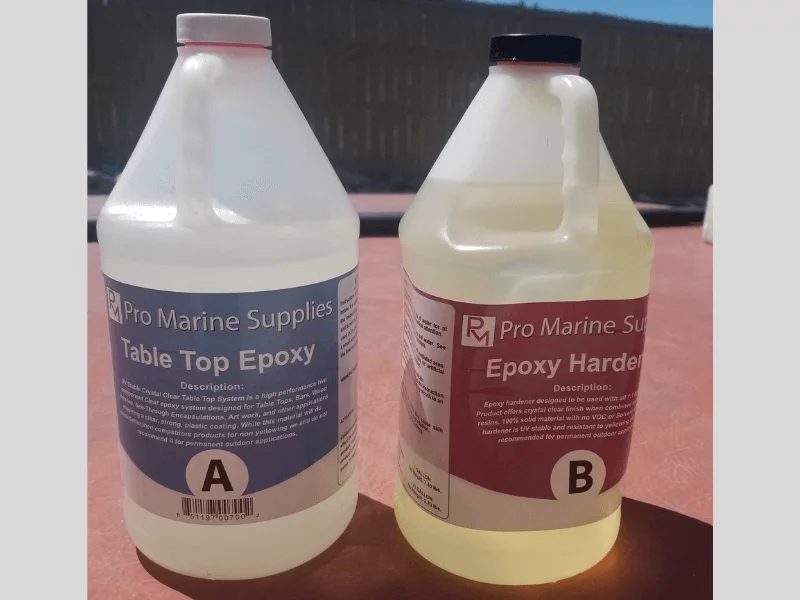 The most important factor to consider when purchasing an epoxy resin is the mixing ratio. This is because if you don't pay attention to the mixing ratio and mix your parts A and B incorrectly, the final result in the curing will be disastrous. It will not cure in the way that it is supposed to cure.
The Pro marine supplies have a mixing ratio of 1:1. This means that when mixing, the amount of resin you pour into the mixing container must be equal to the amount of hardener you mix. Please keep in mind that you should pour the HARDENER into your mixing container first, followed by the RESIN. This will aid in the thorough mixing of the two components.
Where is it more effective?
It is perfect for hard-wearing surfaces like river tables and bars. Its formula is thick hence making it easy to apply more coats if needed and providing decent results. It also has a self-levelling option that helps save a lot of time and effort in making it perfect over any surface. The formula is thick enough, and despite its 72hrs curing process, it offers up to 1/8 of levelling thickness.
 You can also expect it to prevent fish eyes, and craters and also avoid blush. A less experienced user can apply it effectively and get all of its benefits.
One gallon is enough for up to thirty-seven square feet (37 sq ft) for the overall coverage, making it ideal for woodworkers who continually use epoxy for their work. In addition, one gallon can apply up to ten applications with no problems. It also gives a high-gloss appearance, therefore, increasing the beauty of any furniture. It is also water-resistant and also UV resistant hence giving you a resilient and long-lasting product.
Good in time management
Due to its strength, high resistance to scratching, water, and inability to blush or begin sweating in humid conditions, professionals have been using this epoxy for over 10 years, and demand for it keeps rising.
The resin comes in a two-part kit (A+B) which you must mix before use—The mixing ratio is 2:1. Which means that for every measurement of hardener (B) in the mixing container, you will pour twice as much resin (A) into the container. For instance, 500 ml of RESIN will be required if 250 ml of HARDENER will be used. After 4-5 minutes of mixing, you have approximately 1 hour of application working time!
Mixing epoxy resin and hardener into one bowl is a smart way to save time and money when you're working on wood projects. Since it is mixed up before use, deep-pour epoxy can be used immediately when dry, which saves time while also helping you avoid errors like pouring too much hardener.
As one of our most popular epoxies, deep pour offers high bonding strength in addition to its ability to provide deep penetration into the pores of the wood. The fast-drying formula works well on a variety of surfaces, including River Tables, Deep pours, Molding, creating Jewelry, Crafting, and casting projects. While it is not quite as thick as some other epoxy resins, a deep pour still leaves behind an attractive finish that dries clear and smooth. It has a thin consistency and is a pourable resin with low viscosity.
When using deep-pour epoxy, it's important to apply several thin coats rather than just one or two heavy ones. Otherwise, you risk getting bubbles and uneven drying. Another thing to be aware of when using deep-pour resin is that it is safe for any job due to its low odour and lack of volatile organic compounds (VOCs).
How does it appear when applied
It may seem obvious, but before you start thinking about what will be sitting at your table, it's good to think about how that table will look when it's finished. This epoxy formula manages to resist yellowing and maintain a crystal-like appearance at all times. It also protects the furniture from water and increases its UV protection, making it last for many years.
Moreover, with up to one hour of application, you can be sure that it won't dry out, giving you enough time to apply it on any wooden surface. That is usually the real advantage of this epoxy because of how much time you will have to make it work perfectly.   
Where is it more effective?
It is a fantastic option for those looking for inexpensive epoxy that cures extremely hard and comes with clear instructions. When applying epoxy resin to wood in furniture projects, you want to make sure that you are using deep-pour epoxy. This allows you to fill in those dings and holes and darken up your project for a professional finish. You can do all of these things with deep-pour epoxy resin.
It is an all-around product.
This is an excellent option that is a professional grade choice that provides outstanding results and fantastic ones. The results are crystal bright in colour. It has a high gloss formula ideal for making any type of wood stunning and resistant. Its self-levelling feature makes surfaces made of wood very smooth with minimal effort and with no problems.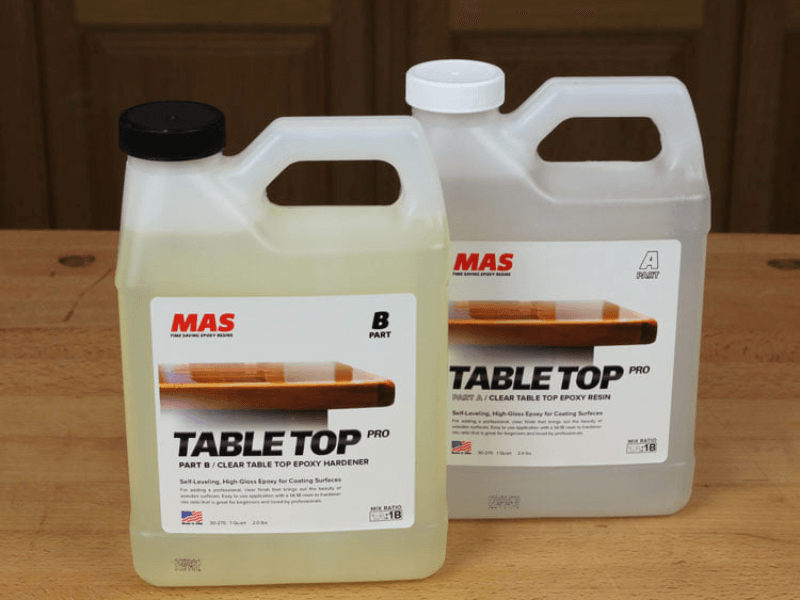 It levels at 1/8 inch, offering extra protection to any surface, and improving durability and resistance since it's pretty thick. With this thickness, one gets the opportunity to cover up to twelve square feet (12 sq ft) of space with a single gallon. Again, this offers extra protection to any wooden surface, and as a result, the durability and resistance of the piece are achieved due to this thickness.
The application process is relatively easy and is a perfect choice, even for an inexperienced person. It offers enough time to apply it carefully and patiently with an added brush and spreader that eases the process even more.
For better results free of bubbles, one may need to use a heat gun for fifteen minutes after pouring the epoxy resin onto the wood surface. This ensures that the final result is even better with no bubbles.
The result will have a gloss effect that will improve any wood, be it a tabletop or piece of artwork, making this epoxy an almost perfect choice.
ArtResin is a one-component epoxy resin that has been developed as an alternative to traditional 2-part epoxies. It cures clear and produces excellent strength and adhesion, even in thick layers. Though it was not made specifically for wood, you can use it on almost any surface, including wood.
This product contains no VOCs (volatile organic compounds) or solvents. The package includes two 16 oz. bottles of resin and a hardener. You mix them at a ratio of 1:1 by volume for use. You will also receive gloves, mixing sticks, and detailed instructions on your purchase. This product is non-toxic and safe to use indoors. Additionally, it is FDA-approved and conforms to ASTM D4236 standards.
For outdoor projects, you may want to consider using their outdoor-grade products instead; they include everything needed to complete your project except paint or varnish, which you'll need to purchase separately. You should mix these outdoors in a well-ventilated area. These products do not require ventilation, but some users recommend wearing protective eyewear when working with them, just to be on the safe side.
finally To avoid bubbles in your final cured resin artwork mix gently and efficiently, and always pour with caution. You'll get the hang of it, but pouring (the resin, hardener, and mixture) is an individual experience, similar to driving.
Ideal for any interior design project.
If you have nothing too specialized and you all are looking for an epoxy that can be for general purposes, look no further than the total boat. It is one of the best epoxies out there that is most versatile and compatible with the majority of projects.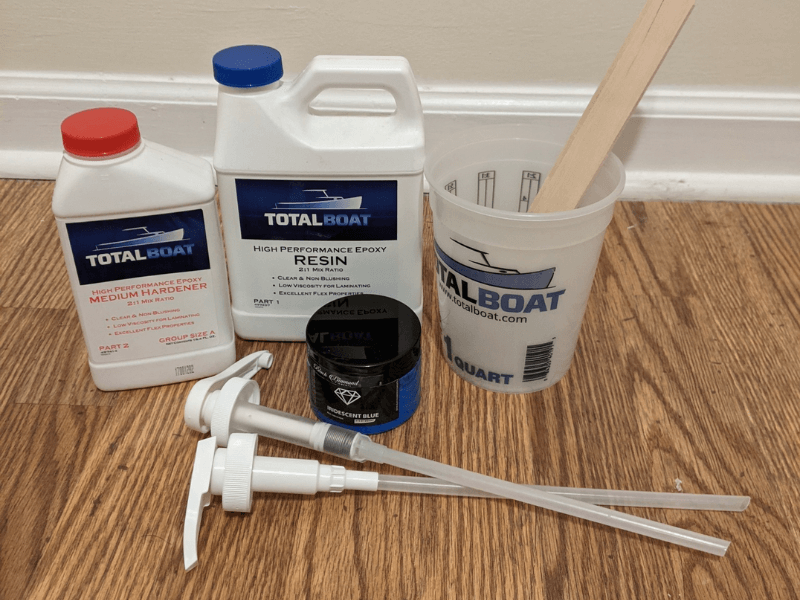 The kit includes a 2:1 mix ratio of epoxy resin and fast hardener that is well packaged to ensure you have enough resin and hardener for your project at the best price possible. To combine the epoxy and the hardener, measure (by volume) 2 parts resin (Part A) and 1 part hardener (Part B) into the mixing container. Remember to pour the HARDENER into your mixing container first, then the RESIN.
Since this marine-grade resin and hardener are crystal clear, they are ideal for laminating, creating beautiful and long-lasting wood finishes, as well as clear coating projects that are lass-like. It also has excellent gap-filling properties, so there's no need to worry about cracks or other imperfections ruining your finish after application.
The epoxy is simple to apply and has a low viscosity, resulting in exceptional thin-film flow and self-levelling properties. At room temperature, the fast hardener cures the fastest and has the shortest working time. This makes it appropriate for wooden boats that flex during use or with temperature and humidity changes.
This epoxy works at 1/8 thickness, proving excellent for people who are after decent durability and resilience. A single gallon can cover about twelve square feet of the surface with the above thickness without any problems, including several tabletops and other similar wooden objects and materials.
Despite this product's working on any wooden object, it can also work on ceramics, stone, concrete, and even metals and deliver superb results. It also offers a chance to work in outdoor environments and makes any surface long-lasting due to its excellent UV protector.
Another advantage of this product over other resins is that it will help you achieve all your desired results in no time. In addition, its kit is pourable, so one can apply the product more effectively and efficiently.
perfect for restoring damaged wood surfaces.
Abatron is a highly reliable brand that has a wood replacement compound hence providing a fantastic experience. Furthermore, it is unique due to its anti-sagging composition which increases the quality of the results that you will get.
For broken tabletops and broken wooden materials, this epoxy is perfect for repairing. It leaves a smooth surface if applied appropriately. Surprisingly, it can fix even the materials made from the most rigid type of wood.
Another advantage is that you will have the chance to make it look any way once it hardens. It can be sanded or painted afterwards. This is very good, especially for woodworkers who are after renovating or fixing furniture.
The application process is effortless, and the most fantastic thing is that the result can resist corrosion that results from weather elements, moisture, and even UV rays.
With one gallon, you will be able to fix several square feet of surface, making it an excellent choice for any woodworker setting up wood furniture. As for the thickness, this epoxy is quite thick, so you will always need to use the right amount.
The best fact is that this product gives you the guarantee of durability and also resilience. It is a reliable brand that never disappoints.
Budget-Friendly Choice
This is a clear resin that effectively covers wood without leaving any space. It offers a high gloss finish that is very stunning. It is crystal clear and can work on wood, metals, stone, concrete, and many other surfaces.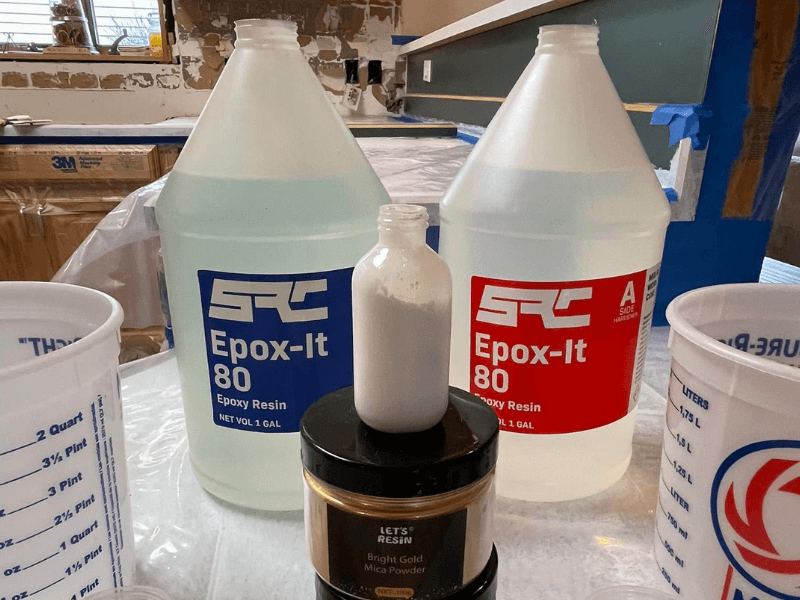 The kit comes with two bottles, one containing the resin and the other containing the hardener. This is considered an advantage over all the other formulas since it makes the application process very easy.
It has a self-levelling property and an air-releasing property that helps prevent uneven surfaces and reduces trapped air bubbles. However, for the air bubbles that might get trapped, you can get rid of them and level up the epoxy within forty-five minutes hence guaranteeing speedy results.
 This epoxy works at 1/16 per layer, which is enough to cover twenty-four square feet of space per gallon. The results, are either thick or light, depending on the number of layers that you want. This option comes in pretty handy.
Apart from all that, this epoxy resin paste is a resistance formula that helps prevent blushes, yellowing, damage by UV rays, the side effects of exposure to water and moisture, and many more. In addition, this feature ensures the durability of the wooden object.
environmentally friendly
It has a thickness of 1/8 inch, and once levelled, you can achieve up to 20 square feet of total coverage from a single gallon. You can cover anything with this epoxy and not have any problems. Its composition is also ultra-clear and long-lasting.
 For users who probably want flawless results, this epoxy resin is the best. It offers a quick application process that lasts for thirty-six hours, making it ideal for those wanting to apply and mould it with patience.
  Although it comes at a price, this countertop epoxy lasts a lifetime, and it is the most durable and reliable.
It has a gleaming crystal finish.
To improve any wooden furniture, this product is one of the very best options. It can provide a mirror surface that is so glossy that it reflects like a mirror. This adds to its high-quality results since it delivers an almost perfect appearance to any wooden surface.
It levels itself, mixes very quickly, and sets complex, making the application process very easy. With this epoxy resin, you will not have to worry about fish eyes, bubbles, craters, crawling, or any uneven surface since its formula is almost perfect.
A single gallon of this epoxy is enough to cover sixteen square feet of space, which is enough for several tabletops with no problems. One can make it 1/8 thick to receive a durable and resilient product. This epoxy will protect any surface from the most common issues, including scratches, UV rays, crack impacts, and many more. This product offers durability. It not only works with wood but also ceramic, concrete, copper, granite, and Formica.
For a user who wants nothing but the best and most demanding, this product is advantageous with accessories like measuring buckets, gloves, mixing sticks, and mixing drills.
Common reasons why people fail with their first epoxy project
Poor surface preparation
They fail to prepare properly. Before you mix your epoxy, it's essential that you clean and sand your wood. If there are any splinters or rough spots on your wood, they will show up when coated with epoxy and ruin your project.
Humidity
Many people do not pay attention to properly understanding the epoxy product. Solvent-based epoxy products, for example, do not bond well with humidity. Therefore before applying epoxy make sure that the surface is completely dry and there is no rising humidity from beneath the ground if you are applying it to the floor.
Improper Resin and Hardener mix
This usually occurs when the resin and hardener are not properly mixed. When you do not measure your resin and hardener in the correct proportions as directed by the manufacturer, the product will not cure properly and the surface will be sticky after finishing.
Understanding terms used in epoxy resin
Drying time, curing time, and sanding
The drying time is how long it takes from mixing your epoxy to when you can handle it.
Curing time refers to the length of time that you need to wait after applying epoxy before you can use it. There are three types of curing time:
The first curing time is the length of time it takes for the epoxy to harden enough to the point you can touch it.
The second curing time is the amount of time you must wait prior to actually having to apply another coat.
The final curing time is the amount of time you need before you could use the surface for general purposes.
Sanding epoxy is one of two options, wet sanding or dry sanding. – The difference between these two is how much water is in your mix. Wet sanding has more water and will take longer to cure than dry sanding which doesn't have any water.
Dry sanding should be done with a sander with fine-grit paper like 400-600 grit paper and wet sanding should be done with 600-800 grit paper depending on how smooth you want your finished product to look.
Self-leveling – The term "self-levelling" describes a product's capacity to create a level surface as a result of its chemical makeup. As a result, when they claim that the product is self-levelling, they really mean that it will spread itself uniformly all over the surface without the need for a brush.
The Best Epoxy Resin for Wood: Buying Guide
20 Things to Consider Before Buying an Epoxy Resin
To evaluate all the above products, here are some essential things that you should consider when making an epoxy purchase.
1. Area of coverage of the formula.
This usually depends heavily on the formula. The area of coverage is determined by the ease of the formula being spread, such that the easier it is to spread, the greater the area of coverage. This, however, does not mean that an epoxy resin with higher coverage is the best. Usually, a bottle of 1.5 ounces tends to cover about 25 square feet of the surface of about one gallon.
This feature also influences the price of the epoxy resin. The higher the price, the better the coverage.
2. The gloss that it offers.
This is, in fact, the first thing you should consider when choosing an epoxy resin. Gloss is the clarity and brightness that epoxy resins offer wood. So, to achieve a fantastic look for your wooden furniture, you must always select a high-gloss epoxy resin. This, in turn, improves how your wood, table, and other furniture look. Crystal apparent alternatives are recommended since they deliver a shinier and also brighter finish. However, a mirror-like gloss is a way better idea.
3. The curing time or drying process.
A product that offers enough time for the application process is the best. For instance, if you want to apply the epoxy in a small area, then a formula that dries within 30 minutes is ideal. To save time and get a flawless result, a fast-drying resin is the best choice.
For commercial use in relatively large places, the best epoxy is the one that dries between 2hrs to 72hrs. However, this does not mean that those epoxies that dry faster are better, but they will deliver more substantial and better results than those that dry very fast. It is also convenient to use those that dry up quickly.
There are three types of curing times;
The first one is how long the epoxy resin takes to harden to the point that you can touch it.

The second is how you need to wait before applying another coat on top.

The final one is the amount of time before using the surface for general purposes.
4. Processing time 
This defines how long the resin can be processed after mixing with the hardener. Once it starts to become lumpy, then it should not be processed any further.      
5. The availability of a hardener.
Hardener is a formula that comes along with the resin, and it facilitates faster drying. In many epoxy resins, it comes as a separate gallon. Getting an epoxy model with a hardener offers extra advantages since it saves time and effort that the resin alone will not.
6. Presence of self-levelling function.
This property gives your wood a much smoother surface. It spares you the need to wipe the resin in an attempt to flatten it. The best is those that settle at about 1/8 inches. 1/10 to 1/6 inches in thickness are not bad either.
This feature offers the chance of saving time and effort that the epoxy could demand. It also makes the resin fill voids and gaps automatically at a specific thickness level. The thicker the self-levelling feature acts, the slower the drying process, but the coating will have more resistance.
Whenever working on wood, this feature is essential since wood has so many cracks and bumps. The epoxy resin should fill the cracks consistently and not create another crack by dipping into the wood.
A resin with a slower curing formula offers better self-levelling.
7. Its ability to resist blush.
Blush is a waste product of the resin that changes the colour or may create a grainy or uneven effect on the surface. The best epoxy prevents this from happening, and for that, you need to go for a blush-resistant formula that is easy to apply.
However, it is challenging to pick a specific resin type with the property since you will not notice if epoxy works right after application but once the product has dried. To get this, you should look for any description label or a specific benefit.
To prevent blushing, the best thing to do is apply the resin when the surface is dry. Also, those formulas that dry very fast are more prone to blushing, so be careful when choosing.
8. Anti-bubble feature
Bubbles occur when the epoxy is not thick enough, hence letting in air and producing bubbles. We still, however, recommend purchasing a bubble-resistant formula to prevent trapping the air. They have an extra thickness, hence making the product more reliable and also easing the application process.
The bubbles also happen because the resin tends to harden fast. This is a result of a lack of thickness hence producing more bubbles.
9. Water and moisture resistance.
Water resistance is a critical feature since one of the main reasons for coating wood with epoxy is to strengthen it, especially from water that comes from rain and humidity.
Although all epoxies are water-resistant, some are better than others. The best option is to go for options that specifically state that they are water-resistant. They deliver higher durability and overall resilience to the wooden tables and all the other furniture.
Some of the epoxy resins are hundred per cent waterproof and are manufactured specifically for use on boats and surfing boards. They make the wood last longer.
10. Resistance to UV rays.
This is a standard feature. Epoxy resins are responsible for protecting wooden surfaces against harmful radiation rays. Some products come with UV blockers, and since these rays change the color of the epoxy resins, you should choose those with blockers if products are to be exposed to sunlight. It is, however, not necessary if you are going to use the furniture for indoor purposes.
Some epoxy resins with UV blockers are sometimes susceptible to damage after prolonged exposure to the rays. To ensure that yellowing does not occur, you can purchase a UV-resistant topcoat in addition to the finish that you are using.
11. Resistance to scratch and impact.
Wood can get damaged by scratches and other impacts. Therefore, you need to acquire a high-quality epoxy resin with an anti-scratch property to protect your furniture. This will most probably increase the cost of a resin, but it is an excellent choice to maintain a nice look and improve durability. Epoxy resins are hardened strong glue, and when used on your furniture, they will help withstand destructive impacts. 
12. How easy it is to use.
This is also one of the main concerns since the easier the mixing ratio, the better it is to use.
13. Viscosity
This describes a liquid's or a gelled substance's thickness. Epoxy resin, for instance, is halfway between a liquid and a gel. They are produced in a variety of viscosities, so the highly viscous will be significantly thicker and the low viscous will be considerably thinner.
If you use a thicker product, you will get a shinier and richer appearance, but it will take longer to dry. This is due to the fact that if you layer it too thickly and too fast, many air bubbles will be trapped; however, if you do end up with air bubbles, you can gently heat the surface with a blow dryer.
The visual impact will be different if you select a thinner product, and you may still need to use the blow dryer trick to get rid of some bubbles as it dries.
Viscosity is also affected by temperature. The majority of these products have temperature requirements on the label, whether for use or storage. Because epoxy thickens when it gets cold, you should be cautious in your product selection.
14. Toxicity
This will determine if the kind of epoxy you choose to use needs a food-safe option. Surfaces like countertops, tables, and cutting boards will need to be food safe. Most epoxies are made up of substances that are not entirely safe; that is, Epichlorohydrin is toxic, and Bisphenol-A reportedly leaks xenoestrogens. Products that are labelled "BPA-free" are safe. However, if it is not indicated, flip the container over and check the numbers at the bottom. If 5, 4, or 2 are indicated, then there is no BPA.
15. Yellowing
This is a significant concern since not all resins will stay clear. Some of them tend to be yellow with age. Sadly, manufacturers are not always honest with this kind of information. So you can check out reviews from previous customers concerning their experience with the epoxy and then decide which one is the best to buy.
16. Application
An epoxy resin that is difficult to apply is an indication that it will not cure properly. The difficulties that come along with application involve how the epoxy resin cures while being applied. Most problems that arise are the development of bubbles and also the occurrence of blush.
If you are a newton epoxy resin application, choose a product that has a longer work time. Work times usually range from thirty minutes to one hour, and you don't want to be rushed when mixing and applying. You also require some time to remove bubbles and to blush, if any.
Application specifications require most epoxy raisins to be stored and used at temperatures above seventy-five degrees Fahrenheit and in areas with very low humidity. Failure to observe the specifications will yield unintended results.
17. Ratio
Most epoxies come in two parts: a resin base and a hardener, and in most cases, the two are mixed equally. Some manufacturers, however, have developed terrible formula ratios. For instance, a 4-1 ratio might save you some coins, but it is most likely a recipe for disaster.
18. Abrasion
Most hard-wearing surfaces should have the ability to resist most forms of abrasions. However, it is not advisable to use epoxy resin-coated surfaces such as cutting boards, but we look for products that interact with objects without developing incisions.
19. Materials and durability
For an epoxy resin to be considered high quality, it should withstand a fair share of relatively rough handling.
20. Appearance
A resin with an anti-yellowing property is the best since it is usually glass-like and crystal clear to achieve flawless and beautiful results. But if you intend to colour or dye your epoxy, then this is not a big deal.
Another important factor to consider is what type of wood you are using. Some woods don't work well with epoxy so make sure to check if your wood is compatible with epoxy before starting your project. I recommend doing research online about different types of woods and their compatibility with epoxy resin. Also remember that some epoxies will require primer if you are trying to cover up an old finish on wood, while others won't require anything at all.
Conclusion: Best Epoxy Resins for Wood
If you want to venture into the woodwork, you will need to ensure that your products are eye captivating and durable to achieve your client's satisfaction. You will therefore need to consider various options that will be of help. For example, epoxy resins come in handy to ensure furniture's beauty, durability, and resilience.
There are various types of these epoxies, and it's all up to you to select one that suits the type of work you need to do. Before making a purchase, you need to consider the type of wood you are using, the time given to complete a particular piece, the physical state of the furniture, and the target result.