The table top is arguably the most integral element of any table. Its design greatly impacts the overall appearance of the whole wooden structure. As such, a high-quality finish is a must-have for any tabletop.
Resin is one of the best finishes on the market. Not only does it provide table tops with an attractive, glossy appeal, but this finish also offers added durability because of its resistance to peeling and cracking.
However, choosing the right resin for your table top can be a daunting task given the extensive variety in the market. If you are facing such difficulty, you are in luck! Below are the best resins for your tabletop to help ease your burden.
Best Resin for Table Tops
The Pro Marine clear table top epoxy resin is the best for wooden table tops. It is packed with premium features and is easy to use, making it a more-than-ideal choice.
Premium Features
This epoxy resin is highly glossy and as clear as crystal for a perfectly shiny tabletop finish. Its self-leveling property further allows the substance to smoothly level itself as it spreads onto your tabletop surface, thus allowing for a uniform coating free of craters or fish eyes.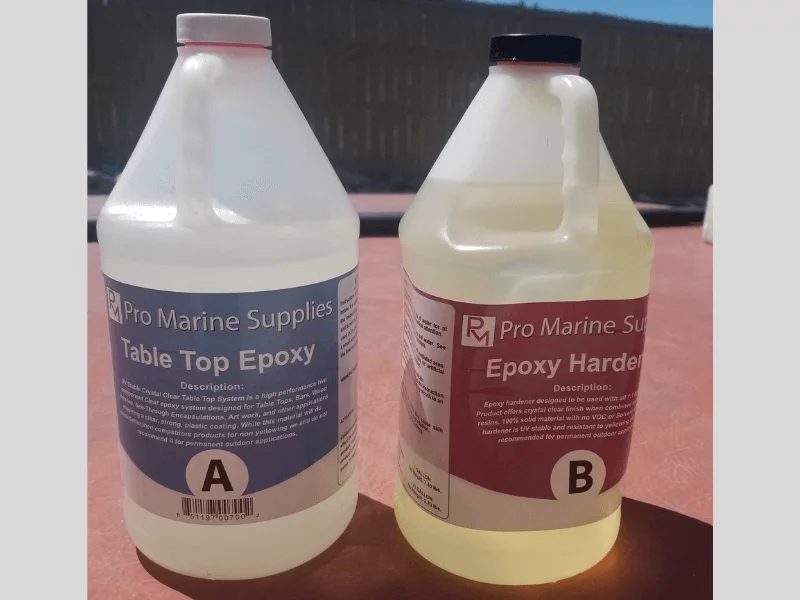 This self-leveling ability is largely attributed to the resin's exceptionally thick texture that guarantees up to 0.125 of leveling thickness.
Also equally important are the Pro Marine's zero-VOC (volatile organic compounds), UV resistance, and low odor features. Thanks to these attributes, table tops with a Pro Marine resin finish are food safe as users are protected from VOCs and pungent odors.
Ease of Use
Mixing the Pro Marine resin is a walk in the park, but only if you follow instructions to the letter. With its 1:1 mixing ratio, you must use equal amounts of the resin and hardener. Start by pouring the hardener into your mixing container before pouring an equal amount of resin.
This kit also comes with six medium crafting gloves, six mixing sticks, and two foam brushes for convenient application. A single gallon can be used for ten applications on around 37 square ft.  
Teexpert 16OZ epoxy resin is another great finish for your tabletop. It is a one-component resin that suffices as an improved alternative to the more common 2-part resins.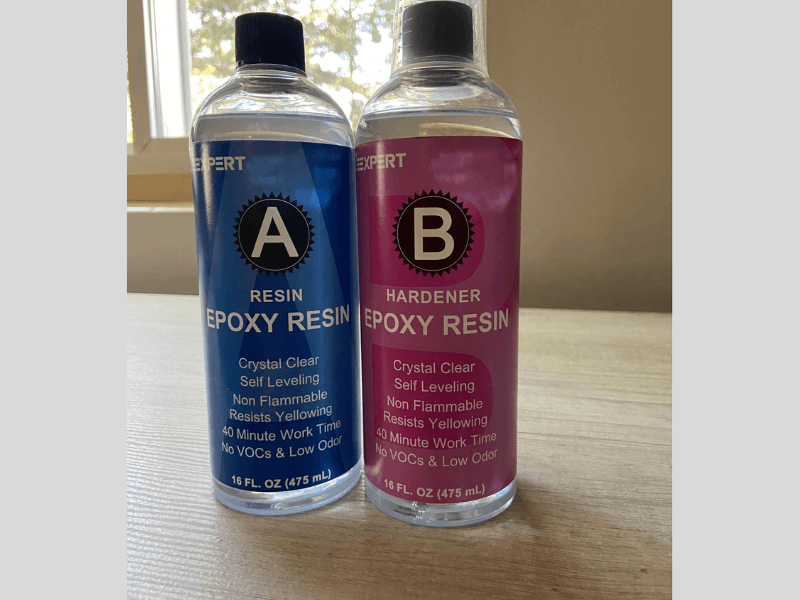 Safe, Strong & Durable
Like the Pro Marine resin, this FDA-approved resin is labeled as a non-toxic compound with no solvents or VOCs.  Therefore, it is safe for indoor furniture, including table tops. It is crystal clear and contains a self-leveling property for uniform application. Upon curation, the Teexpert 16OZ resin produces impeccable adhesion and hardness, with no bubbles.
However, you need to stir the mixture evenly for good results. It is mixed at a ratio of 1:1. Fortunately, unlike most resin types, the Teexpert 16 OZ package includes a pair of mixing sticks and in-depth instructions to allow efficient mixing.
The major shortcoming that makes it considerably inferior to the Pro Marine epoxy is its strong odor which can irritate some users. Although this odor is not toxic, it is advisable to wear protective gear when handling the resin.
ZDS epoxy resin: Environmentally Friendly Choice
If you are a true dyed-in-the-wool environmentalist, then the  ZDS epoxy resin best fits your preferences.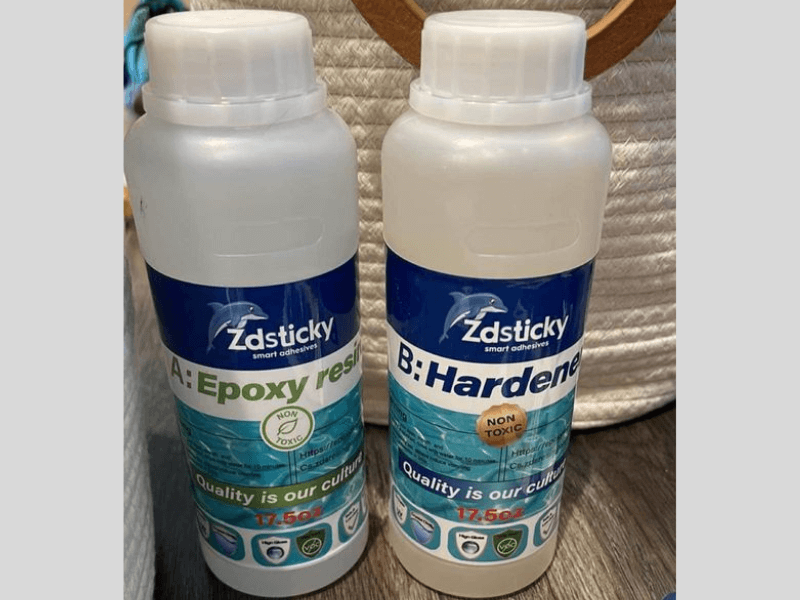 Environmental Protection
All the raw materials used to manufacture this resin are sourced from Germany. They are natural and safe ingredients specifically chosen with environmental conservation in mind. ZDSpoxy resin is among the few resins that have passed the RoHS environmental testing report. It has no VOCs or smoke and is safe for food contact, making it perfect for table tops.
Effective Performance
It is mixed at a ratio of 1:1, an operation that can take 40 minutes to mix and up to 24 hours to cure. A single 35 OZ package is enough to cover up to 3.8 square feet and features a self-leveling capacity of up to 0.125 inches.
Under the right conditions and if mixed appropriately, ZDSpoxy formulations are bubble-less, very hard, glossy, and have limited permeability to porous materials. Noteworthy, ZDS is an oil-based resin and should not be used alongside water-based substances.  
DIY Resin Application Tips
Getting a satisfyingly shiny finish for your DIY tabletop project involves more than just choosing the right resin. There are specific measures you need to consider for a perfect outcome.
Working Area
Top of the list is your working area. Since certain resin varieties contain some odor, resin application is best done outdoors. However, you should pick a location with limited wind and pollutants. For instance, handling your formulation in a bushy yard filled with dandelion seeds is a recipe for disaster. You need a clean working area where your resin is guaranteed zero contaminants. Nonetheless, you can never be too sure. Make sure to have a pair of tweezers close by to pull out any items blown into your resin cover.
Warm Temperatures are Best
The temperature of your working area should also be a priority. Resin formulations flow best in warm temperatures as the heat makes it easier to manipulate and spread on your tabletop. Therefore, perform this operation during the day when the sun is bright and hot.
Use a Heat Gun
It is common for resin formulations to produce bubbles, especially when not mixed thoroughly. Using a heat gun will help disseminate any bubbles in your mixture. However, exercise immense caution when using this tool as it is dangerously hot. It is prudent to have a hot pad nearby whereby you can place the heat gun when idle.
Small Batches
You are more likely to get the mixture right if done in small batches. Since most resins are thick, mixing or pouring huge amounts is difficult. Moreover, huge amounts of resin heat up and react faster, forcing you to spread the cover hurriedly, increasing the risk of errors.
Conclusion
In sum, the resin is the best available finish for your tabletop. It is shiny, durable, and relatively easy to use. The Pro Marine Table Top Epoxy Resin is the ideal pick since its premium features, and ease of use make it perfect for tables.
The Teexpert 16 OZ Epoxy Resin is also durable, safe, and efficient. However, unlike the Pro Marine, it has an odor that makes it slightly less appealing to users. For an environmentally friendly choice, you should pick the ZDSpoxy as it meets the RoHS environmental testing standard.