Choosing which finish to use on your Birch plywood project can be daunting. However, Birch plywood is often the go-to wood for DIYers. This is primarily due to the properties it possesses that make it suitable for a varied number of applications in the household and even for office spaces.
Birch plywood possesses a strength that enables it to handle screws better than other types of plywood. It is also stable, eliminating the possibility of warping. These characteristics are the main reason why Birch is the go-to plywood. To complete your wooden project with the best type of finish, this list has selected the three best types of finishes you can use. 
Best Finish for Birch Plywood
General Finishes High-Performance Water-Based Polyurethane is a unique water-based formulation that offers excellent protective qualities for your birch plywood projects. It has superior characteristics that makes it the top choice finish for birch plywood. Moreover, being a polyurethane finish means that it possesses superior characteristics compared to other types of finishes.
Finishes for birch plywood or any other wooden surfaces must possess above all excellent protective qualities from scratches or stains. Moreover, the protection provided must last for a long time. General Finishes High Performance boasts the best finish when it comes to the hardest most durable surface on your birch plywood project.
This finish possesses other excellent qualities that make it stand out. For instance, the satin sheen guarantees your wooden surface a classic natural look as it highlights the natural look of the wood. Moreover, being water based it is a finish that is easy to clean and maintain as only soap and water are necessary.
Zinsser 408 Clear Shellac is the next best finish for Birch plywood. An alcohol-based solution of lac, a natural resin is uniquely formulated to not only provide the much-needed protection of any sheen but to also elevate the look of your birch plywood. This Shellac comes in a blended form of 13.6 ounces of spray making it comparatively easier to use. 
This finish earns the second-best position as the best finish for birch plywood because of its unique sheen. When applied correctly, this finish dries transparent with a faint, golden cast that is exquisite to the eye. It not only improves the appearance of the birch plywood but also protects it from wear and tear.
Other benefits of this finish are that it is easy to use, provides durable protection for your birch plywood projects and it dries quickly, is non-toxic when dry, and cleans up easily with ammonia and water.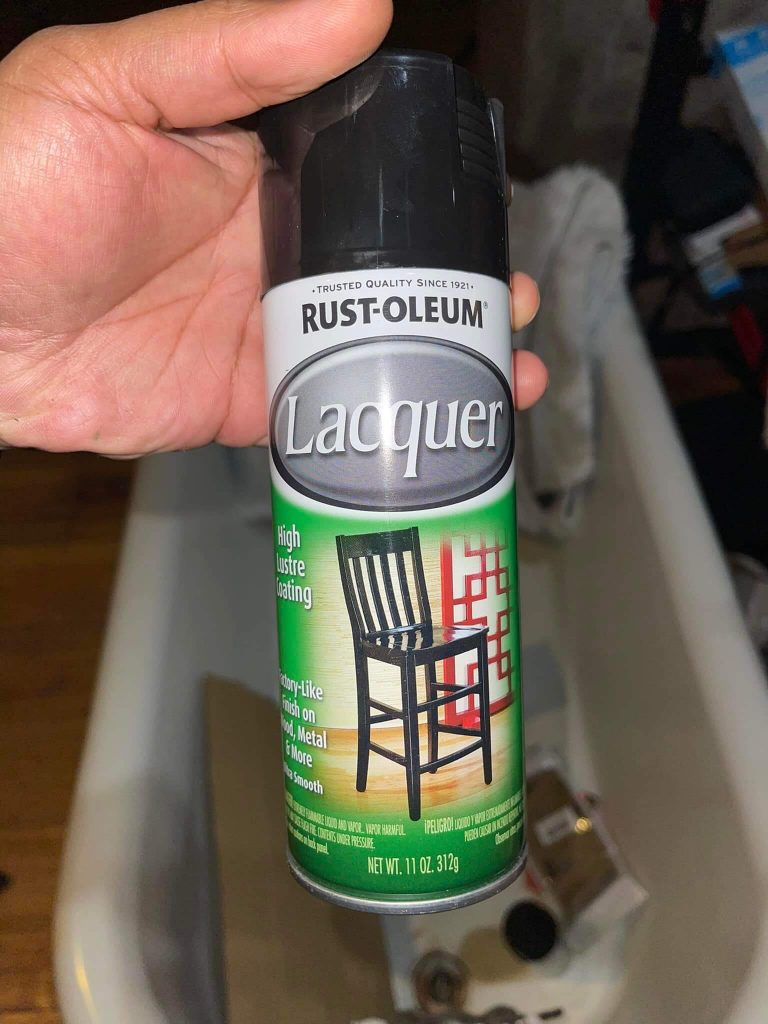 This Rust-Oleum 1906830 comes in an 11 Ounce (Pack of 1) spray can. This clear lacquer is an acrylic formulation that has a high gloss finish that is often desired for birch plywood projects such as cabinets or small interior furniture. Its unique formulation makes it a versatile product for various projects. 
Rust-Oleum is the best budget finish for several reasons. First, it not only possesses excellent protective qualities that will ensure the durability of your birch plywood projects, but it also ensures that they look pleasant. Another unique quality of this finish is that it is uniquely formulated to be used for both interior and exterior use.
Other benefits of this finish include a high luster finish, competitive protective qualities, and a quick drying time. The high gloss finish is smooth and easy to maintain. Lastly, it can be applied on other multiple surfaces such as plaster, masonry, wood, metal, and unglazed ceramic.
Other Types of Finishes for Birch Plywood
On some projects, it is necessary to change the color of Birch Plywood depending on one's preferences. In such instances, it is best to use finishes that add color to Birch Plywood. Such finishes include paints and stains. When applied on birch plywood stains can be trickier than paint since with paint you do not have to imagine the color you are getting.
However, stains come in different varieties such as light stains and Minwax weathered oak which gives a lighter color to your birch plywood. There are dark such as Varathane wood stains and gray stains such as Minwax too in the market for which it is advisable to look at samples before deciding on one. On the other hand, paints are less complicated as they come in specific colors to choose from. For our choice of best paint for birch plywood, consider an acrylic enamel paint such as Majic Paints.
Buying Guide- Best Finish for Birch Plywood
Sheen
When choosing the type of finish for Birchwood, it is important to note several considerations. The first and most important consideration is the sheen type of the specific finish. Normally, different products have different formulas that determine the sheen. The oil-based product often has more sheen as they come in varying gloss levels.
Therefore, for a better unique look such as a golden hue or an agent yellow, that enhances with time, oil-based products or shellac that indicate the gloss level is more suited for your birch plywood projects. On the other hand, if you want your birch plywood to retain its natural tint then a water-based formulation will serve you best.
Most water-based polyurethane products are best suited for surfaces that are meant to retain their natural look in a more highlighted appearance.
Interior/Exterior Use
Often Birch plywood projects are carried out inside houses or buildings. However, there are instances that it is used for exterior projects. Finishes often come in different forms that can be used for either interior or exterior use.
In most cases, most products indicate whether they are to be used for interior or exterior use. However, there are products that are uniquely formulated to be applied to both interior and exterior birch plywood projects.
Summary- Best Finish for Birch Plywood
Finishing Birch plywood is not so different from any other type of wood. However, the right choice of finish is necessary to achieve one's desired look. Birchwood can be finished with various finishes such as polyurethane, Shellac, and lacquer, among others.