It is vital to ensure that all the safety items you need to stay safe are on hand. Often, you need to pay more attention to the type of apron you choose. Choosing a suitable apron can take time and effort due to the saturation of various kinds in the market. However, our woodworking experts believe that the best apron is the leather type. This is because leather aprons provide the best protective qualities. Leather aprons are the best choice, despite being more expensive than your average cotton or canvas apron. Consequently, this list has curated the top picks of the best leather woodworking aprons to make your choice easier.
Factors to Consider: Buying Guide
The thickness of the leather apron
It is common sense that the thicker the leather, the better the protection. However, for woodworking purposes, a thinner leather apron is ideal. Leather is the sturdiest material a woodworking apron is made from. As such, a slimmer option is perfect. Thinner leather aprons will allow you to move flexibly in your work environment while protecting you from dust, shards, paints, finishes, and sharp edges. Moreover, you will be protected from sharp tools.
Pockets
The number of pockets is another vital consideration for your Woodworking. Tools are an essential element of all Woodworking. Different leather aprons come with different pocket configurations. Key factors about pockets are the number, placement, and size. If your woodworking projects are intricate and require various tools, then an apron with many bags is ideal. On the other hand, simple projects requiring few tools can benefit from a leather apron with few pockets. Having fewer pockets will also increase your efficiency because you will only have to go through a few bags to find a single tool that you forgot where you put it.
Strap System
Another essential aspect to consider when selecting a leather apron is the strap system. The strap system is the one that holds the apron in place. The strap system is designed to go around the neck and the shoulder and can be adjustable. The type of strap system is vital for several reasons. For instance, if your apron carries a lot of tools, then a neck strap would not be ideal as you are likely to strain due to the total weight on your neck. On the other hand, strap systems should always be adjustable to ensure you get the desired fit from your apron for maximum comfort and flexibility.
Loops
Another important consideration related to pockets you should consider related to loops. Loops are vital when it comes to holding tools like hammers. Coils will give you easy access to such devices. Moreover, you won't have to mix your tools in one pocket, making retrieval difficult. When choosing an appropriate leather apron, keep in mind the number and placement of loops to suit your unique desires.
Cost
The cost is the last consideration when choosing a leather apron for woodworking. Due to the high cost of leather, all leather aprons will be more expensive than those made of other materials. However, the price ranges depend on the specific leather type and the features of the apron.
Best Leather Woodworking Apron-Top Picks
 1. QeeLink Leather Apron
Best Overall
QeeLink WorkShop Apron
This leather Leather Apron is a 6 Tool Pockets, Heat & Flame Resistant Apron, 24″ x 36″, Adjustable M to XXXL. This specific leather apron has been selected because it is outstanding. It exhibits all the best qualities. It is 100% cowhide leather with a buckle closure which means more loops.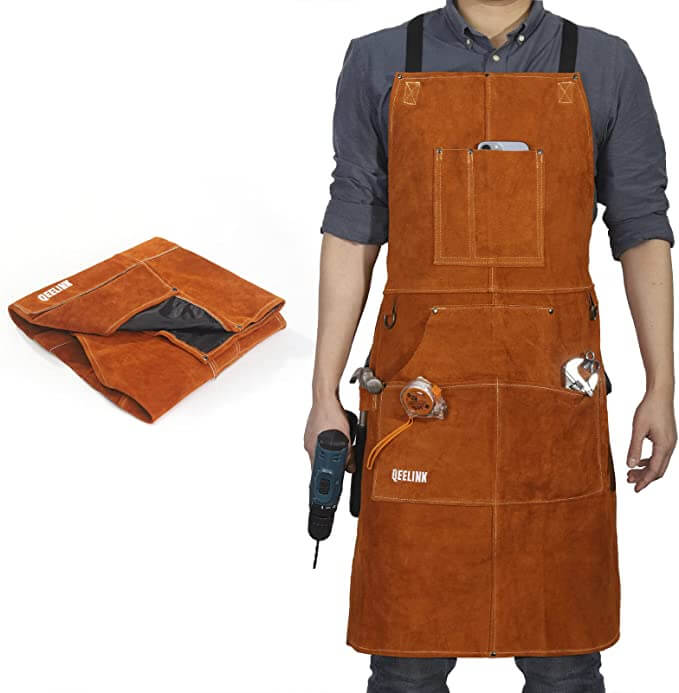 We earn a commission if you make a purchase, at no additional cost to you.
This apron stands at the top of the rest for several reasons. For instance, it has superior protection from grime from finishes, stains, and other woodworking chemicals. Moreover, you are guaranteed protection from sharp edges, flying shards, and sharp tools.

Moreover, the QeeLink leather apron has six pockets which means plenty of room for your tools. These pockets are sized suitably to prevent them from collecting dust and shards during wood turning or woodwork getting lodged in the pockets by mistake. This apron has straps that anyone can adjust the apron to fit. Lastly, this apron is long-lasting and can be used for various other applications, such as welding.
2. Andean Leather Apron
Runners Up
Andean Leather Apron
Andean Leather Apron is a 100% whole-grain leather apron with canvas straps. Moreover, it is pull-on close, lightweight, flameproof, and has a special coating. The special coating provides it with unmatched protective qualities against stains from finishes and more woodworking chemicals. It is also a multi-purpose apron.
We earn a commission if you make a purchase, at no additional cost to you.
As a runner-up to the leather apron for Woodworking, this apron has some advantages. For instance, it possesses adjustable straps that rest on the shoulders. This strap is essential. Straps that rest on the shoulders ensure that the total weight of the apron and the tools is better supported without straining the neck.
Other benefits of this leather woodworking apron include being resistant to stains and water. The special coating on the leather ensures that it provides optimum water and stain resistance. Being lightweight, this apron weighs 1.5lb. This makes it very easy to work with and navigate the work environment. It is also multi-purpose.
 Eletecpro Leather Apron
Best budget
eletecpro Woodworking Apron
Eletecpro Leather Apron is a 42-inch, 6-pocket, cowhide, heat-resistant, all-purpose apron. This apron is a 100 per cent cowhide. Moreover, it is premium leather with a drawstring closure. 
We earn a commission if you make a purchase, at no additional cost to you.
Other qualities of this apron include numerous pockets, smart cross-back straps, multi-function, and the fact that it comes in a unisex size.
The critical aspect of the electro leather apron that makes it the best budget is its cost. This leather apron for Woodworking is suitably prized to be pocket friendly for a leather apron. It costs at least three times less than the second runner's up. Moreover, despite its unbelievable cost for a leather apron, it still possesses some of the best qualities with some unique ones.
One advantage of this particular apron is that it has six tool pockets. Moreover, these pockets are placed such that they will not collect dust nor be in your way while working. A unique feature of this apron is that it has unique straps: SMART cross-back straps. These are uniquely designed to take away the pain from your neck and provide maximum comfort. This apron is multi-purpose and provides all the protective features.
Summary-Best Leather Woodworking Apron
Choosing the best leather woodworking apron can be difficult, especially if you have never used an apron before. However, you can hardly go wrong when it comes to leather aprons. First, these are made from leather which is a strong material. As a result, protection from sharp edges and flying shards is always guaranteed. Moreover, depending on the leather apron type, you will likely get the best features, such as flexibility, and features like straps, loops, and pockets.
Our experts have narrowed down the best options for leather woodworking aprons. The three options analyzed represent the best of the best in terms of quality and functionality. This guide will significantly minimize your search when you decide to get a leather apron for your woodwork.