Nine times out of ten, pieces of timber bought from timber yards are not milled as is due, making them rough. Similarly, logs found in your backyard are often ill-shaped with a coarse texture. This is a problem if your project requires you to have a huge flush and straight surface. Fortunately, you can conveniently circumvent this issue by using a router to flatten the slab.
It is important to note, however, that there is more to routers than meets the eye. Effective use of this tool boils down to proper preparation and choosing the right wood router. You need to have a router sled that functions properly and an efficient router to flatten any sizable slab accordingly. As such, this article will guide you on how to make the most of your flattening experience.
See: Plane wood without a planner
5 Factors to Consider When Picking Routers for Flattening
First and foremost, you need to understand the requisites of owning the perfect router. What factors should you consider prior to buying this tool to ensure you make the right choice?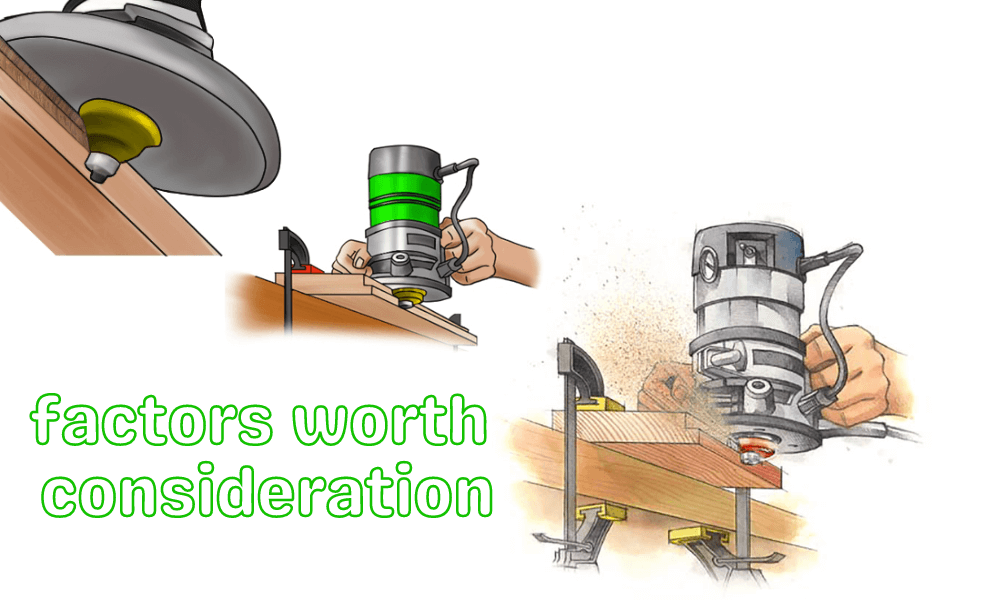 Base Type
There are three types of bases you can expect to find in today's router market. These include fixed base routers, plunging base routers, and hybrid routers with both types of bases.
Fixed Base: As the name implies, these routers come with a permanent base that is passed over a slab without the need for constant adjustments or vertical and horizontal movements. It is a straightforward and easy to use router base that is best suited for simple beginner or DIY projects.
Plunge Base: Inversely, plunge routers are adjustable. You can lower or raise the base, as well as perform controlled vertical movements. It is mostly used by professional woodworkers or contractors to work through mortises, deep timber grooves, and cuts. Additionally, using the lowering and raising adjustments, craftsmen can inscribe intricate patterns or inscriptions of the slab.
Hybrid Base: These routers contain both fixed and plunge bases. You can switch between the two depending on your intended project.
Horsepower
A router's ability to flatten surfaces greatly hinges upon its horsepower. Low horsepower routers can only perform general tasks, while high horsepower routers can perform more complex functions, such as making grooves.
Router horsepower is generally categorized into high and low categories. Low horsepower routers are those rated between 1 and 3, while high horsepower routers are rated above 3.
It is important to buy a router with enough juice to undertake your kind of projects.
Motor Speed
The speed of your router's motor will determine the quickness and smoothness of your flattening endeavor. Ideally, the faster the motor speed, the more efficient the flattening.
However, there are variations to this rule. High speed motors (20000 rpm and above) work best with smaller flattening bits, while low speed motors (around 10000 rpm) work best with larger bits.
There are also variable speed routers that allow you to adjust your speed depending on the work and flattening bit.
Dust Collection
A vacuum attachment is another essential feature you need to consider when buying a router. Woodworking, particularly slab flattening, is a messy affair since a lot of wood dust is spread out. To avoid the hassle of cleaning your work area after every flattening, make sure to pick a router with a vacuum attachment to help collect these wood dust in the process.
Handling
The type of handles fitted on the router will greatly determine your handling level. Ergonomic handles are the best as they offer you more control over the router, ensuring you are able to guide the router accurately and comfortably.
5 Best Routers for Flattening
There are several router options available in the current market. However, given the considerations detailed above, the top 5 models include:
Editor's Pick
BOSCH 1617EVSPK Wood Router Tool Combo Kit
The Bosch 1617EVSPK is a 2.25hp fixed and plunge-base router prized for its versatility. This router can be used for various applications, including slot cutting, dovetail cutting, laminate trimming, edge forming, and precise bit plunging. Its versatility is made possible in part by the router's micro-fine bit depth adjustment and coarse adjustment lever which enable users to have better control of the bit height amidst use. What's more, the mounting kit includes ordinary-sized chucks, and a 2 inch opening on the sub-base that fits various bit sizes. It also boasts other notable features such as an alternate fixed base ideal for table mounting, two ergonomic hardwood handles, and variable speed settings.
We earn a commission if you make a purchase, at no additional cost to you.
Reasons to Pick:
Performance: For enhanced precision, it features a resettable bit-depth adjustment with micro-fine parameters. It also has a depth rod for fine adjustment of the plunge base. What's more, its circular, centered design with handles at either end enables users to position the router with precision.
In terms of performance, this router packs ample power and speed for all flattening projects. It has a variable speed of between 8000 and 25000 rpm, and runs at a maximum horsepower of 2.5hp. Its response circuitry system is also designed to stabilize the router's torque, ensuring a clean operation from start to finish.
Base Type: This is a versatile tool given it has both fixed and plunge bases. All you need to do is switch between the two depending on your project.  
Dust Collection: BOSCH 1617EVSPK also comes fully equipped with a ProGuard dust collection system that is easily connected to a vacuum cleaner.
Handling: This model has two built-in hardwood handles, designed to give you maximum and comfortable control over the router during use. It also has an aluminum construction for sturdy movements and added durability.
Factors to Consider:
Flimsy switches: When buying this router, it will be important to consider its not-so-sturdy power switches. It comes fully equipped with two switches for easy accessibility, on the left and on the right. However, these switches tend to get damaged quite easily. Be prepared to replace them within a short time, especially if you plan on using the router regularly. Fortunately, you can easily find replacement switches for this particular router, in 2 packs, from Amazon. It is also relatively easy to replace them.
6-ft power cord: The Bosch 1617EVSPK uses a single power source; a 6-ft electrical cord. This fixture is permanently attached to the router's body, which in turn limits the router's portability. You will be forced to use it at a distance of within 6 feet from your power source at all times. 
By and large, this machine ticks all the boxes when it comes to power, precision, handling, speed, and dust collection, making it the crème del a crème of slab flattening routers.
Versatile and User-Friendly
SKIL Plunge and Fixed Base Router Combo
The SKIL 14-amp combo router is a perfect fit for the general purpose woodworking tools category. In addition to its versatility given its plunge and fixed base, this 2.5hp router packs a myriad of impressive features that are especially handy for less experienced woodworkers. These include an electronic control panel for speed and bit selection adjustments and a firm, centered design for optimal user control.
We earn a commission if you make a purchase, at no additional cost to you.
Reasons to Pick:
Performance: This 2.5hp, 14 Amp router is another top rated option. It has a variable speed of between 10000 and 25000 rpm, meaning you can switch between speeds as preferred. For this purpose, the router features an LCD display that allows users to alter speed and bit type settings conveniently, while also offering electronic feedback to ensure the router maintains the required rpm.
Base Type: The SKIL 14 Amp router is also a hybrid model as it has both plunge and fixed base types.
Dust Collection: For a cleaner experience, this router has two vacuum ports where you can attach a vacuum to enhance dust collection.
Handling: It is one of the most comfortable and convenient routers in the market as it features ergonomic handles at either side to provide users with maximum control.
Factors to Consider:
Complicated Table Mounting: Notably, one of its major drawbacks is its table mounting. Several users complain that the mounting adjustments are somewhat complicated and difficult to use, especially at first. The good news is that you will slowly get used to this tricky procedure.
Limited Size Base Hole: Another factor worth considering before purchasing the SKIL 14-Amp router is the limited size of its base center hole. This opening is only big enough to fit bits below 1.25 inches. Therefore, if you intend to use bigger-sized bits, this router might prove not to be your ideal pick.
Nonetheless, the SKIL 14-1mp router is a standout general-purpose machine that can serve all manner of woodworkers. Novices and hobbyists will be particularly impressed by this model's ease of use.
Steady Performance and Comfortable Handling
Bosch MRC23EVSK Combination Router
Another gem from the BOSCH powerhouse is the MRC23EVSK wood router. Its primary feature is its steady performance thanks to its variable speed dial which ensures the workpiece matches the machine's speed. The router also boasts of a constant response circuitry which works similarly to a brushless motor in that it offers overload protection and maintains a stable speed under load. What's more, the router's contoured ergonomic handles allow users steady and comfortable control to ensure accurate movements. The tip of the iceberg is that it comes with a sturdy carrying case, in addition to its 3-hole and 4-hole mounting patterns.
We earn a commission if you make a purchase, at no additional cost to you.
Reasons to Pick:
Performance: It operates at a maximum speed of 25000 rpm by means of a 2.3hp, 15 Amp motor. It has easily accessible speed dials located at the router's side, allowing you to switch from the minimum speed of 10000 rpm to the maximum as you see fit.
Base Type: Like other highly rated wood routers, this model has both fixed and plunge base types for maximum versatility.
Dust Collection: It also features a single vacuum port to help collect debris for a clean work environment.
Handling: The MRC23EVSK has two ergonomic handles conveniently positioned at the router's sides for ease of handling. These handles contain a trigger-control system that enhances user control over the machine.
Factors to Consider:
Lightweight Design: The router is somewhat lightweight thanks to its plastic build. While this might be an advantage due to portability, it is a cause of concern as it makes the machine less durable than other varieties. As such, you are required to handle this tool with care.
Powerful and Quiet Operation
DEWALT Router Fixed/Plunge Base Kit
If you are looking for a powerful, yet quiet router, then the Dewalt DW618 is a perfect fit. This router has an extra smooth plunge and runs on variable speeds to maintain stable speeds under loads. Additionally, it has a unique die-cast aluminum base that combines durability and light weight for added maneuverability.
We earn a commission if you make a purchase, at no additional cost to you.
Reasons to Pick:
Performance: It is arguably one of the most precise options in the market. It features a feedback control system that maintains constant speeds and ensures the start-up torque is low enough for enhanced stability. This model also features Depth adjustment rings that help make depth adjustments conveniently and accurately.
Base Type: As is expected of any top ranking router, this is also a hybrid model with both fixed and plunge base types.
Dust Collection: It has a one of a kind through-the-column dust collection setup that takes in more than 95% of all the wood dust spread during the flattening process.
Handling: In addition to its ergonomic handles, the DEWALT DW618PK also features a detachable cable for improved portable and more convenient handling.
Factors to Consider:
Power: This router runs on a 12 Amp, 2.25hp motor. As such, it is not the most powerful router in the list.
Awkward Toggle Switch: Before buying this unit, you should also take into account its awkward toggle switch. The toggle switch is positioned at the top of the router's handles. Therefore, it is quite awkward to turn it off or on, especially when you have both hands holding the handles. It seems this model would be more convenient if it had a trigger switch on either of its handles.
High Power and Innovative Features
Triton TRA001 3-1/4 HP Dual Mode Precision Plunge Router
When it comes to powerful and innovative routers, Triton's TRA001 dual mode precision router is a serious contender for the number one spot. It packs immense raw power thanks to its 3.25hp motor and maximum speed of 21000 rpm. As such, this model is more than capable of handling even the most complex workpieces with absolute ease. It also boasts of some very impressive innovative features, including 3 stage turret used for precise depth cutting, direct reading, and a single button switch for easy pinion height and base adjustments.
We earn a commission if you make a purchase, at no additional cost to you.
Reasons to Pick:
Performance:This is a powerful and highly precise router. It operates at a variable speed of 8000 and 21000 rpm, with a 15 Amp, 3.25hp motor. Some of its other premium features include preset cut depth controlled using a 3 stage turret and an automatic spindle lock for maximum precision.
Base Type:The Triton TRA001 is a hybrid model. However, what makes it unique is its single button switch that allows for convenient switching between base types.
Dust Collection: Although this model lacks vacuum ports, it has multiple side air vents that blow away wood dust during planning to ensure no debris reaches the motor, enhancing tool safety.
Handling: It has a compact centered design and two elevated ergonomic handles for efficient handling.
Factors to Consider:
Motor Speed: While this unit has a sufficiently high maximum speed, its automatic spindle lock and 3 stage turret significantly lower motor speed, limiting the router to minor projects.
Rugged Plunge: Arguably due to its immense power, the Triton TRA001 has a not-so-smooth plunge. Its plunge does not feel effortless on the hands. It will take some getting used to to acclimatize to its robust kickbacks.
Set Up and Flattening Slabs with Router
As mentioned earlier, the key to efficient flattening of slabs using a router is accurate preparation. Having already acquired the right router for your project, the next preparation phase is setting up a router sled.
Also known as a slab flattening jig, a router sled serves as the flattening guide. You simply place the router in-between the rails, with the flattening router bit fitted snugly in the groove, and make controlled passes over the slab's surface to flatten it.
Although router sleds are available for sale at hardware stores, you could also opt to build one from scratch. It is a relatively straightforward process that will not only save you money, but also help you work on your craftsmanship.
For starters, you need to have the right equipment for the job. These include:
Two 2 ' x 4 ' MDF timber pieces
5/8 " screws
Clamps
Plunge router
Power drill
Dado bit
Table saw
Once all these items are in place, you can proceed to building your router sled. This procedure involves:
Cutting the Required Wood Strips and Pieces
Figure 1: Required Cuts
Step I
The first 2 feet x 4 feet MDF should be left as is. It will be used as the sled base where you will place your slab during flattening. Notably, you can use a bigger board if you plan on flattening bigger pieces of timber.
Step II
Next, cut two 2.5 inch wide pieces through the length of the second MDF. Ideally, this width determines the maximum slab thickness that you can flatten. It is possible to cut wider pieces if you plan to plane thicker slabs.
Step III
On the remaining piece of MDF, measure the size of your router plate's base from the edge of the board. Add an extra ¼ inch to that width, and cut across the MDF. Use the MDF's width as the strip's length. Also cut two pieces, using your measured width, on the piece of MDF. The strip will serve as the sled base where you will place your router, while the two pieces will be the sled sides.
Step IV
Lastly, cut two 3 inch wide strips, the same length as the sled base. They will serve as the sled walls that will hold your router in place as you pass it to and fro.
Assembling Your Router Sled
Figure 2: Router Sled Design
Step I
Start by clamping the two full-length strips to the side of the base MDF. Once screwed in place, this will form the base surface which you will use to place the large slab. The MDF board will be the base (red), while the strips will be the base walls (yellow).
Step II
Hang the rail base, where the router will be placed, over the base walls to ensure it fits perfectly. Clamp the three inch wide pieces to the sides and screw in accordingly. The result will be a rail made of a working base (green), rail walls (purple), and rail sides (blue) to ensure it remains straight during passing.
Step III
Connect the dado bit to your router, place the router on the rail, and pass it to and fro repeatedly to route a groove. It is in this groove that the flattening bit will pass as it planes your piece of wood.
Using Your Router to Flatten Large Slabs
Step I
Place the slab on the bottom surface. If the piece of timber is curved, place it in a concave position, with the side-ends touching the bottom. Placing the wood in a convex position, with only the center touching the bottom surface, will create a rocking motion as you pass the router over the surface. This motion can be annoying and will hinder you from achieving the desired flattening results.
Step II
Fit your rail and place the router in-between, with the flattening bit fitted in the groove. Pass the router repeatedly until you achieve the required flatness.
Step III
Use a vacuum to collect the accumulated wood dust from your working surface.
You can watch this video to get visual insight into this process.
Best Routers for Flattening Large Slabs: Summary
In conclusion, when it comes to flattening large slabs, choosing the right router is crucial for achieving a smooth and flush surface. Several factors should be considered when selecting a router, including the base type, horsepower, motor speed, dust collection capabilities, and handling.
Based on these factors, the top five routers for flattening large slabs are:
BOSCH 1617EVSPK Wood Router Tool Combo Kit: This versatile router offers both fixed and plunge bases, excellent performance, and efficient dust collection. However, it may require replacement of the power switches.
SKIL 14 Amp Plunge and Fixed Base Router Combo: This router provides ease of use, good performance, and convenient dust collection. However, the table mounting may be complicated, and it has a limited size base hole.
BOSCH MRC23EVSK Wood Router: With steady performance and precise handling, this router offers a variable speed motor and ergonomic handles. Its lightweight design may require careful handling.
DEWALT DW618PKB Wood Router: Known for its quiet operation, this router delivers precision and features a through-the-column dust collection system. However, it has a less powerful motor and an awkward toggle switch position.
Triton TRA001 Dual Mode Precision Router: This powerful and innovative router provides precise performance with a 3-stage turret for depth cutting. It lacks vacuum ports but has multiple air vents for dust control and requires careful handling due to its lightweight design.
To flatten large slabs effectively, it is essential to set up a router sled or jig. Building a router sled involves cutting the required wood strips and assembling them to create a base and rail system. The router sled enables controlled passes over the slab surface, resulting in a flattened and smooth finish.
By considering the factors mentioned and utilizing a well-prepared router sled, you can successfully flatten large slabs and achieve the desired results for your woodworking projects.
What size router do I need for planing?
For planing tasks, it is generally recommended to use a router with a minimum of 2 to 2.5 horsepower (HP). This ensures that the router has sufficient power to handle the demands of planing, especially when working with harder or denser materials. Additionally, routers with variable speed control, a plunge base for controlled cuts, and the ability to accommodate larger diameter bits (such as 1/2-inch or 1/4-inch shank) are beneficial for planing tasks. Choosing a well-built router designed for heavy-duty use will provide stability and durability during the planing process.