If you're operating a woodworking shop, no matter how small, a table saw is an essential piece of machinery in your array of woodworking tools. It enables you to complete most projects quickly, efficiently, and precisely. Therefore, if you do not have a table saw, it is time to consider buying one.
You can choose from many varieties of table saws on the market, but we will focus on two of the top-rated companies that make quality table saws. We will compare the Harvey table saw, and the Laguna table saw. Both are excellent in their own right, but each has unique strengths and weaknesses. Nevertheless, our main concern will be comparing the overall performance, build quality, precision, reliability, and any notable features or drawbacks of the Harvey and Laguna table saws.
A Quick Comparison Table
| | | |
| --- | --- | --- |
| Specification | Harvey table saw | Laguna table saw |
| Models | Harvey Ambassador and Alpha models | Laguna Fusion F1, F2, and F3 models |
| Frame | Cast iron | Aluminum |
| power of motor | 2.2 and 2.5 HP | 1.5 HP, 1.75 HP, and 3 HP, respectively |
| Rip Capacity | 30" | 36" |
| Dust Collection System | overhead dust collector | overhead dust collector |
| Blade | Thin kerf | Carbide-tipped |
| Maximum blade width | 10" | 10" |
| weight | Heavy for heavy duty | light |
| cost | Budget-friendly | slightly expensive |
In-depth comparison Between Harvey's table saw and Laguna.
Power and performance
The first thing to consider when purchasing power tools is the tool's power. This is because the tool's ability is directly proportional to its performance. Therefore, Harvey and Laguna's table saws hold their ground regarding sheer power and performance. However, subtle differences influence your decision to favor one over the other. 
The Harvey and Laguna have powerful motors capable of serving you well in most projects. However, Harvey's table saws usually have a more powerful motor than their Laguna counterparts. Harvey's comes with 2.2 and 2.5 HP, while Laguna's table saws come with motors that range between 1.5 HP and 1.75. and 3 HP, respectively. Nevertheless, they all require just a 10 amp PowerPoint.
Looking at the power of both brands of table saws, it is evident that the Harvey table saw performs better than the Laguna. They can cut through even the toughest wood like butter. The powerful motor also gives them impressive cutting speeds, considerably reducing your work time. However, the Laguna can handle the most challenging wood as well. They have that capability, but for the Laguna, they are primarily effective regarding precision. Therefore, it's up to you to choose your preferred brands, as both possess great power and perform well.
Construction and build quality
Looking at the construction and build quality, we can differentiate between the two brands by their corresponding weights. Both Harvey and Laguna table saws are well-built, sturdy machines, but when it comes to weight, they differ remarkably, which influences their maneuverability and overall operation.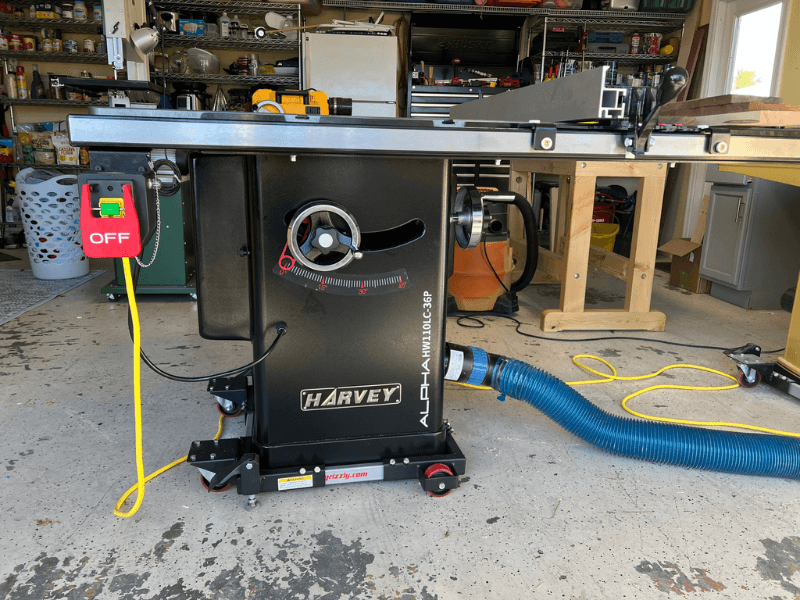 Therefore, a heavy machine is difficult to move around the workshop, but it can be advantageous for stability. The stability, therefore, means that the device can handle even the most formidable job without wobbling. Consequently, the heavier the machine, the more stable and reliable it is for demanding jobs, but it could be better in terms of portability. On the other hand, a lighter machine is way easier to move around the workshop but may wobble if you're handling more strenuous jobs.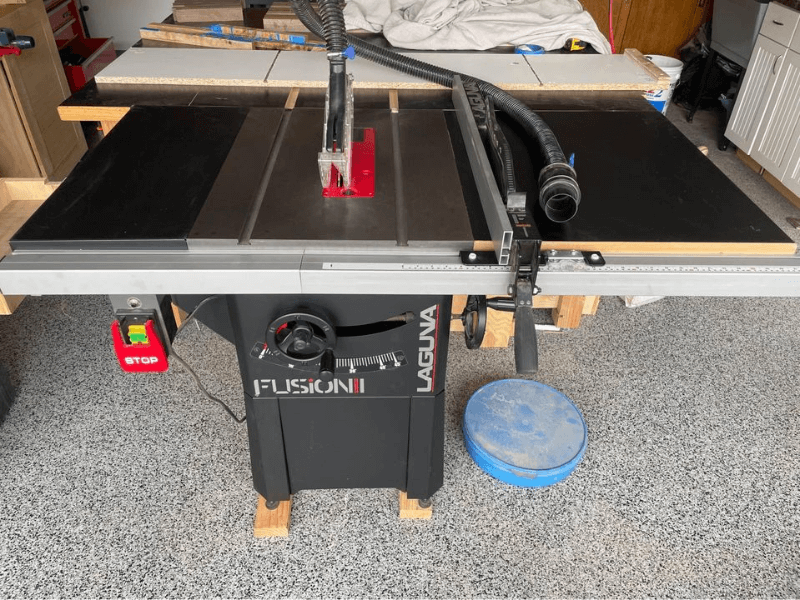 When we compare the two brands, Harvey's table saws are much heavier than their counterparts. Weighing around 300 pounds, the Harvey is more robust and can handle more challenging jobs than the Laguna, which is lighter at 275 pounds. Therefore, looking at their slight differences, the Harveys are your friends if you want a stay-in-place table saw. Their heavy-duty cast iron construction will ensure your stability and longevity. You can always go with the Laguna if you're more inclined toward portability and moving around the workshop.
Nevertheless, picking between Harvey and Laguna is a matter of personal preference. Both brands bring top-notch quality to the table. Therefore, the best table saw is not always the one with the flashiest features but rather the one that best fits your needs.
Dust collection system
Working around the workshop with a reliable dust collection system is more manageable.
Both Harvey and Laguna possess some very unique features when it comes to dust collection. The Harvey table saws have a built-in overhead dust collector, usually connected to the blade guard, for sucking in the dust directly from your cuts. This design is highly efficient because it reduces the clean-up you must do after your woodworking sessions. 
The Laguna dust collector also has a dust-collecting system connected to the blade guard. The blade guard has a vacuum port on top and a hose to connect to the cabinet down below. The whole saw can be connected to a 4-inch dust collection hose. A hose inside goes up to the blade, with a shroud around the edge. Therefore, it is even when it comes to dust collection.
Fence and miter gauge
The rip fence and the miter gauge are essential for a table saw. The rip fence is necessary for guiding you on a straight path when running a workpiece to be sawn from end to end. A miter gauge, on the other hand, is for crosscutting timber from 90 to 45 degrees. These two components ensure precision and safety in your woodworking projects. 
The Harvey table saw features a heavier-duty T-square, European style, high-low fence built to glide effortlessly and lock positively, referencing all three sides of the one-piece, solid steel, box-section front rail. On the other hand, the miter gauge in Harvey is top-notch and has a protractor attached to it, which allows you to set the angle of your cuts easily. It is marked with a precise scale indicating the angle for precision. Finally, the thumb screws make it very easy to lock the gauge into place at the desired angle.
Conversely, the Laguna Rip fence features a Hi/Low window to work with the European-style Hi/Low fence. However, it is less sturdy than the rip fence in the Harvey table saw. On the other hand, the miter gauge is not sturdy but very flexible, allowing you to easily adjust to a wide range of angles for all round cuts.
Therefore, it is up to you to go with either; you can choose between going with precision with a sturdy gauge and rip fence or with a more flexible miter gauge in the Laguna table saw, which has various cutting angles. It's a toss-up between Harvey's perfection and Laguna's adaptability.
safety features
When it comes to working with any woodworking tool, safety can never be compromised. In both Harvey and Laguna, they take the matter of security seriously. Therefore, they have equipped their saws with features to ensure maximum safety for their users.
Harvey table saws are built with innovative safety features. They have ensured that they have included a riving knife and blade guard system, essential in minimizing the risk of kickback, a common danger with all table saws. A riving knife is a curved metal blade attached directly behind the saw blade, and it is meant to maintain the kerf when you're sawing a workpiece from end to end.
Usually, when timber is being cut, it tends to close up and pinch a revolving blade. Therefore, a riving knife prevents the workpiece from being thrown back to the operator when it lifts the blade since it keeps the kerf open. Finally, a clear polycarbonate blade guard is suspended directly over the edge to prevent the operator from touching it accidentally and also restrain the workpiece if it is lifted from the table by the motion of the blade.
Laguna, on the other hand, has its own set of safety features. They are known for their revolutionary safety system, which includes using a thin Kerf Riving Knife and advanced sensor technology. The riving knife is always used in the absence of the blade guard.
Looking at both brands, they have invested in quality safety features; therefore, you can always go right with both when it comes to safety.
Cutting Capacity and Accuracy
Regarding cutting capacity and accuracy, Harvey and Laguna table saws stand shoulder-to-shoulder, offering exceptional accuracy and power. However, let's slice through the specifics and see where each brand shines. 
Harvey Table Saw:
Harvey table saws are known for their impeccable accuracy. The built-in riving knife system reduces kickback and ensures your cuts do not have a lot of errors.
 It also has a fantastic blade tilt range, which extends from 0 to 45 degrees. The tilting capability, therefore, is equal to the flexibility in cutting capacity.
 Finally, the miter gauge and the rip fence offer smooth performance, increasing your cutting precision to a higher level.
Laguna Table Saw: 
Nonetheless, Laguna table saws are distinguished for their powerful cutting capacity. They have a large table size, which offers more than enough space to handle larger workpieces.
 Additionally, the micro-adjustable rip fence adds to the saw's accuracy by allowing minor adjustments for detailed work.
Finally, similar to the Harveys, the Laguna has a blade tilt feature, making angled cuts more convenient and precise.
Therefore, distinguishing the two by their minor differences, we can say that: Harvey table saws slightly prioritize the saw's accuracy with advanced features, while Laguna table saws are more about powerful cutting capacity. However, both brands do a great job balancing these aspects, ensuring you get precise cuts, regardless of the workpiece size.
Accessories and Additional Features
Regarding other accessories and additional features, both brands do not disappoint. However, let us break down which brand offers more value in terms of accessories and extra parts.
Harvey Table Saw 
Harvey table saws are well known for their robust array of extras. Some extras include the Micro-adjustable fence systems and built-in mobile bases, standard with Harvey, for providing the user with precision and mobility. 
The Micro-adjustable fence system ensures the utmost precision, making your cuts accurate every time.
The Built-in mobile bases provide exceptional mobility. The built-in base design makes moving the saw around the workspace easier.
Laguna Table Saw 
When we come to the Laguna table saws, they also come with distinctive features. Some notable additions include dust collection ports and quick-release blade guards to ensure cleanliness and safety.
The Dust collection ports are a must-have for keeping your workspace clean and dust-free; this feature ensures a healthier environment.
The Quick-release blade guard is a safety feature designed to protect the user from accidental contact with the blade while it operates.
Looking at the two brands, we see that both possess their strengths regarding accessories and additional features; therefore, it is up to you to choose which meets your needs and preferences.
Blade Quality and Replacement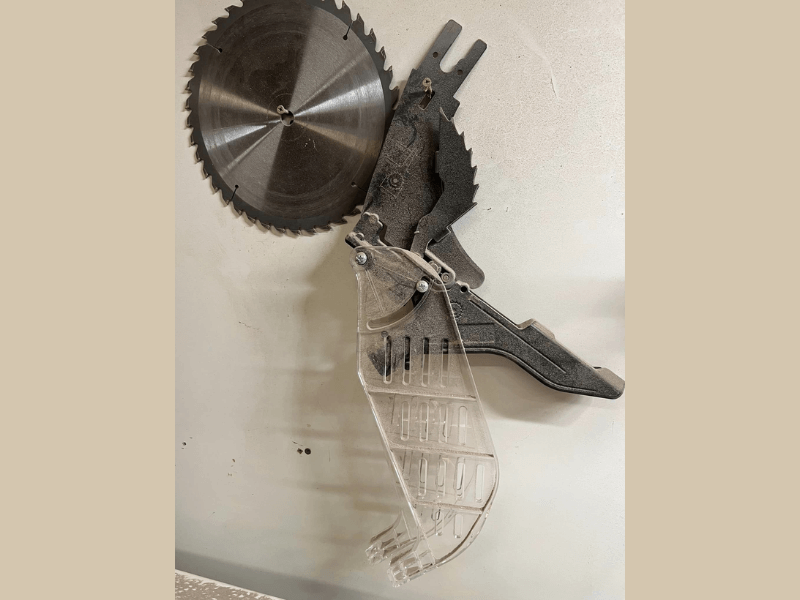 Both Laguna and Harvey are well-built when it comes to Blade quality. In short, they both understand that a table saw is only as good as its blade.
Harvey table saws are well known for their high-quality, carbide-tipped blades. These blades provide a clean, precise cut and are very durable. Additionally, you don't have to worry about replacing them, as it is easy and plenty of aftermarket options are available.
On the other hand, Laguna table saws come with their proprietary razor-sharp carbide blades. The quality of these blades is also excellent, and they are easy to replace. However, their proprietary nature means you are bound by Laguna's replacement blades.
In conclusion, though, Both brands must be satisfied regarding blade quality. However, if you value flexibility in blade replacement, Harvey might be the better choice. Meanwhile, Laguna might be your go-to if you prefer sticking with the same high-quality blade.
Ease of Use and Set-Up
When it comes to convenience and setup, both of these brands are top-notch.
Harvey table saws are well known for their user-friendly interface. They usually come pre-assembled, which means you can get started immediately. Their controls are conveniently located and clearly labeled, which is plus, especially for beginners. 
Laguna table saws, on the other hand, require a bit more assembly. However, the assembly process is well documented in the included manual, and once everything is set up, the operation is easy. Additionally, they feature a large, easy-to-read scale and a smooth handwheel for adjustments, making them an excellent choice for professionals seeking precision.
However, Looking at both brands In terms of adjustments, Harvey table saws utilize a unique hydraulic piston mechanism for blade tilt and height adjustment, which is easier for beginners to maneuver. Conversely, Laguna uses a traditional handwheel system for adjustments, which can provide more physical feedback for experienced users. 
So, in the end, the choice comes down to your personal preference and comfort level. Both will offer solid options for ease of use and set-up, each possessing unique strengths.
Price Comparison
Regarding price, there's a noticeable difference between the Harvey table saw and the Laguna table saw. Let's break it down.
| Saw Model | Price Range |
| --- | --- |
| Harvey Table Saw | $1,000–$2,500 |
| Laguna Table Saw | $1,300–$3,500 |
In most cases, the Harvey table saws are more pocket friendly, ranging from about $1,000 to $2,500, depending on the specific model and features. On the other hand, Laguna table saws are expensive, ranging from approximately $1,300 to as much as $3,500.
However, remember that it's not just about the initial purchase cost. It would be best if you also considered the cost of replacement parts, maintenance, and the longevity of the saw when it comes to its affordability. Remember this It's a long-term investment, so consider many things.
Warranty and Customer Support
Finally, When investing in a table saw, the warranty and customer support can be just as important as the machine itself because it is a long-term investment.
Harvey's provides a robust 2-year limited warranty that comes standard if you purchase any of the Harvey table saws. The warranty covers defects in materials and artistry, giving you peace of mind and the surety of replacement when working on your projects.
They also have a great Customer support system with a team of knowledgeable people with polite and supportive responses ready to help you troubleshoot any issues. 
Laguna, on the other hand, offers a one-year warranty that covers parts and labor. While this is shorter than Harvey's offering, it's still a respectable period that should cover most early issues that might arise. 
When it comes to the customer support system, they also have a good reputation for being reliable and supportive. They will offer phone and email support while giving you the most qualified technicians who are ready to assist you through any complications you might encounter 
Therefore, both Harvey and Laguna have excellent warranty and customer support systems. Nevertheless, you can decide what you value more: a longer warranty period or a company with a longer track record of proven customer support.
Harvey table saw vs Laguna: Conclusion
Choosing between the Harvey table saw, and the Laguna table saw can be daunting because both offer high-value performance and unique features. However, now that you understand some of their slight differences, it will help you make an informed decision that aligns with your woodworking needs.