The job of waterproofing wood may seem simple enough, but if you do it wrong, you could end up with problems later on down the road. Follow these steps to learn how to waterproof wood correctly.
How to Waterproof Wood
Before we look at the steps let's familiarize ourselves with waterproofing products
Products
Oil Waterproofing Products
Sealants
Stains and Sealants
Oil Waterproofing Products
The most commonly used single oils for general waterproofing purposes are Tung oil, linseed oil, and Danish oils.
Oils also come in combination with other products such as polyurethane and mineral spirits which enhance the effects of the product. For instance, such combinations reduce the drying time of the waterproof product considerably.
Linseed oil is the most popular oil waterproofing product for interior use.
However, it does not make wood completely waterproof. Despite the availability of single oils and those combined in the market, as a DIYer, you can buy single oils and combine them yourself.
For example, apple cider or turpentine are commonly mixed with oils to achieve a more enhanced product for your waterproofing needs. The choice of the appropriate oil to use depends mainly on the type of wood.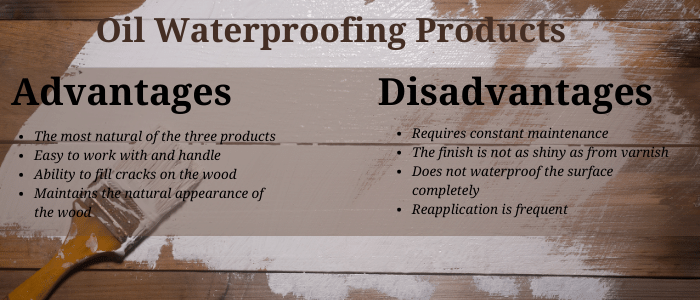 Sealants
Commonly used Sealants in the market are polyurethane resin, varnish, and lacquer. Unlike oils used for waterproofing, sealants do not require mixing with other products. As a result, sealants dry faster than wood and provide a stronger waterproof coat than oils.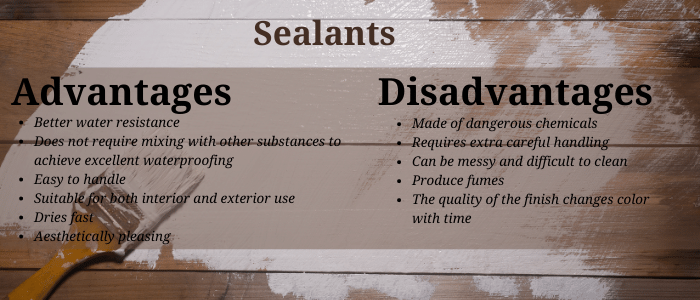 Similarly, your choice of wood sealant will depend on the type of wood and the environment for the wood surface. For example, polyurethane is best if you are after a nice look.
On the other hand, Varnish is best for surfaces in an environment with a lot of moisture, such as bathrooms. Lastly, lacquer works best for surfaces you are in constant contact with because it is tough and more studied than other sealants.
However, unlike most oils, sealants are chemicals that require safe handling. It is also recommended to work in a well-ventilated area to avoid inhalation.
A combination of Stains and Sealants
Stains are another excellent choice for waterproofing your interior surfaces. Stains work best in conjunction with sealants to provide the best waterproofing formula.
When combined, stains and sealants produce a sturdy surface and leave your floor very pleasing to look at since sealants have a shiny effect which is complimented well by the darkening effect of stains.
The use of this type of product is also convenient as it dries faster. Additionally, they comprise binders that can be water-based, oil-based, or alkyd-based.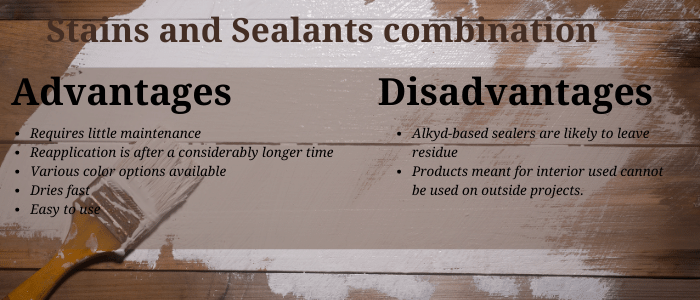 Methods of Waterproofing
Whatever product you select for the actual waterproofing process, the method of application is generally the same.
Oil Application:
Select the oil
The type of oil to use is always the first step and depends on your specific needs. Before settling on a specific oil type, things to consider are the shine, durability, type of surface, etc. The various types of oils in the market specify the best type of application for the specific oil.
Additionally, if it is a blend of oil and another substance, you might consider mixing at this stage or waiting until after the next step.
Prepare the Surface
This step is easy, and it involves you sanding your surface to remove any blemishes. Sandpaper can be used to achieve a smooth surface. After sanding, the dust can be swept by a broom to leave a clean surface ready for oil application.
Apply the oil
The oil is the most crucial step and can be achieved using a brush or any rag. You can dip the brush in the single oil or oil mixture and then apply it all over the surface, making sure you do it evenly.
Similarly, a rag can be used by dipping it in the oil or more conveniently pouring the mixture on the rug and then applying it to the surface. Once you see and feel confident that you have covered the entire surface, let it dry and cure for at least a day.
Clean any residue of oil. We recommend a second application after the first layer has dried to achieve the best result. It is also important to remember that a mixture of oil and another substance dries faster than a single oil.
Also, more importantly, a mixture requires safe handling, such as the use of gloves as it contains potentially dangerous substances such as turpentine.
Sealant Application:
The process involved when applying a sealant is similar to that used when applying oils. However, unlike when using oils products, where you may need to mix oils with other products when using sealants, the only mixture involved is to stir the sealant itself to ensure its contents are well mixed, as advised in the product's instructions.
Another important difference is that a lot more safety and precaution are necessary since sealants are chemicals that can be harmful since they emit fumes.
Also, apply the sealer at room temperature to ensure uniform drying and reduced fumes. Once you have your sealant and safety gear ready, the next steps are identical to those used when applying oil: you prepare the surface, clean the sawdust, apply the sealant using a brush or rug or a via spraying, let the surface dry and cure, clean any residue, then reapply.
Stain-Sealant Combination
Just like applying oil or sealants, Stain-sealer combinations follow the same process of application. However, since these dry fastest, cleaning after the application is hardly necessary unless the stains used are alkyd-based, in which case cleaning with a dry cloth is necessary.
Can you seal wood to make it waterproof?
The short answer is yes, you can seal to waterproof your wood. The long answer is it depends on what kind of sealer you use and how well you apply it.
Whether or not linseed oil makes wood waterproof is up for debate. Yes, linseed oil does add some water resistance—however, it doesn't make anything permanently waterproof.
How do you waterproof wood naturally? Wood that has been treated with a natural finish like boiled linseed oil will become more resistant to moisture than untreated wood.
However, even treated wood will eventually start to rot if left in contact with moisture over time. There are a few different ways to go about sealing your wood depending on how much time and money you have available
How to waterproof wood a summary
Waterproofed wooden surfaces last considerably longer. Apart from durability, waterproofing maintains the beauty of your wooden surface.
It maintains the elegance and classic nature of wooden products. Waterproofing by certain products can also prepare your wood to receive paint.
Therefore, if you are a lover of that antiquated look and feel associated with wood, then waterproofing that wooden surface in your kitchen or bathroom is a tiny price to pay. The choice of the right product to use mostly depends on specific needs.
However, overall, stain-sealer combinations are the best choice for the job. Always remember to check and follow the precautions of using any product before opening it.