If you're looking to tackle some hardwood, having the right axe can make all the difference between a long, gruelling day of work and getting it done quickly and easily.
You should emphasize the axe head and the material more when looking for the best axes for hardwood. Axes made of steel are the best for hardwood because they are among the most widely used and long-lasting materials. High carbon steel is necessary for hardwoods because it resists rust well and keeps its edge longer. 
But how do you choose with so many different axes available? The information you need to select the best one for your needs is below.
The Best Axe for Hardwood: Which One is Right for You?
Editors' choice
Husqvarna 26" Wooden Multi-Purpose Axe
If you are looking for the most versatile axe, look no further! This is a great all-purpose axe that can be used for a variety of tasks, including chopping hardwood. This model is a top pick for an axe with a classic appearance and the best wood splitter you can buy.
We earn a commission if you make a purchase, at no additional cost to you.
The head is made of high-quality steel that is designed to stay sharp. The forging process ensures that the leader is strong and lasts for many years. The head is attached to the handle with a wooden and steel wedge to secure the fastening. This axe also comes with a sheath for protection.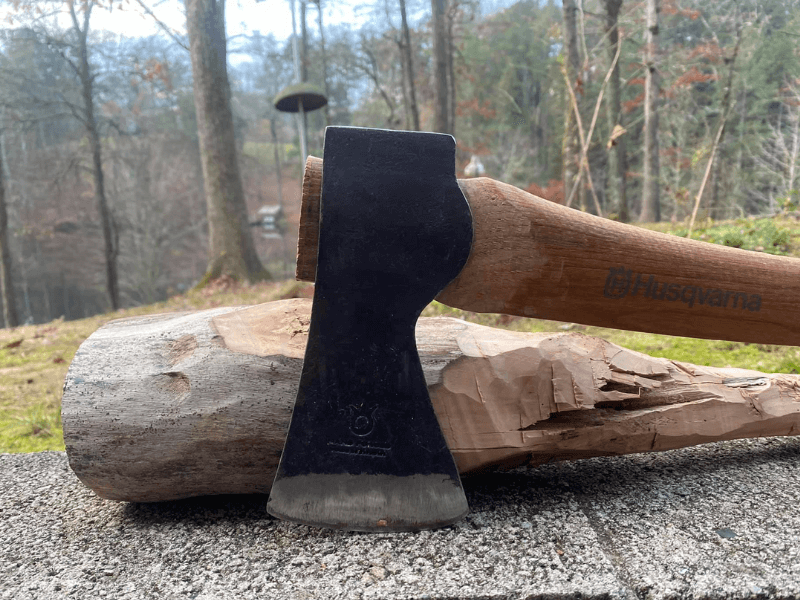 It has a long handle, which provides a good swing, grip, balance, and power during the cut. The handle is made of durable hickory wood, which absorbs shock and reduces user fatigue. Our only warning is that you should not store your axe in extremely hot conditions because the handle may shrink.
You can be sure that this is the best option based on our experience and the numerous reviews claiming this is by far the best axe they have used when chopping hardwood.
Runner's up
Fiskars X27 Super Splitting Axe
If you're looking for an axe that can handle the tough splitting of hardwoods, the Fiskars X27 is a great option. The 36-inch long handle makes it the ideal axe, especially for taller users ready to start swinging their arms.
We earn a commission if you make a purchase, at no additional cost to you.
The 5.85-pound axe head of the X27 has a sharpened blade that can cut through wood deeply, making it simpler to split logs. The advanced bevel-convex design effectively splits wood and makes removing the blade from the wood more accessible. In contrast, the hardened, forged steel blade maintains its edge longer than traditional axes. The head's shape rarely gets stuck in the wood, saving you time and energy.
It also has a sheath that protects the blade and the user when not in use. You can also use the axe for hours without getting tired or achy because it won't put stress on your arms or back. The handle has a unique design that makes it capable of absorbing shock. Its non-slip texture makes it easier to hold onto, improves control, prevents hand damage from overstrikes, and lets you strike more forcefully without breaking the handle.
You can always go right with this axe, especially in splitting and chopping wood, yard work, lawn cleanup, firewood, and much other challenging work. It's relatively affordable and durable, too.
On the downside, The axe head's edge is likely to chip after prolonged use, and the blade will likely become quickly dull. However, this is only a minor issue because it is effortless to re-sharpen.
Budget pick
ESTWING Fireside Friend Axe - 14"
When chopping wood, you need an axe to handle the tough stuff. The Fireside Friend Splitting Tool is designed for just that. With a sharp blade and a comfortable grip, this axe will quickly work any hardwood. The length and weight give leverage and power for easy wood splitting.
We earn a commission if you make a purchase, at no additional cost to you.
The axe's handle and head are forged as a single piece, but the handle is covered in a rubber-like material that provides shock absorption and a secure grip that won't be burdensome. The blade is crafted from sturdy American steel and has a hand-sharpened edge that maintains its sharpness even after extensive use. A heavy-duty sheath and a ballistic nylon sheath shield the hand-sharpened cutting edge.
This is one of the best axes since it has a big, heavy wedge-shaped head that works great for splitting hardwoods. The large, heavy head will swing with a lot of force concentrated into its blunt, V-shaped shape. The dull blade is still thin enough to pass through the thick head of the maul and the wood fibres. It does not get stuck in the wood.
The handle is shorter than other options on the market, so this may not be the best option if you have large hands. This is the only drawback that is slightly less important. This is a lovely little axe, especially for the price. In that price range, I haven't seen anything comparable.
Check out our Full list of the Best Budget Friendly Axes
Also, check for our: best axe for spoon carving
Factors to Consider When Choosing Axe for Hardwood
The best axe for chopping hardwood depends on a few factors, such as :
Blade material
The axe's blade material is of utmost importance when working with hardwood. Selecting an axe made of inferior materials will result in laborious and slow work. Axes made of carbon steel are durable enough to complete most tasks when used in general. However, suppose you intend to work hard or carve up more significant projects, such as firewood or lumber. In that case, you should consider buying more robust steel or even looking at professional-grade options that can withstand more challenging tasks. Most importantly, make sure the axe you choose is well-built.
Size of the Handle
The size of the handle is crucial when chopping hardwood. Choose an axe with a lighter weight and a shorter handle if you want to be in control, maintain balance, and not feel comfortable swinging from above or holding the axe with two hands for prolonged periods. While a longer handle will give you more swing leverage, it will also give you less control than a shorter handle.
weight
When cutting hardwood, the axe head's weight is significant. This is so because you produce more force when swinging the axe in an arc and bringing it down on the log; the heavier the axe head you are. However, that does not mean you should only choose heavy axes if the head is difficult to control; after a few swings, it may affect the aim and exhaust you more quickly. Usually, I advise choosing an axe head that weighs between 4 and 6 pounds.
Choosing the axe handle
The axe's handle is important because it affects how comfortable you feel holding and using it. We can choose between three axe handle options:
With wood handles being the most popular, they are lightweight, and most will feel soft on the hand. Wood also tends to have the ability to absorb shock associated with the strike. Therefore, when choosing your axe, consider the one with a hickory wood handle since it is highly durable and absorbs shock well. Also, hickory has a tight grain that runs parallel to the direction of the blade, offering the best strength and durability.


However, wood handles may become brittle and break over time, requiring replacement. So, another option that combines the axe head and handles in one piece and is typically forged is an axe with a steel handle. These are the most resilient option, but hands might get tired quickly because they don't effectively absorb shock.
The axe with Fiberglass composite handles is your final option for a handle. Although the Fiberglass in these handles tends to break when used in temperatures below zero, they are lightweight, smooth to the touch, and will absorb some shock.
Conclusions
Be extremely thorough and deliberate when selecting an axe best suited for hardwood, so it won't let you down while chopping or splitting your hardwood. Always conduct more research before buying any tools. Make sure the axe you're about to purchase is the most appropriate for the job by checking reviews, forums, and YouTube videos.