When it comes to finishing a woodworking project, using the right brush can make all the difference. Polyurethane is a popular choice for protecting and enhancing the natural beauty of wood, but not all brushes are suited for polyurethane. Besides a synthetic brush is best for water-based poly.
In this article, we'll take a look at the best brushes for polyurethane and the different types of bristles, shapes, and sizes that will help you achieve a professional-looking finish. Whether you're a DIY enthusiast or a professional woodworker, this guide will help you choose the perfect brush for your next project.
foam brush vs bristle brush for polyurethane
Best trim brush for polyurethane
Finishing a trim
When it comes to finishing a trim, using the right brush can make all the difference. A smaller brush, around 2 inches, is ideal for this task. The bristles of the brush should be slanted at an angle to allow for easy cut-ins. A good trim brush not only enables you to apply the paint or stain precisely to the trim, but it also helps to create a smooth finish.
Moreover, a trim brush can also be used as a cut-in brush when applying polyurethane to floors using other polyurethane applicators. In this case, a trim brush can help you apply the polyurethane in tight corners and hard-to-reach areas, ensuring a seamless finish.
Investing in a high-quality trim brush can save you time and money in the long run. Cheaper brushes tend to shed bristles, resulting in a less-than-perfect finish.
Runners up best trim brush for poly
Why you should consider buying this type of Brush
Investing in a high-quality brush is worth it in the long run. The Wooster Brush Silver Tip Angle Brush provides a flawless finish with ultra-thin and flexible bristles. It works particularly well with wood and lighter water-based coatings. The brush has a wooden handle for comfort, a stainless steel ferrule for durability, and holds a lot of paint for efficient painting. Wooster Brush Company has been providing high-quality equipment since the 19th century and this brush is no exception.
Best brush for oil-based polyurethane
Best brush for floor
One of the most important factors to consider when choosing a brush for polyurethane application is ease of cleaning. The Wooster Polyester Paintbrush is designed to be easy to clean, making it a reliable and long-lasting tool that you can use again and again. Additionally, the brush is made with high-quality materials that ensure minimal bristle shedding during use, resulting in a cleaner and more efficient application process.
Best form brush for polyurethane
Available in multiple sizes, the Wooster Foam King 1 ½" Foam Brush is a budget-friendly option that provides excellent value for its price. The built-in blade stiffener ensures that the brush retains its shape and provides a smooth application.
Please note that this brush cannot be reused. Upgrade your brush game with the Wooster Foam King 1 ½" Foam Brush today!
See How to clean a polyurethane brush
What type of Brush for polyurethane
When it comes to brushes, there are typically two categories based on the bristles they use: natural bristle and synthetic bristle brushes. It's important to note that water-based polyurethane requires a synthetic brush due to the nature of the material. Natural bristles can become soft and uncontrollable when dipped in water, making them less ideal for this type of finish. However, natural bristle brushes can be a great option for solvent-based finishes. It's worth noting that synthetic bristle brushes are typically stiffer than natural bristle brushes, which can make them more effective for applying certain types of finishes.
What to look for when buying a polyurethane brush
To achieve a smooth and even finish, a brush should possess three key qualities: tapered bristles, flagged ends, and a chisel shape. Let's explore each of these qualities in more detail below.
Tapered bristles
Tapered bristles refer to bristles that gradually become thinner towards the tip of the brush. This allows the brush to hold more finish, which can result in fewer brush strokes and a smoother finish overall.
Flagged ends
Flagged ends are bristles that have been split at the end to create a soft, feather-like tip. This helps the brush to release the finish more evenly and reduces the likelihood of leaving visible brush marks on the surface.
A chisel shape
A chisel shape refers to a brush that has flat bristles with angled edges. This shape allows for greater precision and control when applying the finish, especially when working in tight or detailed areas.
When these three qualities are present in a brush, it can help ensure a professional-looking finish with minimal effort. It's worth investing in a high-quality finishing brush that possesses these qualities to achieve the best results possible.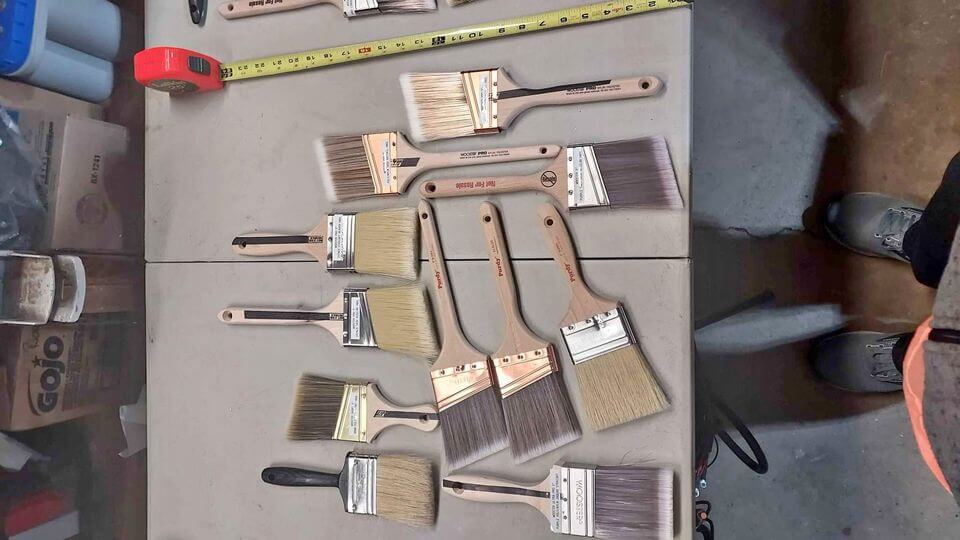 Best Brushes For Polyurethane – Conclusion
Using the right brush is crucial for achieving a professional-looking finish for your woodworking project.
Synthetic brushes are best for water-based polyurethane, while natural bristle brushes are suitable for oil-based polyurethane.
A smaller, slanted trim brush is ideal for finishing a trim, while a larger brush is best for covering large surfaces like floors.
High-quality brushes are worth the investment, as they tend to provide better performance and last longer.
Easy cleaning and minimal bristle shedding are essential factors to consider when choosing a brush for polyurethane application.