Wood carving is one of those crafts whose tools you have to create a relationship. Well, a carving knife is no different!
You have to learn how to handle your curving knife well, for only then will it serve you right. You don't want to start your carving hobby or carrier with the wrong tool and waste time on the 'learning curve.
So, what is the best carving knife for beginners?
This article discusses what makes a good wood carving knife and how you can find one that will meet your needs. But before that, here is our list of the best whittling and carving knives for beginners.
Best Carving knives for beginners
If you plan on attempting to carve wood and want to minimize the number of tools you need to do it with, we recommend getting this Whittling Knife by Flexcut; it is one of the best whittling knives available. Many users have been recommending it due to its attractive price tag.
It is arguably the best all-purpose wood carving knife, most known for its applicability to any type of carving cut. It essentially bridges the gap between amateur and veteran tools for a portion of the price.
A Blade Bevel Length of 1-1/2″ made from durable high carbon steel blade. This knife is designed to handle more than just general whittling. It is the easiest model to use for smooth rough cuts without feeling like the blade is loosening out of the handle, an incredibly apparent problem in most cheap and fold-able knives.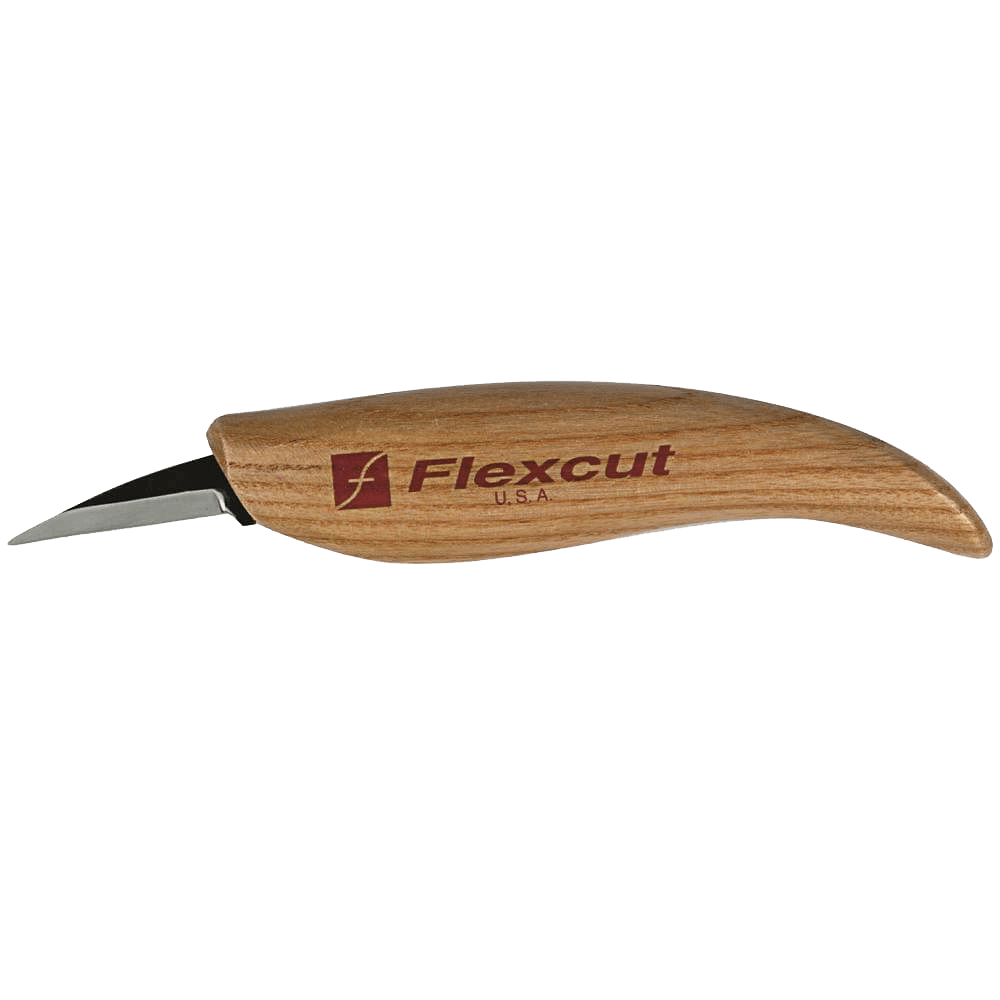 flexcut's KN13 has a unique design that supports all types of whittling cuts. The thin pointed tip can be used for fine detailing and allows tight crevices (narrow cracks) to work in easily.
The whittling knife handle is made of hardwood oak and shaped to outline natural grip positions that avoid hand fatigue and make it easy to carve for an extended period. Speaking of oak wood, the blade on this tool works well against hardwoods, so you can make a wooden spoon out of any type of wood you find! However, like all knives, the blade will eventually dull if routine honing isn't done.
For the price and quality flex cut delivers, this wood carving knife is a staple for any carver to use. All factors make it one of the best whittling knives for everyone, from its comfortable ergonomic handle to its razor-sharp edge that comes ready to use out of the box.
Eventually, however, general upkeep for the tools is necessary to maintain their reliability. Additionally, detail blades will be required for specific cuts that are a feat with a general whittling knife.
High-carbon steel blade for better edge retention
Carves both soft and hardwood
Hardwood oak ergonomic handle for extended use
Another great wood carving tool company that I regularly recommend to beginners on more of a budget is Beavercraft tools. They may have nice quality tools at an affordable price and are honed razor-sharp right out of the packaging. Their wood carving chisel set is one of the best chisels we've bought at a very cheap price for our workshop. That is why we believe the Beaver Craft company is the best at producing high-quality woodcarving tools at a lower cost than other companies.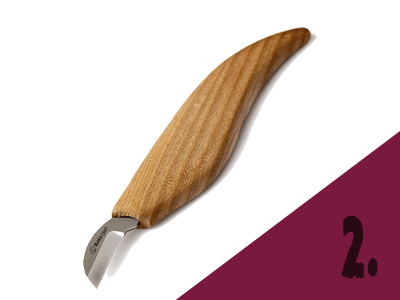 Chip Carving Knife: has a special blade shape for carving geometric wood, detail work, and delicate work such as detailing sculpture and cutting small elements in wood.
Feel the ergonomic handle of the chip carving knife in your hand, and you won't stop carving. It is made from Ashwood and covered with natural linseed oil.
Wood Carving Knife Blade is made from high carbon steel, hardened and sharpened. As soon as you get the knife, you can immediately use it, as the chip carving knife is sharp right out of the box.
This knife is good for beginner woodworkers. They will love how easy it is to use the carving knife, and more advanced will appreciate the craftsmanship that went into the design.
The instrument has been created to address the needs of amateurs and professional woodcarvers.
Overview
Short blade for easier control, and this will be efficient for a beginner
High carbon steel blade for better edge retention
Blades are typically thinner and come with a proper edge grind for wood carving
Handles are comfortable to hold and that
My absolute favorite folding whittling knife for the money is the Opinel Carbon Steel Folding Knives. You get a wonderful knife right out of the box, and has a super simple design.
Right from the start, these knives are ready to carve. The edge is super sharp, and if you get a No. 6 or larger version, they have a blade locking feature (a must-have if you ask me).
Opinel has been a trusted whittling knife brand for well over a century. It has a growing line of folding knives, and this one has sold out all the others significantly. It is small enough to be a pocketknife, yet its size is versatile for several applications.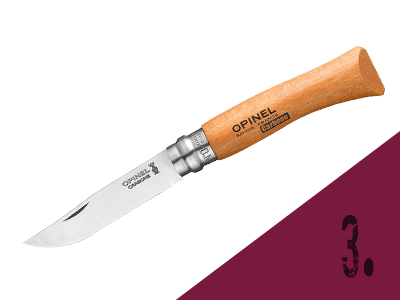 The carbon blade is 3.25 inches, extremely sharp, holds an edge for extended periods, and resharpens easily. It cuts through just about anything like no other knife.
They come in several sizes, but I would only recommend picking up a size 6, 7, or 8; otherwise, you risk having a blade that is too long or a handle that is too short for whittling, and that will be challenging for you as a beginner, Opinel installs a Virobloc ring locking system on these knives. The Virobloc prevents the blade from closing while opened and opening when closing.
The handle is hardwood, ensuring that it will be durable for sustained use. The overall knife is also light and makes for easy handling. The knife is extremely efficient and practical, serving its users well for many years.
However, it is more widely known for its historicity and beauty. These knives have been named one of the top 100 most beautiful products globally.
The classic design makes the knife easy to handle and easier to use, and it is one of the best whittling knives you can find.
Carbon steel blade
folding blade making it portable with no sheath
Next on the best whittling knives list is the Morakniv 106 (Woodcarving 106). It is the slightly larger sibling to the Morakniv 120. With a tapering blade length of 3.2 inches, this carving knife is light and makes for trouble-free use.
The Mora whittling knife blade is made of durable laminated steel, tapering from the tang, a full tang, down to the point. It rarely needs sharpening and arrives extremely sharp. Morakniv manufactured this knife, maintaining the intention of precision cuts, but the larger blade allows for whittlers to perform more generous cuts.
It is made of premium-quality materials, including the handle.
Like the Morakniv 120, the handle is oiled birch wood, allowing users to form it to best suit their grip. The original grip is excellent without modifications; however, fashioned ergonomically to fit a wide array of hands, the handle is slightly oversized to enhance control over the blade.
The 106 is a perfect knife for beginners because the size allows for both large and precise cuts. With extreme sharpness, beginners can decrease the need to make exaggerated cuts and minimize the possibility of injury.
Overview
The laminated steel 3.2″ blade gives the blade toughness, cutting edge retention, and maximum sharpness and longevity.
Oil birch wooden handle and comfortable to use
Thin, Tapered blade gives it ease of control
Flexcut is another trusted brand among the best wood carving knives list, especially when it comes to woodcarving and whittling. This knife is perfect for beginners, and the Whittlin' Jack is the perfect portable companion for whittling anywhere and anytime.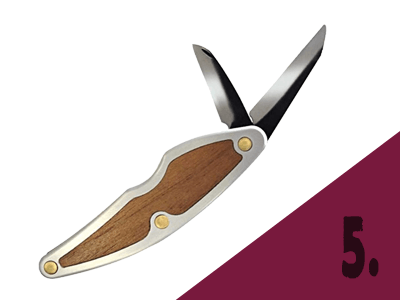 This tool is similar to a pocket or utility knife, sitting at just over 4 inches long.
It will feel weightless as it sits in your pocket, weighing only 3 ounces.
It provides two blades, each made from quality high carbon steel and pre-sharpened to be razor-sharp:
Detail Knife (1.5 inches)
Roughing Knife (2 inches)
Together, these make a simple set worthy of taking on various tasks. With these blades, wafer-thin details and some generous slicing are achievable and provide the basics of a successful whittling project.
The blades fold into the overall tool well and are not a problem to open and close, yet maintain firmness, so the blades do not close on you while in use. The handle, surprisingly to some, is comfortable and provides ample control over the edges. While not its main selling point, the Whittlin' Jack adds sleekness and style to its superb performance as a whittling tool. No doubt a diverse choice in this list of best whittling knives.
Carbon steel blades for better edge retention
and comfortable handle
This little knife is an excellent tool and one of the best whittling knives especially recommended for beginners.
The knife is about 3.5 inches long, and the blade is 1.25 inches. A fantastic feature of this knife is the blade. As the brand name implies, the high-grade carbon steel the blade is made of possesses some spring or flexibility. Thus, as you carve using this knife, the blade will follow the contour of carving, eliminating the need for several tools to complete what only needs one: the Flexcut Cutting Knife.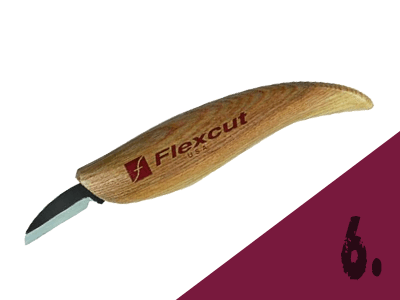 Another notable characteristic is the rounded top of the blade, also known as a drop point, allowing users to employ safe hand methods when carving. Each of these comes pre-sharpened and absolutely razor sharp.
As a result of the carbon material and pre-sharpening, the edges hold well and can be sustained for considerable lengths of time. These knives have also been hand honed and polished, ensuring each one is of the utmost quality.
The handles are ergonomically fashioned and made of durable ash wood. They are extremely useful, but they also are beautiful craftsmanship works, which should help translate into its user Beginners will find this tool particularly beneficial because of the flexibility aspect.
The Flexcut Cutting Knife is one of the best whittling knives and will provide experience in the craft as an instrument capable of creating clean and beautiful projects.
Overview
Carbon steel blade for better edge retention
Comfortable ergonomic ash hardwood handle
Short blade for easier control while carving
Thinner blades that glide easier through the wood
If you are looking for a knife to make a spoon or need a rounded edge to add some detail to your whittling project, look no further than the Morakniv 164 as one of the best whittling knives.
The Morakniv 164 (Woodcarving 164) is the perfect U-shaped utensil for making detailed cuts or rounding out bowls and spoons.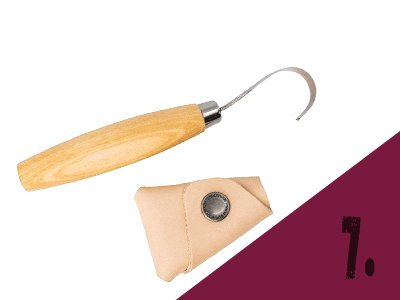 The knife is full tang, a very important detail to look for when searching for the best whittling knives, creating a tool superior in strength and robustness, able to outperform almost all other hook knives you can find. The blade is single-edged so that you can perform push or pull cuts with one hand atop the blade for enhanced control.
As a result of its high carbon steel making, it comes extremely sharp, just as all knives from Mora do. There is little need to resharpen as it holds its edge well and is widely considered the best spoon carving knife.
The knife is 6.3 inches, while the blade length is 2 inches. The internal radius of the U-shape is .5 inches. The 164 is extremely light, providing a safer and more controlled experience, improving the success of your finished product. The handle is again made of oiled birch wood, allowing personal fashioning to fit the user's unique grip best.
As with the other Mora products featured here, this knife has a limited lifetime warranty, which puts it comfortably on my recommended list of best whittling knives.
Overview
Swedish 12C27 stainless steel blade
Designed for carving concave shapes (spoons, bowls, etc.)
comfortable handle to use
2.2″ blade
The Carvin' Jack series is another tool in this list of best whittling knives; the Tri-Jack Pro offers three unique tools for excellent woodcarving and whittling. Just as portable as pocket knives and lighter than most, the Tri-Jack is perfect for carving on the go.
This device provides a roughing knife, about 1.75 inches, which can be used for texturing and creating surfaces from which to add detail.
The second knife is a detail knife 1 5/16 inches and used for exactly what its namesake implies.
The final blade is the mini-cutting knife, which is 1 1/16 inches long and allows for thin cuts and extra detail.
The blades are high carbon steel and provide excellent cutting. They are as sharp as a razor's edge and will only require occasional stropping. An improvement on the Whittlin' Jack, the Tri-Jack offers a locking mechanism on the blades, increasing the safety of the entire tool and the user's peace of mind while whittling.
The handle of the Tri-Jack is fashioned into a Pistol Grip, producing a comfortable hold and preventing hand fatigue from allowing users to carve for hours on end without pain.
Flexcut's Tri-Jack Pro is a unique tool that has no equal in the department of whittling multi-tools.
Overview
Roughing knife – Detail knife – Mini-cutting knife
Best pocket carving knife
The Carvin' Jack is a one-of-a-kind tool that offers something that woodcarvers have never before had access to.
The six blades are as follows: 3/4″ #7 Sweep knife blade, 3/8″ #6 scorp, 3/8″ #11 gouge, 3/8″ #1 straight chisel, 1-3/8″ detail carving knife, and 1/4″ 70° V-scorp.
All the blades are high carbon steel, pre-sharpened, and razor-sharp, as are most Flexcut products. This product of the Carvin' Jack series is a genuine pocketknife, with all tools nicely folding into each other.
The handle is comfortable and ergonomic; Flexcut offers both right-handed and left-handed models. The Carvin' Jack is one of a kind, the only multi-tool of its type in existence.
Flexcut was impressed by handily providing whittlers with six unique tools in one instrument. With this device, they allow you to perform just about any whittling action for all kinds of projects. Whittlers always have an opportunity to whittle some wood at home or on an exotic vacation; any moment is a moment to use the Carvin' Jack.
Carvers can work on any piece of wood without the need for several large tools or a workbench. With the six unique blades, you have the entire kit of a wood whittler's workbench in your pocket, making it possible to whittle anything into a masterpiece. Certainly earning its place in our list of best whittling knives.        
Overview
Six specific edge tools were built for carving
Carbon steel blade for better edge retention
It comes with a sharpening strop and gold polish compound
The Best Whittling Knife 2021? If not, certainly one of the best whittling knives
Mora's Companion series is one of the most well-liked and versatile.
With several Companion knives, any woodsman or woodcarver can find the exact knife they need.
For this list, we will be considering the Mora Companion MG. The blade of the Mora whittling knife is fashioned from high carbon steel and fixed into the handle, removing any doubt that it may become loose.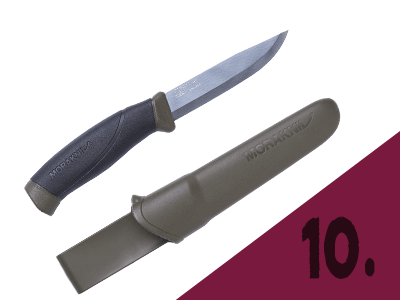 It features a Scandinavian grind that is perfect for slicing through almost any wood you come across.
The 3/4 tang leaves the blade with plenty of durability and strength, creating peace of mind for its user. The edge holds well, like all Swedish carbon steel blades Mora creates.
It is reliably sharp and incredibly efficient at cutting wood into pieces of ribbon. The companion is meant to take on the heavy-duty work for whittlers, taking off large wood portions.
However, the blade is easily manipulated to make technical cuts if necessary. The blade itself is 4.1 inches long and about 2mm in width. It is lightweight, weighing only 2.7 ounces, making it a breeze to carry.
The handle is also remarkable. Made of rubber and designed to provide excellent handling, it absorbs shocks and allows users to hold it securely.
Companions are perfect for any experience level, making them the most reliable tool. It is almost a given why this knife is on this list of best whittling knives.
As always, Mora offers a limited lifetime warranty for this product. Hands down one of the best wood carving knives I've purchased and used by many survival knife enthusiasts.
Overview
Sandvik 12C27 stainless steel blade
High-friction grip
Less prone to rust
Blade length: 4.1″
Best wood carving knives – Buying guide
1) Woodcarving Knife Blades
A woodcarving knife blade comprises two parts: a handle and a blade. Handles are typically made from wood, synthetic materials, or stainless steel. Stainless steel blades are typically comprised of an alloy of cobalt and chromium.
Woodcarvers use either non-serrated or serrated blades—the difference is whether or not they wish to see with their knife. If you're going to be sawing through rough hardwoods, it's probably a good idea to buy a serrated blade.
Many woodcarvers prefer non-serrated blades for their detail work because they allow them more precision when carving finer details.
You can even get blades with teeth on one side and plain metal on the other to change things based on your project needs.
Blades come in different widths, but we recommend buying one at least 2 inches wide. It may cost you a little extra, but having a wider blade means less effort and better cuts overall.
It also means better control. We suggest avoiding knives with blades smaller than 2 inches; they tend to feel cheap and don't hold, making detailed carving difficult. Remember The harder material you try to carve, the thicker blade you will need.
2) Handle Materials
While handling materials are important, they're not always crucial. Some people prefer standard plastic handles, while others swear by wooden grips.
Most beginners won't have much preference either way, so it's safe to get something with an inexpensive material like plastic—especially if you don't think you'll stick with wood carving long enough to buy another knife later on down the road.
Remember that knives with plastic grips may be harder to use and cause more blisters than wood or resin handles.
Resin knives are often best suited for novices because they aren't as slippery when used but also tend to be more expensive.
Most experts agree that what's most important is a knife that fits your hand comfortably and feels balanced when held correctly.
To test a blade, hold it away from your body horizontally and slice through empty air with short, rapid motions.
If it balances well, meaning weight is evenly distributed throughout its surface area—and if it slices cleanly without leaving excess residue behind (particularly along areas where excess pressure was applied), chances are good you've found yourself a quality tool.
But remember: There's no universal definition of balance or well-made; these terms mean different things to different makers.
3) Price Points
A pocket knife is a must-have in every carver's tool kit. Fortunately, there are several options available at a variety of price points.
Depending on how much you want to spend, you can find good beginner knives that suit your needs just fine without breaking your budget.
The best wood carving knives come from a few different brands and have sturdy steel construction, ergonomic handles, and smoothly contoured blades designed specifically for woodcarving.
Be sure to read reviews before purchasing any wood carving tools, so you know what to expect from each one. I recommend starting with an all-purpose blade such as those made by Dalluge.
These steel blades are strong and sharp enough for most jobs, making them great all-around tools for beginners or advanced carvers alike. At $50, they're not cheap but represent a solid investment and won't let you down if you take care of them properly.
Choosing a brand name tool over a generic model – buying quality will bite you in the long run.
It might be tempting to opt for something super cheap now but spare yourself some hassles by investing rather than skimping now only to replace your low-end tool later.
Additionally, look into carbon steel blades that provide superior edge retention to traditional stainless steel knives.
They require more frequent sharpening than other materials, so if that is something you dread, these may not be right for you yet.
Questions related to the best wood carving knives for beginners
How do I choose a wood carving knife?
What's important to you in a carving knife, and how does that affect your buying decision? It's important to remember that different knives are designed with specific uses in mind, so before you buy, it helps to understand your priorities.
If you're new to wood carving, start by choosing one of our starter sets (check our best knives for beginners above). These introductory sets make excellent gifts, too! So whether it's Christmas or their birthday – these sets come with everything they need to begin getting creative immediately!
For more experienced carvers, check out some of our specialized knives. Maybe there's something here you didn't know existed. And don't forget: if you need help picking out a set, just send us an email or comment below, and we will be happy to help!
What knives are good for wood carving?
There are a few different types of knives woodcarvers commonly use, but it comes down to personal preference.
We highly recommend the flex cut reviewed for beginners as it has been designed specifically with wood carving in mind and is an affordable choice. However, we would probably opt for a more specialized design for advanced carvers.
What do you need to get started with wood carving?
First, you'll need a few basic tools to get started. Every woodcarver needs a sharp knife with a long blade and deep belly.
The size of these features will depend on how large your subject is and how much detailed work you plan to do. Beyond that, an assortment of gauges, chisels, scrapers, and other carving tools will be necessary. Next, you need wood that you will be carving.
When choosing wood for carving, it is important to pick wood grain patterns that are hard and stiff to make clean cuts without splitting or splintering. Finally, you need the actual skill. Luckily, we have articles on both wood selection and getting started on wood carving as a beginner.
Can you carve wood with just a knife?
There are many different options when it comes to carving wood. You can try one of several different tools, or you can carve wood with just a knife. While there's no wrong answer, it's important to understand how using just a knife works before deciding.
In some cases, simple is better, and in other times more complex is best. It depends on what type of wooden carving you want to create. To be sure, if you use these techniques in conjunction with another tool (even just an x-acto knife), your results will be much better than if you carved solely with a knife by hand… unless that's what gives you artistic joy.