Before we delve into the discussion of the top 5 wood carving gloves, let's take a moment to reflect on the delicate balance between safety and dexterity.
I understand that carving without gloves may be your preferred method, but it's crucial to prioritize safety. While many woodcarvers express concerns about reduced dexterity when using gloves, it's important to note that this may be influenced by the type of glove chosen.
Fortunately, as whittling continues to gain popularity, numerous companies are investing significant resources in advancing the tools of the trade, including carving gloves. These developments have led to the availability of exceptional gloves that prioritize safety while minimizing any negative impact on dexterity. Allow me to introduce you to the finest gloves for whittling!
Recommended reading: Top whittling kits for beginners
What's a whittling glove (wood carving safety gloves)
A whittling glove is a specialized glove designed to protect the hand and fingers while carving. These gloves are typically made from durable and cut-resistant materials such as Kevlar or high-performance synthetic fibers. Whittling gloves provide an added layer of protection against accidental cuts and abrasions, reducing the risk of injury during the carving process. They are designed to fit snugly and allow for a good grip on the carving tools while still maintaining a certain level of dexterity. Whittling gloves are especially useful for beginners or those working with sharp and intricate carving tools.
Can you use any gloves?
While it is possible to use regular gloves in a pinch, investing in a pair of purpose-built whittling gloves can greatly enhance your safety and comfort during the carving process.
Specialized whittling gloves, on the other hand, are designed specifically for this craft. They are made from materials that are resistant to cuts and abrasions, providing an additional layer of protection. These gloves are often designed to fit and have features that enhance grip and dexterity, allowing you to have better control over the carving tools.
The Best woodcarving gloves
Crafted from robust and long-lasting high-quality materials, NoCry Cut Resistant Gloves boast the highest cut protection rating on the market, making them an excellent choice for wood carving enthusiasts. Their standout feature includes a strategically placed silicon dot cover that enhances your grip on wood while carving.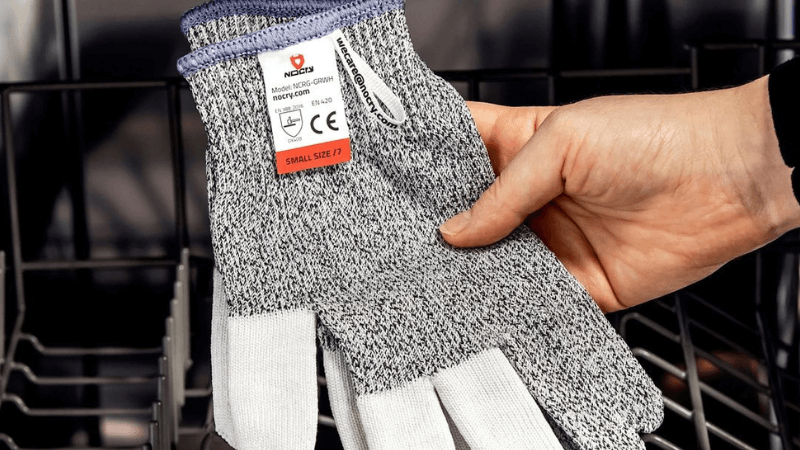 Despite the gloves' formidable material, they remain breathable and provide exceptional comfort, allowing for a full range of motion that adds an element of enjoyment to your carving practice.
Designed to withstand the rigors of blades and other sharp tools commonly used in wood carving, these gloves offer peace of mind and security. The inclusion of silicon dots on the palm and finger areas ensures a secure grip, enabling you to focus entirely on your craftsmanship. With their exceptional build quality and versatility, these gloves stand out as one of the finest options available for wood carving enthusiasts.
Notable Features:
Impressive toughness and durability
Crafted from high-quality materials
Enhanced grip with silicon dots
Breathable and comfortable
Facilitates unrestricted movement
Minor Drawbacks:
May be prone to discoloration over time
Slightly bulky in comparison to more streamlined options
Sizes tend to run larger than expected
Introducing the DEX FIT Level 5 Cut Resistant Gloves, another top choice for wood carving enthusiasts. These gloves are among the finest cut-resistant options available on the market, providing comprehensive hand protection when working with sharp and pointed tools.
Not only do these gloves safeguard your fingers, but they also provide added protection for your knuckles and thumbs, reducing the risk of catching on objects or accidentally coming into contact with sharp blades.
Constructed with DEX FIT Stretch Fabric, a blend of various materials including 13-gauge UHMW PE, Fiberglass, Nylon, Spandex, and Foam Nitrile Rubber, these gloves offer a unique combination of flexibility and mobility, making them highly favored by woodworkers.
The material composition also enhances grip, preventing slippery pieces of wood from slipping out of your hand. Each fingertip features silicone prints for improved grip whenever necessary.
In addition to their impressive performance, these gloves are washable and dryer-safe. Their smooth texture and elasticity make them exceptionally maneuverable for handling intricate details.
When engaging in meticulous tasks or repetitive actions, these gloves excel at enhancing precision, making it easier to manipulate small knobs and components.
Notable Features:
FDA-approved nitrile coating
Excellent grip for enhanced control
Well-ventilated design for comfort during extended use
Cut-resistant construction for maximum hand protection
Non-slip design for secure handling
Minor Drawback:
Over time, the grip may wear off with frequent use.
The high-elastic nylon DOWELLIFE gloves are designed specifically to provide exceptional protection and comfort for wood carving enthusiasts.
These gloves are crafted with top-notch, high-performing materials that offer both reliable protection and cut resistance, ensuring a safe and comfortable carving experience.
Designed with convenience in mind, these gloves prioritize comfort, allowing for easy and effortless maneuverability while working. The optimal skill and flexibility of the gloves enable a firm range of motion without any sliding, enhancing efficiency in gripping wood during the carving process.
Notable Features:
Superior comfort and dexterity for wearing and gripping
Easy to clean and maintain, keeping them dry and in excellent condition
Convenient to hang dry and replace when needed
Minor Drawbacks:
Lack of silicon and rubber gripping, which may impact the grip on certain surfaces
May be prone to unraveling more easily than desired
The Fortem Cut-Resistant Gloves are a top choice for wood carving enthusiasts and are highly regarded in the market. This pair of gloves is made with 13 Gauge Knitted Seamless HHPE/Nylon material, ensuring both hand protection and durability to withstand daily use.
Featuring EN288 Level 5 protection, these gloves significantly reduce the risk of injury when handling sharp objects, such as carving knives, during the carving process.
Designed with comfort in mind, these gloves offer a superior grip, enabling secure handling of both wood and carving tools. They are available in various sizes, ensuring a snug fit for different hand dimensions. Additionally, the gloves are breathable and lightweight, providing exceptional comfort during extended carving sessions.
Notable Features:
Crafted with 13 Gauge Knitted Seamless HHPE/Nylon material for durability and hand protection
EN288 Level 5 protection against sharp objects
Comfortable to wear for long periods
Snug fit for different hand sizes
Breathable material for enhanced comfort
Lightweight design for ease of use
Machine washable for convenient cleaning
Durable construction for long-lasting performance
Minor Drawbacks:
The gloves may retain odors, acting as a magnet for unpleasant smells over time
The material can be slightly slippery, potentially affecting grip in certain situations
The STARK SAFE Best Budget Wood Carving Gloves have quickly become a favorite among woodcarvers owing to their attractive price tag. Despite their affordability, they offer remarkable value and benefits.
Crafted with the highest quality level of cut-resistant materials, these gloves surpass leather in strength, providing unparalleled durability and protection. With a level 5 cut resistance rating (EN388), they excel in safeguarding against sharp tools and objects commonly used in wood carving.
Not only are these gloves ultra-durable, but they also prioritize comfort and breathability. The premium anti-cut materials used allow for maximum airflow, keeping your hands dry and comfortable during extended carving sessions.
These gloves are multi-functional, serving as an excellent choice for wood carving enthusiasts. They provide a comfortable fit and superior grip, catering to both small and large hands, and facilitating precise movements and control while practicing the craft.
Notable Features:
High-quality cut-resistant materials for optimal protection
Exceptional durability, surpassing leather counterparts
Comfortable to wear for extended periods
Breathable design to keep hands dry and comfortable
Versatile functionality for various tasks, including wood carving
Comfortable fit and superior grip for precise control
Minor Drawback:
Sizing can be inconsistent, so it's recommended to double-check the sizing chart or consider ordering a size up to ensure the best fit.
While the sizing issue may be a minor drawback, the numerous positive features of these gloves make them an excellent choice for wood carving, especially considering their affordability.
The Best Woodcarving Thumbguard
The Ring Sun Thumb Guard is a meticulously handmade Leather Finger Protector designed for wood carving enthusiasts. This thumb guard is crafted using premium full-grain leather, known for its exceptional quality and durability.
The leather used in the Thumb Guard is left unsanded, preserving its natural and authentic character. Through proper hydration with oil, each Ring Sun product acquires a soft and supple feel, displaying a unique and one-of-a-kind shade.
Notable Features:
Perfect size and easy fit; the longer you use it, the more it molds to your thumb shape
Small and portable design allows for convenient storage with your traveling wood carving tools
Strong, soft, comfortable, and flexible, providing protection against paring cuts and comfort during push cuts
Finely handmade with exquisite craftsmanship, ensuring both durability and quality
Full-grain leather offers its own charm, developing a beautiful and unique patina over time, showcasing its age and grace
Suitable for woodcarvers of all levels, from beginners to experienced artisans
The Ring Sun Thumb Guard is an ideal choice for woodcarvers seeking a reliable and long-lasting thumb protector, with its exquisite craftsmanship and durability.
The best woodcarving cut-resistant tape
Beaver Craft Cut Resistant Tape Adherent Wrap is a reliable and durable protective tape designed specifically for wood carving enthusiasts.
Constructed with cohesive tape made from durable materials, this tape is built to withstand the rigors of the carving process, ensuring long-lasting protection that meets your requirements.
Not only does this tape provide protection, but it also prioritizes comfort. If you seek both comfort and security during your work, this tape will fulfill your needs. The wood carving tape offers convenience and a sense of security while you focus on your carving projects.
With the Beaver Craft Cut Resistant Tape Adherent Wrap, you get a 6-in-one package, which includes six self-adhesive cut-resistant tapes. This comprehensive package ensures that you have an ample supply of high-quality protective tape for your carving needs.
Invest in this high-quality tape designed specifically for wood carving, and enjoy the benefits of both protection and comfort throughout your carving sessions.
The best woodcarving cut-resistant finger sleeves
The Cut Resistant Finger Protection Sleeves is a reliable solution for safeguarding your fingers from cuts in various activities such as cooking, working, sculpting, and more. These finger cots are designed with 5 levels of cut-resistance, ensuring optimal finger protection when using sharp tools or handling pointed objects during carving.
Notable Features:
Wide range of applications: These protective finger sleeves are versatile and can be used in various situations to prevent finger cuts when working with pointy tools or shaped objects during carving.
Comfortable wearing experience: The gloves are crafted with breathable materials, offering a more comfortable alternative to rubber finger cots. For added safety, you have the flexibility to wear multiple gloves, adjusting the number based on your specific needs.
Durable material: The fingertip protective covers are made of high-performance polyethylene (HPPE) material, known for its exceptional cut resistance and reliable protection. The precise sewing at the cuff ensures the thread does not easily come off. These finger cover gloves are reusable and can be washed multiple times, providing long-lasting use.
Invest in the Cut Resistant Finger Protection Sleeves, which offer a combination of comfort, durability, and high-level cut resistance. Enhance your safety and enjoy a worry-free carving experience with these reliable protective sleeves.
Choosing the best wood-carving gloves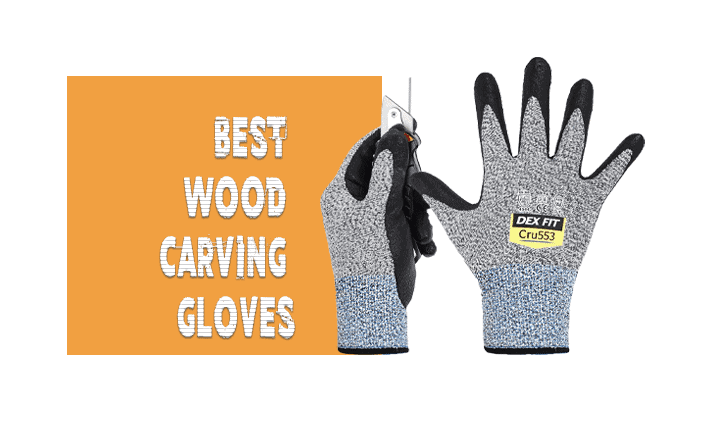 The Importance of Comfort in Safety Gloves
When choosing gloves for wood carving, it's essential to consider the comfort they provide. While comfort does not have a grading system like cut levels, it should not be overlooked. Gloves that are bulky, thick, or uncomfortable to wear are more likely to be removed during carving, putting the user at a higher risk of injury. Research has shown that a significant portion of hand injuries occurs when gloves are not worn, often due to discomfort. Carvers may find their current gloves uncomfortable and choose to remove them, leaving their hands vulnerable.
The Significance of Dexterity in Safety Gloves
Dexterity is another crucial factor to consider when selecting wood-carving gloves. It is sometimes overshadowed by the level of protection offered by the gloves. While it may be tempting to prioritize the highest levels of protection available, you should also consider the feasibility of performing the specific job with those gloves. Neglecting the dexterity requirements can potentially increase the risk of injury.
Dexterity refers to the ease with which tasks can be performed using one's hands. It is essential to ensure that gloves allow for precise movements and control when handling carving tools and working with wood.
Here's a quick overview of 5 best whittling gloves
In conclusion, when it comes to wood carving, safety should always be a top priority. Investing in a pair of purpose-built wood carving gloves can greatly enhance your protection and comfort during the carving process. Among the top choices available:
Ready with your gloves? Fantastic! Now let's move on to the next step: selecting the perfect wood. Discover our carefully curated list of the finest woods ideal for carving in "The best woods for carving."