When you first pick up a piece of wood and begin to carve, you may notice that your hands feel like they're burning and drying out. If this is your first time working with wood and carving, you'll want to protect your hands as much as possible to avoid unnecessary pain and discomfort.
Here are some tips on how to choose the best wood carving gloves for beginners and more experienced carvers alike! but before that here is our list of best wood carving gloves.
The Best wood carving gloves

Made with tough and durable high-quality materials and have the highest cut protection rating available making it is good for wood carving. It features silicon dots cover for gripping wood while carving.
Although the material of the glove is strong, they are still breathable and comfortable, offering a full range of motion making it fun practicing the skill.
It can withstand blades and other sharp tools used in wood carving. The gloves have silicon dots along with the palm and finger areas so you can focus on the job at hand. The quality build and diverse field of use make these gloves one of the best wood carving gloves available.
The positive features are;
Tough and durable
High-quality materials
Silicon dots for gripping
Has breathable material
Comfortable to use
Flaws are;
Prone to discoloration
Too bulky
Size runs large
Dex Fit is our overall best wood carving glove. The glove is one of the best cut-resistant gloves available on the market. When you're working with sharp and pointy tools, you want all of your hands to be safe.
These gloves protect not only your fingers but also your knuckles and thumbs, helping ensure that they don't catch on anything or slip into any sharp blades.
They're made with DEX FIT Stretch Fabric, which is made of several materials including 13-gauge UHMW PE, Fiberglass, Nylon, Spandex, Foam Nitrile Rubber. Because mixed material allows for easy movement and flexibility, these are often considered one of the top choices among woodworkers.
The material also helps with grip; it keeps those slippery pieces of wood from slipping out of your hand! There are silicone prints on each fingertip for a better grip when necessary.
Plus, these gloves are washable and can go in dryers. Their smooth feel coupled with elasticity makes them perfect for maneuvering small bits.
When used under scrutiny or when performing repetitive actions related to detail work, these gloves make turning small knobs much easier than any other option.
The positive features are;
FDA-approved nitrile coating
Good grip
Good ventilation
Cut-resistant
Has a non-slip design
Flaws are;
The grip wears off after some given time.
Featuring a level 5 high-elastic nylon, the gloves feature high-performing protective and cut-resistant materials giving comfort to wood carving.
The gloves are conveniently comfortable with an optimal skill for easy workability.
It is flexible yet has a firm range of motion with no sliding giving efficiency in gripping wood while carving.
The positive features are;
Flaws are;
Don't' have silicon and rubber gripping
Unravels easily
G & F gloves feature level 5 cut-resistant fiber, which guarantees 100% fiber protection.
It meets FDA standards for carving. It's comparable in functionality among the others but surpasses its usability. It protects against scrapes and cuts and such qualities are accepted in wood carving.
The positive features are;
Level 5 cut-resistant
Heat-resistant material
Durable
Protects against scrapes and cuts
It's affordable
Flaws are;
Heavyweight
Develops stinky odor over time
This pair of cut-resistant gloves from Fortem is among the best gloves for wood carving and one of the highly-rated in the market and comes in pairs, these gloves are made with 13 Gauge Knitted Seamless HHPE/Nylon to protect your hands and last through daily use.
The pair features an EN288 Level 5 protection that reduces the possibility of sustaining an injury while handling sharp objects like knives while carving.
It's comfortable and has a superior grip for holding the wood and the tools for carving and comes in hands of various sizes while being breathable and lightweight giving comfort in carving.
The positive features are;
Made with 13 Gauge Knitted Seamless HHPE/Nylon
Level 5 protection
Comfortable to wear
Snug fit
Made with breathable material
It's lightweight
Machine washable
It's durable
       Flaws are;
Odor magnet retains stink
A bit slippery
These gloves are perfectly made for wood carving and are among the favorite in the market. and for a good reason too; they are the cheapest on this list but still offer great value to a woodcarver.
They are made with the highest quality level of cut-resistant materials – 4 times stronger than leather and level 5 cut resistance protection (EN388).
It's ultra-durable, comfortable, breathable, and made for ultimate dexterity. These gloves have premium anti-cut materials that allow maximum breathability, making your hands stay dry and comfortable.
These gloves are multi-functional; they're great for wood carving. It also has a comfortable fit and superior grip that's perfect for small and large hands when practicing the craft.
The positive features are
 High-quality cut-resistant materials
Stronger than leather
 Durability
Comfort in use
It's breathable
       Flaws are;
THE BEST WOOD CARVING THUMB GUARDS AND TAPES
Others prefer thumb guards to gloves and this is my list of best thumb guards.
Ring Sun thumb guard is a Leather Finger Protector, Handmade for working in carving High-Quality Thumb Guard: The wood carving thumb guard is made of premium full-grain leather – the highest quality cowhide leather on the market.
Which we leave unsanded to maintain its natural, authentic character. Since we oil our leather for proper hydration, each RingSun product has a soft, supple feel and comes in a unique, one-of-a-kind shade.
Positive features are;
Perfect size, fit on easy. The longer you use it the more molded it becomes to your thumb. The small and portable size allows you to keep it with your traveling wood carving tools.
It's strong, soft, comfortable, flexible, and easy to use, protects paring cuts, and comfort on push cuts.
Finely Handmade Thumb Guard Wood Carving making it a durable quality, the works also exquisitely. And full-grain leather has its attractions. With time, it will attain a beautiful and unique patina that will show age and grace.
This thumb protector is suitable for all woodcarvers, whether you are new to wood carving or already very experienced.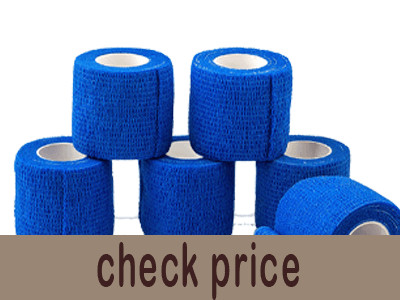 Cohesive Tape Durable Material: be sure that it will successfully go through a long time of your carving process and will fulfill your requirements in protection.
Finger Tape Comfort: if you are looking for both comfort and security during your work, this tape will do the work. The wood carving tape provides convenience and security.
Carving Protective Tape 6-In-One: one package and 6 self-adhesive cut-resistant tapes.
Tape For Carving of High Quality
5 Levels of cut-resistance: these cut-resistant finger cots are made of reliable material with 5-level cut-resistance, which can safely protect your fingers from being cut when cooking, working, sculpturing, etc.
       Positive features include;
A wide range of applications for protective finger sleeves can help you avoid finger cuts when using pointy tools or other shaped objects when carving.
Comfortable wearing experience: The gloves adopt breathable material, which is more comfortable than wearing rubber finger cots; If you won't be safer, you can wear several gloves, the number of wearing can be determined according to the needs
Durable material: these fingertip protective covers are made of HPPE material, with high cut resistance and great protection effect; Precise sewing at the cuff of the finger protection covers, so the thread will not fall off easily; The finger cover gloves are reusable and can be washed for many times.
Choosing the best wood-carving gloves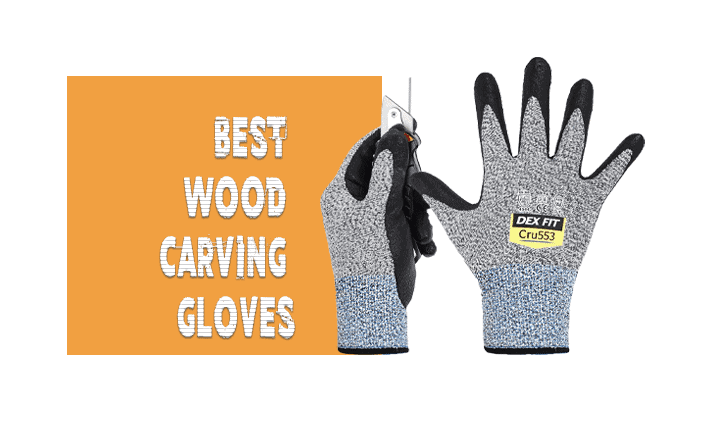 There are many different types of gloves available on today's market. It is important to compare materials, as they all have different strengths and weaknesses. Each material has the specialized uses that suit it best.
We will take a look at leather, canvas, nitrile, and latex gloves here. They each have unique properties that make them a better option depending on what you are carving and how you would like to go about doing it.
For instance, if you are working with tiny pieces or intricate designs, latex may be your best bet. Latex tends to be smaller than other options so will provide greater precision when it comes to woodwork.
On the other hand, latex also offers very little protection from nicks or cuts which can easily occur while working with various sharp objects over time. While not in use, however, latex can sometimes retain an odor that doesn't wear off even after washing—something to keep in mind when buying these.
If you are looking for something more durable and suitable for heavy-duty tasks involving rough surfaces or hard particles, you might want to check out nitrile gloves instead. These are typically thicker overall so offer more protection against abrasions caused by sliding across surfaces during use.
While they don't flex nearly as much, people who work with machinery, car parts, or furniture may find them a good fit for their needs. After prolonged use though, nitrile gloves tend to loosen up quite a bit, resulting in the extra room around fingers and hands. In addition to being too big for some people though, these kinds of gloves generally just aren't comfortable enough for carvers.
Leather gloves (or deerskin) are another popular choice thanks to their supple feel and natural durability. Unfortunately, leather is only useful in areas where you don't need total dexterity; things like fine detailing or detailed planning require more flexibility than these gloves can deliver.
Leather works well for non-essential movements when carving but isn't ideal when trying to focus on fine details because of its stiffness. Because of that, newer users might prefer wearing one glove made of leather paired with another made of fabric to preserve dexterity.
Size Does Matter
When choosing your gloves, pay attention to size! Fitting your gloves will help you hold tools more securely and control them better.
Check out our infographic below on hand size vs. glove size, which can help you find your perfect fit. As a general rule of thumb, choose large enough gloves so that you don't feel any tightness or pinching in any area of your hand—particularly at the knuckles and fingers.
Tight gloves may cause blisters over time as well as restrict blood flow, both leading to hand fatigue and an increased chance of dropping a tool during a carving session. Don't forget to make sure there's ample room at your wrist so that you can easily slip them off and on!
We recommend selecting gloves from reputable brands with free return policies. This way, if they don't fit right, you'll have options when it comes to returning them for a larger/smaller pair. Popular brands include Dex Fit, MaxiFlex, and NoCry. The last thing you want is a pair of uncomfortable gloves that hinder your ability to work effectively!
The Difference Between All-Leather and Partial-Leather wood carving Gloves
Many manufacturers offer gloves made from either all-leather or a combination of leather and synthetic materials. If you're a beginner looking to invest in a pair of gloves, you should consider what each material offers.
The key difference between these two types is that all-leather gloves have better durability and insulation properties, whereas partial-leather gloves are more flexible and less expensive. So when choosing wood carving gloves, you'll need to decide if comfort or longevity is more important to you.
Conclusion
Being able to carve safely is a significant part of learning and patience. Your wood carving journey should not only be a fun and artistic process, but it should also be safe. Thus, investing in the best gloves for wood carving would help protect your hands from accidental cuts and scrapes. This list helps you choose the perfect pair of protection for your hands.