Circular saws are arguably the most versatile and convenient power tools used in the woodworking industry. They come in the form of handheld electric saws fully equipped with circular spinning blades, making them ideal for a variety of drills such as making long straight cuts or cutting angles.
However, with the widely expansive range of circular blades available in the current market, it can be rather hectic for woodworking beginners to pick the most suitable circular saw for their skill level. As such, we have compiled a list of the best circular saws for beginners to help you make the right choice.
Related Reading: Best DEWALT Circular Saws
Makita is renowned for its pioneering brushless motor technology, an attribute that is accurately represented in its XSH06Z circular saw.
Brushless Motor Technology
This model features state-of-the-art brushless motor technology that eliminates the use of traditional carbon brushes, allowing the saw to operate efficiently and cooler for longer.
Moreover, the motor delivers a whooping speed of 6000 RPM and can run for around 50% longer per battery charge. Unlike most brushless circular saws in the market, the Makita XSH06Z's motor is electronically controlled, ensuring the tool's torque and speed match its application for optimum output.
Power
This powerful performance is further advanced by the saw's 36V power output, emanating from 2 18V LXT lithium ion batteries. LXT batteries are particularly important to this circular saw as they guarantee fast charging and longer run time.
Additional Features
Added to the fact that this circular saw is cordless, you will have the freedom to maneuver even the most demanding applications for longer. Handling convenience is also a notable feature of this saw, especially for beginners. It comes with easy to use angle and blade depth adjustment levers, as well as electric brakes, ensuring you make the most of its 90 degrees cutting angle.
Another key attribute of this high-end circular saw is its die-cast magnesium flat base which not only makes it considerably light, but also more durable than aluminum or steel varieties.
Reasons to Pick
Powerful Performance: Its combination of x2 18V LXT lithium ion batteries and outstanding brushless motor technology provide you with an out-of-this-world performance for maximum efficiency. You will enjoy one of the highest cutting speed in the market and optimum power efficiency.
Aluminum Flat-Base: Novices are likely to have a hard time using the more bulky and heftier steel or aluminum circular saws. However, with the Makita XSH06Z, this is not an issue as its magnesium base, blade cover and blade guard are exceptionally light, while also offering maximum durability.
Ease of Use: In addition to being lightweight, this saw also boasts of several features that make it easy to handle even for beginners. These include an electronically controlled brushless motor, instant electric brakes, blade depth controls, and angle adjustment levers.
Durability: It boasts of an XPT (extreme protection technology) design, meaning it is sturdy enough to withstand use even in extremely harsh conditions.
Affordable:The icing on the cake is that you get to enjoy all these impressive features at an affordable rate.
Factors to Consider
Unreliable Dust Collection and Discharge: The only drawback of the Makita XSH06Z is its somewhat flimsy dust collection system. Most reviewers complain that the vacuum hose connection port does not do a great job of collecting sawdust and preventing it from getting into the air.
Another model that is ideal for beginners is the DEWALT DCS570B. It is specifically hailed for its power efficiency and safety attributes.
Power and Speed
Among its primary features is its brushless motor which enables the saw to run at a speed of 5500 RPM, generating 20V of steady current, while maintaining optimum power efficiency under load. This means the saw can run for long (330 crosscuts on a 2 by 4 board) without losing power or heating up. Additionally, it has a bevel capacity of 57 degrees with 44.5 and 22.5 degree positive stops.
Safety
Beginners will also appreciate the saw's electric brake which is designed to maximize safety during use. It is designed to pause after each cut and after the motor is turned off, optimizing user safety and reducing the blade's wear and tear.
Reasons to Pick
Portability: This model is cordless and its flat-base is made from aluminum. Although it is not as durable as magnesium, aluminum is a light material. As such, this model is highly portable.
Safety: Its electric brake and rafter hook make this one of the safest circular saws in the market. The rafter hook enables you to hang the saw on a rafter when in the course of performing another task while the electric brake ensures the saw does not run in-between operations, maximizing user safety.
Efficient: Although the 20V output does not pack as much power as the Makita XSH06Z, it still offers performance efficiency on account of its significantly high cutting speed and operational versatility.
Affordable: It would be illogical for beginners to go over and beyond to purchase a circular saw. Fortunately, the DEWALT DCS570B offers several beginner-friendly features at a very affordable price.
Factors to Consider
Battery Compatibility: It is important to note that the DEWALT DCS570B is not compatible with all DEWALT batteries. You will be forced to look specifically for this model's batteries.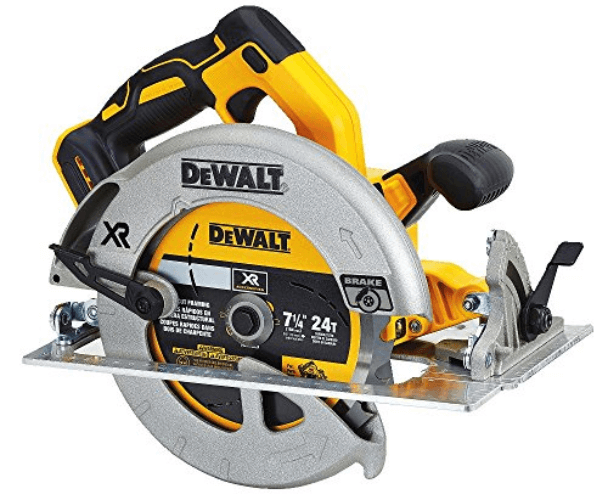 Heavy duty woodwork projects are not only meant for seasoned woodworkers. With the right tools, novices can also undertake even the most complex projects. Among these tools is the SKILSAW SPT77WML which boasts of a worm drive gearing feature.
Worm Drive Gearing
Like many worm drive tools, this model produces so much torque that lithium ion batteries cannot handle. Thanks to its worm drive, this saw packs high torque that ensures the blade spins powerfully despite its dismal speed of 4700 RPM. Nonetheless, it is powerful enough to cut through dense or thick materials, including heavy duty timber.
Additional Features
Beginners will also appreciate the saw's trigger which enables users to easily control the tool while maximizing power and precision. More importantly, it has a magnesium flat-base making it lightweight and highly durable.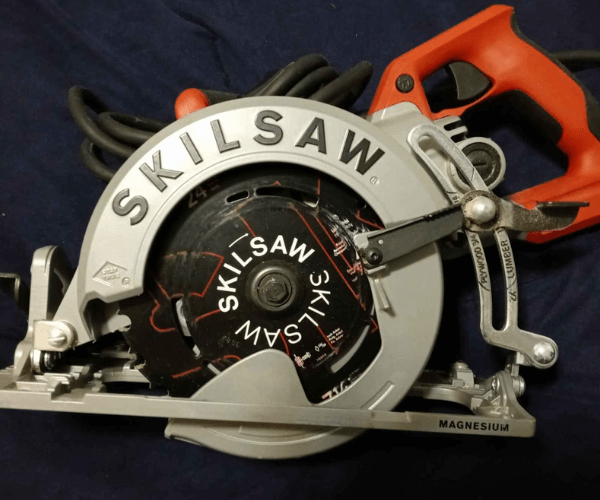 Reasons to Pick
Worm Drive Gearing: This is arguably the best feature of this model being that it ensure the saw is powerful enough for heavy duty projects.
Magnesium Flat-Base: Magnesium ensures this circular saw is light while maintaining its durability.
Ease of Use: Its trigger allows users to easily manage the saw during use.
Affordable: The SKILSAW SPT77WML is the cheapest model in this list, making it a good place for beginners with heavy duty projects to start.
Factors to Consider
Overheating: This circular saw is prone to overheating during extended use. However, its magnesium build limits this effect.
Corded: Another major disadvantage is its corded design which limits maneuverability. However, it is understandable since the high torque cannot be sustained by lithium batteries. It should also be noted that corded circular saws are easier and cheaper to maintain as there is no need to replace batteries every now and then.