Are you determined to achieve a flawless polyurethane finish without the drawbacks of brushes or the expense of spraying? Look no further, because rollers are the sweet spot you've been searching for. We understand that you don't want to compromise on quality, speed, or cost, and that's why we're here to assist you. In this article, we'll guide you toward discovering the ultimate roller for your polyurethane project, ensuring that you can confidently tackle your task and achieve remarkable results.
Remember that not all roller covers are created equal. In fact, wasting money on generic and cheap alternatives often leads to disappointment rather than uncovering a hidden gem. Therefore, consider the entire package. Pick a good roller cover and a high-quality roller frame to go with it. This combination will provide the necessary support, control, and durability for a seamless application.
Choosing the Perfect Polyurethane Roller: Tips and Tricks
Selecting the right roller for your polyurethane project requires considering the material, nap size, and roller cover size. Let's dive into each aspect and see our options for polyurethane.
Material Matters: Achieving Productivity and Final Appearance
The material of your roller cover plays a crucial role in determining the productivity and appearance of your project. Two popular options are woven fabrics (such as microfiber and mohair) and knit fabrics (like polyester and lambswool). Mostly what we will be controlling with the material is sheen. but there are other specifications as indicated below.
Woven Fabrics: Woven roller covers are lint-free, ensuring a smooth finish. Options like microfiber and mohair excel in providing exceptional smoothness while avoiding unwanted lint residue. Therefore woven fabric rollers are preferred for achieving high-sheen polyurethane.
Knit Fabrics: If you prioritize speed and coverage, knit roller covers are the way to go. Polyester and lambswool covers are convenient for greater pickup and release (faster application). While these covers may leave a stipple texture, they offer excellent material retention. These are what your looking to buy for use on decks and floorings.
Nap Size: What size nap roller for polyurethane
The appropriate roller nap for polyurethane application depends on the surface texture. For rough surfaces, such as fences and decking, it is recommended to use a longer pile nap ranging from 1/2″ to 3/4″. This allows for better material pick-up and faster coverage. On the other hand, for smooth surfaces like cabinets or paneling, a shorter pile nap ranging from 3/16″ to 3/8″ is suitable. For an even smoother and glass-like finish, microfiber roller covers can be used. These considerations ensure optimal results when applying polyurethane to different surfaces.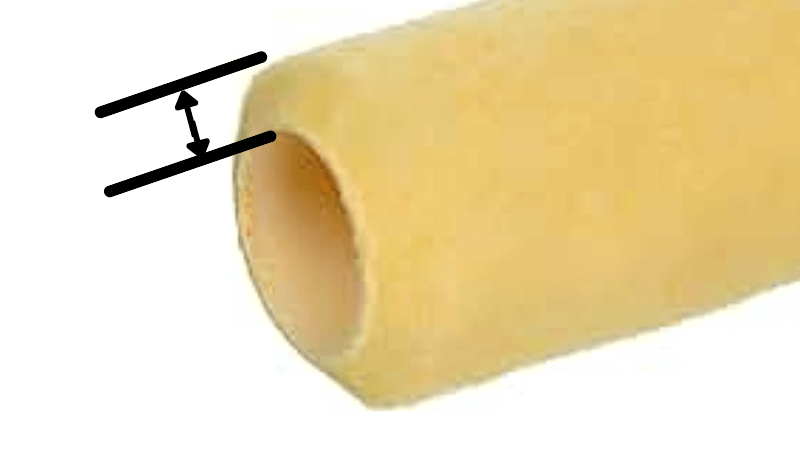 Roller Cover Size: Matching Length to Surface Area
The size of your roller cover is another important consideration. Roller covers come in various lengths, ranging from 4″ to 18″. Consider the following when choosing the right size:
Longer Rollers: Longer roller covers are ideal for covering larger surface areas, maximizing your finishing efficiency. They are particularly suitable for floors and larger expanses.
Shorter Rollers: Shorter rollers excel at tackling edges, and corners with precision and cutting in. They allow for greater control and attention to detail. For those finer details, the shorter rollers are best.
Now that we have covered all the basis let's check out the top polyurethane rollers
Best paint roller for a smooth finish
Here are some reasons to choose The Wooster Micro Plush Roller Cover:
Mirror-like finish: If you're aiming for a high-gloss, mirror-like finish, this roller cover is perfect for achieving that level of smoothness. The microfiber construction ensures an unparalleled smooth finish that can rival the appearance of a sprayed application.
Greater control on complex surfaces: The Micro Plush roller offers excellent control, thanks to its short nap. With this roller, you can maintain precision and avoid drips or splatters. This makes it particularly well-suited for rolling on intricate surfaces such as cabinets and doors, where control is crucial for achieving a professional result.
Considerations:
While the Wooster Micro Plush Roller Cover excels in certain areas, it's important to consider the following:
Loading capacity: Compared to Knit Fabrics rollers, the Micro Plush roller may not hold as much material. This means that it may be less efficient on semi-smooth to semi-rough surfaces like fences or decks, where a larger load capacity can translate to faster coverage. In such cases, knit fabric rollers may be a better choice as they can hold more paint and release it more effectively.
It's important to assess the specific requirements of your project and determine whether the advantages offered by the Micro Plush roller align with your needs.
Best roller for oil-based polyurethane
Here are some reasons to choose The Wooster Lambswool Roller Cover:
Made from high-quality lamb wool: As the name suggests, this roller is crafted from lamb wool, which ensures superior performance. Lambswool stands out among rollers for its exceptional qualities, making it a top choice for various projects. The wool is carefully sewn together and securely attached to a rigid backing, allowing the roller to move smoothly during application.
Short fibers for enhanced control: Despite its short fibers, this roller offers remarkable control, which is one of its notable features. Longer-fiber rollers often encounter an issue known as spraying, where the centrifugal force launches the material held by longer fibers before they make contact with the surface. In contrast, the short fibers of the lambswool roller prevent spraying and allow for precise control. This makes it an excellent choice for intricate surfaces such as cabinets and doors, where maintaining control is vital for achieving professional results. Additionally, the short fibers contribute to the versatility by eliminating drips, enabling confident application on elevated areas like staining a cedar fence.
Versatile for various finishing projects: The Wooster lambswool roller is not limited to polyurethane applications alone. With proper maintenance, it proves to be a valuable tool for a wide range of finishing projects. It effectively works with urethanes, stains, oils, paints, and varnishes, making it a versatile investment that caters to diverse finishing needs. Whether you're working on different materials or surfaces, the lambswool roller provides reliable performance and consistent results.
Considerations:
While the lambswool roller is versatile, it may not be the ideal choice for rough or textured surfaces. The short fibers may struggle to effectively cover uneven surfaces, resulting in a less uniform finish. For such surfaces, alternative rollers with longer fibers or a more textured surface may provide better coverage and results.
Best Roller for water-based polyurethane
These rollers are considered the best for applying water-based poly because it does not stick and make application difficult. Moreover, the short-size roller covers make them suitable for application on projects such as doors, cabinets, and floors.
These rollers have certain benefits that make them our second-best rollers. They deliver a smooth finish in a short period. Their unique build ensures that there is minimal splatter during application. Moreover, theories are easy to clean after use and are budget-friendly. One drawback is that it is not suited to small projects.
FAQ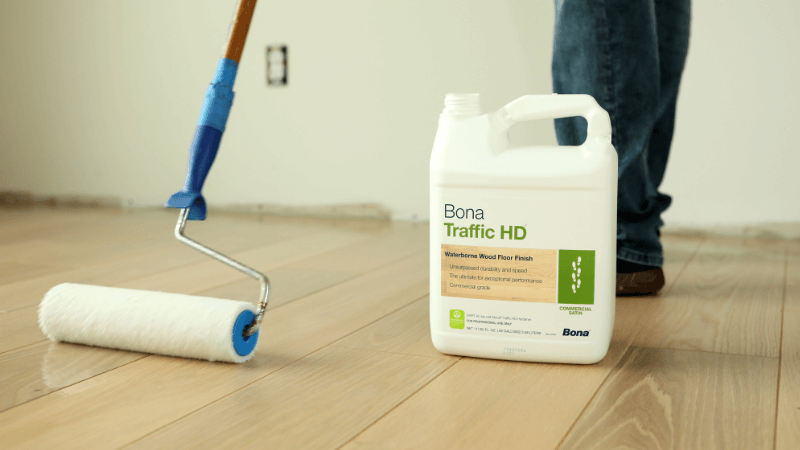 can you use a roller for polyurethane
Yes, you can use a roller for applying polyurethane. In fact, using a roller is a common and effective method for applying polyurethane coatings on various surfaces. Rollers allow for smooth and even application, and they can cover large areas quickly.
what kind of roller should I use for polyurethane?
For applying polyurethane, the type of roller you should use depends on your specific needs. If you are aiming for a high-sheen finish, woven fabric rollers like microfiber or mohair are recommended as they provide exceptional smoothness and lint-free application. These rollers are ideal for achieving a smooth and glossy appearance. On the other hand, if speed and coverage are a priority, knit fabric rollers like polyester or lambswool are suitable. Although they may leave a stipple texture, they offer excellent material retention and are preferred for larger surface areas such as decks and flooring.
can I use a foam roller for polyurethane?
Yes, you can use a foam roller for applying polyurethane. Foam rollers are a popular choice for polyurethane application due to their ability to provide a smooth and even finish. Foam rollers are known for their excellent material absorption and release properties, allowing for the efficient application of polyurethane coatings.
Summary- Best Roller for Polyurethane
In conclusion, selecting the right roller for your polyurethane project is crucial for achieving remarkable results. When choosing a roller, consider the material, nap size, and roller cover size. For achieving a high-sheen finish, woven fabric rollers like microfiber or mohair are recommended, while knit fabric rollers like polyester or lambswool are suitable for speed and coverage. Foam rollers can also be used for achieving a smooth and even finish. Additionally, the size of the roller cover should match the surface area, with longer rollers ideal for larger areas and shorter rollers providing greater control for edges and corners. Remember to choose high-quality roller covers and frames for optimal support, control, and durability. By considering these factors, you can confidently tackle your polyurethane project and achieve flawless results.