When applying polyurethane, most people use a brush to spread the finish on a wooden surface. While using a brush may be the best option for certain projects, such as small projects with close edges, applying polyurethane on larger wooden surfaces may require using suitable rollers.
Rollers are considered in poly applications because they are more efficient than brushes for larger wooden projects. This article looks at the best rollers for the smoothest finish on your wooden surface with either water-based or oil-based polyurethane.
Top Picks- Best Roller For Polyurethane
Wooster Lambswool 100 Roller Cover
Editor's pick
Wooster Lambswool 100 Roller Cover
The Wooster Lambswool 100 Roller Cover is the perfect tool for applying polyurethane. Its unique design, made with 100% natural lambswool knitted into a synthetic backing, provides full paint capacity and consistent quality, ensuring a smooth and even application of polyurethane.
We earn a commission if you make a purchase, at no additional cost to you.
As the name indicates, Lambswool rollers are made from lamb wool. Lambswool earns the top spot on this list because it possesses the best qualities of all rollers. The wool is uniquely sewn together and attached to a rigid backing, enabling the roller to move.
The resulting roller is softer and most flexible on the market, allowing it to move quickly on grooves or uneven surfaces. Moreover, it offers the most sought quality of preventing lint and dust from getting mixed into the final surface. Being a short fiber roller means Lambswool will give your wooden surface the smoothest finish.
For the fastest, smoothest polyurethane application, Lambswool is your top choice. Other benefits of this roller are that its unique formulation of green double-thick polypropylene core resists water solvents and cracking, can be used to apply poly on semi-rough and uneven surfaces, and prevents lint and dust from getting to your layer of poly.
FoamPRO Roller
Runner's up
FoamPRO Roller, Pack of 5
Foam Pro roller cover is a top-of-the-line option for applying polyurethane to wooden surfaces. Made with durable, high-density foam, this roller cover pack includes five covers. Its extended size makes it ideal for covering large surfaces quickly and efficiently.
We earn a commission if you make a purchase, at no additional cost to you.

These rollers are considered the best for applying water-based poly because it does not stick and make application difficult. Moreover, the short-size roller covers make them suitable for application on projects such as doors, cabinets, and floors.
These rollers have certain benefits that make them our second-best rollers. They deliver a smooth finish in a short period. Their unique build ensures that there is minimal splatter during application. Moreover, theories are easy to clean after use and are budget-friendly. One drawback is that it is not suited to small projects.
Pro Grade Roller Covers
Budget pick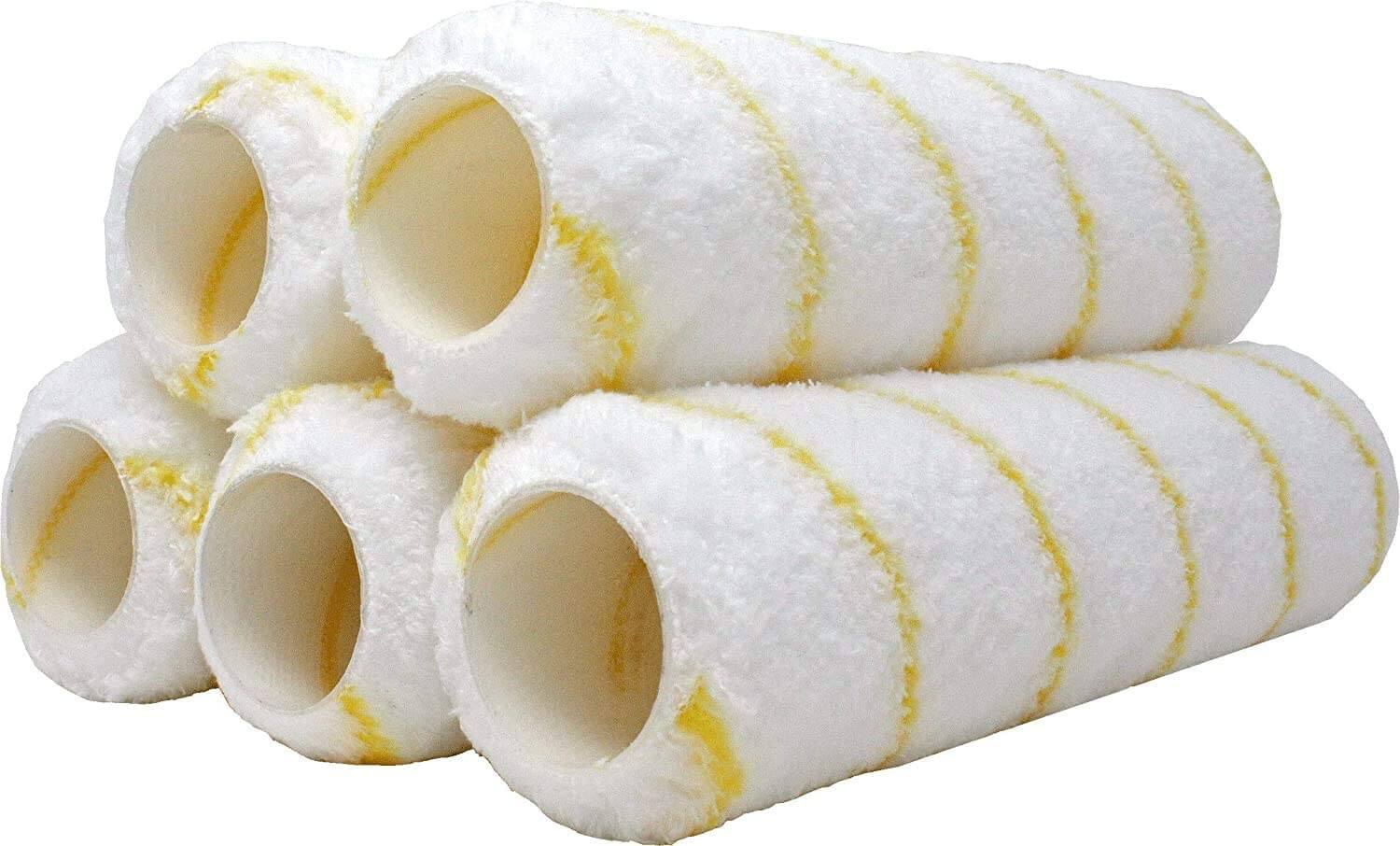 We earn a commission if you make a purchase, at no additional cost to you.

Microfiber rollers take the third position in this list since they are the most budget-friendly while still delivering perfectly smooth with minimal dust problems. These rollers have no lint problem and are quick to apply polyurethane.
Other benefits that these rollers boast include giving a smooth finish to your polyurethane, can be used for both oil-based and water-based polyurethane, being uniquely built to last long, and being used multiple times. However, being of a larger size, their use is only convenient for larger surfaces such as floors. These types should be avoided for smaller projects or projects with many edges and grooves.
What to look for when buying roller for polyurethane
Oil vs. Water-Based Polyurethane
When choosing a roller for polyurethane, it is important to know the type of polyurethane you intend to apply to your wooden surface. Different rollers have a different affinity or the ability of the polyurethane to stick on the roller cover.
Oil-based polyurethane sticks differently to the roller than water-based polyurethane. For instance, for oil-based polyurethane, it is advised to use foam, microfiber, and lambswool rollers; this is due to the fact that oil-based polyurethane is thick and does not readily get absorbed by the roller. These rollers allow oil-based poly to be applied smoothly and evenly over the surface.
On the other hand, it is not advised to use foam rollers when it comes to water-based polyurethane. This is due to the fact that the thinner nature of water-based polyurethane gets absorbed inside the more porous foam roller covers.
Surface
The type of roller used is also dependent on the type of surfaces you intend to apply the polyurethane. A rule of thumb is longer rollers are best suited for larger surfaces such as floors, or patios. These rollers require longer roller frames to be effective at covering larger surfaces in the shortest time. On the other hand, smaller surfaces such as those of furniture are best suited to shorter rollers that allow for more maneuverability.
Sheen
When choosing a roller it is important to consider the sheen you want for the finish. This is due to the fact, that different rollers affect the sheen of polyurethane differently. Roller covers with porous surfaces are not ideal as they absorb the poly and result in a very thin layer of poly that is poor in sheen. To achieve a better sheen it is recommended to use high-density fiber rollers or lambswools which do not absorb the poly.
Summary- Best Roller for Polyurethane
Polyurethane can be applied to rollers. The type of roller to pick depends on whether you are coating with a water-based or oil-based polyurethane. Rollers are preferred when applying poly finish on large wooden surfaces because they produce a smooth finish. They are faster to use and prevent lint and dust. For a larger surface, wooden project rollers are the best applicators.