Poly has been used to protect the wood for a long time now. Without some protection, wood or furniture is prone to damage from knocks, weather, and scrapes. A coat of poly not only protects but also gives the wooden surface richness and depth. But do you even need to Polyurethane your Kitchen Cabinets yet they are already Painted? Read on to find out.
Do I Need Polyurethane on Painted Cabinets?
Most cabinets are wooden; therefore, the question of whether you can apply a coat of poly on your cabinets is a big yes, but do you need it?
It all depends on the paint used. Some High sheen Paints like Acrylic enamel and gloss latex are made to withstand bad weather and duress. These paints do not require a Coat of Poly as they are resistant to abuse like sticky fingers and stains.
However, If the paint used is Satin latex, eggshell, or low sheen flat paints, you must use a coat of poly as additional protection from Stains, fading, and usual wear and tear. Applying poly will save you money and time otherwise used in repairing and maintaining a stunning kitchen.
Why you Should Polyurethane Your Cabinets
Poly is clear liquid plastic, so it seals the entire wood without any distortions to the paint when used. The plastic is tough and offers protection from external damages that may spoil the paint or, in severe cases, the wood.
The last thing you would want is a kitchen that would have been immaculate if not for the patches of paint peeling off. With a poly finish, your painted kitchen cabinets will retain their aesthetic appeal and last longer.
Poly In nature is tough and therefore a great choice for a finish. In addition to polyurethane durability, It's still Impressively resistant to water and Chemicals. It also comes in a variety, giving you several options for your Cabinets.
Want to apply with a spray gun and don't know where to start? Best spray gun for poly buying guide and review
Polyurethane comes in two types mostly
Water-Based
Water-based polyurethane is not as durable as oil-based polyurethane. However, people prefer them as they are orderless and do not require much ventilation. This, however, comes at a price as they are quite expensive than oil-based.
Water-based poly is best for cabinets with low sheen flat, satin latex, or eggshell paint. These paints go well with Water-based Poly and will prolong the durability.
Solvent Based
Oil-based poly comes highly recommended as the most durable poly. This poly Can only be used If the Cabinets are Painted will oil-based paints; otherwise, adhesion problems may arise, leading to flaking
while Applying, make sure the area is well ventilated oil-based poly is resistant to heat and moisture and are therefore the favorite consideration When deciding to poly your Painted Cabinets
Best Polyurethane for painted kitchen Cabinets
There are different ways of ensuring your wooden cabinet is protected against UV and moisture damage. If you choose to use polyurethane finishes, you should know that they come in different forms, including matte, satin, semi-gloss, and high gloss. The primary difference between these types of polyurethane is the sheen, with matte having no sheen and high gloss being the shiniest.
Here is our selection of the best polyurethane for painted kitchen cabinets.
This product is water-based, and as stated earlier, water-based poly is best for cabinets with water-based paints. This polyurethane is the way to go if your painted cabinets have a delicate matte finish. It provides great protection for your cabinets compared to other similar products, mainly because it has a thicker self-leveling composition after drying.
This means you don't have to worry about missing spots; poly is made to sink into the previous layer, ensuring a smooth final finish. Furthermore, applying with a brush without leaving any strokes behind is effortless especially when you know how to clean and store poly brushes between coats.
Likewise, this product is easy to clean in the same way it applies; even old, dried stains can be removed with water and soap. This polyurethane is usually more expensive than other finishes, but the long-lasting one-coat protection more than makes up for the price range.
The product also dries three times faster than cheaper alternatives, reducing project completion times.
This is among the best polyurethane finishes on the market right now. It is ideal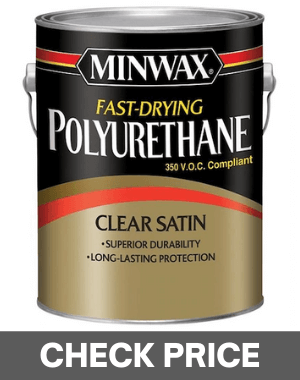 for kitchen wood such as cabinets as it gives you a dazzling polyurethane finish. You can apply this product on top of your water-based paint.
This poly has been specially designed to withstand moisture, and hence it is the perfect option for your kitchen and bathroom cabinets. Additionally, it can protect the wood from UV damage and thus can be used for outdoor cabinets.
We tested the product in our workshop and noticed that it should be applied in a well-ventilated room. Furthermore, you should apply a thin layer to help it dry faster than other polyurethane finishes. Likewise, Minwax polyurethane is easier to use as compared to other polyurethanes.
Moreover, the product can be used to refurbish old and newly painted cabinets. 
One of the good things about the product is that it will provide your cabinets with a deep satin sheen, transforming your project into something beautiful. This is the best poly if you want your cabinets to have a slight sheen that is not too glossy.
This polyurethane dries the fastest as compared to others on the market. Varathane is ideal for interior use since it
is light, odorless, and water-based. In addition, this product will give you a clear crystal shine, which is ideal for classy-looking cabinets and trimmings. Moreover, you can apply polyurethane on top of a water-based paint finish.
The clear finish has no yellow or amber sheen, allowing the color you have painted to shine through. This clarity is unquestionably long-lasting, as is the resistance it delivers to ensure the longevity of your project.
Undoubtedly, one of the finest aspects of this poly is its base, which you can easily be clean with water. Wipe away any excess poly using a damp towel before soaking your brushes in clean water. Thus you can apply the product to kitchen and bathroom cabinets. This alone will save you cleaning supplies and tools, which can be reused, unlike other oil-based polyurethanes. Spraying is an excellent alternative if you want to avoid too much gloss and brush strokes with this poly.
We loved this product because it is easy to apply, and one can use it even if one is inexperienced in painting. Additionally, the mild odor dissipates in less than an hour after application. Even if you use it in bigger areas, you can do a lot in one day with a two-hour drying period between coats.
This is an oil-based polyurethane and works effectively when applied over oil-based paint. The product has a rough texture, enabling it to blend well with oil-based paint as it provides maximum protection against UV light that may fade the color of the applied paint.
Additionally, unlike other oil-based products, the Rust-Oleum 9041H dries quickly. However, it also depends on the temperature and humidity of your working area. Furthermore, the product does not produce much odor, so you do not worry about environmental protection laws.
We also noticed that, unlike other oil-based polys that darken the color, the Rust-Oleum 9041H keeps the original color while providing a smooth sheen.
The Rust-Oleum does a good job of coating the surface of your painted cabinets with minimal soaking. The product is also thick, which prevents it from soaking beyond the paint before it dries.
However, you should note that this product is expensive as compared to others of its caliber. Nonetheless, the results are perfect, and thus the product is worth the price.
Preparations before applying Polyurethane
Make Sure the room or work area Is well 

ventilated

.

Take the cabinet apart by removing handles and drawers, and drawer fronts. It is easier to polyurethane separated pieces. Also, ensure you label the drawers top, middle, and bottom to avoid mix-ups during assembly.

Clean dry surface

 and also prepare your working area by Covering the floor to Control spill offs

check If there are any blemishes on the Surface of the Cabinet

Suppose your cabinets have some blemishes it's important to deal with them now. For grooved damages, apply a sealer for paint that's peeling off, sand off the loose particle, and repaint with the same paint pigment.
To get beginner tips on how to seal large gaps on wood and what products to use;
 Read How to fill large gaps on wood.
Applying Polyurethane to your Painted Cabinets
Be gentle when stirring the polyurethane to avoid generating bubbles. This is very important. You don't want to be fighting air bubbles while applying a layer.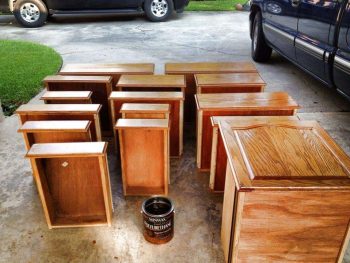 Applying poly needs a steady hand. Use a good brush for the best results. We recommend buying a synthetic bristle brush. Synthetic brushes are good as they hardly leave any traces of brush strokes.
They also can hold a lot of poly at a go allowing you to glide along the surface, which is a technique that's vital for smooth results.
Steps to polyurethane painted Kitchen Cabinets.
For the first coat, you want it light. D

ip the brush in poly, picking as much poly as possible

Remove excess poly by dripping the excess back into the container

Begin applying the first layer. Glide from one corner of the surface to the other end.

Avoid rubbing the brush back and forth to avoid making the surface gummy with uneven bumps.

Move to the next line and continue applying with a steady hand

If you miss a spot, don't panic; you will get it in the next layer

Poly sinks into itself easily, so you don't have to worry about unevenness so much.

After the first layer has dried, gently sand the layer using 220 to 400 grit sandpaper. Whenever sanding, always remember to do so along the wood grain.

You are only removing the bubbles and small bumps, so be careful not to sand through your newly applied poly.

After sanding, remove the sanding residue and dust with a cloth before beginning the second coat.

Make the second coat thicker than the first. This second coat will level the imperfections of the previous coat.

For Visual steps: click here 

If another coat is needed, make sure to repeat the sanding step. However, if this is your last coat, let the cabinets rest for 48hrs before reassembling. In a short time, the desired amount of poly will become evident. If the poly is too thin, you will note dry spots on the finish while looking at different light angles. If the poly is too thick, it produces runs the sweet spot is right at the middle of the two extremes.
What other Coats are Available for your Kitchen Cabinets
Another way you can protect your painted cabinet is by applying a single layer of varnish. Varnish is more durable as compared to paint, and thus you might need it to provide more protection against moisture. Water-based varnish is considered the best for use over water-based paint. One of the best varnishes to use is the VC600 Water Based Varnish from Venus Creator.
Polyurethane vs. Other Finishes for your Painted Cabinets
Varnish provides the best protection against UV light and thus will be the best if your painted cabinets are for outdoor use. However, polyurethane is the way to go if your cabinets are for indoor use, such as in the kitchen or bathroom.
Frequently Asked Questions about Kitchen Cabinets
Should you use polyurethane on kitchen cabinets?
A polyurethane finish helps reduce the wear and tear that your kitchen cabinets endure due to moisture damage. It also helps keep them looking new for long and extends the life of the wood. Water-based polyurethane is especially good in handling stains as you only need water and soap to clean. Although polyurethane works perfectly on unfinished wood, you can also apply it on painted surfaces.
What is the most durable kitchen cabinet finish?
Waterborne UV finishes are considered the best for kitchen cabinets. The products have eco-friendly compounds and fast-drying features, ensuring that your wood and health are well protected. However, for every finish, you choose for your kitchen wood, ensure you apply a coat of polyurethane varnish on the top.
Should cabinets be gloss or satin?
Satin is better for touchups than semi-gloss, which is better for cleaning. Satin paint is superior for touching up cabinets to conceal or obscure blemishes or freshly mended areas. This sheen is preferred because it does not highlight flaws as much as a semi-gloss sheen does.
What is better, polyurethane or Polycrylic?
Polyurethane is applied to help improve adherence and durability. On the other hand, polycrylic is a less durable alternative to polyurethane and is only intended for interior surfaces like cabinets and furniture. However, it is not ideal for cabinets meant for the bathroom and kitchen as the wood is exposed to moisture frequently.
Should I polyurethane my painted cabinets?
There is no need to apply a polyurethane finish if you had already applied durable paint on your cabinets. However, if you have used less durable paint, you might need to apply a light coat of polyurethane finish. It will help prolong the life of your cabinets, especially in rooms prone to moisture, like the kitchen. The polyurethane acts as extra protection. Therefore, it should be applied when you don't trust your previous protection, which, in this case, is paint.