Maple wood is that attractive component everyone would wish to have in their compounds. It has that beautiful grain that makes the wood suitable and admirable for any home wood project. However, you wouldn't imagine such a beautiful esthetic to come easy. It is expensive due to its attractive and unique look. You will notice that some of its wood grain has that flame-like outlook, while others have tiny knots. Some woodworkers and experts call these small knots bird's eye maple trees.
Well, such wood will require something more to bring its natural essence, and this thing is staining. You would not wish to leave your maple wood bare without stain. And because I understand how challenging it is to choose the right and best stain for your maple, I got something special for you.
This article will offer an extensive guide on the best stain for maple, which I am sure will give you the best results.
3 best stains for maple
Minwax 70005 Colonial Maple Stain is that oil-based stain you can never go wrong with when using. Since it penetrates your maple wood, sincerely giving that beautiful colour you long for and enhancing your maple's natural grain wood in just one coat. And if your maple wood is interior, you don't have to worry about staining it, as this stain is perfect for interior maple staining projects.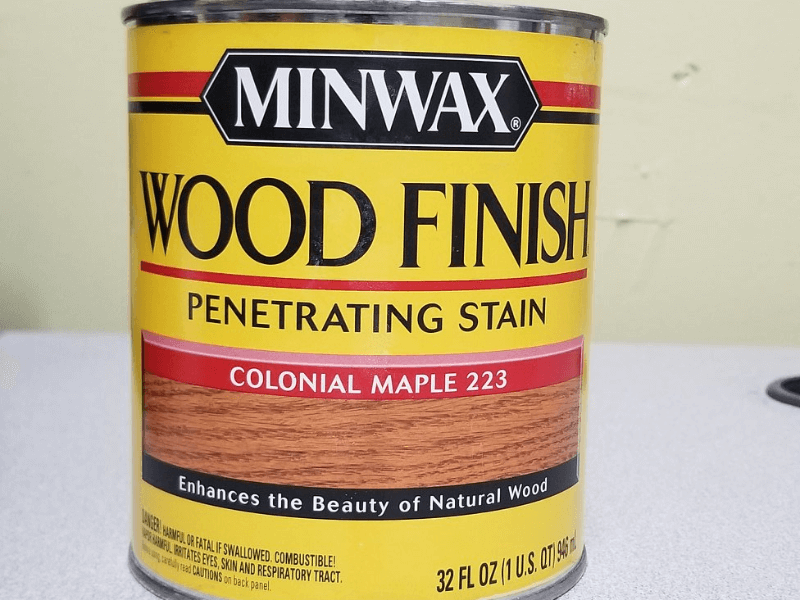 With Minwax 70005 Colonial Maple Stain, staining interior maple wood projects has never been easier and quicker. In just five minutes, you will have this stain penetrating deep into your maple, thanks to its unique formula. And in just two hours, the stain will dry to the touch, making your maple wood beautiful.
The Minwax 70005 Stain is as easy to apply as ABCD. You will only need a wood stain brush or clean cloth to apply this stain in the direction of the maple grain. Give it five to 15 minutes and quickly wipe the excess stain away. However, you must note that the longer you wait, the richer or darker the colour becomes. If you need deeper colour, you can reapply coats. 
Pros
It is easy to apply.
It dries quickly and fast.
It penetrates your maple, sincerely offering rich, even colour.
It offers beautiful colour to your maple wood and enhances the wood's natural grain in one coat.
Cons
You have to wait before reapplying for another coat.
If you are looking for a stain that is easy to apply and wipes on easily, here is the deal. ZAR 11012 is an oil-based wood stain that wipes on easily as maple polish to stain and seal in just one coat application. You won't tire when applying this maple stain as it is easy. 
But that's not the good news yet. ZAR 11012 Wood Stain has a controlled penetration formula that will ensure you get the best results on your maple staining project. This controlled penetration formula ensures a uniform colour tone when staining your maple without lap marks or unsightly streaks.
And if you had previously painted or varnished your maple, you don't have to worry about staining. This is the reason. You can use ZAR 11012 on once varnished or painted surfaces without stripping and still achieve a beautiful natural wood grain effect for your maple. So if you need that beautiful grain of your maple still showing, you can never go wrong when using this stain. 
Pros
It has superior coverage.
It has a controlled penetration formula that enables even staining.
It wipes on as furniture polish.
It enhances excellent uniform colour.
It is perfect for your maple staining project.
Cons
A budget should never deter you from getting your maple staining project done. That's why I recommend this low-budget yet high-performing stain. Minwax 26040 offers complete control when staining your maple and enables you to achieve beautiful results. 
You will find this gel stain easy to apply, thanks to its unique non-drip formula. I particularly liked its thick-bodied nature, which allowed it to stay more towards the surface of my wood surface, enabling excellent colour control during the stain application process.
Minwax 26040 will deliver color evenly on your maple wood, something that will make you love it even more. In addition, this beautiful and high-performing stain will offer an excellent maple-coloured finish. It will also provide you attractive, light color that will sit nicely on your maple wood.
Pros
It has a unique non-drip formula.
It produced even color.
It offers an excellent maple-coloured finish.
It gives you control over the staining process.
Cons
It requires pre-treatment of your maple wood for better results.
What to consider when buying stains for maple
Base – you will find three base kinds of stains for maple; oil-based, gel-based, and water-based. The water-based stains for maple will enhance the beauty and nature of your maple's wood grain, thus making it beautiful. The oil-based stains for maple not only wipe on easily but is also durable. Lastly, the gel-based stain is thick-bodied and thus stays more on the wood surface, enhancing excellent colour control during the application process.
Colour of stain – since the stains for maple come in various colours on the market today, you should ensure you get the right color that matches the tone of your maple. You should first check your maple wood grain and tone and decide on the best color that will suit and bring the beauty of your maple wood.
Summary
Maple staining is a light exercise and should be handled with care. The best stain for maple was heavily contested, but the three won. However, I was greatly impressed by Minwax 70005 Colonial Maple Stain, and that's why it was the first to recommend. This stain has deep penetration into maple woods, giving it beautiful colours and enhancing the natural grains of the maple in just a single coat.