Buying your first wood lathe can be an intimidating experience if you don't know what to look for or where to start your search. Wood lathes are precision tools that will last you for years, so it's worth shopping around and finding the right one. Here's everything you need to know about the best beginner wood lathe on the market today.
The Best Beginner Wood Lathe for Woodworking
Whether you're looking to create spindles, bowls, or other wooden objects, the WEN 3421 Variable Speed Mini Benchtop Wood Lathe is an excellent choice for beginners. This lathe features a variable speed of 750 to 3200 RPM, making it perfect for various projects. The sturdy construction and easy-to-use controls make it an excellent option for those just starting in woodturning.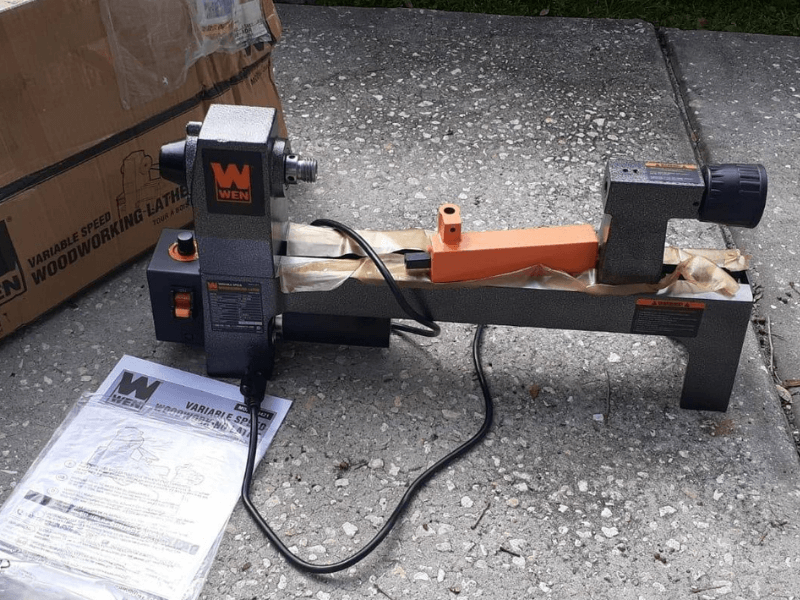 The tool has all the essential accessories needed to start, including a faceplate for non-spindle projects, a tailstock taper, and steady two-tool rest. The MT1 spindle and tailstock taper are meant to grip workpieces tightly, and the two tool rest provides needed support for chisels and tools during operation.
Once assembled, this model weighs about 50 pounds, so consider that when deciding where to put it. While not as powerful as more expensive models, this lathe should provide years of service without trouble. As a bonus, this product has a three-year warranty for any manufacturing defects which means you'll have peace of mind that your investment will last!
As a beginner, you'll want a wood lathe that is easy to use and has plenty of features to help you get the hang of things. The JET JWL-1015′′ Wood Lathe is an excellent option for beginners. It has a 15′′ swing and comes with a faceplate, live center, and tool rest. It's also affordable, making it an excellent option for starting. With a weight of 77 pounds, this model is relatively lightweight and portable too.
It has a sturdy build and a user-friendly design. Plus, it comes with a helpful instruction manual. This wood lathe also has plenty of power, so you can tackle stricter projects as you get more experience. With a minimum speed that ranges from 500-3975 RPM with the help of a 1/2 HP motor, we are assured of achieving an optimal rate of speed on any project.
One of the few downsides to this model is that it doesn't come with other tools like chisels or other bits. But as long as you have these on hand or are willing to purchase them separately, this won't be an issue. If you're unsure about investing in additional tools, this may not be the best option. But if you are looking for an affordable, user-friendly first lathe, you won't go wrong with this.
This is a great starter lathe for anyone who wants to get into woodturning on a tight budget. It's affordable and easy to use and comes with everything you need to start. Check Best wood Lathe under $500
The SHOP FOX W1704 has a 1/3 HP motor that runs at speeds of up to 3,200 RPM, and it has a 12-inch swing capacity so that you can turn larger pieces of wood.
It has a cast iron body and is designed to fit well in a workbench to reduce vibrations. There are six-speed settings on the headstock, and an adjustable belt tensioner lets you make adjustments as needed. Plus, the four jaws on the chuck have an 8-inch opening for turning smaller projects like pens or smaller bowls. This is one of the best choices for people just starting in woodturning.
Important Features to Consider
Before you go out and buy your first wood lathe, take some time to understand what makes one lathe better than another, what you want to do with it, and how often you expect to use it. With that information in hand, you'll be able to choose the best beginner wood lathe possible!
1. Weight and Size
When looking for a wood lathe, you should consider the amount of workspace you have in your workshop.
It is important to note that wood lathes are power tools with a significant weight, so you cannot regularly move the lathe from one location to another. The weight is necessary because it prevents the wood from being thrown to the ground while you work. As such, you must have your lathe in a stationary position, even if it is a midi or mini type.
Full-size lathe measures about four feet from the ground, so you will not have to worry about lifting heavy machinery to a benchtop. However, if you use this type of lathe, you must know that it is essential to have enough working space as the wood you will be using may be longer than usual.
Consider the size of your workshop and compare it to the three categories before purchasing a wood lathe. As a result, even if your lathe is a midi or mini model, you must keep it stable.
2. Base
It would be best if you also thought about the base of the wood lathe you want to acquire. While you're working, the base will give a stable platform that absorbs vibrations. It's important to remember that even the least vibration can cause flaws in your project. It might also pose a risk to one's safety.
To help prevent the problem and ensure your wood is steady as you work, you should consider purchasing a wood lathe with a cast-iron base. This material is dense and heavy, which helps ensure that the machinery is stable and the vibrations from operation do not affect your work. Mini wood lathes also have a cast iron base, ensuring that your project is not affected by the vibrations.
3. Tailstock and Headstock
The headstock of a wood lathe contains the power converter heading to the motor. The speed control is also located in the same area. The machine also has a headstock spindle, a small piece of metal extending from the headstock to the middle of the lathe. The metal is designed to pierce the wood and provide the required rotation when in operation.
The tailstock is adjustable and helps fit the length of the wood placed on the machine. After the wood is in position, you will use the tailstock to lock it and prevent it from moving horizontally or vertically while the lathe rotates it. The grip attained by the tailstock and headstock helps ensure your project is flawless. However, you have to practice often to ensure your projects are excellent.
4. Speed and Power
The average output of a wood lathe is measured in horsepower.
The typical light-dory mini-lathe should have a ¾ horsepower output, while a full-sized wood lathe will have an average of 2 horsepower. The potential speed of the machine is increased by the power output, which allows you to work faster if you have a full-size lathe compared to having a mini or midi wood lathe.
The speed of a lathe is measured in RPM, with the slowest being 250 and the highest 4,000 rounds per minute. The rate of the rotations is not too crucial since small pieces should rotate faster than large pieces, which helps ensure that each cut is controlled while the cutting instrument is moving through the piece of wood.
You should also note the machine's voltage to ensure it works effectively with the power outlet installed on your workstation. The location of your power source may not fully affect your operation, but you should be aware not to place the machine where the power cable may interfere with your work as it may be a safety hazard.
5. Capacity 
The SOB and DBC determine the capacity of wood lathes.
The DBC is the distance between the tailstock and the headstock, determining the maximum wood length you can use with the machine. The smallest piece of wood you can work on using a wood lathe is 12 inches, and the longest is around 40 inches.
SOB determines the maximum diameter of the piece of wood to be used on a specified wood lathe. The SOB of a mini wood lathe is about 6 inches, while the SOB of a typical full-size wood lathe may go beyond 15 inches.
6. Tool Rest
A wood lathe may also include a tool rest feature, which helps ensure the machine is safe for use and convenient. The tool rest is usually a horizontal piece of metal that provides you with an area where you can place your cutting tools and remain stable as you work on the rotting wood. However, you must be precise when setting the tool rest because putting it too far will prevent you from getting the best results.
Standard midi and mini wood lathes have tool rest that fastens directly to the machine, allowing you to work on small projects. A full-size wood lathe is used when working with larger wood pieces, so it comes with an extending tool rest that folds out from the machine for better positioning when working on a large piece with a large diameter.
7. Accessories
Every wood lathe you purchase has various accessories to help you work on your projects effectively. Some of the accessories you will get from the retailer include hones, gouges, spring calipers, and chisels.
When using a wood lathe, you will need a good-quality chisel to help you finish your project. At first, the flat edge of the chisel may seem daunting since it has a higher chance of skipping while you work than a double-edged gouge. However, if you correctly use the chisel, it will make your project seem better and leave the surface smoother, as sandpaper would.
Gouges are chisel forms but come in different cut profiles and sizes. You can use them to make fine, broad, or medium cuts. For example, roughing gouges are used when beginning your project, removing any surface you will not need. On the other hand, spindle gouges are used to make precision cuts and develop designs.
Spring calipers are neither used for cutting nor sanding. They are used for measuring the diameter of your wood while you are working on it. The tools help you know when you reach your desired depth of cut.
Additionally, the lathe comes with hones, which are essential in removing metal burrs from the machine and the cutting tools. The Burrs usually occur when you operate the lathe, so there is no way to avoid them. Nonetheless, you can easily remove them using a hone.
Check out A Guide to Wood Turning Tools
8. Safety
A wood lathe is a powerful machine that can potentially be dangerous. Therefore, you should be careful when working with it. A simple mistake may lead to a severe accident and injury. For instance, you should not wear loose-fitting clothes or jewelry when working with a wood lathe as you will risk getting caught in the rotation, instantly pulling you towards the rotting wood and the cutting tools.
It would be best if you also considered having your protective equipment when working with a lathe. One of the essentials is a face shield, as it will protect your eyes, nose, and mouth from wood chips flying from the machine.
It would be best if you also considered using gloves to protect your hands while barely interfering with your project. Earplugs are also essential while working with a wood lathe because it produces distorting noise that may damage your ears.
Types of Wood Lathes
There are three essential types of wood lathes, the general difference being the size (benchtop/mini, midi, and full size. Additionally, a drill press can be used as a wood lathe attachment to help you turn your wood vertically. If you're new to wood lathes, read this article on how wood lathes work.
Benchtop/Mini Wood Lathes
A lathe is considered a benchtop or mini and usually has a 20-inch or less distance between the centers. Additionally, the swing over the bed is 12 inches or less. The distance between centers is the highest length of wood that the lathe can use. On the other hand, the swing over the bed is the highest diameter of the wood capable of rotating on the lathe.
A mini wood lathe is the smallest in the three primary categories, making it a viable option if you have a small working area. The tool is generally effective when working on little and detailed products or adding an attractive feature to a larger object. The mini lathe is the most affordable and viable option if you are a beginner.
Check out this article on the Best Mini lathe
Midi Lathe
A midi lathe is not the smallest, and neither is it the biggest. This is also true not only in size but also in power. This mid-sized lathe has been designed to be the same size as a benchtop wood lathe but has the same power as a full-size lathe.
This tool allows you to take on large projects without using a large working area in your workshop. Since the midi wood lathe is larger than the mini-lathe, the price is also slightly higher, but not as high as the full-size wood lathe.
Full-Size Wood Lathe
A full-size wood lathe is the largest of the three and takes up a large space in your workshop. A typical full-size lathe stands alone and measures about four feet high. The distance between centers can range from 45 inches, and the swing over the bed measures more than 15 inches in diameter, making it ideal for large projects.
You can take on many projects with the full-size lathe, including making baseball bats. However, the price of this type of lathe is much higher than the mini and midi lathes.
FAQs About wood lathe
What is the best woodturninglathe for a beginner?
The best lathe for beginners would be one with simple speed controls, a lightweight yet sturdy design, and a compact size. The mini wood lathe is the one that is best for beginners. They are inexpensive and provide excellent service on small projects that beginners should begin with.
How much HP does a wood lathe need?
For a small lathe, a 1/2 hp motor is adequate to do most small projects at high speed.
For larger lathes, a 1Hp motor will easily get most of the work done.
The motor provides power for spinning and sanding your workpiece. Larger motors produce less vibration, which is important if you do delicate finishing touches on smaller pieces. In this case, a high-quality, heavy-duty lathe will come in handy.
What tools do I need for wwoodturning
A chisel, rubber mallet, and round nose pliers are good basics to have handy when working with wood turnings. These three items will allow you to work on most projects from start to finish.
As always, you'll also need some form of lubricant (wax or oil) for your workpiece and appropriate safety gear like eye protection and hearing protection.
Can I use my wood lathe to carve bowls?
Yes, but you may need a steady hand. When using your wood lathe for carving bowls, ensure the power switch is at the back so it can't easily be turned off during operation. Be aware that a lighter lathe will vibrate more than a heavy-duty model.
Check this post on the Best wood lathe for turning large bowls.