Today's market is flooded with a wide variety of wood glues. These products range considerably in price, adhesive strength, color, and overall quality. The majority of the brands that you will come across are either clear, white, or yellow; a factor that is determined by the kind of base used to manufacture the glue. On top of that, every wood glue has its distinct weaknesses and strengths that make it ideal for specific applications.
For your cabinet, you need wood glue that ranks high in adhesive strength, color, ease of use, and non-toxicity. Detailed below are the most ideal wood glues for this application.
What to Consider When Choosing the Best Wood Glue for Cabinets
Adhesive Strength
The main reason why you would decide to get wood glue is to firmly join together workpieces for your cabinet. It would be a shame to purchase a product that has all the hallmarks of an efficient adhesive but is mediocre at its primary purpose. Make sure to place an emphasis on high-strength adhesives for efficient performance.
Shelf Life
This consideration is particularly important for people with long-term projects or professional woodworkers. You will need glue that does not dry up after a couple of uses. Pick a more durable variety that comes in an air-tight package.
Colour
Surprisingly, most industrial-strength fixatives have odd final colors that do not complement wood finishes. For optimum aesthetic appeal, prioritize brands that offer a clear final color.
Cure and Dry Time
It goes without saying that time-sensitive woodwork projects are better off completed using fixatives with limited dry and cure periods. However, if you have a lot of time to spare, this consideration should not be much of a bother.
What are some of the Best Wood Glue for Cabinets?
With over 100 years in the game, Elmer's company has established itself as a leading producer of high-quality and aptly competitive wood adhesives. Elmer's E7310 Carpenter's Wood Glue is among its most priced products. As its name would suggest, this wood glue is a carpenter's best friend given its long list of impressive features that make it perfect for cabinetry.
High Efficiency
This wood glue provides woodworkers with high adhesive strength and an exceptionally short dry time of around 15 minutes. However, like most PVA (polyvinyl acetate) glues, Elmer's E7310 has a significantly long cure time of up to 24 hours. It is practically odorless, produces zero fumes, and is non-toxic. Also, it is easily cleanable with water when wet and can be sanded down when dry.
A standout feature of this glue is that it is partially made from wood fibers, giving it superior staining capabilities to ordinary fixatives. Also noteworthy, it is an ANSI Type 1 waterproof variety, making it highly resistant to moisture or water- a trait that is especially important for outdoor and kitchen cabinets.
Ease of Use
This wood glue comes with an orange tapered nozzle that allows for easy and precise application, even in tight spots. All you need is to pop off the orange cap and you are ready to go! What's more, its plastic package features a textured grip for convenient squeezing.
Readily Available
More importantly, Elmer's E7310 Carpenter's Wood Glue is one of the most readily available PVA adhesives among retailers. This feature is further complemented by its ridiculously low cost.
When it comes to the best wood glues for cabinets, the Titebond 1414 III Ultimate Wood glue is another worthy contender. It is a super strong adhesive but still plays second fiddle to Elmer's E7310 in terms of availability and convenience.
High Strength Adhesive
This brand is reputed as an "ultimate" fixative due to its superior adhesive qualities. It provides you with solid and durable wood bonds that are guaranteed to stand the test of time. You can rest assured that your cabinet will be strong enough to withstand high-impact shocks, thus adding to its durability. Additionally, this wood glue is a moisture repellant and heat resistant FDA-approved food-safe option, making it ideal for outdoor and indoor cabinets.
Convenience of Use
It comes fully equipped with a dropper tip used to dispense the adhesive into tight areas such as dowel shafts. Also, the kit includes a silicone brush applicator that is easy to clean using water. Titebond 1414 III Ultimate Wood Glue is also easy to clean when wet using water, can be sanded down when dry and does not foam. Better yet, unlike most PVA glues, it can remain open for up to 8 minutes without drying.
However, compared to Elmer's E713, Titebond III Ultimate has a slight odor which is irritating to some users. It is also pricier, making it a less appealing choice.
The Gorilla 8-Ounce Ultimate Waterproof Wood Glue is not necessarily the cheapest in the market, but it offers you the most bang for your buck. Despite its low price tag, this fixative offers high efficiency and a crisp finish for your cabinet joints.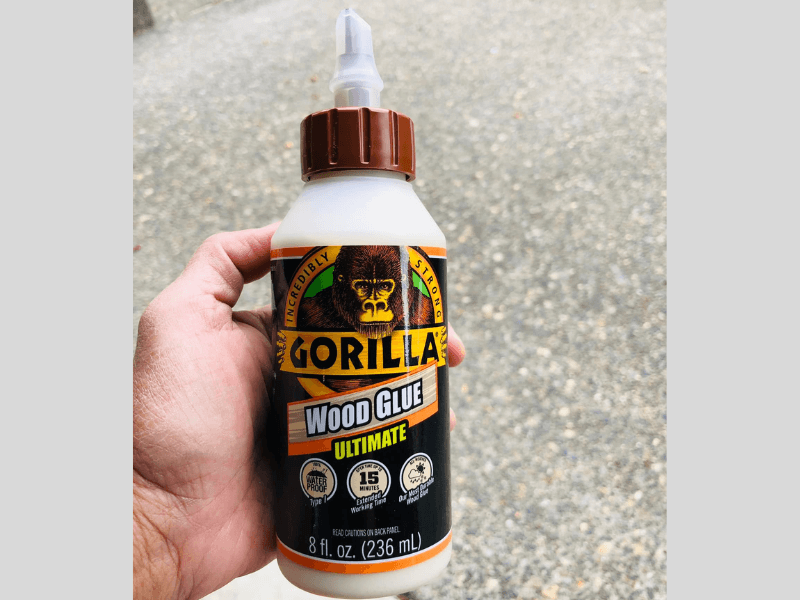 It is a very strong fixative and fully conforms to HPVA/ANSI Type 1 water-resistance standards. Nonetheless, it easily cleans up using water and dries to a crystal clear hue for a clean finish. This glue has a maximum open time of 15 minutes before it dries and requires a clamp time of around 25 minutes. However, like most wood glues, it has a long curing time of 24 hours.
How Should You Prepare Wood for Glueing?
Prior to applying adhesive to wooden cabinet pieces, it is prudent to ensure they are adequately clean. This means getting rid of any grime, dirt, or glue that is still present on the wood surface. Such dirt gets in the way of effective glue application since it fills the wood's pores, minimizing the glue's attachment surface area. To avoid this inconvenience, wipe down the wood surface with viable solvents or soapy water, and rinse accordingly. Alternatively, you can lightly sand or scrape away any remnant glue from previous applications.
Conclusion
By and large, you need wood glue that ranks high in adhesive strength, color, ease of use, and non-toxicity for your cabinet projects.
At the top of the list is Elmer's E7310 Carpenter's Wood Glue which is superior to other fixatives on account of its ease of use and high efficiency.
Titebond III Ultimate Wood Glue is also a notable choice due to its superior strength adhesive and convenience of use. However, compared to Elmer's E7310, it is pricier and has an irritating odor that makes it less appealing to many.
Lastly, Gorilla 8-Ounce Ultimate Waterproof wood Glue offers the most value for your money as it is significantly cheaper than other brands but still provides users with high efficiency.