Carving and whittling are two very similar processes that both fall under the umbrella of woodworking. The difference between carving vs whittling is subtle, but understanding it will help you choose which type of woodworking project you want to work on next!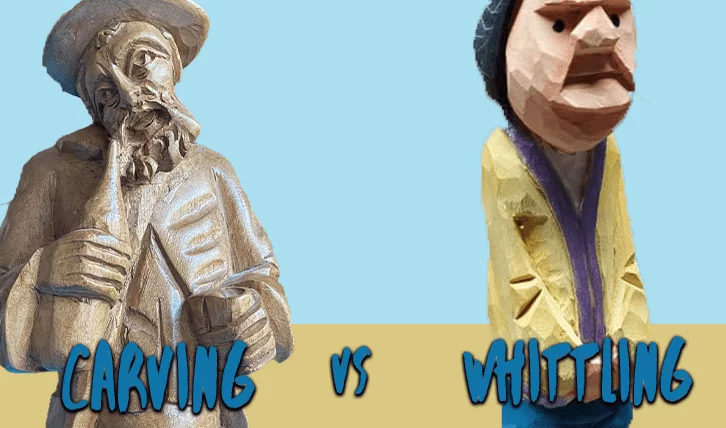 Carving vs Whittling: 3 main differences
carving and whittling are both very similar arts. Both involve using a tool to remove parts of wood (negative space), and often result in a sculpture or figurine. However, Both of these crafts are quite unique from each other. Let's take a look at some key differences between carving and whittling.
1. Carving vs Whittling: tools used
The main difference in carving vs whittling is the tools used. In whittling the main tool is usually a knife. Whittling is an art form that takes to heart the philosophy of minimalism when it comes to the tools needed. Just a good whittling knife and you're ready to whittle away a piece of Basswood into an interesting Santa figurine.
On the other hand, the carving is not limited to carving small items and therefore has a bigger list of tools including chisels, mallets, and power tools. Carving allows for larger-scale sculptures because it includes power tools like chainsaws that help cut through large blocks of material.
2. Difference by size
Another differentiating factor between carving vs whittling is the size of the sculpture or item being crafted. The whittling piece is commonly crafted placed on your hands. It's easier this way as whittling uses a knife from start to completion.
There is no problem with size when it comes to carving since the variety of tools enables that flexibility of shaving off 'negative space' with much ease. if the piece being carved is small it will normally be held in place by special vice or screws.
Most of the whittled items are in the miniature category while carving is not limited. this factor makes whittling as seen by some a sub-category of carving.
3. Hobby vs professionalism
There are those who consider carving to be more of a profession and whittling to be more of a hobby. This is one of those arguments that is difficult to call; while it is true that professional carvers make their living off their work, hobbyists also can have a nice enough income from their work that they don't have to put carver on their tax forms.
When it comes to these two crafts, many people whittle just for themselves or with family members as a way to unwind after a long day at work. While many carvers on the other hand may enjoy their craft but do it mainly as a career, although there are exceptions.
Basically, whether you believe you're a professional or hobbyist depends on how important your art is to you. The most important thing about what you do is not if someone calls it carving or whittling but if it makes you happy, then what does any label matter?
Conclusion on carving vs whittling
Carving and whittling are similar in that they both involve removing small amounts of wood to create an image. However, it's all in how you remove it. Carvers usually use hand tools such as chisels or gouges, while whittlers use their knives more like pens on a stick.
In this article, we have listed 3 main differences between carving and whittling. If you want to learn more about whittling and carving read our other articles where I go into detail about techniques, tips, and tricks. Also, let us know if there is anything else you would like to see on our website by leaving a comment at the bottom of any page!