The right wood carving chisels will make your work easier, giving you cleaner, more refined lines and curves than you could manage with even the most expensive store-bought hand tools. However, it's easy to feel overwhelmed by the wide variety of carving chisels on the market, making it difficult to find the right set for your needs as a beginner. If you're interested in learning more about what type of chisels you need to make your first attempts at wood carving successful, keep reading!
To choose the best carving chisels, you need to consider the type of woodcarving you're planning on doing and what skill level you have. Beginners and intermediate and experienced carvers use three different wood carving chisels. We'll go over each one in more detail below so you can choose which one works best for your needs.
This review will analyze the most popular wood carving chisels based on reputable brands, high performance, quality, and sharpness of the chisels. I will later explain the different types of woodcarving chisels and make a buying guide that will guide you in deciding what to look for before buying a woodcarving chisel.
Here are our picks for some great wood carving chisels for Beginners that will help quickly get started on your carving journey.
Best wood carving chisels for beginners – which ones should you buy?
The Best Chisels for Beginners- Review
Main Features-Highlight
The tools are versatile in broad woodcarving projects such as intricate relief, spoons, etc.
It comes with an ergonomic ash wooden handle-Allows a firm grip and comfortability.
Blade made of High-quality chromium-vanadium alloy steel – Allows for edge retention.
The blades are sharp from the factory, with an eBook on sharpening for beginners to resharpen to their preference.
If you are a beginner, a hobbyist, or a professional woodcarver looking for the best chisel for your project, this carving toolset from Schaaf is for you. Schaaf is a manufacturer committed to quality, and this carving set is money well spent. This super sharp set of 12 carving chisels is ideal for various carving tasks such as intricate relief carving, Bowls and Spoons carving, and the carving of Faces, Busts, and Wood Spirits.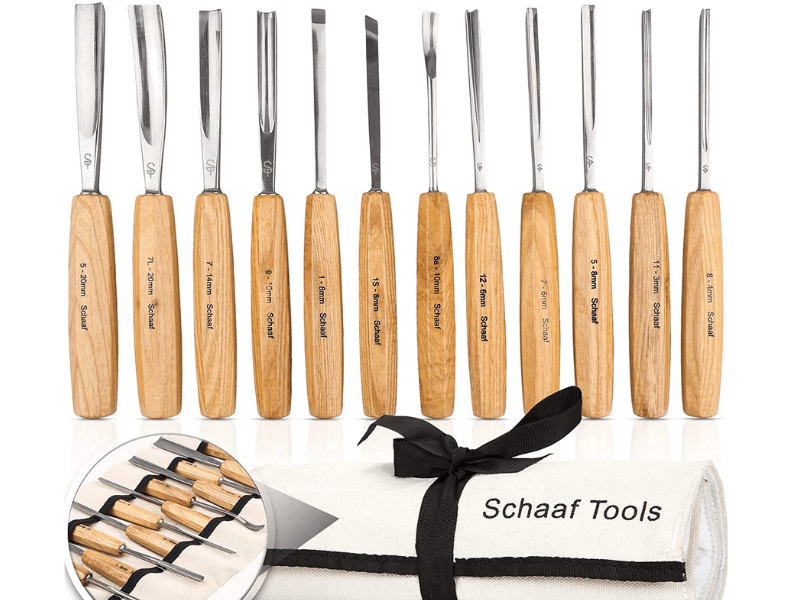 Each tool has comfortable European-style octagonal ash wooden handles that keep tools from rolling off your workspace. The shape allows you to have a firm grip. The handle feels good in the palm of your hand. A good handle is essential, especially when using the tool without woodcarving gloves for an extended period.
All of the chisels are made of Rockwell C60 hardened high-quality chromium-vanadium alloy steel (The Rockwell method is used to determine the depth of penetration caused by a load on a substance). Tools made of chromium-vanadium alloy steel are well-known for their edge-holding ability and ease of re-sharpening. As a result, you can be confident that this set of tools will retain their edge for a long time and will not dull easily with frequent use. When you use the mallet on them, you can be certain that they will be able to withstand the force. You can use these tools confidently even if you have limited woodworking experience.
However, chromium-vanadium is less resistant to rust, corroding, and discoloration than stainless steel.
 These hand-picked gouges and chisels are sharp right out of the box, allowing beginners to start carving immediately. However, they will need finessing and sharpening to fit the individual's preferences or the requirements of the project you're working on before being used. However, if you don't know how, they've included a free eBook on sharpening that beginners who are unfamiliar with sharpening should use to get started.
With their excellence in customer relations and good communication, Schaaf woodcarving tools have won the hearts of their customers. They are one of the few woodcarving tools that offer a money-back guarantee if the user is dissatisfied with the tool. Not only that, but they also provide a replacement for any tool that fails to meet the customer's expectations.
We also conducted customer reviews and satisfaction surveys to gather feedback from the users. Most users were pleased with the tool's high-quality materials and low price. They were also pleased with the customer service team's friendliness.
The only disadvantage of the tool was the need to resharpen it; beginners unfamiliar with sharpening woodcarving tools found it difficult to resharpen even though the instructions eBook on sharpening came with it.
But fortunately, the Schaaf woodcarving tools have an alternative set that is professionally sharpened in the factory. We recommended the Professionally Hand Sharpened Schaaf Wood Carving Tools. These come factory sharpened that are ready to go out of the box.
Main Features-Highlight
Has three sets of tools and one sharpening stone
The tools have been ideal for a wide range of woodcarving projects, including relief carving and 3-D carvings.
The handles are made of hardwood and have an ergonomic octagonal shape for better grip and comfort.
The blade is made of alloy steel and comes sharpened from the factory-the alloy steel blade has better edge retention.
They've included a sharpening stone to help you fine-tune the blades to your taste.
The Pfeil tool company offers a wide range of chisels for beginning, intermediate, and advanced carvers. One of them is the Pfeil Intro Set, which includes everything you need to get started in wood carving. Their 4-piece Intro Set includes :
a 12mm #1 Double Bevel Gouge – often used with a Mallet to carve out hollow forms
a 10mm #7 Gouge-
An 8mm #12 V-Parting Tool – For separating one element in a carving from another or drawing lines, somewhat like a veiner.
And an Arkansas sharpening stone – for fine-tuning the blade to your preferences.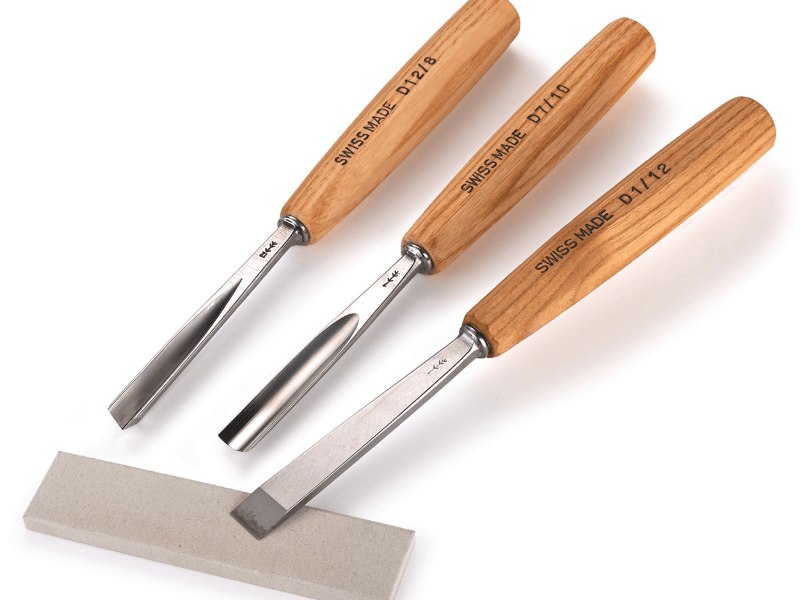 This super sharp set of 3 carving chisels is ideal for carvers with various tasks such as intricate relief carving and 3-D carvings.
Carvers used to buy their tools unhandled, with just the steel blade and naked tang, and shape the handles themselves.
The handles on this one are hard wood with an ergonomic octagonal shape for better grip and comfort during use, which is important for reducing fatigue during long sessions. Because they do not roll easily, octagonal handles are good for setting down on an inclined plane, such as when lettering a panel; however, if the end corners are not softened, they can work against the palm of the pushing hand, making the hand sore when used for an extended period of time.
They feature high-quality alloy Steel blades that stay sharper for a longer period and allow you to work more precisely than stainless steel blades. The precise hardened high-grade steel arrives sharpened, honed, and buffed for immediate use with an edge that will remain sharp for many enjoyable hours of woodcarving. They also include a sharpening stone to allow you to fine-tune the blade to your personal preferences or the urgency of the project.
Pfeil tools have passed the high-quality test and reasonable price in our customer satisfaction survey. They exceeded the expectations of most customers who bought their tool for the first time. This tool is sharp right out of the box and encourages beginners to use it immediately.
Overall, I think PFEIL is the best carving tool on the market, with incredible manufacturing quality and durability.
Main Features- Highlight
Includes a 12-piece set for any woodcarving projects you wish to begin
Has octagonal Ash handles for a secure grip and keeps the tool from rolling around on your workspace.
The blades are made of vanadium steel, which has good edge retention and is easy to resharpen.
They have good professional customer service that is quick to solve problems.
They have a return policy if the tool does not meet your expectations.
When it comes to carving and sculpting, quality tools are required to do quality work: they are worth the quality work you require. The Wincklesteel set is a 12-piece chisel set that can carve almost anything you can think of carving. You'll get along with these right away, whether you're a respected professional, a skilled hobbyist, or a complete beginner.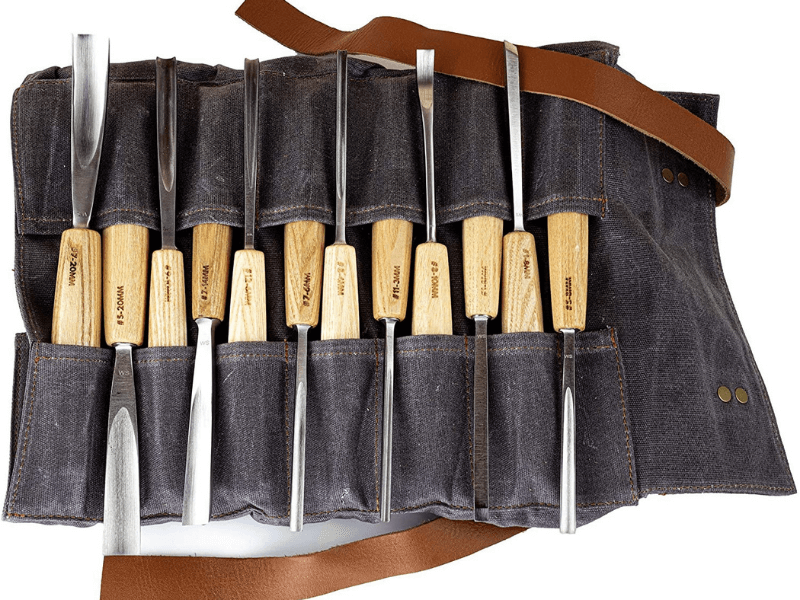 Each blade is fitted with an Ash handle with a comfortable grip that feels great in your hand. The handles are designed in an octagonal shape to prevent the tool from rolling when you are working. These tools also come with a sheath to protect them when not used.
All the chisels are made of a vanadium steel chromium alloy that has been hardened to a Rockwell hardness of 56 to 62, making them extremely durable, sharpenable, and with better edge retention. Vanadium improves the steel's strength, wear resistance, and toughness. Although the blades are made to be as sharp as possible right out of the factory, you must sharpen them to your liking before using them effectively. If you're new to sharpening tools, don't worry; we've written a post on how to sharpen woodcarving tools, and with just a few instructions and a quick touch-up, you'll be able to restore the blade's original sharp edge.
WINCKELSTEEL has demonstrated its willingness to serve with quality tools by providing a return policy if it fails to meet your expectations. If you require a replacement, return, or refund, you must do so within 30 days of receipt. Their customer service. Customer service responds quickly, is very professional, polite, and willing to address and resolve any issues. With this guarantee, you can be confident that purchasing a tool from WINCKELSTEEL is wise.
We also questioned customers who were using the tool for the first time and those who had used it for a while. Because the blade was very blunt, first-time users and intermediate carvers who seemed to have difficulty sharpening carving tools and had purposed to use the tool right out of the box were disappointed.
Although intermediates and pros were disappointed that the blade arrived blunt, they didn't mind sharpening the tools again and enjoying the satisfaction of a razor edge. They said the sharpening process was simple, and the blade retained its edge better afterward.
After a few criticisms about the blunt blade, they all agreed that this would be a great toolset to add to any woodcarver's collection and that it was well worth the price.
Main Features-Highlight
The kit has a set of 4 Chisel
All the handles are made of ash wood
It comes with a razor-sharp hard carbon steel blade ready to use straight away.
They also come with a leather strop, a polishing compound, and a rolling tool bag.
They have a return policy that allows you to request a replacement or refund if the tool arrives damaged before you use it.
Look no further if you are looking for carving tools that will lead you to quality work at a reasonable price. These chisels from BeaverCraft are some of our favorites when it comes to that. They're designed for carving softwood, but they work well with just about any wood you might want to carve when razor-sharp.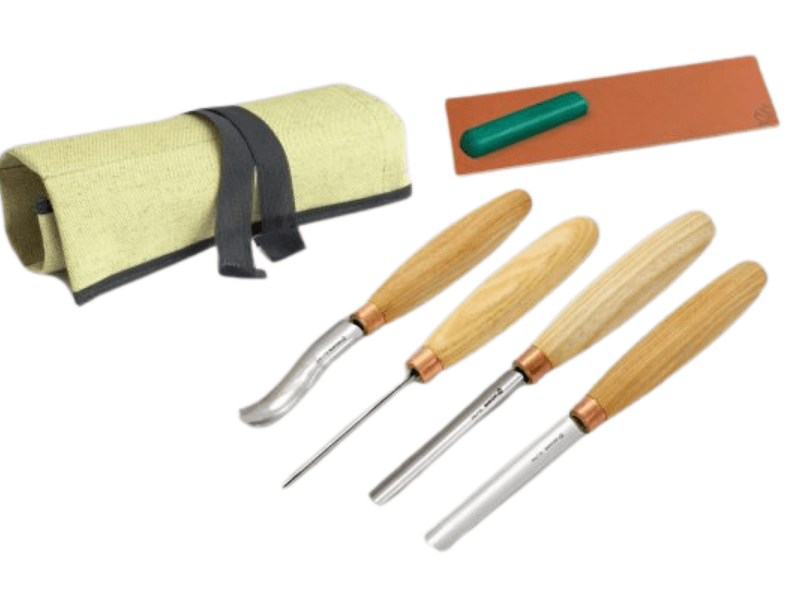 This handy set contains four Chisels Kit that will take you on the wonderful journey of various projects such as relief carving, spoon and bowl carving, chip carving, and many more. The set includes the following;
A narrow straight chisel ( K9/10) is suitable for deep cuts and carving shapes.
Wider straight, rounded chisel (K5/12) -It's the best bet for tiny details and caricature carving
Compact Short Bent Gouge –  ideal for For Hollowing Out Bowls
Straight V-profile chisel– For Tiny Details and Fine Lines Carving
 Leather strop
Polishing compound
Rolling Tool Bag.
The handles are made of oil-treated ash hardwood. Its ergonomically rounded shape feels great in your hand and improves grip and comfort while in use. This level of comfort is important for minimizing fatigue during long carving sessions.
The blades are made of high carbon steel hardened to the proper firmness, which means they're strong enough to handle any carving task you throw at them. The blades come sharp right out of the box, but for better carving, you have to sharpen them for quite a while to get them to a sharp state for a better carving experience. For beginners who are not skilled in sharpening woodcarving tools, they offer an eBook on "How to sharpen the woodcarving knife" and "How to prevent knives from rust." Therefore you can learn to carve with palm chisels and sharpen them yourself!
Carbon steel blades are strong, retain their edge well, and are simple to sharpen. However, they don't have the same corrosion resistance as stainless steel, so your tools will rust faster if you don't take care of them or leave them outside after use. That is why they provide an Ebook on rust prevention.
They also come with a leather strop, a polishing compound, and a rolling tool bag. The double-sided leather strop is for polishing the edge of the blade, making it very sharp, thereby giving it a clean mirror finish. You then use the polishing compound to give it a professional finish and then store your tools in the rolling tool bag made of waxed canvas and implemented with a rustic design to keep your tools away from rust.
 The BeaverCraft company has also excelled in customer service, offering professional customer service that responds to your issue as soon as possible. They also have a return policy that lets you request a replacement or return funds if the tool arrives faulty before using it. The return policy is only valid within 30 days of receipt.
As it is our norm, we didn't forget to do a customer satisfaction survey to get a real experience. We interview the first-time users of the tools and those using this toolset for quite a while. The first-time users were impressed by the high quality of the tool at such a low price. However, they complained that the tools were not sharp enough right out of the box and couldn't use them immediately after the purchase.
Professionals who have been using it for a while recommended it for beginners looking for quality tools at an affordable price. They also advised that if you want these tools to work effectively in all types of wood, you have to sharpen them razor sharp.
Main Features-Highlight
This set includes six sets of chisels and gouges
The handles are of Ashwood
The blades are made of high carbon steel that comes sharp out of the box
They provide a 5% discount coupon for an oil stone, which you can use to resharpen before you begin working.
Flexcut quality tools are some of the best wood carving chisels on the market, and their starter set is perfect for anyone getting started in carving hardwoods and other dense or large projects. This set includes six chisels and gouges that are sturdy enough to be used together with a mallet; therefore, if you want to carve big images, look no further than the flexcut.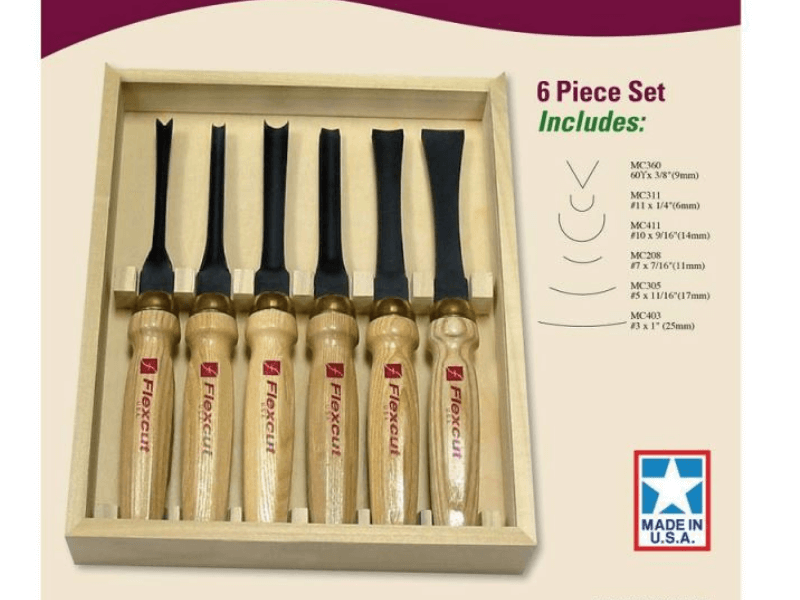 Each tool has a strong and durable ash wood handle that can be driven by hand or a mallet. When using the mallet, the brass ferrule connects the blade and handle, increasing handle durability. It prevents the wooden handle from cracking or splitting when banging with the mallet.
All of the blades are made of hard carbon steel and are usually sharp out of the factory, allowing carvers to use them immediately. Your chisels will not break or bend easily because the carbon steel blade has been hardened. The blades also hold an edge for a longer period, and when blunt, they are simple to sharpen with almost any sharpening stone or tool available today. Furthermore, Flexcut provides a 5% off coupon for an oil stone, which you can use to sharpen before working or whenever they need sharpening during your project. The set includes a sturdy wooden storage box to keep your new tools safe when not in use.
The kit also includes detailed instructions that walk you through all the basics of using these tools to get started immediately.
In Our customer satisfaction survey, the majority praised the flexcut carving toolset for exceeding their expectations. All of the chisels worked flawlessly and produced high-quality results. They were razor-sharp, had good edge retention, and were easy to hold.
Overall, we like these wood carving chisels because they are affordable and provide everything for a beginner or more experienced woodworker looking for a good set of basic carving tools.
Key Factors To Consider When Buying The Right Chisel-Buying Guide
Many types of wood carving chisels are available, and they come in all shapes and sizes and are of varying quality. When looking to buy chisels, there are a few important factors to keep in mind to make sure you're choosing the best tools possible.
Some of these factors include:
Size and Weight:
When choosing a blade, consider weight, length, and width—thickness affects performance and safety. If you have any doubts about what tool would suit your needs best, ask an expert for advice before making a purchase
The size and weight of your chisel will depend on what kind of wood carving you're doing. If you are a beginner, you will want something smaller and lighter that will not be tiresome so that it doesn't slow down your progress.
sizes and shapes
Wood carving chisels come in various sizes and shapes, but they all serve one function: they make carving wood possible.
Smaller blades are used for delicate details, while larger blades can be used for removing large pieces of wood. The size of your project will determine which type of blade you need. Once you've decided on a size, it's time to choose which shape is best for your needs.
Generally, there are three types of wood carving chisels: straight-edged, bent-edged, and gouge-edged. A straight-edged blade is good for general purposes; bent edges are better suited for fine work; gouges have an angled edge that allows users to carve concave or convex surfaces easily. Whichever style you choose, remember that quality matters more than quantity.
Wooden handle or steel
Steel handles tend to be heavier than wooden handles but also last longer. This is especially important if you plan to use your chisel for extended periods, as it can get very tiring if you have a lightweight chisel with a plastic handle. Wood is a traditional material for chisel handles, but it's not necessarily better than other options. It's really up to you and what feels comfortable in your hands. The most important factor in selecting a handle is ensuring it fits well with your blade and feels comfortable in your hands. If you have to work with a chisel that's uncomfortable to use, it can make your woodworking experience less enjoyable.
Quality
It is important to know how well-made your chisel is before purchasing it. If you buy a cheap, low-quality chisel, it will break easily and won't work properly. A chisel made from high-quality materials will help ensure your project goes smoothly without any complications. Also, keep in mind that not all woodworking tools are created equal—quality varies from brand to brand and from product to product. Make sure you buy from reputable manufacturers only! You'll avoid wasting money on products that won't meet your expectations.
Price:
How much money do you want to spend on your new chisel? You don't need to spend hundreds of dollars to get a great tool, but there are plenty of options if you decide that spending more money is worth it. One thing to remember when buying a chisel is that you usually get what you pay for according to your budget. So, if you are looking for an inexpensive option t, I would recommend looking at some of your local hardware stores rather than ordering online, where shipping costs might bump up the price.
Features:
Many features come standard with wood carving chisels, such as non-slip grips and safety guards. These extra features may add to the cost of your chisel, but they are nice to have if you plan on doing a lot of wood carving. Also, some wood carving chisels come with blades that can be replaced, which helps save money over time since you don't have to replace the entire tool when just one part becomes damaged or dulled.
First, you'll want to ensure that your blade is sharpened. You can either take it to a professional shop or sharpen it yourself using a whetstone (purchased online). Whetstones are made from various types of material, including natural stone and synthetic metal. Natural stones like Arkansas stone provide a consistent grit, while synthetic metal ones provide fast sharpening action.
Note: If you plan to use hand tools regularly, consider purchasing a sharpening stone. These stones don't cost much and allow users to maintain their tools without taking them elsewhere. It may seem overkill at first glance, but once you start using these stones regularly, you'll wonder how you got by without them!
Once your blade is sharpened, check if it has a non-slip grip. Many blades come with rubberized handles, w, making them easier to hold onto even when wet. While having a non-slip grip is optional, it does make carving easier, so I would recommend looking for one that comes with one.
Another feature to look for is whether or not your chisel has a safety guard around its handle. Safety guards prevent you from accidentally cutting yourself during use. Safety guards are found on both chisels and knives.
And finally, you'll want to look into whether or not your chisel has a replaceable blade. If it does, you won't have to throw away your chisel if just one of its parts becomes damaged or dulled. All you will need to do is purchase a replacement blade. However, if your chisel does not have a replaceable blade, you will have to purchase a whole new chisel. So, if you are on a budget and think your chisel will become damaged or dulled often, purchasing one with a replaceable blade is best. These features are optional but can improve your overall experience with your chisel.
Now that you have a better idea of what to look for, it is time to go shopping! Be sure to ask your friends and family if they have any recommendations on chisels that they love. Most passionate people about wood carving will be happy to give you their opinion on their favorite tools.
Remember that wood carving chisels can be expensive, so if you can't afford one right now, it is okay to wait until you have saved up enough money. Remember, quality comes first, so don't skimp on price when choosing your new tools. Happy shopping!
Different Types of woodcarving Chisels
The right type of woodcarving chisel can make your work easier. Let's take a look at some of your options. There are three main types: gouges, V-tools, skewers, and parting tools.
Each has its purpose, so it's important to know what each is used for before purchasing. Here we go!
Gouges – This is one of the most common carving chisels out there. It is used mainly to cut away large chunks of material that don't need any finish work; these generally have broadsides and pointed tips. There are two common types of carving gouges.
U-gouges are mainly used for bowl carving projects, deep cuts, and removing the surface in a smooth round shape. The blade of this gouge is bent slightly on each side.
V-gouges. The blade of this gouge has a rectangular shape. It is mainly used in relief carving or making fine shapes.
For a more in-depth look at woodcarving gouges, we wrote an article that covers everything you need to know about them. Check out our Ultimate Beginner's Guide to Woodcarving Gouges to start immediately.
V-tools are similar to gouges but are more specialized for certain tasks. They also have broader sides than gouges, but their points are narrower.
Skewers and Parting Tools – These tools resemble a cross between a V-tool and a gouge, with a flat side similar to a V-tool but a more rounded edge similar to a gouge. They are great for getting into tight spaces when you want something smooth on both sides of your project.
Understanding parts of Wood Carving Chisels
Before you start using your chisel, it's important that you understand its parts and how each one works with the others. This prior knowledge will help you use your chisel safely and efficiently.
The handle is the part that connects to either end of the blade. If you want to change blades or replace a worn-out handle, make sure you buy one with an appropriate fit for your blade.
The blade: The blade is what cuts into the wood when you use your chisel. It can be made out of different materials depending on your needs. The two most common are steel and high carbon steel. Steel blades are softer than high carbon steel ones, so they wear down faster and sharpen more easily. High carbon steel blades tend to hold their edge longer but require more care when sharpening them because they can become brittle if overheated during sharpening.
In general, blades are available in three different widths: narrow (3/16 inch), medium (1/4 inch), and wide (5/16 inch). Most beginning carvers choose medium width as it provides enough room for error without being too difficult to work on your carving.
However, some people prefer wider or narrower blades based on personal preference. Regardless of your choice, remember that you may need to adjust your technique slightly when working with a new blade.
The point: This is at one end of the blade and looks like a little triangle. You can see why it's called a point! It helps direct where you cut so that you don't accidentally dig into an area you didn't mean to carve away. The other end of your blade should be rounded off; while it doesn't serve any practical purpose, it does make gripping your chisel easier.
The ferrule: It's typically made of metal. This metal piece connects both ends of your handle to either side of your blade, holding everything together. It keeps things sturdy and makes sure nothing falls apart while working. The best thing about ferrules is that they usually come pre-attached to your handle and blade, so you won't have to worry about putting them on yourself. Ensure you inspect yours regularly for damage or wear—you wouldn't want it to fall off while working!
The tang: This is a long, thin piece of metal running through the middle of your blade. Its main function is to connect your blade to your handle. Tangs come in all shapes and sizes but are typically flat or round and thin. Some chisels even have multiple tangs running through their handles for added stability. While there isn't much difference between one tang type over another, having multiple ones can increase overall strength, especially if you plan to do heavy-duty work with your chisel.
The shoulder: This is where your ferrule meets up with your blade. The shoulder is often just a simple, smooth transition from one to the other. The shoulders on your chisel can sometimes be damaged, especially if you've been doing heavy-duty work with it. If you suspect your shoulder has been damaged, take it to a professional for repair or replacement.
The tip: This is a nose or point located on one end of your blade. The tip of your chisel is one of the most delicate parts, and it can be damaged if you're not careful. It's easy to break or chip a chisel tip while working with it, so always handle it carefully.
Conclusions
The chisel is a very important tool in wood carving, as you will use it more than any other tool. So it's safe to say that you should get a decent quality one that won't snap on you while carving through your favorite piece of timber.
Although I can't tell you what brand or type of chisel is best for your style and skill level, I can provide three tips to help you find one without spending hours researching each model.
Find out how much you want to spend. For beginners, I would recommend spending between $10 and $100. There are some good ones available at lower prices, but many people prefer going with an intermediate set around $100-$150
Ask yourself how often you plan on using it. If you carve only once every few months, it might not be worth spending over $100. However, if you have a passion for wood carving and think you might take up a hobby or even start making money from it in years to come, splurging on a higher-end set could be worth your time and money.
And finally: Look into reviews! You can never go wrong by looking at what others have said about their experience with different models. This will give you a better idea of which ones are better suited for your needs.
Good luck searching for your first chisel or adding it to your collection!