Oak trees are known to be some of the strongest and most durable trees in the forest, which makes them difficult to cut down if you're not using the right equipment. That's why choosing the Best Chainsaw for oak trees is important, as an inferior model will only make your job harder than it has to be.
There are several factors you should consider when buying this essential piece of equipment, but we've compiled them all into one list below so that choosing can be as easy as possible.
Next read: Best way to sharpen a chainsaw
What factors should you consider before making a purchase?
The bar Size of the Saw
An important factor to consider when purchasing a chainsaw is the bar size. The bar size is the length of the blade on the Chainsaw. For oak trees, you will want a chainsaw with a longer bar size to make larger cuts. For a chainsaw capable of handling challenging jobs, you'll want to find one with a bar size of at least 18 inches.
The weight of the Saw.
When cutting down oak trees, you need a chainsaw that is up to the task. The Saw needs to be powerful enough to cut through the tough wood while also being lightweight enough that you can maneuver it easily. However, your physical body capabilities will matter greatly in optimally choosing the one that suits you. Therefore based on your physical strength, go for the one you can work with effectively.
Grip
If you need a chainsaw that can handle oak trees, you'll need one with a strong grip. Look for a chainsaw with comfortable, rubberized handles that won't slip out of your hands when they get wet. You'll also want a chainsaw with a durable body that can withstand the rigors of cutting through tough oak wood.
Vibration Dampening system
One of the most important features of a chainsaw is vibration dampening. This feature helps reduce the amount of vibrations that are transferred to your arms and hands while you're using the Saw. This is especially important when dealing with larger, heavier oak trees. Choosing a saw with a good vibration dampening system will also increase the cutting efficiency and reduce fatigue on your arms.
Saw with Automatic Chain Oiler
When you use a saw on tough wood for an extended period without taking a break, the wood is likely to have burn marks because the chain heats up as you use it. Therefore to keep the chain lubricated and cool while cutting, you need a saw with an automatic chain oiler. This will help you prevent any wood burning. Additionally, the oil will stop the chain from deteriorating.
Power source
There are a few things to consider when picking the best Chainsaw for oak trees – power source being one of the most important. You'll want to choose a saw that's comfortable for you to use and has enough power to get the job done.
Gasoline-powered chainsaws are the most popular choice because they offer more power and flexibility than electric models. However, they can be heavier and produce more emissions. If you don't have access to an outlet, a battery-powered saw is a good option, though it might not have as much power as a gas saw. And it is okay if it takes more time to cut down an oak tree than a gas-powered chainsaw would take
An electric model might work best for people who will only use their Chainsaw occasionally or need just occasional light work like pruning branches. Electric saws are lighter and quieter than gasoline models, making them a better option for homeowners with small properties.
Battery-powered chainsaws usually last between 12 and 16 hours on a single charge, depending on how often you use them. They also tend to be easier to handle than gasoline models. If weight isn't an issue, getting one with battery compatibility is worth considering so you can swap out the batteries at any time without worrying about running out of juice in the middle of your project.
The 3 Best Chainsaws for Oak Trees
While many different chainsaws are on the market, not all are ideal for cutting down oak trees. If you want a chainsaw that can handle this challenging job, here are 3 of the best options
If you want a powerful and long-lasting chainsaw that can handle even the toughest jobs, you'll want to consider the Husqvarna 16 Inch 130 Gas Chainsaw.
This Saw is equipped with a powerful engine that delivers up to 2 horsepower, making it more than capable of taking on even the largest oak trees. Plus, the 16-inch bar gives you plenty of cutting power to finish the job quickly and easily. It also has a lightweight design, so you won't feel like your arm is about to fall off after completing just one cut.
Additionally, it has an automatic chain oiler which keeps a steady supply of oil for a good bar and chain lubrication. The bar and chain oil, on the other hand, must be purchased separately. In addition, the Saw has a simple chain tensioning system that allows for quick chain adjustments while working.
Additionally, it has a vibration dampening system that works to reduce vibrations, improve cut accuracy, and lessen fatigue brought on by strong vibrations. The centrifugal air cleaning system with air injection, which prevents dust and debris from entering the air filter and prolongs engine life, also contributes to the Saw's powerful engine.
To ensure your safety, use this Saw while wearing chainsaw chaps, gloves, and helmets to prevent injuries. In general, this is the best Chainsaw you can buy that is both lightweight and powerful enough to cut through an oak tree.
If you're looking for a powerful and reliable chainsaw that can handle even the toughest oak trees, the Husqvarna 24 Inch 460 Rancher Gas Chainsaw is a great option. Plus, the Rancher comes with a bunch of great features like an adjustable automatic chain oiler and an air injection system that keeps the Saw running smoothly and efficiently.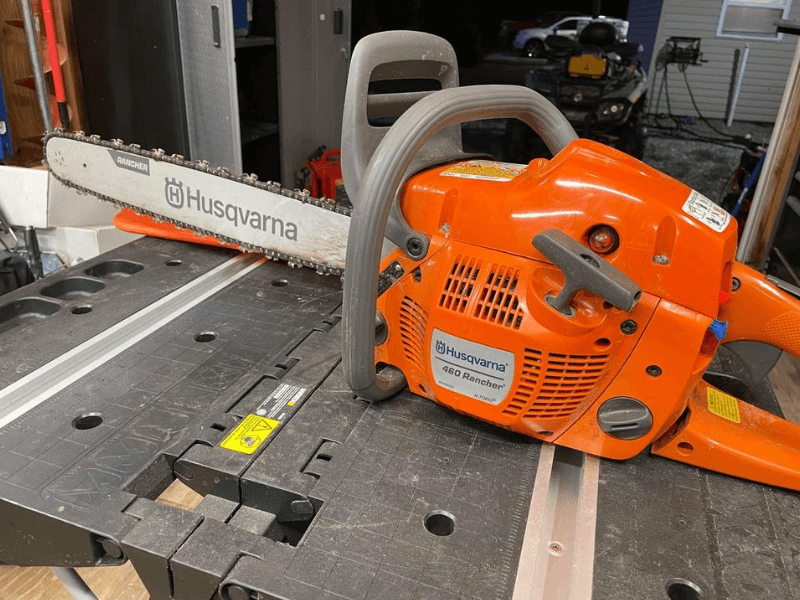 It has a powerful 60. 3cc two-cycle engine and a 24-inch bar, making it ideal for cutting through tough and larger oak trees. Also, this Saw is environmentally friendly because of the engine's X-torq technology, which lowers fuel consumption and emissions. You'll also appreciate how simple it is to operate because the air purge function clears the carburetor and fuel system of air for quick starting.
However, there were a few complaints that it was too loud and did not come with a chainsaw case, only a blade cover. But this Chainsaw should be at the top of your list if you want one that is high-quality and durable.
If you're looking for a budget-friendly option, the WORX WG305.1 8 Amp 14 Electric Chainsaw is great. It's very affordable, making it a great option for those on a tight budget. It's a powerful and versatile machine that can handle tough cuts with ease. It is quite simple because the weight is decent, not too heavy, and evenly distributed.
Whether you want to trim, prune, or cut oak trees, the 14-inch bar length and a powerful 8 Amp motor with extreme cutting power can do that running on a 120V- 60Hz power supply and has 5 H.P. However, keep in mind that this Chainsaw is not as powerful as some of the other options on this list, so it may not be ideal for larger oak trees. It is best suited for light to medium projects.
Since the handle of this Saw is made of a comfortable, rubberized overgrip, working with it will be both stable and comfortable. There is also much less maintenance to keep this cutting tool in top condition thanks to the auto-tension chain system that keeps it tight and the easy prime oil pump that makes it simple to keep the chain lubricated. Additionally, those systems increase the lifespan of the motor, chain, and bar.
On the flip side, though, we noticed that it leaked oil, and you also won't find any advanced features like an anti-vibration system with this model. This shouldn't discourage you, though, as this Saw is much cleaner, quieter, and easier to use than other more expensive saws. It is your best bet if you want a low-cost chainsaw that can get the job done without breaking your bank account.
Important Safety Precautions
If you're cutting down oak trees, you must ensure you're doing it safely. Here are some important safety precautions to keep in mind
1) Wear protective clothing and gear, including a hard hat, goggles, gloves, and boots.
2) Read the manual thoroughly before using your Chainsaw to avoid accidents.
3) Disconnect the spark plug when not in use.
4) Use extra caution around power lines or other structures that may conduct electricity from the ground up, such as fences and electrical wires.
5) Clear away all brush, weeds, and debris on the ground you will be working with your Chainsaw so that nothing can come between you and the saw blade.
6) Before starting work on an oak tree, ensure there is nobody below who could get hurt if they fell out of an upper-story window or balcony.
7) If possible, always ask someone to help who has experience operating a chainsaw with them so they can warn you about any potential dangers before they happen.
Conclusions
After doing some research and consulting with experts, any of these three saw that we have compiled and recommended would be a great choice no matter your skill level.