Chainsaw carving in the public domain is relatively a new craft compared to other woodcarving techniques. Finding good information on chainsaws for carving is hard because not most guys are talking about it.
I have been doing wood carving for a while and recently began researching chainsaw carving. As in any craft understanding, it is getting the tools and learning as you experiment. In chainsaw carving, chainsaws are the dominating tools. Since all chainsaws are not created equal, what is the best carving chainsaw for beginners?
Short answer?
The best carving chainsaw for beginners is the STHIL MS 170. This is the lightest gas saw for this brand some good perks of this machine include the availability of carving-related spares, good power, and minimal arm vibration and noise.
It is, however, worth mentioning that chainsaw carving is in best practice at least done with two chainsaws; a blocking chainsaw usually bigger and more powerful, and a detailed chainsaw.
The Best carving chainsaw for beginners- Detailed review
At number one, we have The STIHL MS 170 as our best carving chainsaw for beginners. The funny thing is, this is not a carving chainsaw. STIHL promoted this chainsaw as a "perfect lightweight chainsaw for homeowners seeking a great value".
It was primarily sold for doing 'light chainsaw stuff' like cutting small to medium branches and trees. But because it is so light, it makes up for great dexterity, making it almost perfect for carving. Yes, just almost.
The STIHL MS 170 is not a true detail or carving chainsaw without adding a carving bar. But before we talk about carving bars, let's look at some things that make the MS 170 such a great chainsaw for carving.
The MS 170 is comfortable for carving
Comfort is an important angle when choosing a chainsaw for carving. Remember you will be working for extended periods. The MS 170 has an anti-vibration system that greatly increases dexterity when carving.
The MS 170 is the best budget chainsaw
No kidding, The MS 170 is a favorite of many because it offers so much for such a considerable price tag on most dealers it retails for under $200.
Can you chainsaw carve with the MS 170 only?
The MS 170, as great as it is, is not a powerful chainsaw and is a bit slow for blocking you will need a bigger and more powerful saw for blocking.
overall remarks on the MS 170
This is definitely a chainsaw worth checking out. It is very affordable while still offering remarkable performance. Most importantly, it's easy to find chains bars, and sprockets that fit. For most brands, this is a nightmare.
Best runners-up carving chainsaw for beginners- MS 180
I know you're thinking that there are no other good brands that could compete with STIHL. Well, there are pretty decent brands out there, but for a beginner that probably wants something decent, that doesn't cost an arm and a leg STIHL brand is king.
Our second option has the MS 180, a successor to MS 170. The 180 is an upgrade, and the difference is mostly felt in the horsepower of the two engines. The 170 is 1.7bhp, while the 180 is a solid 2.0bhp. I will not focus on specs so much here since this data is available on the STIHL website.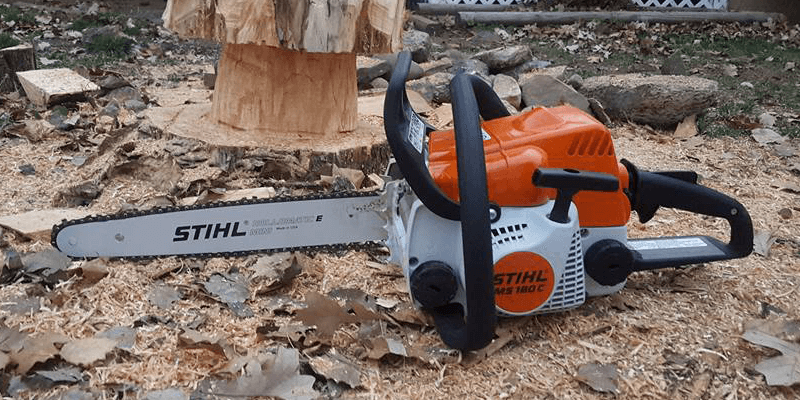 What I will talk about is setup and performance for a beginner. The MS 180 is still installed with the anti-vibration system we saw in the 170. This system is very useful because high vibrations have been linked to the white finger.
The reason I recommend this chainsaw for beginner carvers is that this chainsaw has good engine power to use as a blocking saw. The thing is, using at least two chainsaws for carving is the ideal way to go. But if you're on a budget choosing this saw and buying the carving kit will have you carving and learning all about chainsaw carving just as well.
The 180 is practically the 170 on a small dose of steroids. The chainsaw will give you an edge given the increase in engine power. This should feel better when blocking than a person using the 170.
One disadvantage of the 180 over the 170 is the price tag. The 180 is a bit pricy as a successor model.
Close contender- Husky
Best chainsaw for blocking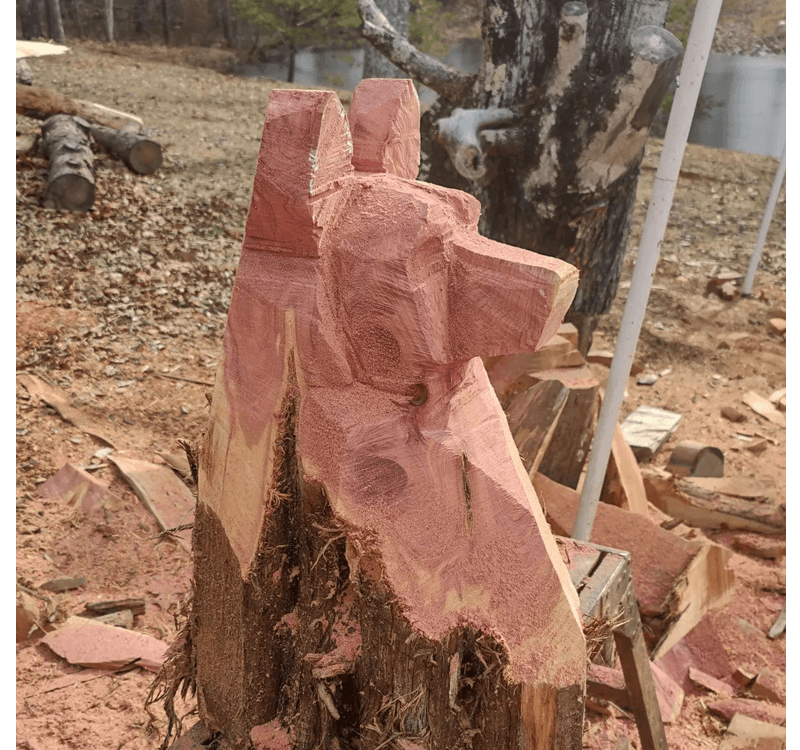 Picking a blocking saw is not as straightforward as most people would put it. I have here people recommend "use your regular saw as blocking saw". Well, the problem is like the ideal saw for blocking.
Blocking involves roughing out the outer wood in preparation for the detail saw. This process, for obvious reasons, should be generously fast. Fast RPMs are the talk of high cubic capacity saws. You want a saw in the range of 40cc to 50cc. This is usually enough power to block easily. The problem is most such chainsaws are big and therefore heavy.
For artists, we need something with good power and still light enough. Something you can give a few swings without catching a break every 2 minutes.
The echo makes good saws, and I like the warranty. The echo 590 timberwolf is my hands down favorite $400 out the door for a 59cc saw with an 18inch bar or 20inch. This saw will give you good service at a small inconvenience of under $400.
check Best Chainsaw for oak trees
The Carving bar
All chainsaws have bars. The bars come in different sizes but for most of the bars you will buy the chainsaw from the manufacturer which is not great for carving.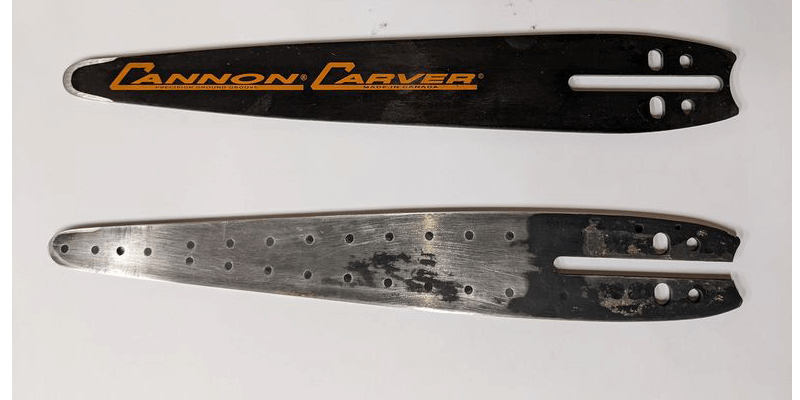 Luckily some cool people have dedicated themselves to building bars specifically for carving. These bars are what you will hear pros call dime tip bars. They usually have a narrower tip than an ordinary bar.
The diameter of these bars is usually between .325 and .355 inches. These smaller diameters work so well because they give you more control over your chainsaw when doing fine detail work.
So what are you looking for in a bar? Well, there is a consensus that 8 to 16-inch bars will be your best bet when starting. Shorter bars will make it easier to see while doing detailed work, but they can also feel a little heavier in your hands and give you less reach.
Longer bars can help reach those hard-to-get places, but they also have drawbacks. You may feel like your arms are always too long, causing fatigue and cramping.
Cannon makes good carving bars. Their bars are made from high-quality steel and have great vibration reduction technology. This is an important feature to look for when buying a bar because if you are doing detail work for long periods, you will want to ensure your hands don't cramp up on you.
Check out good woods for chainsaw carving here.
The Ultimate Buyer's Guide For Best Chainsaws For Carving
Buying A Great Chainsaw
When You're Ready To Take The Plunge & Make A Smart Purchase: There are several things to consider when buying a chainsaw, including safety features and noise level. Don't feel overwhelmed by these details – we've done our research and found two powerful best chainsaws for carving that you can buy now. We hope you find our review helpful. Good luck!
5 Key Things To Look For In A Chainsaw
Before you make a purchase, there are several factors to consider. This guide looks at five key features in a chainsaw that will help you choose the right one for your needs. So whether you're looking for something lightweight and portable or prefer something with extra power, read on to discover which features matter most when buying a chainsaw.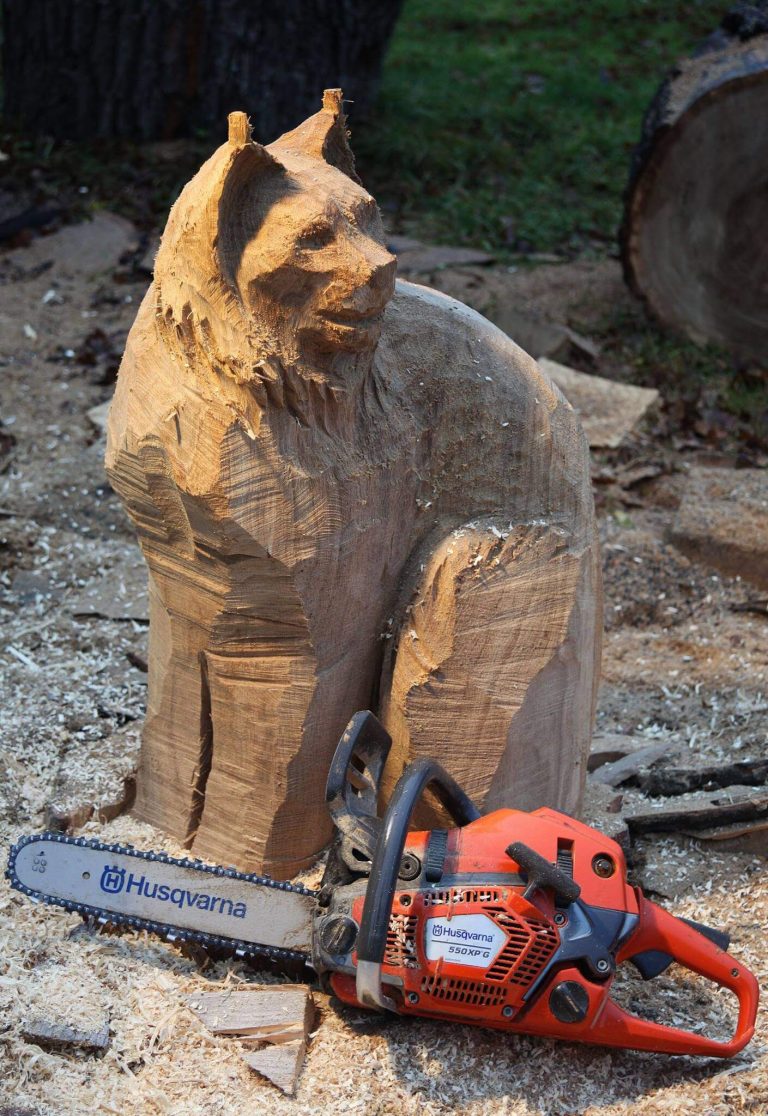 1: The Bar Length And Gauge:
The length of a chainsaw bar should match its intended use; if you're using it for home projects, you can opt for a smaller bar. A larger bar may be necessary if you plan to cut down large trees or branches.
The gauge refers to how wide each link of the chain is—the wider they are, the stronger they will be and able to withstand more pressure from thicker wood.
2: Power Source:
You have two options when it comes to a power source—gas-powered or electric. Gas-powered chainsaws tend to be heavier and louder than their electric counterparts, but they also provide more power, so they're ideal for heavy-duty jobs like cutting through thick tree trunks.
Electric chainsaws are quieter and lighter than gas-powered ones but not as powerful. If you're looking for a chainsaw to use around your home, an electric one is probably best; if you need something that can handle tough outdoor work, a gas-powered model may be better suited.
3: Safety Features:
Regarding safety features, there are several things you should look out for in a chainsaw. The first is whether or not it has an automatic chain oiling system—this helps prevent your chain from becoming dry and brittle over time, which can cause kickback and make cutting more difficult.
Another important feature is anti-vibration technology; if your saw vibrates too much when you're using it, that can cause fatigue and make cutting more difficult.
4: Ease Of Use And Portability:
A good chainsaw should be easy to use and portable enough to take with you on jobs around your home. If you have a large yard, portability may be less of a concern than ease of use.
5: Price Point And Warranty:
Your budget will likely influence how much money you spend on a chainsaw. When it comes to warranty, however, it's important to note that most manufacturers only offer warranties for defects in workmanship and materials; they don't cover damage caused by misuse or wear and tear.
How To Choose The Best Brand?
You might think that buying a chainsaw is an easy thing to do. However, you'll want to spend time researching to ensure you get a tool that will stand up to tough tasks.
Don't rush your purchase; make sure you note these key factors to get a high-quality machine. Start with brand reputation: There are plenty of different brands out there.
Some are better than others. We recommend sticking with one of our favorite brands if you don't have any experience using one before. It may cost more upfront, but it could save you money in maintenance costs down the road. The top brands we recommend include; Husky, Echo, and STIHL.
Spend time researching for reviews on those brands and others if you want to get something less expensive. This way, you can learn what people like or dislike about each brand so you know what to look for when shopping around.
Always consider value vs price: When looking at chainsaws, it's important to remember that price doesn't always equal quality. A lower price doesn't mean that a saw won't last long or perform well.
Safety Features To Look Out For
There are several features that you want to look out for when it comes to safety. Firstly, make sure you purchase a chainsaw with a chain brake.
This feature prevents your blade from rotating if it comes into contact with any hard objects, thereby eliminating the risk of serious injuries or even death.
The chain brake should be easy to use and durable enough to withstand everyday wear and tear so that you don't have to replace it often.
Size And Weight Matters
Chain saws are heavy, which makes them more difficult to use. The lighter they are, typically, the easier they are to handle. This is especially important if you're working with a chainsaw for long periods.
If you're looking for a chainsaw that you can use for extended periods without getting fatigued, it's best to look at models that weigh less than 15 pounds.
Most professional carvers prefer using gas-powered chain saws because they can provide more power and cut faster than electric models.
If you want to use your chain saw in different locations or while on a ladder, you should consider installing one with anti-vibration technology so it won't shake as much while operating.
Corded Vs. Cordless Options
Corded chainsaws are more powerful and usually more expensive. They don't need to be recharged, which is convenient but less portable than cordless options.
Cordless models tend to be lighter and cheaper, but you'll have to remember to recharge them before use. If you plan on doing a lot of carving or cutting down trees or branches, a corded model may be your best bet because it will give you more power and speed than a cordless option.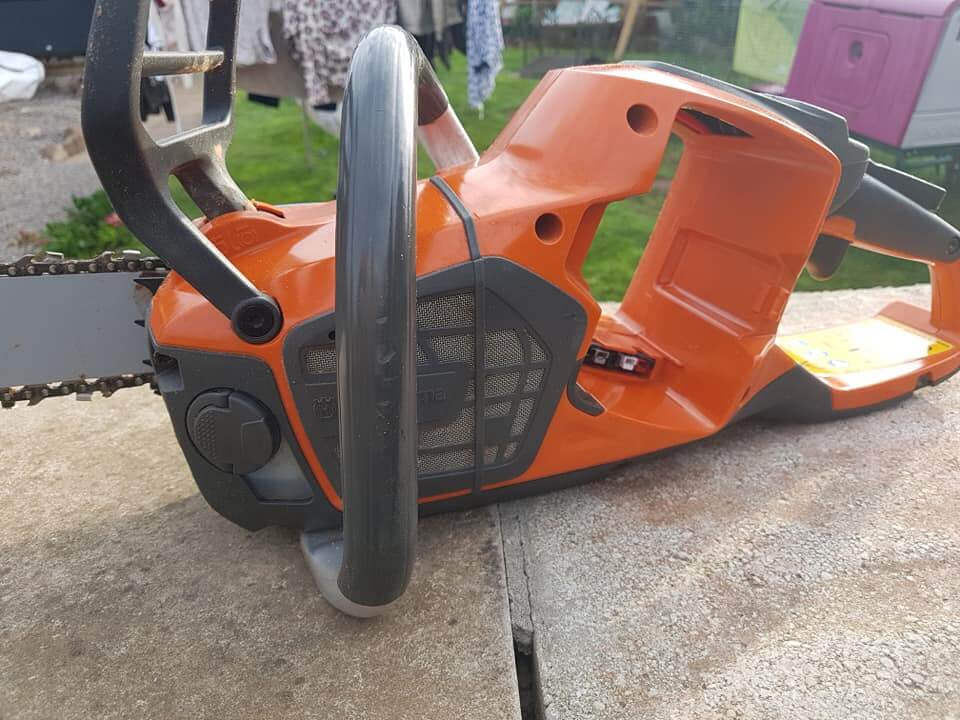 However, if portability is important to you or if you plan on doing smaller projects around your yard or home that don't require as much horsepower, then a cordless chainsaw will work better for you.
As for recommendations on the best-corded chainsaw for carving, I recommend looking at models from brands like Husqvarna, Stihl, and Echo.
All three of these brands have a reputation for producing high-quality tools that will last you a long time. Looking for a good cordless model, look at options from Black & Decker, GreenWorks, and Worx. These three brands make great battery-powered saws that work well in your home or yard.
In addition to knowing what kind of chainsaw you need, it's also important to know how much money you want to spend on one. You can find great deals online by looking around and comparing prices before buying anything.
Carving chainsaws for beginners a summary
A chainsaw is pretty amazing to carve with. However, they are dangerous. Investing in a good chainsaw is the smart move. In most cases, your first chainsaw will probably remain your favorite down the line.
The chainsaws recommended here as the best carving chainsaws for beginners do not come with the carving kit that you need to order separately. A carving kit should include a quarter pitch sprocket and pain of chain and a carving bar.