Anyone who has been in woodworking for a while understands finishing is important. Finishing is an entire craft on its own, requiring good quality tools and, above all, skills. When it comes to protecting wood, film-forming finishes are second to none. But applying these finishes is challenging and time-consuming with a rag or brush.
Atomizing the finish speeds the process and improves the project's appearance and, ultimately, its value. That's why investing in a sound spray system can increase the value of your production. But getting into the game of HVLP guns is not easy. We understand this and have done the leg work for you.
In this article, I have selected 3 HVLP guns you cannot go wrong with.
Our criteria in choosing the best HVLP spray gun for woodworking
Configurations, parts, and setup
Spray guns operating off each air source can be found in three configurations: siphon-feed, pressure-feed, and gravity-feed. Although some HVLP spray guns will be assembled when you purchase them, others require you to assemble them. The most important thing is to purchase an HVLP spray gun that will require minimal assembling or will take so little time to assemble. It is important to note that all the HVLP spray guns will come with all the parts you need to work on your wood, including a hose, paint cup, and storage and carrying case.
Portability
While it may not suit your large-scale woodworking projects to have a small spray gun, you will eventually agree with me that portability is of the essence in choosing an HVLP spray gun. Think of this, HVLP sprayers that are light in weight will shorten the hours you spend spraying your wood. Why? Because its lightweight nature will require minimal use of strength and effort from you. But that's not all, and it eliminates undue strain from your elbow, wrist, and shoulder.
Price
You will notice the variety in price when searching for the best HVLP spray guns for your woodworking. My team always comes to your help by carefully narrowing down and picking various options that suit various situations. I recommend HVLP spray guns that suit your budget and your woodworking projects. It will be upon you to choose how much you would like to invest from the recommendations below. 
Our top picks – Best HVLP spray guns
If all you need is excellent results for your woodworking projects, then you can never go wrong with this choice, Wagner Spraytech 0518080 Control Spray Max HVLP. I noticed this spray gun sprays flawlessly without even dropping a single drop of pain. What impressed me about this HVLP spray gun is its low-pressure design and ability to utilize a high volume that assures an even coating while spraying. In addition, these HVLP spray guns come with a default nozzle; thus, there will be no need for replacements when working on your wood project.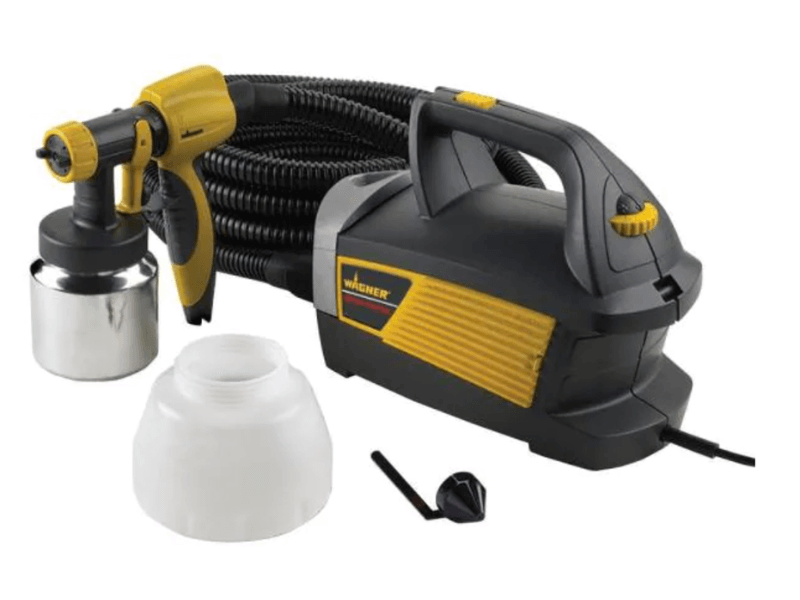 Probably you must be worried about painting your flat wood surfaces and other surfaces coated with stains or thinner substances. Well, worry not. The Wagner Spraytech 0518080 Control Spray Max HVLP comes in handy with a two-stage turbine which makes this product compatible with any surface. 
Pros
Two-stage turbine
Very long hose
Even coating
It can spray different surfaces
You will need only one nozzle
It can control the flow of paint, thanks to its air compressor pressure control.
Cons
It may take longer for large-scale woodworking projects.
Compared to the editor's choice, this product is costly. However, it would be best if you did not worry about the cost of this HVLP spray gun since its performance exceeds expectations. You will be surprised by how this spray gun is suitable for spraying your wood projects such as doors, ceilings, cabinets, and shutters, among others. The Fuji HVLP Spray system is the surest bet for the non-bleed paint job, thanks to its adjustable fan pattern control.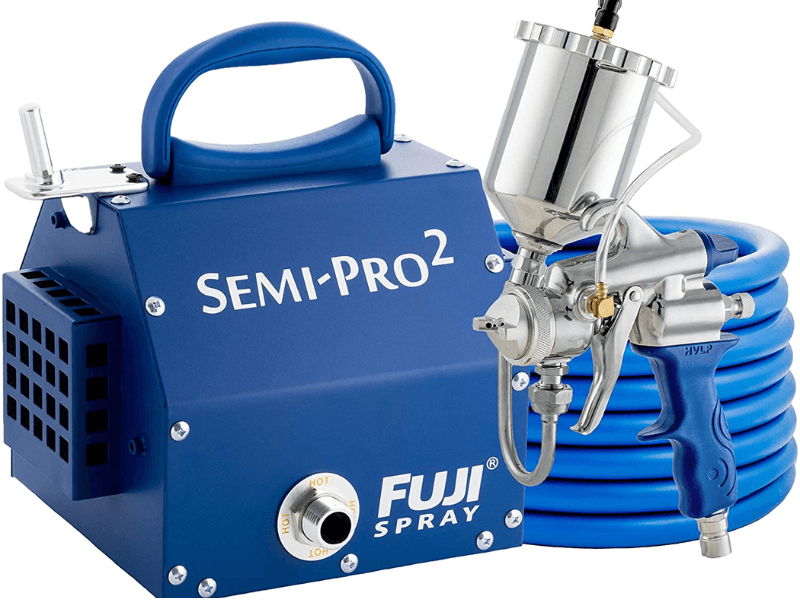 I love this product because it comes powered at 1400 watts with a long hose (25 feet) so that you can work from any position with it freely. But that's not all. This Fuji HVLP Spray gun comes with a 1.3mm nozzle, bottom feed cup, and adjustable spray pattern. Moreover, the sprayer features a dedicated fan pattern control, metal turbine case, stainless steel nozzle, and handy gun holder. This is the best HVLP sprayer you will ever get in the painting history for your woodworking project. 
Pros
Very long hose (25 feet length)
It offers a non-bleed paint job
Unique air control valve
1400 watt two-stage motor
Easy to assemble and disassemble
Cons
To round off this list, I will recommend Eastvolt High Power HVLP Spray Gun. If you are looking for an HVLP spray gun that will suit your pocket or budget and give the best results for your woodworking project, look no further. This product is exactly what you are looking for. As one of the best HVLP spray guns on our list today, the Eastvolt High Power HVLP Spray Gun features a high-power 600-watt motor and an adjustable control knob that offers you power over the flow rate and paint output.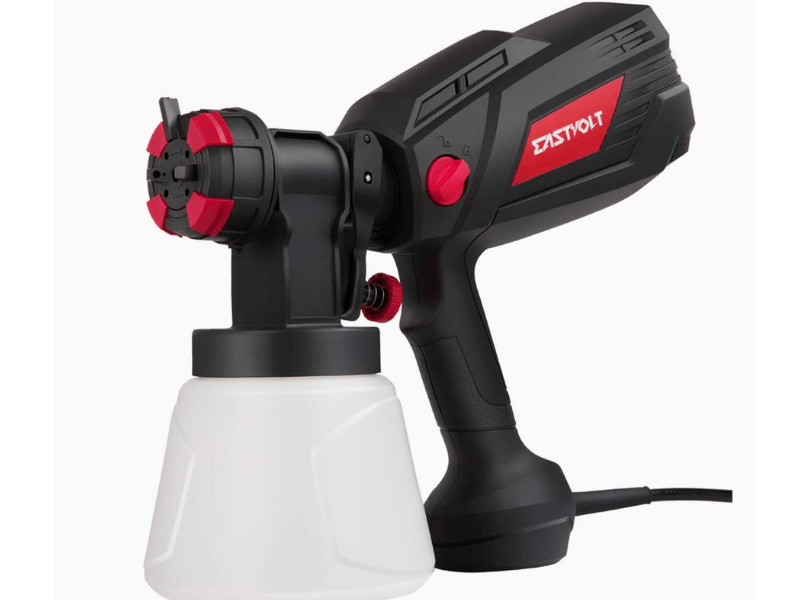 To ensure maximum versatility for the lowest budget, this product features three adjustable spray patterns, a hose, and four nozzles, making it effective in its work. But I am sure you want something that will be fast enough for your project, which is why I recommend Eastvolt High Power HVLP Spray Gun. It comes with an extra-long power cord and a huge 1000ml volume paint cup that helps reduce the frequency of reduction. 
Pros
It has four nozzles
It comes fully packaged
It features three adjustable spray patterns
It has a high-power 600-watt motor
Huge volume paint cup (1000 ml)
Cons
It may not be suitable for large-scale woodworking projects
What is HVLP
To understand why most wood experts prefer HVLP spray guns, you must understand what it means. HVLP is derived from the acronym 'High Volume Low Pressure' with the implication that it is designed more efficiently with air pressure. 
HVLP spray guns conserve the pressure that these spray guns exude. But why should I let you know about this? Compared to other conventional spray guns, the HVLP spray guns will enable you to reduce any chance of over-spraying while working on your wood. The good thing with this is that your valued paint will be spared. 
Moreover, HVLP spray guns are an efficient advancement of traditional spray guns. Notwithstanding, they produce a more smooth paint finish. This will give your wood an even finish, and you won't need as much buffing. The efficiency of transfer that comes in handy with this type of spray gun makes your woodworking job easy and fast. 
Check our article on the Best spray gun for polyurethane
The Best HVLP spray guns for woodworking – Summary
Although it was a heavily contested competition, Wagner Spraytech 0518080 Control Spray Max HVLP is the editor's preferred choice for your woodworking project. This product is highly compatible with various materials and paints for smooth finish results at all times. Even though it is costly, the Fuji HVLP Spray system gets the runner-up position because of its overwhelming performance. This is an effective HVLP spray gun that can spray various surfaces like your wood projects, such as doors, ceilings, cabinets, and shutters. And for affordability and budget, Eastvolt High Power HVLP Spray Gun won the position but yet as effective as the other two.