The difference between decent woodwork and stunning craftsmanship is finishing. With the right tool, you can transform an ordinary-looking piece of carpentry into a valuable work of art as it creates a more consistent wood finish. Sanding with a cordless palm sander is a 'finishing hack' since it offers added convenience. This is because they can be used outdoors, albeit for a limited run time.
If you plan on adding this integral equipment to your toolbox, here is a breakdown of some top picks to consider.
What is a Cordless Palm Sander?
Also known as finish sanders, cordless palm sanders are battery-powered tools that use peel-and-stick sandpaper to smoothen, clean, or polish wood surfaces. They have a tiny square pad to which the sandpaper is attached and oscillates electronically at high speeds to create a smooth finish.
While cordless palm sanders have high maneuverability and are fit for use in outdoor projects, their battery-powered systems also put them at a disadvantage. These tools have problems maintaining speed settings when operating under low batteries, forcing users to carry spare batteries.
Our top pics – Best cordless palm sanders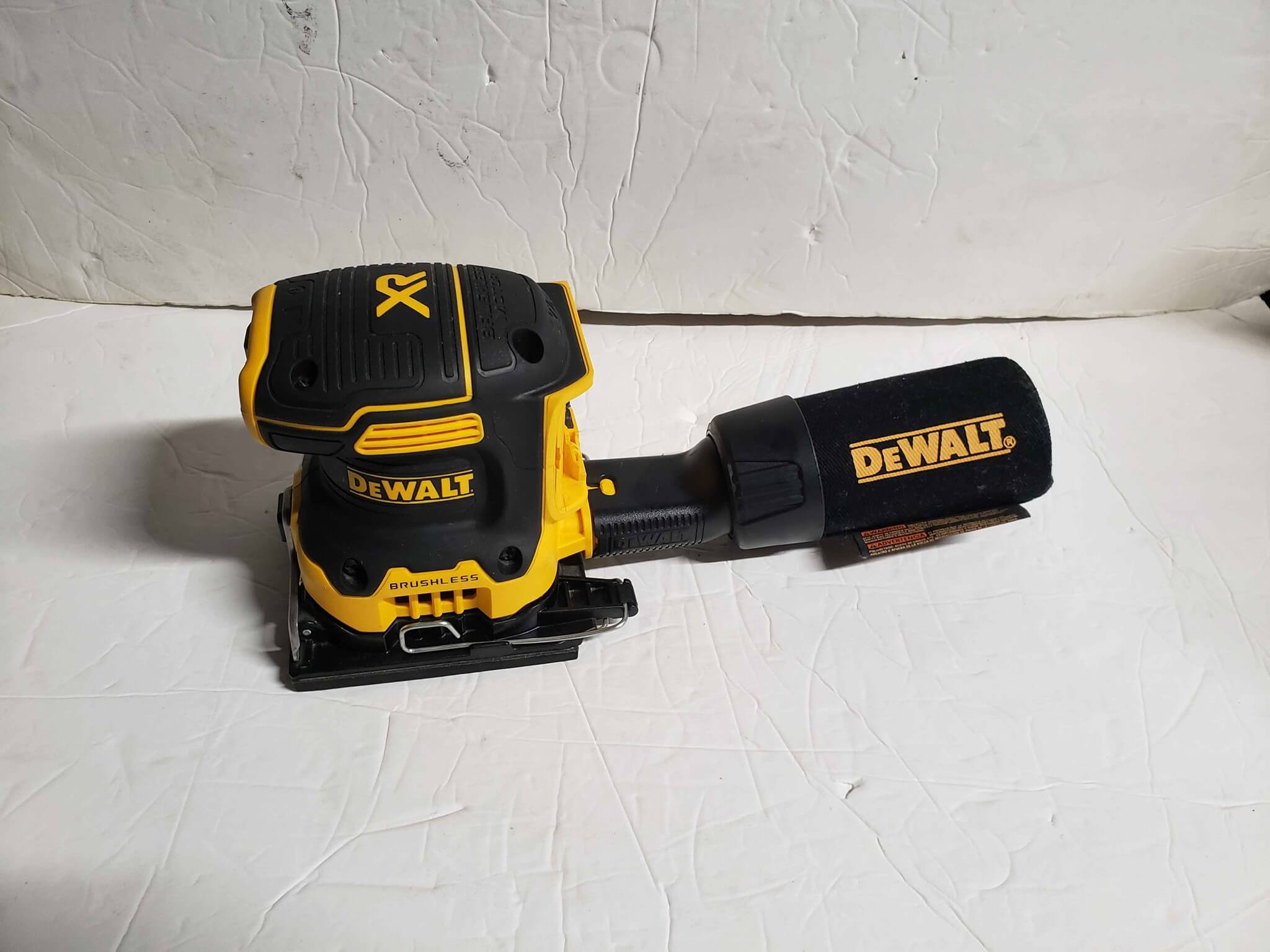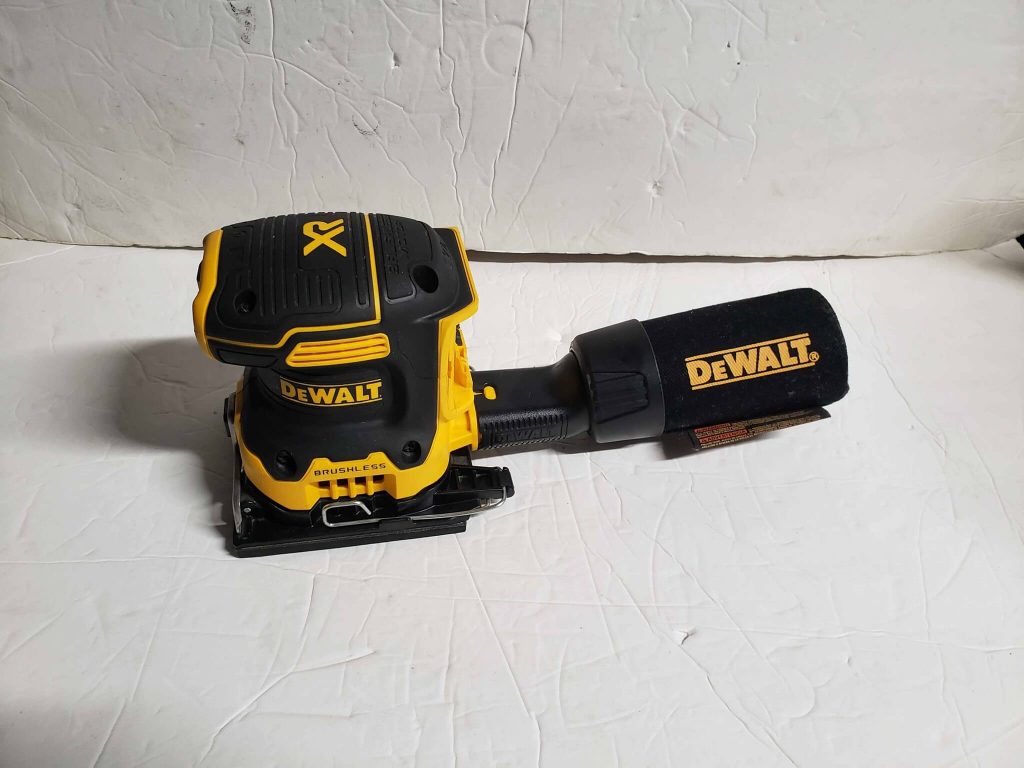 Dewalt's DCW200B 20V Max XR is the cordless palm sander par excellence. Compared to other units, this battery-powered palm sander is in a league of its own with particular regard to its ergonomic design, ease of use, and efficiency.
Ergonomic Design
For comfortable and firm sanding, the Dewalt DCW200B 20V Max XR sander features a state-of-the-art rubber covering. This highly texturized over-mold extends up the length of the barrel and fully covers the top handle, ensuring operators maintain a sturdy and comfortable grip.
It also comes with a separate carrying bag and weighs as little as 2.1 lbs. for added portability. Also included in the package is a dust bag that is fitted to the sander using a single hand for added convenience. However, since this bag sticks out from the sander's frame, it is likely to get in the way of your sanding.
Efficiency & Ease of Use
Thanks to its 20V XR brushless motor, the Dewalt DCW200B cordless palm sander can provide you with speeds of up to 14,000 RPM and a runtime of up to 40 minutes per charge. Its variable speed control can adjust speeds to a minimum of 8,000 RPM, thus facilitating reliable application speeds.
Over and above that, its low profile height of 0.25 allows you to get closer to the action for more accurate sanding. Another unique feature of this model is its automatic paper clamp which holds the paper firmly in place during sanding, adding to the tool's ease of use.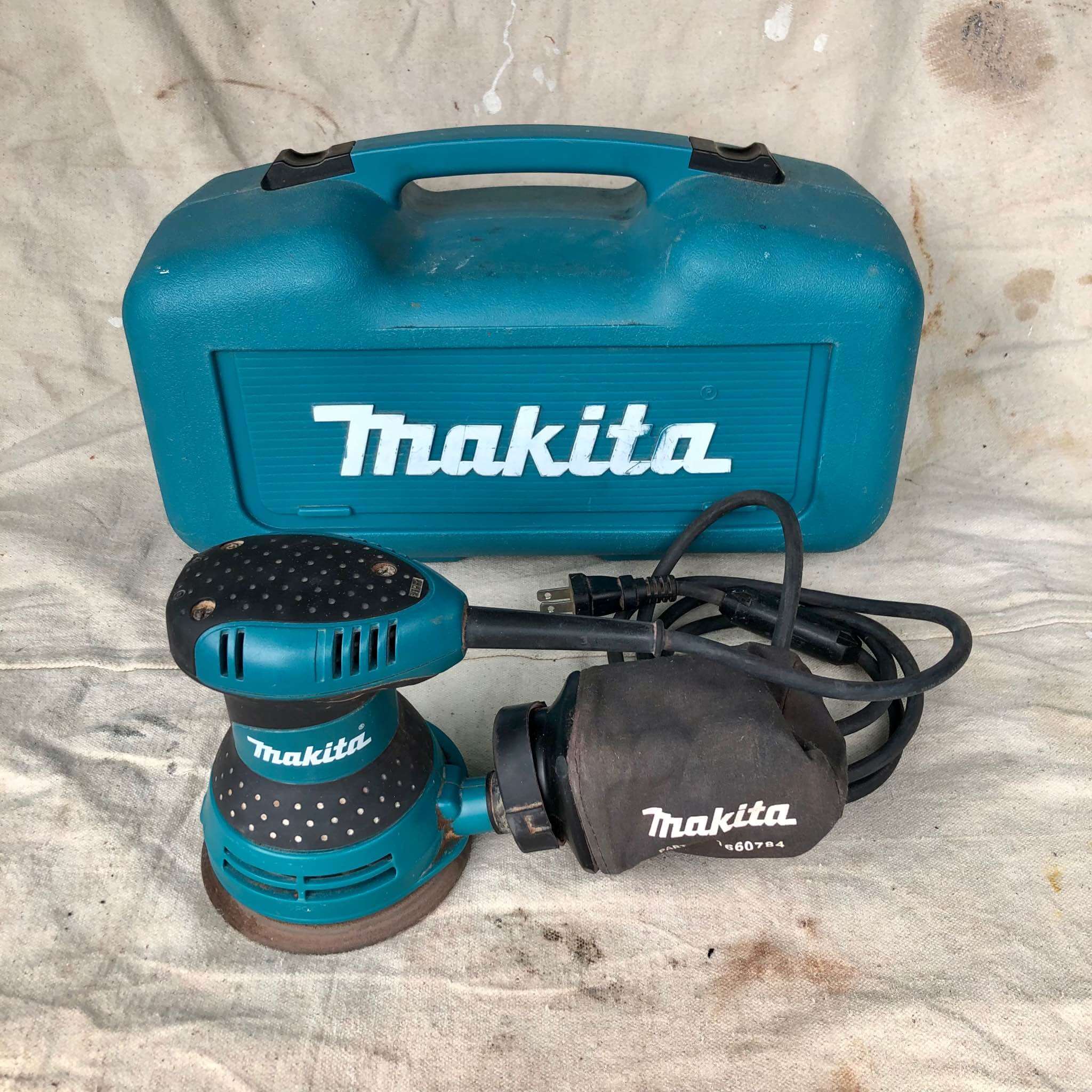 Although neither as efficient nor as powerful as the Dewalt DCW200B, the Makita XOB01Z 18V LXT is still one of the best cordless palm sanders on the market.
Ergonomic & Durable Design
This unit is fully equipped with an over-the-top ergonomic handle that provides operators with a firm grip and comfortable finger cushions. The design also improves sanding efficiency as the cushions guide your hand's positioning for firm control from an overhead position.
To ensure optimum durability, this construction is covered by a huge sealed ball-bearing structure that safeguards the motor housing and all its buttons are sealed to prevent debris from getting launched into the machine.
Very Efficient
With the Makita XOB01z, you need not worry much about sanding efficiency. It boasts of a reliable pad control system built to control pad speed and a one-touch electronic switch for convenient adjustment of its three-speed setting (11,000 RPM, 9,500 RPM, and 7,000 RPM).
It also offers a swirl-free, neat finish thanks to its 0.125-inch random action, a fast 18V powered motor, and a maximum run time of 40 minutes. Sanding versatility is another one of the Makita XOB01Z's primary attributes as it comes with an 8-hole 5-inch circular abrasive disc for easy application-based paper replacement.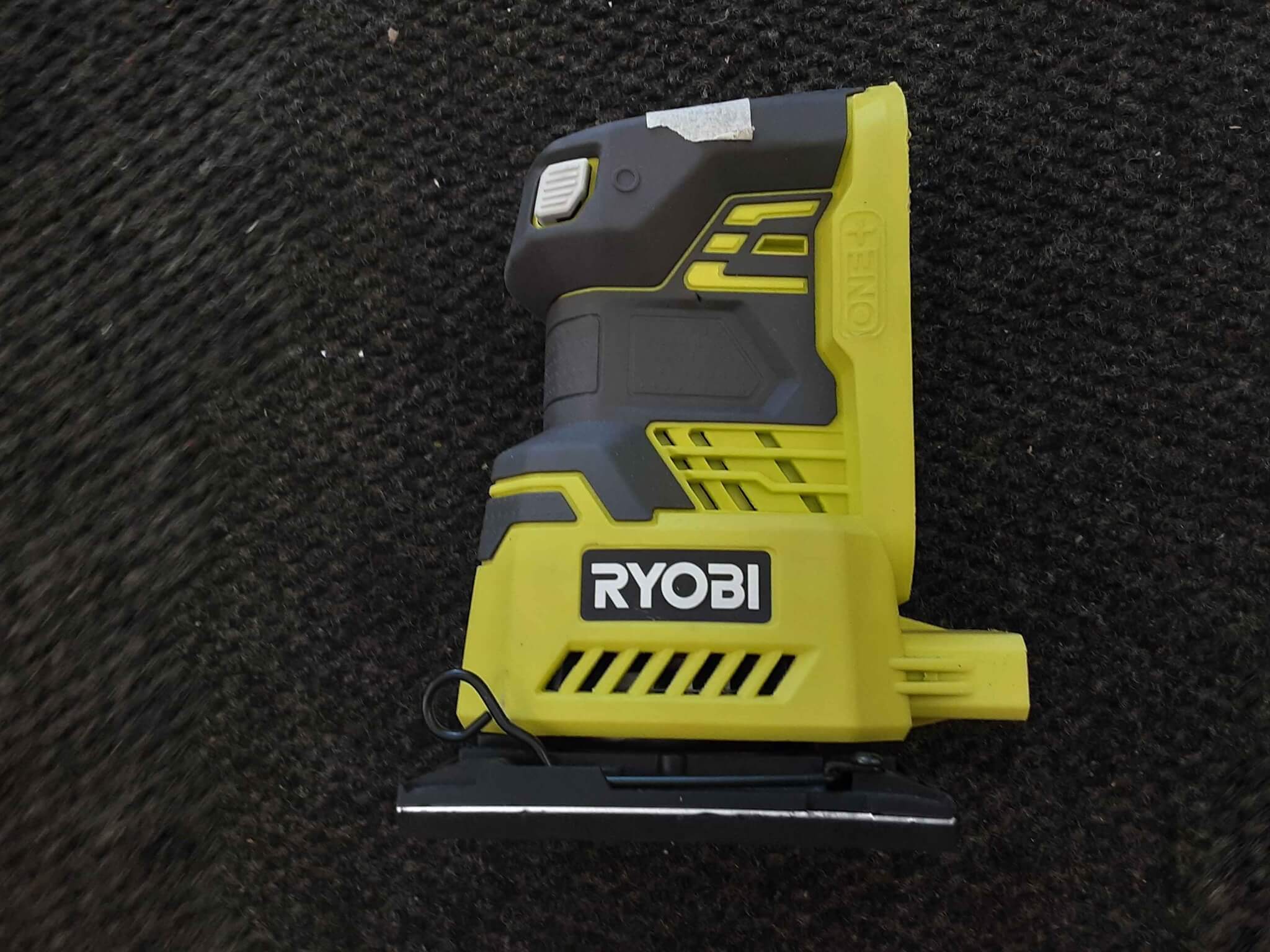 A cheaper option is the Ryobi P440 One+ 18V palm sander. Well under $50, this tool is the perfect blend of value and efficiency.
It comes with a dust collection bag for the convenient gathering of debris and is fitted with a paper lock-on switch to hold sandpapers in place during operation. The Ryobi One+ also packs a lot of power as its 18V motor delivers sanding speeds of up to 12,000 RPM and it can run on a single charge for up to 40 minutes.
The word 'One+' represents the unit's versatility as it is compatible with four distinct medium grit pads and uses platform batteries for models ranging from the P100 to the P108. Lastly, its textured rubber hex grip gives it an ergonomic grip for efficient and comfortable handling.
Factors to Consider When Buying a Cordless Palm Sander
Weight
It comes as no surprise that portability and maneuverability are some of the key competitive advantages of cordless palm sanders over their corded counterparts. However, heavier models are more cumbersome to carry around or control during sanding operations. Lighter units provide operators with maximum portability and maneuverability.
Power
You need a powerful cordless sander to ensure you always get the perfect finish for your woodwork projects. A higher voltage model will provide you with a longer run time and faster speeds than lower voltage ones.
Ergonomic Construction
Just as the name suggests, your hands, particularly the palms, do most of the heavy lifting when using palm sanders. Therefore, for a less tiring and comfortable experience, it would be best if you looked for a model with sufficient padding and a textured handle design.
Ease of Use
You are more likely to get thoroughly polished wood finishes when using a less complicated palm sander model. Case in point, units with convenient battery locations make it easier to unload or load, thus minimizing hand fatigue while maximizing convenience. Similarly, it is prudent to choose a model with a less cumbersome paper removal and loading system for added operational efficiency.
Conclusion: Best cordless palm sanders
In sum, Dewalt's DCW200B 20V Max XR is the supreme cordless palm sander in the present market. Compared to other models, it offers superior speeds, has a state-of-the-art ergonomic build, is exceptionally powerful, and has a significantly low profile height.
The Makita XOB01Z is another standout unit on account of its versatility and durability. However, its performance is second to the Dewalt DCW200B in terms of speed and power. Lastly, when it comes to cost efficiency, the Ryobi P440 One+ 18V palm sander is the pick of the litter.