When buying power tools, most beginners opt to go for cheaper and less powerful models. This rule of thumb, however, is not applicable to table saws. Skimping on safety and quality features in favor of price or power would be a grave mistake for beginners given the inherently dangerous nature of table saws. It is no secret that hand or finger amputations are a common occurrence among novice table saw users.
Therefore, a good table saw for beginners is one that is safe, precise, easy to use, and sturdy. Given these considerations, detailed below are some of the best table saw picks for beginners.
Also referred to as a saw bench, a table saw is a woodworking apparatus made up of a motor-driven, ring-shaped saw blade that is mounted on a mandrel for convenient cutting. These power tools are used to cut across (crosscut) or along (rip) wood grains, with the latter being the most commonly used cutting technique.
The first step in using a table saw is setting the blade's angle and height, after which the operator cuts by pushing the wood through the blade. For precision cutting, these tools are fitted with a fence that aligns the stock parallel to the saw.
What are some of the Table Saws for Beginners?
At the top of the list is the Dewalt DW7485 table saw. It comes in a lightweight and compact design but packs a hefty punch.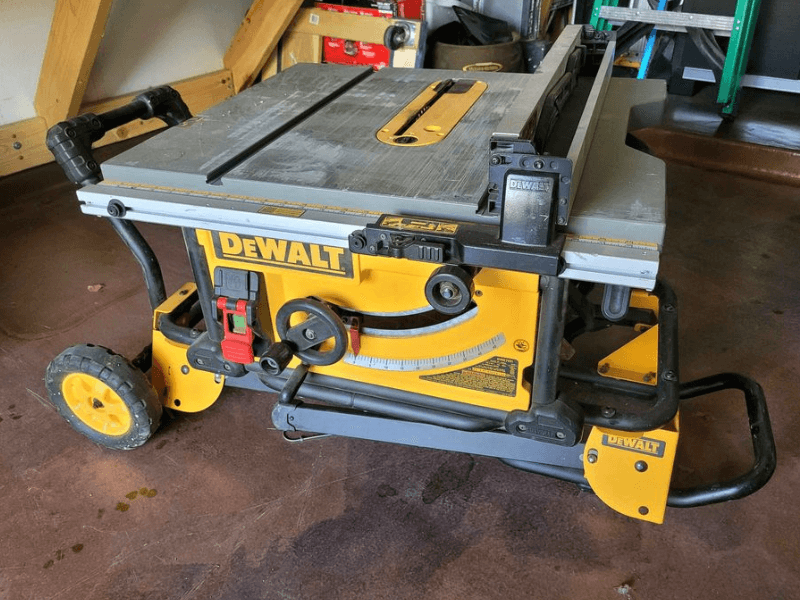 Safety Features
The Dewalt DW7485 is superior to other table saws when it comes to beginners largely due to its Avant grade safety features. It has a modular guard system and anti-recoil claws that significantly reduce the risk of kickback during cutting. Its fence is also fitted with precision locking and telescoping rails that facilitate added safety and smooth, accurate cutting. More importantly, this table saw kit comes with a push stick that ensures operators do not expose their hands to the circular blade when pushing stock through it.
Compact yet Powerful
This unit weighs a meager 54 lbs., making it more portable than the average table saw. Nonetheless, it runs on a standard 15 Amps motor that enables the blade to cut at a whooping speed of 5800 rpm. It has a sizable rip capacity of 24.5 inches and a miter capacity of 48 degrees.
High-Quality Construction
Another integral feature of the Dewalt DW7485 is its sturdy build. It has a tough metal roll cage for added durability. This design also comes with ample onboard storage that makes it easy to access accessories such as the push stick while on the job.
The Skilsaw SPT99-11 is also a valuable alternative to the Dewalt DW7485. Although it does not match up to the latter's powerful performance, the Skilsaw SPT99-11 table saw is still a standout pick with particular regard to portability and efficiency.
Optimum Efficiency
Among the most integral features of this unit is its one-of-a-kind worm drive gearing. Table saws with this unique feature are equipped with dual field motors that are positioned at the machine's rear end. Thanks to this technology, the Skilsaw SPT99-11 cools more often than the standard saw motor, thereby allowing the machine to work for longer.
Additionally, it has an impressive 30.5-inch rip capacity and a 3.625-inch straight cutting capacity. This unit delivers immense torque and has a significant cutting capacity, allowing it to efficiently slice through 4x materials and plywood sheets. It also features a pinion and rack system for easier and smoother fence adjustments. There is also a dust port elbow for efficient collection of debris.
Portability
This unique model also comes with two 16-inch wheels and a sturdy handle for added portability. You can easily carry this table saw over stairs or on uneven surfaces. The Skilsaw SPT99-11 is also fully equipped with left-side support that enables operators to cut heavy materials with much ease.
Although the Worx WX572L 5.5 Amp BladeRunner Table saw is not the most powerful in the market, it offers the most value for your money.
Compact Design
This unit is among the lightest in the market with a total weight of only 14.7 lbs. You can easily carry it from one job site to another, but it is also heavy enough to serve as a table bench top without constantly slipping off. The kit also includes five blades that can be set up in seconds. These blades add versatility to the Worx WX572L as they can cut metal, plastic, aluminum, tiles, and wood depending on the fitted blade.
Efficient Cutting
Despite its below-average price point, the Warrior 4-inch table saw is quite efficient in its operations. It features a dust collection port, and a jigsaw 4-inch blade, and runs on a 5.5 Amps motor. It also boasts of an impressive miter capacity of 60 degrees, allowing you enough flexibility to make all the popular right to left miter cuts. Additionally, this affordable table saw also features a riving knife and rip fence system for accurate, wider, and longer cuts.
The TACKLIFE PTSG1A 15 Amps table saw is also a valuable alternative to the Dewalt DW745. The two models are quite similar in safety and power parameters, though the Dewalt DW745 has a more compact design and is speedier.
Safety Attributes
The TACKLIFE PTSG1A 15 Amps kit includes a push stick, hex keys, and blade guards for optimum safety. The push tick allows operators to handle wood without exposing their hands to the blade, while the hex keys allow for convenient and safe blade replacement or adjustments. Also, the blade guard holds the blade firmly in position, thus minimizing the risk of kickback.
Powerful and Precise Cutting
Performance-wise, the TACKLIFE PTSG1A 15A is also a notch ahead of the rest. It is fitted with a standard 15 Amps motor and a huge 10-inch blade for efficient operations. The machine is also fitted with a rip fence and miter gauge to ensure you make accurate cuts. However, compared to the Dewalt DW745, this model is slower with an rpm of 4800 and has a more limited bevel range of 45 degrees. Also, it weighs a massive 110 lbs., making it bulkier.
What is a Table Saw Used for?
You should only use your table saw to make straight cuts on wood, across or along the grain. Attempting to make curved cuts using this power tool is a very risky affair. Feeding stock into the circular blade at an angle or from the rear end increases the risk of recoil, or worse, injury. Also noteworthy, never use your table saw to slice through ferrous metals, PVC, plastic, or any material other than wood.
How to Use a Table Saw Safely
Table saw injuries are relatively common, although most of these mishaps are avoidable with safe usage techniques. These include only cutting wood, using the push stick regularly, unplugging the equipment when not in use, and igniting the blade before feeding in the wood.
There are also some basic safety protocols that most operators often overlook. Case in point, always read the manual before unpacking your newly acquired table saw. This measure is particularly important for beginners. Additionally, wear protective equipment such as gloves, ear defenders, and safety glasses when using a blade saw.
Conclusion: Good table saw for beginners
By and large, a good table saw for beginners is one that offers a good balance between safety, efficiency, accuracy, and ease of use. With that in mind, the Dewalt DW745 is the best model for beginners on account of its superior safety features, cutting capacity, high-quality construction, and portability.
The TACKLIFE PTSG1A 15A is also a notable table saw as it packs impressive efficiency and safety features. However, it is inferior to the Dewalt DW7485 in terms of cutting capacity, speed, and design.
Lastly, the Worx WX572L BladeRunner table saw qualifies as the most affordable, yet cost-effective, model in the market.