We did some digging for the best available spray gun that works well with poly and other oil finishes. After analyzing about 15 brands, we have a tight list of the five best spray guns for polyurethane spraying.
Our overall best gun is the Austro Pneumatic Spray gun. This is the best entry-level spray gun at just under $50. However, you will need a source of air. If you do not have one and you are an absolute beginner to spray systems, then our runners-up Semi-Pro 2 by Fuji is the best complete spraying system.
This spray system is the best bang for the buck spray system. Fuji M-Model spray guns offer professional features. What we loved about the semi-pro 2 models is that it doesn't 'spill' — spraying only when the trigger is pulled. The handles are insulated. And the rear-mounted fan control knob makes it possible to change the spray pattern size from small circular to wide and all between.
Such features are usually reserved for crazy expensive professional spray guns like the Graco Ultra Max II or DeVilbiss T8300 HVLP spray gun. If you are looking for something slightly different, don't worry! We have four other excellent options for you to choose from.
The best spray guns for polyurethane – Review
1. Astro Pneumatic Tool 4008 Spray Gun
Editor's Pick
Astro Pneumatic Tool 4008 Spray Gun with Cup - Red Handle 1.8mm Nozzle
The Astro Pneumatic Tool 4008 Spray Gun is the ideal tool for applying polyurethane coatings. The 1.8mm tip size allows for precise and consistent application of the coating, ensuring a smooth and even finish. The adjustable fan size, up to 11 inches from an 8-inch distance, allows for efficient and clean coverage, cutting job times and providing a finish that a brush just can't match.
We earn a commission if you make a purchase, at no additional cost to you.
The Astro Pneumatic Tool 4008 Spray Gun with Cup is a great entry-level spray gun that is perfect for those who need a durable and reliable tool for polyurethane and other thick finishes.
The gun has three main settings that can be fine-tuned:
the fan pattern
the flow
input air pressure
It features a fully adjustable wide fan pattern control, which is important for atomization, the process of dispersing the liquid polyurethane into a thin mist for faster drying. The gun is also easy to clean, a crucial feature for a spray gun that will be used with adhesive mediums like polyurethane. It is lightweight, easy to use, and comes at an affordable price point.
2. Fuji Spray 2202 Semi-PRO 2
Best Spray System
Fuji Spray 2202 Semi-PRO 2 - HVLP Spray System
The Fuji Spray 2202 Semi-PRO 2 HVLP Spray System is the ideal tool for applying polyurethane coatings. This powerful and versatile system, perfect for both professionals and DIY enthusiasts, includes an M-Model spray gun with dedicated Fan Pattern Control, multiple air cap sizes, stainless steel fluid passages and easy disassembly for quick cleaning and maintenance.
We earn a commission if you make a purchase, at no additional cost to you.
Although poly does not require much in terms of spray gun sophistication, the semi-pro 2 still makes it to our list for the sheer reason of versatility.
Down the line, you may want to finish your project with paint or some more complex finish. You will appreciate having all the power and control offered by the Semi-pro 2.
Another great thing about this spray system is that it comes with a long hose of around 25ft giving you the flexibility of having the turbine away from your project. Sometimes if the turbine is in your way, you may find it difficult to move consistently in a standard pattern.
Hesitation when applying poly with spray is the last thing you want. Any time you hesitate, paint is built on that spot, which ruins the finish.
Check spray guns suited for woodworking.
3. DEWALT HVLP Spray Gun
Best Upgrade
DEWALT HVLP Spray Gun, Gravity Feed
The DEWALT DWMT70777 HVLP Gravity Feed Spray Gun boasts a high-volume, low-pressure design that is easy to handle and operate. It comes equipped with a 600cc aluminum paint cup and lid, as well as a lightweight mini air regulator for precision control.
We earn a commission if you make a purchase, at no additional cost to you.
If you have been using the No-name-HPLV guns, you may have noticed that the quality can sometimes be questionable. Not always of cause, but it tends to be more work to produce decent work with a low-quality no name gun.
Upgrading to this gun will make you appreciate all the finessing tech on this gun. While there are way better professional guns out there, this gun still does some nice work, making it a favorite for many hobbyists.
With this spray gun, you can get a more even poly spread. The weight balance of the gun is also worth commenting on; it is a full stainless steel gun.
This is a reasonable and inexpensive upgrade for those who would like to step up a notch in the spraying department.
4. TCP Professional 9 Piece Gun
Best set
TCP Global Professional 9 Piece HVLP Spray
The TCP 9-piece is our favorite gun sold as a set. It comes with three guns small, medium, and large.
The advantage of having this set is that you can switch between different coatings quickly without cleaning a whole bunch of tools.
We earn a commission if you make a purchase, at no additional cost to you.
The TCP 9-piece is our favorite gun sold as a set. It comes with three guns small, medium, and large.
The advantage of having this set is that you can switch between different coatings quickly without cleaning a whole bunch of tools.
The biggest gun comes with a pin and nozzle size of 1.8mm, just like the Austro pneumatic. A bigger nozzle allows you to use poly without thinning to light a mixture.
The smallest gun is what is called the 'touch-up' gun. The gun has a tiny nozzle of 1mm, making it ideal for retouching or detailing.
The kit also includes an air filter. Air filters are very important when using oil finishes. If you plan to use oil-based polyurethane, ensure that you have an air filter as it filters the moisture from the air that may ruin your finish.
It also comes with a pressure regulator for more air control. Though it's not necessary, you may want to use it and see how it works for you.
Best airless paint sprayer for polyurethane
5.FlexSpray Paint Sprayer
Best Airrless Sprayer
Titan FlexSpray Paint Sprayer
The Titan FlexSpray paint sprayer is the ideal tool for tackling a variety of projects, from painting walls and ceilings to staining cabinets, trim, and furniture. Equipped with Jetforce Technology®, it delivers powerful performance comparable to a 4-stage turbine, making it easy to spray latex and acrylic paints, stains, sealers, and water-based lacquers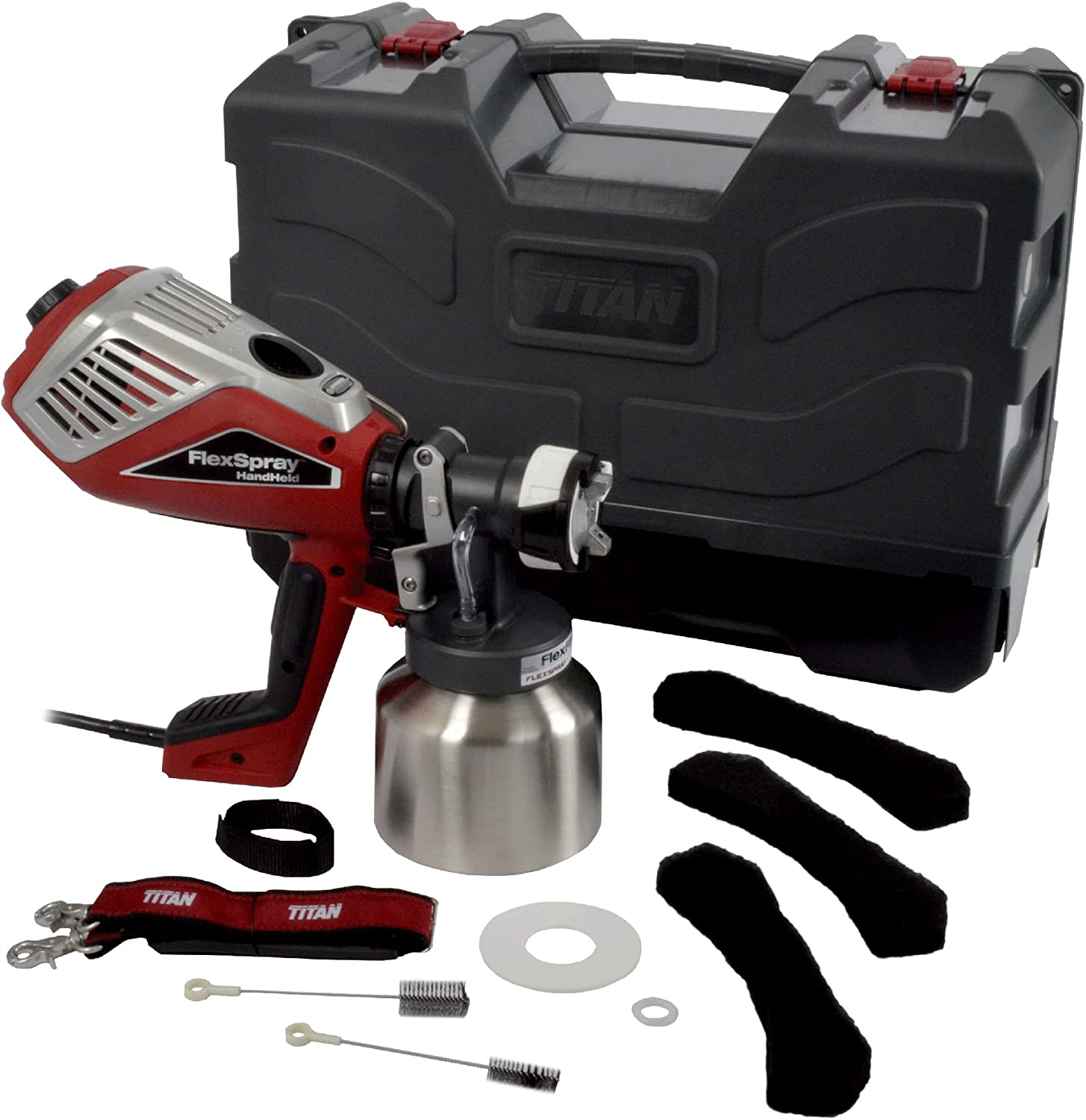 We earn a commission if you make a purchase, at no additional cost to you.
One of the main features of the FlexSpray is its adjustable pressure control, which allows you to adjust the paint flow to match the surface you are working on. This can help you achieve a smooth, even finish and minimize overspray.
The FlexSpray also comes with a range of tips and nozzles that can be swapped out depending on your project type. This versatility makes it a good choice for many projects, from minor touch-ups to larger jobs like painting furniture or walls.
Overall, the FlexSpray is a reliable and effective tool for anyone looking to get started with airless paint spraying. It is well-suited for both beginners and more experienced users and is a good choice for many home improvement and DIY projects.
Best DIY Gun
HomeRight Finish Max HVLP Paint Sprayer
The HomeRight Super Finish Max paint sprayer is the perfect tool for any DIY project. Whether you're working on a fence, deck, piece of furniture, or cabinets, this sprayer delivers a smooth and even finish every time.
We earn a commission if you make a purchase, at no additional cost to you.
The HomeRight Finish Max is our best DIYers choice because of its portability. It's a one-stage with a build motor and fan. Making it a little weak for thick mediums, it still manages to push the poly; however, it's not recommended for professional-grade work or large projects.
This is the perfect and cheapest option for a person working on personal home projects with no compressor or turbine and who doesn't want to invest in expensive spray gear.
Best spray gun for polyurethane – Buying guide
So for someone that understands the value of a spray gun in finishing, how do you choose one?
It's simple;
First decide on your source of air: Compressor vs Turbine
Second, choose a configuration for your spray gun: Gravity, siphon, or pressure fed.
Third, decide on quality: How deep in your pockets you're willing to dig
Finally, decide on the brand: competition keep manufacturers on the cutting edge of technology
Source of air
When choosing a spray gun for polyurethane finishing, you have two options: a gun that runs off a compressor or one that runs off a turbine. Both types of guns produce the same soft spray, called HVLP. However, the type of gun you choose will depend on your specific needs and preferences.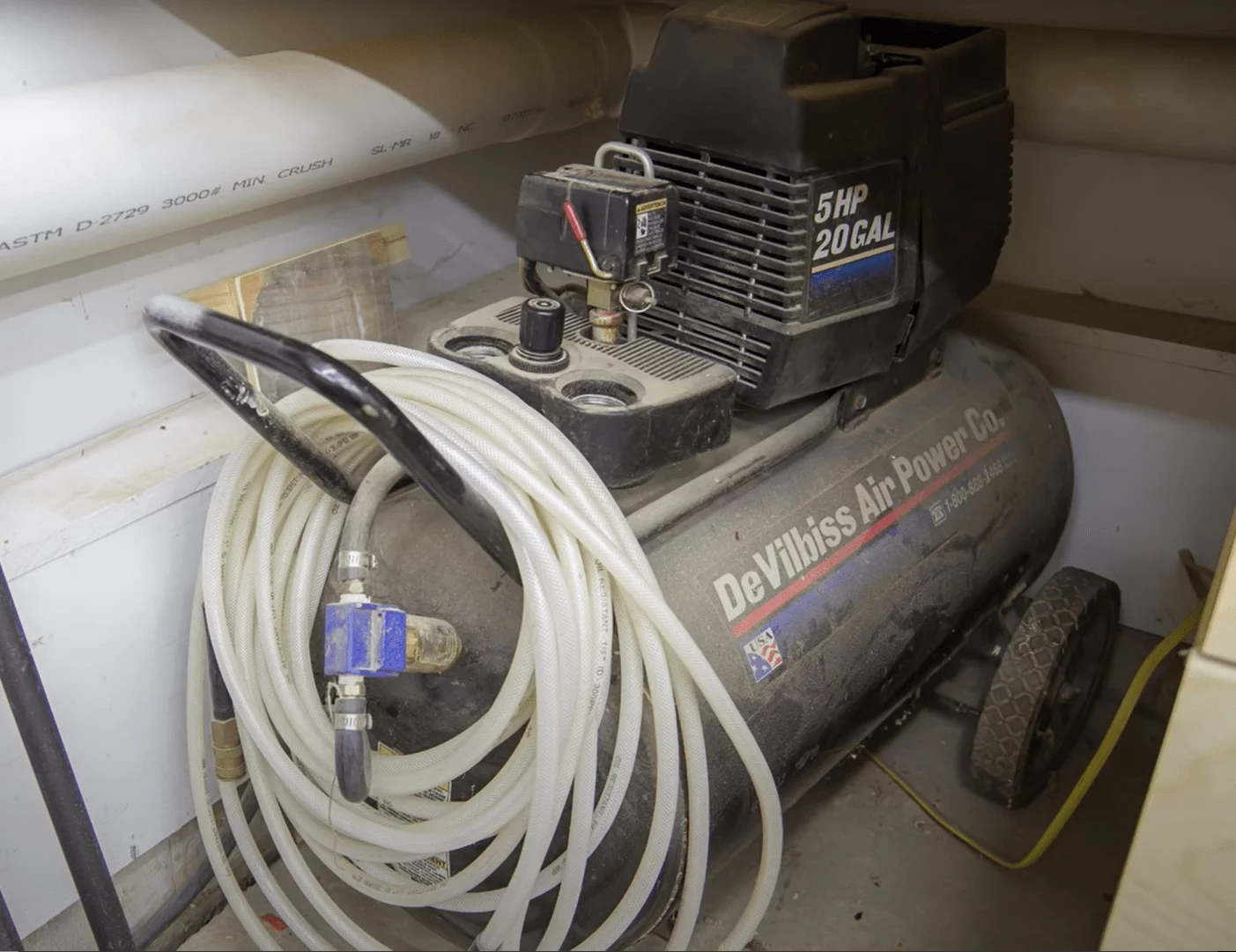 If you already have a powerful compressor or need one for other tools, a compressed-air spray gun is a good choice. If you need portability or are short on space, a turbine spray gun is a great option. Turbines are small and usually sold together with the gun.
Another important factor to consider is the air pressure. Compressors give you more control over the air to the gun, but the air produced by a turbine is dry so you won't need to insert moisture-removing filters.
Configuration
Spray guns that operate off each air source are available in three configurations;
siphon-feed
gravity-feed
pressure-fed
All three work well but for slightly different situations,
Siphon-fed Guns
The siphon-feed configuration has a material cup attached to the spray gun. In the old high-pressure guns, a vacuum draws the fluid up through a tube into the air stream, which is atomized.
But high-volume air in HVLP guns doesn't create enough suction to do this. So the cup has to be pressurized through a tube running from the gun body to the cup. Some of the air is thus siphoned off from the airflow, which can cause poorer atomization and increased orange peel if the air supply isnt
adequate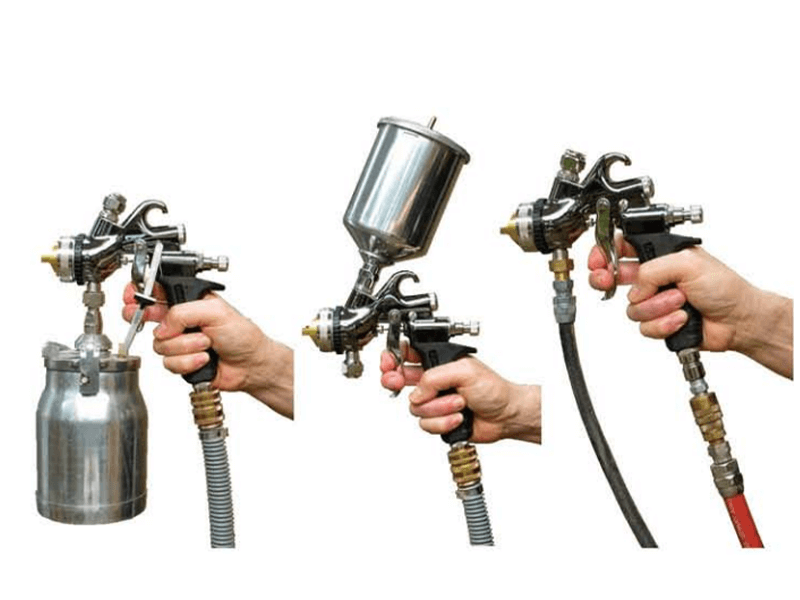 Though most under-the-gun cups are now pressurized, manufacturers still call them siphon-feed.
Gravity-fed Guns
Gravity-feed guns don't need to be pressurized with the cup on top of the gun.
The fluid flows into the atomizing air stream by gravity alone. No pressure is needed, though some turbine-supplied guns pressurize this cup to increase the fluid flow.
Having the cup on top of the gun can eliminate the possibility of dragging the cup across a horizontal surface if you aren't careful.
But you can fit a siphon-feed spray gun into an interior cabinet space much easier than you can a gravity-feed gun, and a siphon-feed gun is more versatile because it can be converted to pressure-feed simply
by replacing the cup with a connecting hose to a separate pressurized pot.
Pressure-fed Gun
The pressure-feed system, with its separate pot that is pressurized by compressed air, is usually limited to production situations where a high volume of work is being finished,
But not having a cup attached below or above the gun frees the gun to get into small spaces and even to be used upside-down. You may find that these options are worth the extra effort involved in cleaning the pot and connecting the hose.
Most turbine guns are siphon-feed. Gravity-feed guns seem more popular with finishers using compressors, probably because this is the configuration used by auto-body finishers. This is the bigger market, so most available compressor guns are gravity fed.
Quality/ Price points
If you're looking to buy a spray gun specifically for polyurethane, know that it's important to pick one with high quality.
Quality in spray guns translates primarily to better atomization minimizing orange peel, tighter control of the spray pattern, more accurately machined parts, and better quality metal for components enhancing damage resistance.
However, if you are on a budget, some good options are available that won't break your bank account.
Brand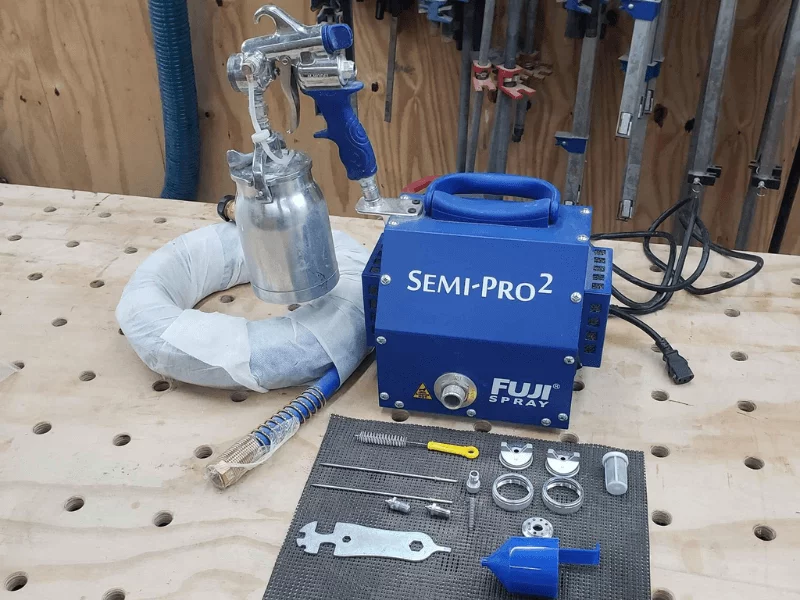 When looking for a compressed-air spray gun to apply polyurethane coatings, it is recommended to shop at a local auto-body supply store. The best way to choose a brand is to ask the clerks which brands the local auto-body guys use and choose from among those brands as they will have knowledge of the subtleties of these brands and the store will most likely stock parts.
You can also look for distributors for turbine-supplied spray guns in your area or check the websites of the brands you are considering, choose the one that gives the most helpful information and easy parts ordering.
Choosing the best spray gun for polyurethane a summary
When choosing the best spray gun for polyurethane, remember that the most important criteria are air source, price point, configuration, quality, and brand. Starting small is not a problem, but it will be more work.
If you want a nice near-professional poly finish, you might want to invest in something a little bit expensive, but if you plan to earn from woodworking, then investment will serve you well.