Stair treads can be a striking aesthetic feature of your home, especially if seen from the living area or main entrance to your house. But those stair treads will remain beautiful only if they are protected. Constant day-to-day use, paws, shoes, water, and many other issues can be detrimental to wreaking havoc, quickly fading those beautiful stair treads.
Luckily, there are stains you can use to protect and cover your stair treads. These stains will create a hard, translucent shell over your stair treads, protecting them from water damage, scratches, dents, and scuffs.
Since choosing the suitable stains for your stair treads can be a bit challenging, I will recommend the best stains on the market for your stair treads to maintain a beautiful aesthetic for your house.
Three best stains for stair treads
This is the perfect solution if you are looking for an effective and high-performing stain for your stair treads. Varathane Premium Fast Dry Wood Stain is a high-performing and effective stain that is enhanced with nano pigment particles. You must be wondering what the essence of these nano pigment particles is. They offer maximum color quality and excellent wood grain highlighting, enabling maximum coloring in just one coat. 
That's not all concerning this exceptional stain. Varathane Premium Fast Dry Wood Stain will act as a stain on your stair treads and a sealer to seal wood pores in the treads and hardens in just an hour. However, I would implore you to use this stain in your interior wood projects like stair treads for excellent results as it does not do well on exterior surfaces such as the deck.
And just like any other oil-based stain, Varathane Premium Fat Dry Wood Stain will highlight the natural grain of your stair treads to reveal their beauty. If all I have mentioned is anything to go by, it is a sure stain for your stair treads.
Pros
It dries fast, in just an hour.
It needs only one coat.
Durable,
Easy to apply
Cons
The stain color may be misleading.
This is not just another oil-based wood stain for your stair treads but an excellent wood stain that penetrates your wood stair treads and offers a beautiful, rich color that greatly enhances the natural wood grain. I found this kind of stain easy to apply to stair treads and absorbed deep into the pores of the treads, enhancing the stair treads' beauty.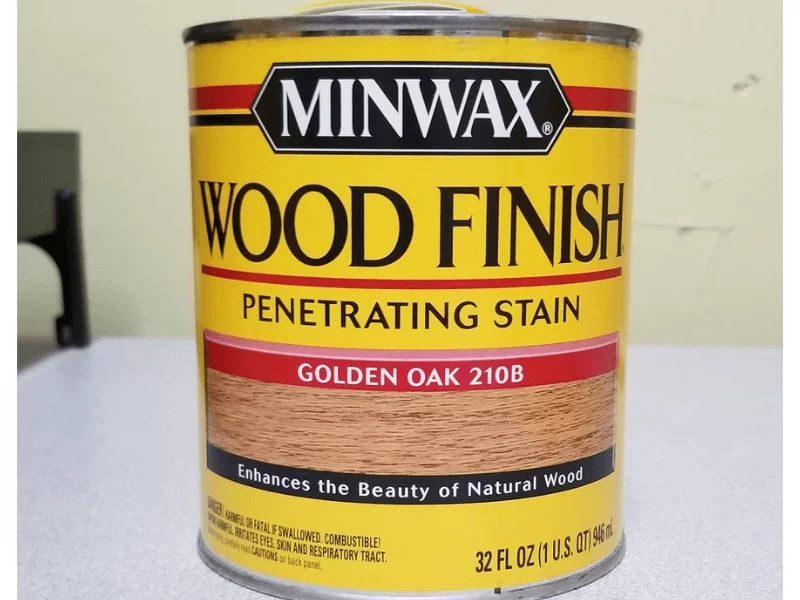 In addition, it dries to the touch in just two hours, so it is possible to stain your stair treads in just a day. But what made me love this stain more was its ability to resist the lapping of even colors.
Pros
It penetrates deeply into the wood, thus enhancing its beauty.
It dries fast—in two hours.
It adds beauty to a bare or stripped wood surface.
Available in an aerosol can.
Cons
It may not be suitable for the huge scale of stair treads.
If you are at a crossroads between saving money and getting excellent results when staining your stair treads, we have your back. General Finishes Oil-Based Penetrating Wood Stain comes in handy as an effective and affordable stain. This oil-based stain will penetrate your wood to enhance uniform acceptance of the stain by your stair treads.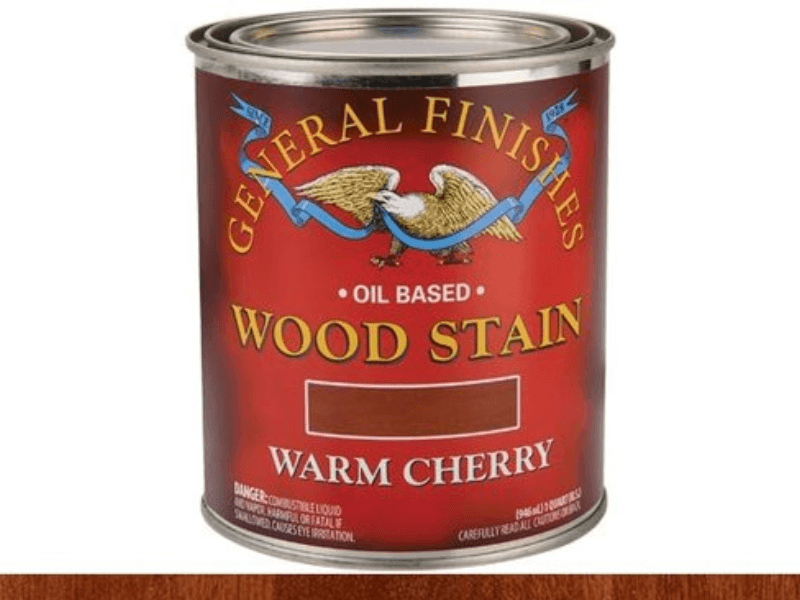 Here's the real deal, this stain prevents your stair treads from blotching and streaking to ensure the stain remains not only even but also elegantly beautiful. You don't have to worry about top coating when using this stain as it can be coated with water-or oil-based products.
Pros
It prevents blotching and streaking to enhance even stains and beauty.
It's easy to clean up with mineral spirits.
It can be done with either oil-based or water-based products such as topcoats.
It promotes uniform acceptance of stains.
Cons
It may not be the perfect color of teak.
What to consider when buying stain for stair treads
Wood type
When staining your stair treads, you should always ensure there is no chance of blotching, which is uneven coloration caused by uneven wood densities. I would advise using woods like oak, mahogany, and ash to avoid blotching. In particular, I have seen many oak stair treads take well to stains, and for a long time, there was no blotching. Woods such as pine, aspen, spruce, alder, and fir used as stair treads will have the worst and most ugly blotching ever. Other woods, like cherry, birch, and soft maple, have attractive appearances but have ugly blotching. Moreover, woods such as walnut, curly maple, most burls, and bird's eye maple, when used as stair treads and stained, may appear very attractive from your house's entrance or living room.
Base
The basis is that important factor. You never want to go wrong when choosing stains for your stair treads. Stair tread stains always come in either water-based or oil-based. These types are applied similarly and can be found in various attractive wood-tone shades, inclusive of colors that mimic red oak, mahogany, and ash (the perfect woods for your stair treads). Water-based stains are arguably new on the market but are becoming popular with wood staining experts who use water as their base. On the other hand, oil-based stains use their base and offer maximum protection to your stair treads.
Opacity
Every homeowner's dream is to have the stair treads in their house maintain their beauty once stained and have them highlighted by the stain. Experts have, in several instances, identified transparent stains as the best when it comes to staining stair treads, especially if they are new. However, if you feel your stair treads have visible imperfections, solid stains will work magic on them. Moreover, this is the path to take if you want to change the scheme of color for your stair treads completely.
Oil vs. water-based stains for stairs
Although oil-based stains are not that durable compared to other stains, they are easy to apply, even to amateurs. While these stains offer a comparable level of protection to your stair treads against all factors risking their destruction, they are more likely to trap moisture beneath your stairs and have long-lasting power.
On the other hand, water-based stains will offer a conducive environment for your house. Once applied, they are non-flammable, have less odor, and dry faster to the touch. However, they are not as easy to apply as oil-based stains.
Is it better to paint or stain stair treads?
Staining your stair treads is a better option compared to painting them since stained stair treads are more durable than sealed or painted stair treads. However, staining your stair treads will be a climb on a hill as it can be somewhat difficult, and the options of colors you will have will be limited. Staining is the surest way of transforming your stair treads and your house.
Can you stain stair treads?
The answer to this question is an absolute yes. You can stain the stair treads. The treads come from the factory very smooth, but it is equally important to scuff the surface of the treads using fine sandpaper to eliminate any oil or grime on the surface that may harbor penetration of the stain. The beauty of that tread will not be seen until you stain it.
Summary
Whether using oil or water-based stain for your stair treads, you mustn't make a mistake while choosing the best stain for your project. The nano-pigmented stain, Varathane Premium Fast Dry Wood Stain, is best suited for maximum coloring of your stair treads. You can never go wrong with Minwax Wood Finish Semi-Transparent Golden to enhance the naturality of the wood grains of your stair treads. And for a cost-effective yet high-performing stain, credit goes to General Finishes Oil Based Penetrating Wood Stain.