If you're looking to learn how to carve spoons from dry wood, it's best first to answer the question, "Can you carve spoons from dry wood?" After all, various things go into whether or not you can make your own from scratch and know if you can help determine the next steps in learning how. While carving spoons from dry wood seems like a daunting task, the reality is that with enough time and persistence, any carver can successfully create their spoons in this way.
Picture this; you are sitting in your beautiful kitchen, looking at your attractive and unique wooden spoons and simply thinking, "Can I use dry wood to make the same design of wooden spoons as those in my kitchen?" It might sound very easy, but the answer is yes. You can use dry wood for spoon carving.
Though greenwood has been used in making wooden spoons and other kitchen utensils because of the ease of carving greenwood, carving spoons using dry wood has more advantages than using greenwood. I also make most of my spoons from dry wood since they are more readily available and less likely to crack as they do not hold moisture.
Let's look at why we prefer using dry wood.
Reasons why I prefer carving wooden spoons using dry wood
It does not hold moisture.

A lot of moisture content in wood is lost during the drying phase. Due to that, the wood becomes very tight and accessible, thus preventing shrinking and warping.

Suited for indoor projects,

It is easier to work indoors with dry wood because it is easy to transport. Apart from that, they contain less moisture content than greenwood, making them easy to work with.

It brings out fine details.

Although working with dry wood can be harder, especially when you are doing it for the first time, this shouldn't be a reason to quit your project. If you desire to make perfect and unique wooden spoons out of dry wood, you should hone your tool edges and work with passion. Believe me when I tell you that dry wood creates beautiful results.

Best for power carvings.

Power carvings can be used on greenwood, but they work best on dry wood. Furniture makers and other woodworkers are using the technique globally.

No special tools are required

.

Making wooden spoons out of dry wood does not require special tools. You will only need a basic set of tools that includes:

A drawknife

Jack plane

An electric palm sander

chisel

Sandpaper

gouge

For quality results, make sure you buy sharp tools and sharpen them regularly to avoid dull edges.

It's more stable.

When you use dry wood to carve wooden spoons, they last longer than those made from greenwood. You only need to make sure you store them out of direct sunlight.

It requires fewer skills and practice.

The likelihood of dry wood cracking open is less than greenwood. Due to that, a woodworker uses fewer skills to make spoons out of dry wood.

It holds its shape better

.

Once dried, you can make any shape you desire on your wood surface without fear that it will clamp and form a new shape. The longer you dry your wood, the better the structural strength.
There are two different types of tools used while working with dry wood:
Hand tools

Power tools
For the dry wood carving tools, they should have the following things:
–Durable, sharp blades: The blades used in dry wood carving tools must be sharp. The quick swipes of a spoon can cause splinters if your tool doesn't glide smoothly across surfaces or plunge deep enough into fresh lumber to snap off loose bark or dried rot.
We sharpen most of our hobbyist hand tools using wet stones. These stones come in grades ranging from coarse to fine, with #000 extra-coarse hones being able to quickly take incredibly dull edges down when you don't have time for anything more delicate.
When using HSS hobby knife blades, there are plenty of choices for grind angles and blade styles, such as spear point, chisel point, etc. A little grinding here and there isn't a big deal because you will need to even them out as much as possible with sandpaper or file after flattening out all high spots etc.
-Small handle: To carve efficiently, you need to feel like you aren't dragging a table with every move.
-Width: You also want knives and saws with narrow profiles. Longer is better for flexibility and control (although lightweight makes it easier on your wrist), but comprehensive tools get stuck on every piece of bark, twig, or root in their path and lose precision.
Check the best wood for carving
Choosing the Right Wood for Carving
Nothing beats high-quality dry hardwood when it comes to carving. You can get what you need to create whatever masterpiece you have in mind by purchasing dry wood and waiting until it's fully seasoned before carving.
Let's take a look at some tips for choosing and preparing dry hardwood so that you can efficiently work with it to create a finished product.
First, choose a large block of wood rather than several small ones with large seams between them; this way, all of your work will concentrate

on a single item.
You should also avoid knots because they don't work well for crafting; if your block has multiple knots along its length, try cutting off as much as possible and setting aside each piece separately—they might come in handy later!
After determining which block of wood is best for your project, remove any excess bark from its surface. Allowing excess bark to remain on top of the carving creates uneven spots where pieces will not fit together correctly during assembly, particularly if you make bowls or other items requiring tight joints between separate parts.
Consider soaking a beautiful long plank in water overnight once you've found one

free of defects: by reducing any potential internal stresses, you can ensure your finished product will survive for many years.
Now that your wood is ready to use, let's talk about turning it into something useful! using hand tools.
How to Make Wooden Spoons from Dry Wood Using Hand Tools
Carving a spoon from dry wood is not as hard as it may seem. Since carving a wooden spoon is such a simple process, it's a great way to practice some of your techniques and improve at working with your chosen medium.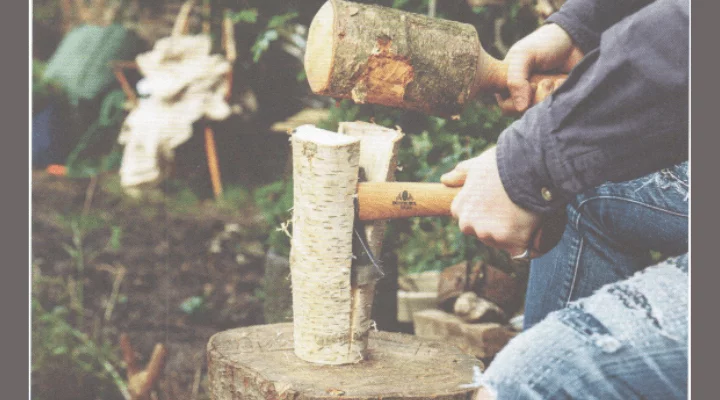 There is this adage that goes, "practice makes perfect." You don't know what you want to carve until you start working on it. Shown below are steps on how to make wooden spoons from dry wood.
NB: You can alter these instructions depending on the type of wood you have or the intended purpose of your finished product.
1. Start by splitting
Split a new surface on your wood, with an axe for spoon carving, and then narrow its width to fit the size of the spoon. When picking out a good piece of wood, look for one with a few knots.
2. Sketch your spoon design on the wood surface.

3. Using a hand saw, cut the outline of the spoon.
A saw is a very efficient way to precisely remove a large chunk of stock. For carving, saws can save a lot of energy when it comes to roughing out a shape, but to successfully use the saw for this, your workpiece will need to be well secured. Simply standing on the blank will not do for this kind of technique. A vise or clamp is required.
4. Utilize a gouge to carve out the bowl of the spoon.
The spoon gouge is structured to scoop out small chunks one at a time. The curved cutting edge shape makes it simple to create deep recesses. I begin each cut directly in the center with the grain, first striking the butt end of the gouge with a mallet.
5.

After that, use a spokeshave to shape the outer side of the bowl and that of the handle
.
6. Using a carving knife carve the bowl of your spoon from side to back.
7. Finalize your spoon shape.
8. Use sandpaper to smoothen the edges and bowl of your spoon
Depending on what you want your spoon to look like, it might be worth painting and staining. However, most woodcarvers usually wait until later to do that. If you'd prefer to wait too, then we suggest moving on to sanding. Depending on what type of wood you're carving your spoon from and what kind of texture you want it to have, you might want a high grit paper or a lower grit paper.
Note: Always sand with the grain to produce a silky smooth surface and avoid scratches that are difficult to remove when sanding across the grain.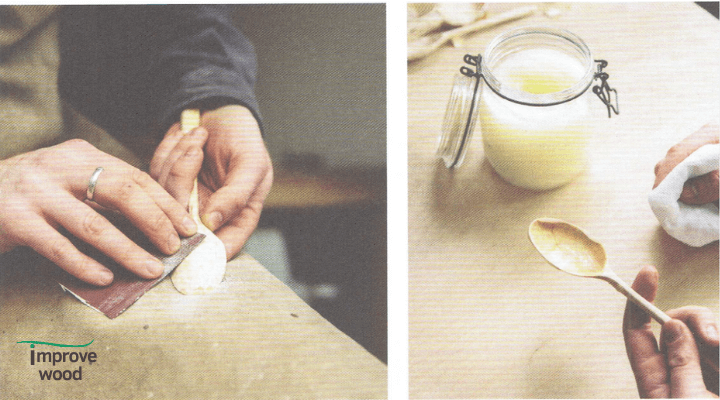 9.

Take a clean cloth, add food-safe oil, and begin to oil your spoon.
Sit back and admire your lovely piece of art before you start working on another one.
How to make wooden spoons from dry wood using power tools
Sketch a rough outline of the desired spoon on the wood surface.

Using a bandsaw, cut the outline of the spoon.

Carefully, take a power carver with a rounded gouge and start making cuts towards the center of the bowl.

Flip the spoon on the other side and repeat the process.

Make the bowl and the handle of your spoon.

Sand the handle.

Power sand the outside and inside the bowl using power tools such as a drill.

After that, take a clean piece of cloth, rub food-grade oil on it, and then use the cloth to finish your wooden spoon.
How long should I let the wood dry before working on my project?
Though it takes two weeks for most trees to become suitable for carving, you should leave the wood to dry completely before starting any carving work. Different types of wood have different drying durations, but that doesn't matter. Leave them outside to dry.
Can you soak wood to make it easier to carve? 
Soaking hardwoods such as oak and ash in water for a day or two makes them more flexible and easier to carve. The process also loosens fibers, which can be removed using traditional carving tools. This information is beneficial for beginners interested in carving wooden utensils.
Bottom line
It is not easy to carve using dry wood, but there is no harm in trying. Dry wood produces excellent results and helps create perfect and unique wooden spoons that can last long enough to inherit your daughters and granddaughters.
Carve your wooden spoons out of dry wood if you have the opportunity. It may take a few tries, but trust me when I say that you will finish up with something to be proud of.
Carving spoons from dry wood sounds like an oxymoron, but it's entirely possible if you know how to do it right! Wood that's green or fresh and soft can easily be carved into spoons, so long as you take the proper precautions to ensure that the wood stays dry throughout the process.