Stained wood can be difficult to paint over. However, depending on what the stain consists of and how the wood has been stained, you may have some luck painting over it. But proceed with caution! You need to consider several factors when painting over wood that has been stained before painting it to ensure that your paint job will look its best and last as long as possible.
Before we jump in, is it OK to paint over stained wood? Can you paint over stained wood?
The answer is yes! It's OK to paint your stained wood for whatever reason is necessary. However, there's a right way of doing it.
Using the right products and following the correct procedures should help you achieve some satisfying results.
But we first need to understand the type of stain applied before painting.
What stains are
Stains are typically pigmented liquid or dye, soaking into your wood and making them darker or lighter. Paints, on the other hand, create a topcoat for your floors that sits on top of their existing color. The question is: Can you achieve both by painting over stains? In some cases, yes; in others, no.
When stained, stains can contain oils that prevent paint from adhering to them; when done correctly (meaning with extensive prep work), you might get away with two-tone floors. However, if you have several layers of stain or have already sanded down your floor, chances are there's too much damage to reverse.
If you still want to try painting over stains, test out different colors on an inconspicuous area first—you don't want any surprises once you start rolling! You may also want to use a paint formulated specifically for hardwood floors, such as Minwax® Polycrylic® Protective Finish. This type of finish seals your floor without creating a glossy look and offers UV protection against fading caused by sunlight exposure.
Also, remember that, just like other types of paint, you need adequate ventilation while working with hardwood floor paints—the fumes can be harmful if inhaled in large quantities. Remember to take breaks, open windows and doors, and wear a respirator mask.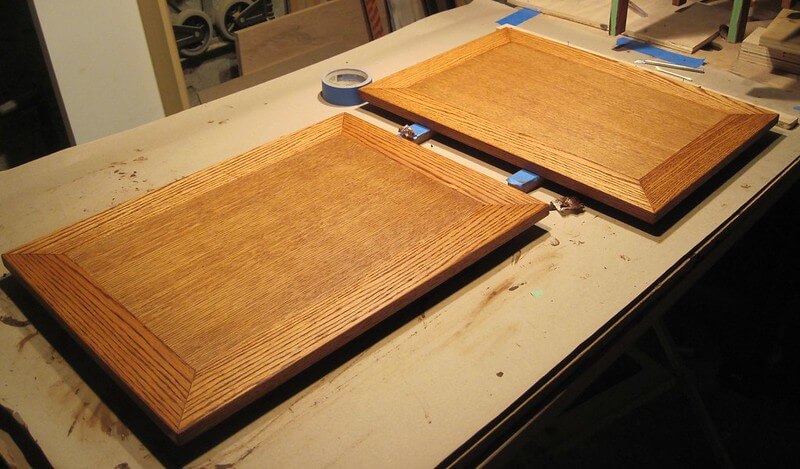 Types of stains
There are two main types of stains: penetrating and surface. Penetrating stains penetrate deep into a wood's pores, fading with exposure to light and other elements. Surface stains are applied on top of the material and do not change its color or texture.
If you want your new finish to last as long as possible, look for a penetrating stain. Since you won't be able to remove these stains, make sure you choose an appropriate type before starting any painting project. A variety of colors is available in both types.
Some brands also produce a semi-transparent stain that allows some natural wood grain to show through, giving you more options when designing a room. When choosing your colors, remember that white tends to brighten spaces while darker hues make them appear smaller.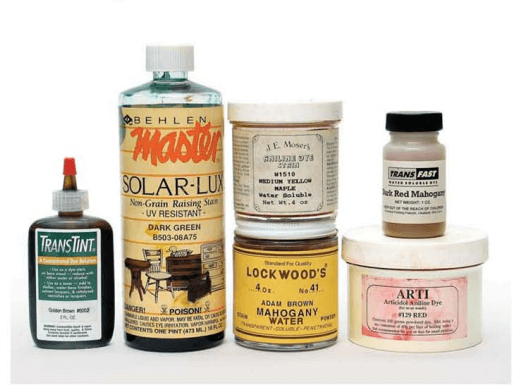 Stains are available in oil-based and water-based formulas. Oil-based stains provide greater protection against moisture but take longer to dry than water-based products. They are also harder to clean up and require ventilation during application.
Water-based stains dry faster than oil-based ones but tend to yellow with age. These products can be cleaned up easily using soap and water without requiring ventilation or special cleanup procedures. In addition, most water-based stains have lower VOC (volatile organic compound) levels than their oil-based counterparts. This makes them safer for homeowners who suffer from allergies or chemical sensitivities.
Before applying either type of stain, test it on a hidden area to ensure it works well with your chosen medium. For example, water-based stains work best with latex paints; oil-based products work better with alkyd paints. You may apply primer first if you plan to use latex paint over an existing oil-based stain. Once you have tested your product and selected a suitable formula, follow all manufacturer instructions before applying it to your wood surfaces.
How staining works
Stain is generally easier to apply than paint because you don't have to sand, primp, or prime. You just wipe it on and let it dry. However, applying stain correctly requires some forethought—especially if you plan on painting over your newly-stained piece of furniture.
When you apply stain;
Use a rag or foam brush and coat every surface evenly. If you miss any spots, they will show through when applying your topcoat.

Allow the stain to dry for at least 24 hours before adding another layer.

If you decide to add more layers of stain (for added color depth), allow each layer to completely dry before moving on to the next step.
Also, remember that once you start staining, there's no going back. Once you've applied one layer of stain, there isn't much point in starting over with a new finish because it won't look very different from what you already have.
So think long and hard about how many coats you want to apply. And remember: The darker the stain, the harder it will be to cover up later! Consult an expert if you need advice on which type of stain is best for your project. Stains come in dozens of colors and finish, so knowing which kind works best can save you time down the road.
How to paint over stain
What is Required to Paint Over Wood stain?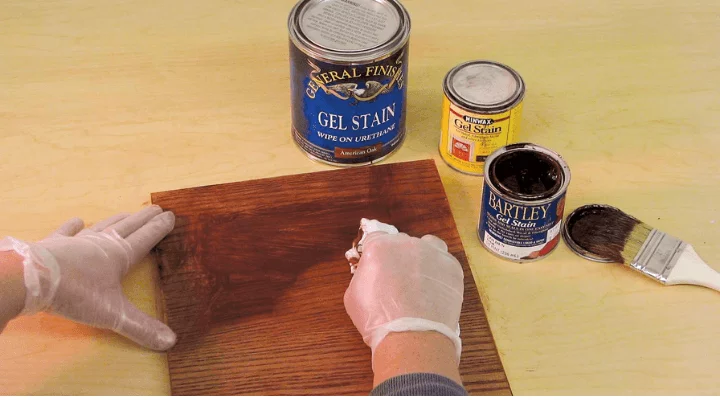 Paint
Multiple Sizes of Paint Brush
Grit Sandpaper
Screw Drivers to Remove Attached Knobs or Handles.
Tack Cloth
Tarps
Primer
Step one – Prepare your working area.
Lay down tarps to avoid spilling paint on the floor or surrounding furniture – Set up outside in the open air if the furniture you want to paint is easily movable.
If you have children in the house, painting from outside would reduce the chances of them umping on the wood before it tries.
If you are working on an immovable piece of wood, consider restricting movement around the painted surfaces.
Clean the wood surfaces.
Use the tack cloth to eliminate any dust particles, spider webs, or hairs on the wood surface – You have to do this, especially if the piece of wood has been in your storage area for some time.
Painting on dirty surfaces reduces the quality of the finish. It also makes the paint less durable.
Step two – Sand the wood
If you want to remove old stains, try sanding down your wood. If you're feeling super ambitious, sandpaper isn't going to cut it. You might need something stronger, like a belt sander or orbital sander. Don't forget to wear safety goggles and clothing that covers your arms and legs!
Then use an electric sander or sandpaper to lightly scuff up your wood, not digging too deep into its surface. This will help give any new stain you apply some grip—it won't just wipe off as soon as it gets wet.
After removing all the old stains, vacuum up any remaining dust and dirt particles from your floor before moving on to the next step.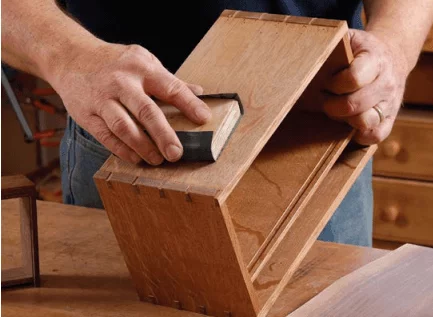 Repairing
Check whether there are any parts of the furniture that need repairing. Check for cracks, protruding nails, or grooves on the wood.
Use a wood filler to repair the holes and cracks. A wood filler is also handy when you want to hide nail heads before painting.
Remove knobs and handles
If you are painting a door to your house of wardrobes, ensure that you remove the knobs or handles to avoid painting on them.
Use the fitting screwdrivers to remove the screws holding it.
Step three – Paint primer on the wood
Use a primer, especially if the wood has a dark stain. Take note of the type of stain you are dealing with before purchasing a primer and the type of paint you intend to use.
However, when you do not have access to this expertise, you should safely purchase a multi-purpose primer.
Give the primer time to dry.
The primer is usually thick. Therefore, it might take some time to dry, especially when there are high humidity levels. However, this should not take much time in drier months.
Do not apply paint on wet primer, for it would compromise the final look of your wood.
prepping
For example, if you used oil-based stains in your previous attempts at refinishing your floors, clean with mineral spirits first so that any trace amounts of oil are removed. (If you can smell it, you still have it.)
Mineral spirits also work well for cleaning up after water-based stains. Just be careful not to saturate your wood with them; they may be absorbed by your floor instead of evaporating away. Once everything is dry, it's time to apply a fresh coat of stain!
Depending on what type of finish you choose (oil or water-based), there are different ways to approach the application. For instance, when staining wood with oil-based products, always brush on thin coats of stain and allow them to soak in for several minutes between applications.
It's better to go overboard than underdo it here! The same goes for water-based stains: Always apply thin coats, and wait until each layer dries completely before adding another one. It should take about three coats total to get good coverage.
When you're done, let your wood sit overnight to ensure all the moisture has dried. That way, when you walk across it in socks tomorrow morning, you won't leave behind footprints!
Step four – Paint the Wood.
Read the instructions for the paint carefully before you begin painting.
Use good brushes that uniformly apply paint to the wood.
Always use more than one court of paint.
Applying one court of paint would not effectively give the rich color of the paint or cover the primer.
When painting, use a primer with a stain-resistant finish.
Before you start painting, always apply a good-quality primer coat. The primer will help to seal any stains and make cleaning up easier. For an extra-strong finish, use a polyurethane varnish after applying your top coat of paint. This will prevent any dirt or grime from seeping into your pores and causing damage that is difficult to remove later.
When choosing which type of paint or varnish to use, make sure that it is suitable for interior and exterior work, as some paints can only be used for one or the other. If you are unsure whether a particular product is suitable for indoor and outdoor surfaces, look for specific labeling information manufacturers provide.
Some products may also need special application equipment such as rollers or brushes designed specifically for their intended purpose. Always read through instructions carefully before starting work so you know how much time you have to complete each stage of preparation and when you should allow each coat to dry before proceeding with another.
Don't rush things: Allow yourself plenty of time when painting so that you don't run out of space at a crucial point in your project, potentially ruining all your hard work until then.
FAQs related to painting over stain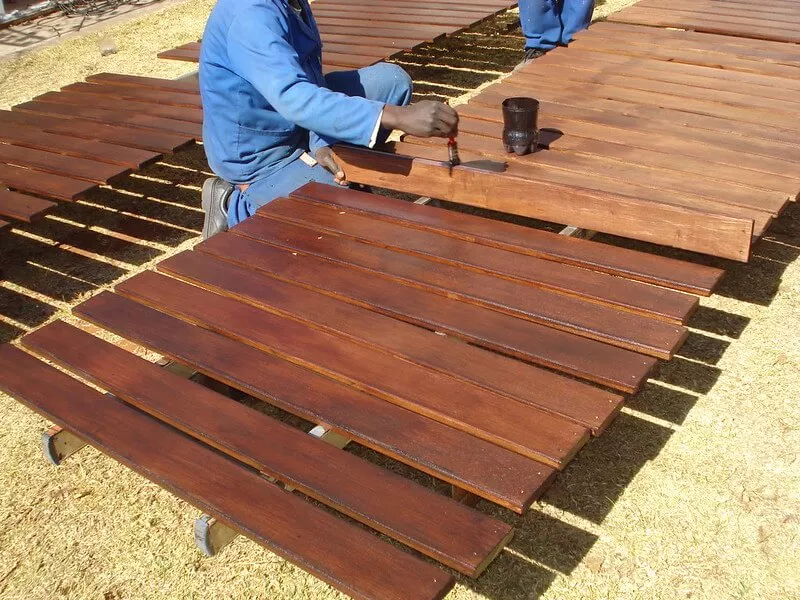 can I paint over stained wood without sanding?
It's possible to avoid it, but best practices call for sanding. Your stained wood will probably have a top coat of varnish or any other film-building finish. This top coat needs to be sanded lightly to give an etch that the paint can hang on to.
After sanding and applying your paint, it's good to prime first. This is due to the staining tendency to like a yellowish colorant to the paint.
What kind of paint do you use on wood furniture?
You could either use oil-based paint or latex paint. Latex paint (water-based paint) is better because it is easier to clean. It is also giving you an easier time when painting using a spray.
You could also use oil-based paint if you like. There is no harm whatsoever.
Can I paint acrylic over the wood stain?
Yes, you can use acrylic paint on stained wood. However, you would need to sand it or use a deglosser.
Wrapping up: painting over stained wood.
Painting can be a frustrating experience, especially when you have little know-how about paints and their different applications. It becomes more frustrating when dealing with a stained piece of wood. But sanding would help you get started.
Sanding removes any ridges or peeled-off paint, giving you a flatter surface to paint on. It makes the surface rough, making the paint adhere to the wood. This reduces the amount of paint you would need to use. We hope this guide has been informative. If you have further questions, shoot in the comment section below.