Of all the finishing methods available, wood stain is perhaps the most misunderstood. There is no good information regarding stains, their application, maintenance, and dos and don'ts.
If you have wood coated in poly but don't like the color of the wood, a stain can tint or shade the wood to your liking. But how do you apply the stain? Do you sand the poly coat off before applying or can you stain over polyurethane?
In this article, we will tackle such questions as we uncover the world of staining and glazing.
Related Query: Can you paint over stain?
Can you stain over polyurethane?
First of all, is it ok to stain over poly?
Yes! Staining over poly is absolutely fine and therefore you can stain over your polyurethane finish should you wish to.
Adding a layer of stain over a sealer (like poly, shellac, or other types of varnish) has been done for a long time now under a practice referred to as glazing.
What is Glazing
The craft of glazing involves adding a layer of stain to a finish or paint surface. due to the transparent nature of stains, the result is more depth and dimension.
Glazing doesn't just stop there, for the artistically inclined finisher there are more options. For instance, a marble effect can be achieved by the glazing technique. Other styles may include imitating grain patterns of the wood.
How to stain over Polyurethane
To stain over poly or any other varnish the procedure is no different from glazing. You apply the stain over your polyurethane or between its coats. The process is not complicated here are the steps
Step one – Applying poly
Apply your polyurethane finish to the wood that you may or may have not stained. If your wood is already covered with a layer of poly then you can skip this step. If the layer of poly needs quick touch-ups then do so appropriately before the next step.
Step two – Let the poly cure
After applying or fixing areas that need fixing, let the polyurethane cure thoroughly.
Step three – Sanding
Sand the polyurethane coat lightly. Always make sure to sand in the direction of the grain. Use 280-grit sandpaper or finer grit for this step. Sanding makes the surface smooth as well as etching it with fine scratches.
Step four – Apply stain
You can now apply your stain to the surface. There are several ways you can spread the stain over your polyurethane. The most professional is by use of spray equipment though this tends to be expensive. A cheaper and still effective way is using a brush or a piece of rag. using a brush is more effective when you know how to clean and store the brush between coats.
If it's a carving or any other surface with grooves, crevices, corners, molding, etc make sure that every part is evenly covered with the stain. If there are areas with the excess stain you can simply wipe off the excess with a rag.
Step five – spread the stain evenly
Even out the spread by brushing out the stain entirely to ensure brush marks and smudges are taken care of. You can wipe the brush off with a paper towel or clothe it whenever you notice stain overload on the brush.
Step eight – Let the stain cure
Allow the stain to cure well- at least overnight, more if the weather conditions are not favorable.
Step nine – Add a protective layer
When the stain has cured over your polyurethane we need to protect the stain from scratches by applying a top layer. The rule of thumb is usually a thin coat. If glazing should be done again otherwise continue with an additional coat of polyurethane.
Can you stain over polyurethane – FAQ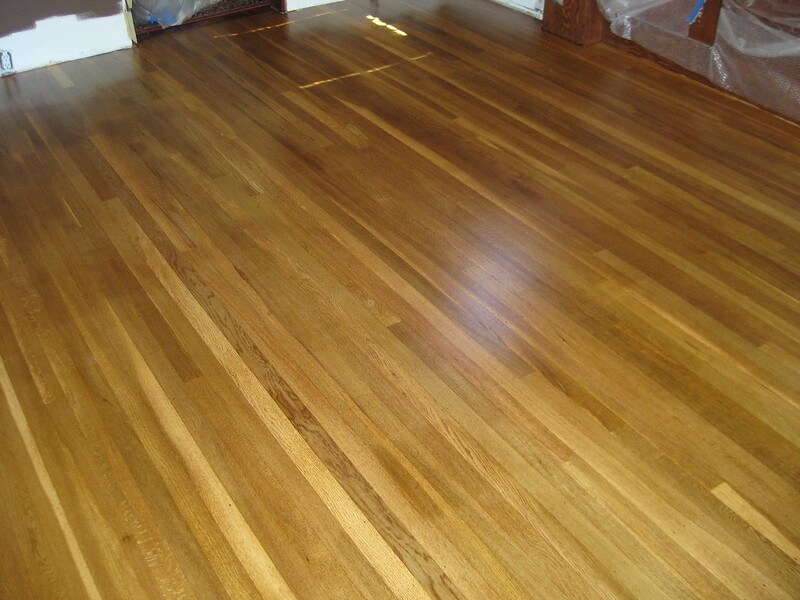 Will stain dry on top of polyurethane?
Will stain dry on top of polyurethane? Yes, the stain will dry just fine on top of polyurethane. However, there are variables in the drying time of stain on top of polyurethane. The variables have nothing to do with the layer of poly but, Nature of the stain and environmental conditions are the biggest factors that will influence how long it will take the stain to dry.
Other variables are the mode of application and thickness of the stain. Applying stain with a gun should have a faster drying time than brush and rag application due to atomization. Additionally, stains with thicker binders (especially oil-varnish types) will dry more slowly than their less thick and water-based counterparts.
Do you know the types of stains available?
Can you stain over polyurethane without sanding?
Staining over poly without sanding is absolutely possible however finishing experts like Bob Flexner advise sanding polyurethane or varnish coat before applying stain for best results. Sanding helps with clearing any imperfections that may be in your poly before staining.
Always remember that staining telegraphs the imperfections through the wood making them more noticeable. Sanding between coats ensures that such imperfections are taken care of as soon as they appear on a topcoat.
Though sanding poly is a necessary step if professional-looking results are desired, it's not necessary in some cases. Also, don't sand your stain if it's on top of a topcoat the only time you should sand stain is when it's applied directly to the wood and has cured.
Can I add a stain to polyurethane?
Adding stain to your poly is possible and actually has been done by many looking to finish wood with both a protective and staining layer at once.
Some manufacturers will also sell poly as a combined stain+finish. For instance, Polyshades from Minwax and any other vanish labeled "varnish stain".
Can I add a stain to polyurethane? Yes, you can. However, you need to match your stain category to your poly category. A water-based pigment or dye should be mixed with water-based polyurethane. the same applies to oil-based stains, they are compatible with oil-based polyurethane.
When staining using stain-poly combo you should not wipe off the excess as is the routine when staining with regular stain. This is because the aim is not only to stain the wood but also to get a build on the wood.
How long after the stain can I Poly?
As discussed in the previous sections, Stain drying time varies due to the many factors that may affect its drying time. But even with all these variables, what's of interest to the finisher is that the stain has completely cured.
So how long after the stain can I poly? As soon as your stain is completely cured you can apply a coat of poly over your stain.
Once the stain is cured then there are no further concerns and a layer of poly can be applied. Though sanding may be necessary before applying the poly to make sure that the surface is smooth to the touch and there is no raised grain on the wood.
Related article:
Can you stain over polyurethane – Summary
Staining is a process that many shy from given that there is no good information about this topic. We hope this article has provided some light into the world of staining and glazing.
In this article, we answered
Can you stain over polyurethane?
Will stain dry on top of polyurethane?
Can you stain over polyurethane without sanding?
Can I add stain to polyurethane?
How long after the stain can I Poly?
While staining over poly is absolutely possible make sure that you apply another top layer of poly to protect the stain from scratches and other forms of damage.