Pallets are flat, wooden arrangements primarily used to hold heavy consignments in storage or transit. However, there is a growing interest in pallets among DIYers and professional woodworkers as more people are devising creative ways of utilizing these arrangements. From coffee tables to porches, there is no end to the range of outdoor furniture that can be crafted using pallets. 
On the flip side, pallet wood is not weather resistant. As such, finishing your wooden arrangements before using them for exterior applications is important. Below is a detailed breakdown of how best to treat pallet wood to ensure it is durable for outdoor use. 
Choose Safe Pallet Wood
Before kicking off the treatment process, you must use safe pallet wood. There are two main factors to look out for: chemical spills and industrial markings. 
Chemical Spills
Given pallet wood's original industrial use, there is a high likelihood that the timber has been exposed to hazardous chemicals. Mishaps such as chemical spills amidst transportation are bound to happen. Therefore, it is prudent that you inspect all your pallet woods thoroughly to check for any visible discolorations or stains. Only use stain-free pallet woods and remove the rest, preferably by burning. 
Industrial Markings
After picking out the spotless woods, check the pallets' sides for markings or stamps. You can expect to encounter multiple stamps, each with its unique meaning. Among them are treatment codes that highlight the pallet's treatment process. 'HT' means heat treated, 'DB' means debarked, and 'EPAL' (European Pallet Association Logo) implies that the wood was heat treated and debarked. Any of these logos signifies that the pallet wood is safe for you to utilize. 
However, you should avoid using pallets with the 'MB' (methyl bromide) stamp. MB is an extremely hazardous fungicide that can cause irreversible damage to your eyes or skin and is fatal when inhaled. It would also be best to avoid colored pallets as they are primarily used in transporting dangerous chemicals. 
Preparing Pallet Woods
Once you pick safe and spotless pallet woods, prepare them to ensure effective application. Start by sanding the wood surfaces for a smooth finish. Do this while keeping within the grain to avoid scratching the wood. Use a soft wet fabric to wipe away the wood shavings and dust particles gently. It is also important to give the pallet 1-2 hours to air dry completely.  
Staining Your Pallets
Now that you have a smooth and clean wood surface to work with, your next step should be to stain the pallets. Water-based dye stains are your best bet since they are the most lightfast of all stains available on the market. This attribute means that the dye's color will stay fresh for longer. 
Additionally, water-based dye stains take a lot of time to dry. Although this will make the staining process time-consuming, you will have more time to eliminate any excess stains and ensure the wood has a lush finish. The icing on the cake is that slow drying gives the dye stain ample time to penetrate deep into the wood's fibers, adding to the pallet's color and character. 
Application Process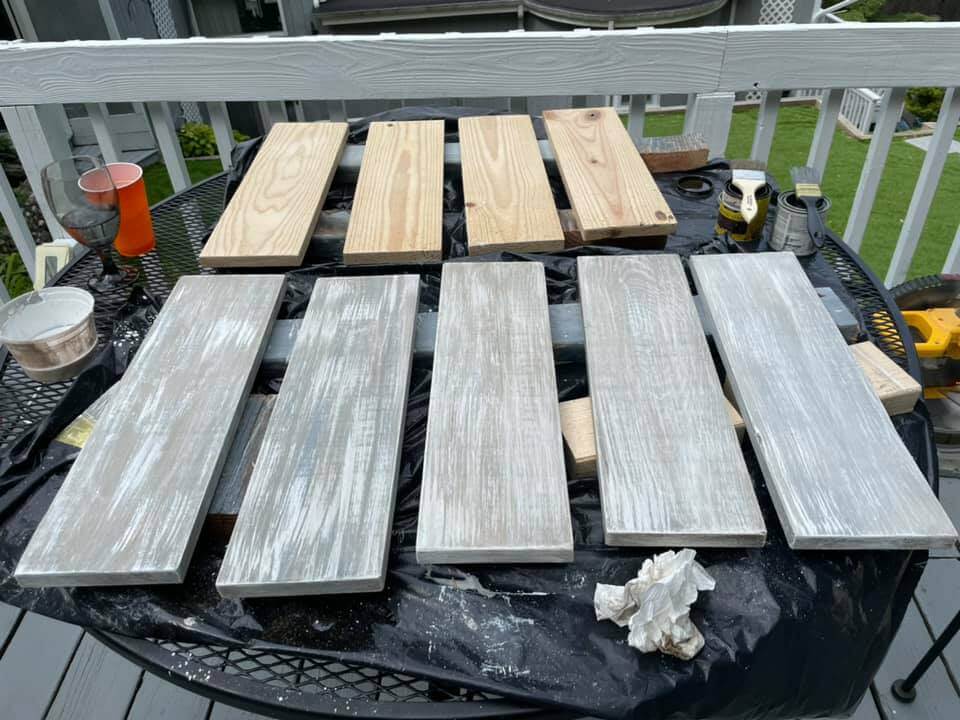 Use a brush or a spray to gently apply a light coat of water-based dye to the pallet wood. If the first coat seems lighter than you intended, proceed to add a heavier coat, but only after the first layer is dry. Staining pallet wood in humid areas will cause the timber to flake. Look for a dry and cool area to carry out this procedure. 
Finish Up With a Sealer 
The final piece of this puzzle is using a sealer such as shellac. It will add extra protection to your pallet wood from the natural elements, allowing for added durability. 
Clean your brush with mineral spirits and apply the shellac fast and evenly over the entire wood's surface. Make sure to apply along the grain and pay particular attention to the end grains. Our outdoor wood treatment guide notes that unsealed end grains are the most effective wood parts for stain or finish absorption; thus, they should be prioritized during application. Allow the shellac 2 hours to cure and gently sand down any splotches using grade 7 fine-grit sandpaper for a smooth finish. Be careful not to sand away the sealant. Lastly, wipe out the sand debris using a tack fabric. 
Conclusion
Pallet wood is a lovely addition to your household, especially in the outdoor environment. However, this timber must be treated to ensure it withstands the natural elements. To do this, start by picking spotless pallets, and check the markings for any unsafe wood. Afterward, stain your pallet using water-based dye stains and finish with a sealer coating.