Staining could be the best solution if you have just finished installing a deck and don't like the uninteresting plain color. A few factors will determine the best stain for a new deck. But worry not, for we have everything you need to know before buying stains for your new deck, including a list of our favorite decking stains.
Best stain for a new deck
The Cabot Wood Toned & Deck Siding Stain is the solution if you need the best results from an oil-based stain for a new deck. This is our favorite stain for a new deck because it can keep out moisture and protect the deck from mold and mildew.
That notwithstanding, unlike other stains, it resists peeling and cracking and dries fast. It will be dry in one or two hours after application. That's not even the real deal. Its oil-based formula ensures the durability of the stain on your deck, and you will love how the resulting matte finish is appealing and speaks for itself.
With Cabot Wood Toned & Deck Siding Stain, you will have a variety of wood tones for your new deck, from warmer browns to cooler grays. If you dwell in a region with severe weather, your deck is at risk of suffering cracks, requiring you to maintain it regularly. However, if you use a shade of brown and all you need is something that will require as minimal routine reapplications as possible, then you can never go wrong with Cabot.
And our runner-up position goes to DEFY Extreme Semi-Transparent Wood Stain, which, unlike Cabot stain, is a water-based acrylic that will offer your new deck excellent protection against chipping. Moreover, we thought this was a good contender because of its ultimate protection from the sun.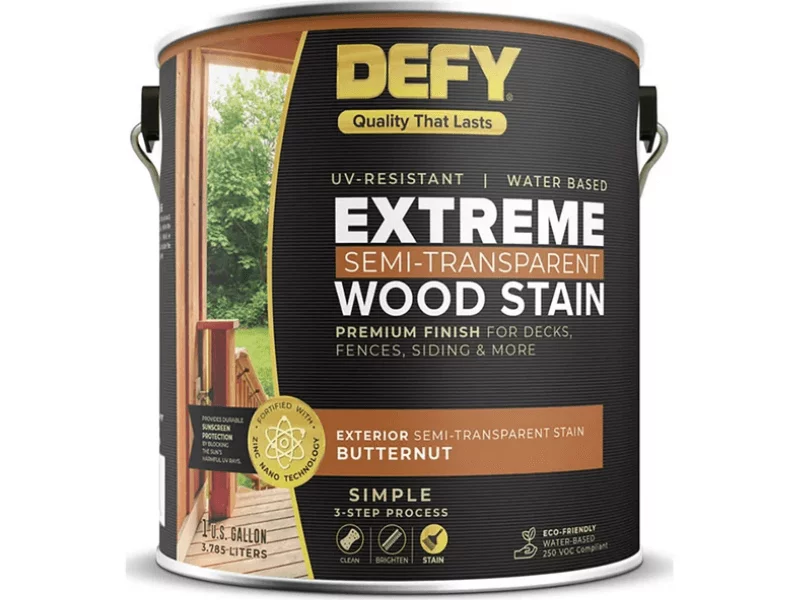 But look at this, once you apply this DEFY stain, you can clean it up with nothing more than water and soap. Each additional coat you apply will add more coloration, but a single coat will offer little protection from UV rays compared to the two.
The best thing is that with DEFY Extreme Semi-Transparent Wood Stain, you cover a large area so that you don't apply as much as you might with other wood stain brands. Some water tests will be enough to ascertain whether you require a second coat since you only need to apply so that water drops beads on the wood. 
If you're looking for an affordable and practical stain for your deck, Ready Seal 112 comes in handy as protection for your new deck from the start. Compared to the two stains I have recommended above, this efficient two-in-one application saves you money and time, and the product has a wide selection of wood-toned colors.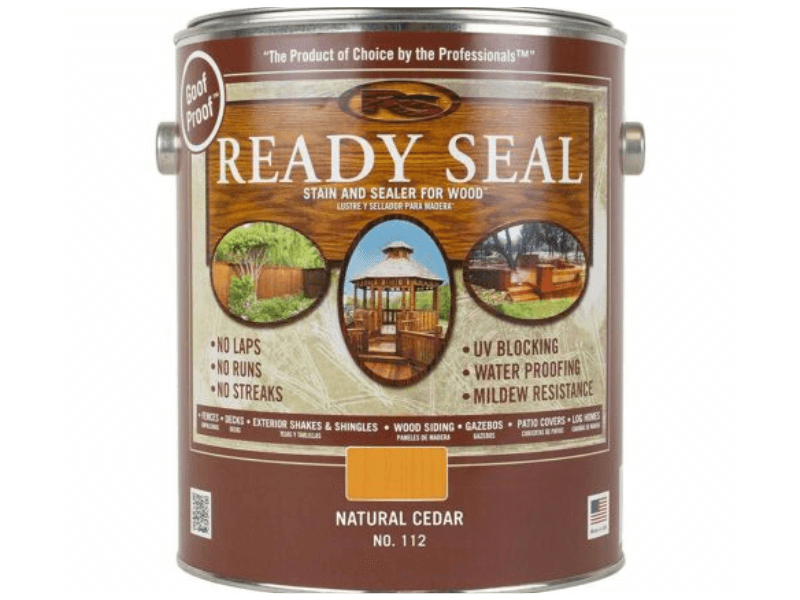 What makes Ready Seal 112 an outstanding stain for a new deck is its ability to penetrate the wood for deep protection and, simultaneously, allow the wood grain to appear. The product has UV blockers that prevent fading and enhance its resistance to mildew growth and mold. 
This oil-based, semi-transparent stain penetrates the wood for deep protection yet allows the wood grain to show. It contains UV blockers to prevent fading and resists mold and mildew growth. Moreover, you will be surprised by how this oil-based product adds a rich golden hue to your new deck and a slight sheen. However, as an oil-based product, it will emit fumes. But if you apply it to an entire deck outside, you don't have to worry about the fumes.
Considerations when staining a new deck
When staining a new deck, you should make these considerations:
Opacity
More often than not, clear or transparent stains are considered the best when it comes to newer wood, especially for your high-quality new deck, since these stains allow you to maintain the wood's natural beauty and highlight it. Solid stains are the best bet for your project for decks with visible imperfections. Moreover, they work so well in instances where you would like to change the color scheme of your deck completely.
Base
It is crucial to carefully consider whether the stains you will be applying to your new deck will be water-based or oil-based. Water-based stains have better UV resistance and avoid fading than oil-based stains. They're non-flammable, environmentally friendly, dry faster, have fewer odors, and their breathability prevents moisture from becoming trapped in the wood. However, they also take longer to apply.
On the other hand, oil-based stains are very easy to apply and are not durable. While these stains provide an almost identical level of protection against moisture, they are more likely to trap moisture and have less lasting power.
Type of wood.
Blotching, or uneven stain coloration brought on by inconsistencies in wood density, is the worst thing that can happen to the finish on your deck. Blotching is always ugly in woods such as pine, spruce, fir, aspen, and alder. Other types of woods like birch, cherry, and soft maple blotching can be ugly, although they may appear attractive. In woods such as walnut, curly maple, bird's eye maple, and most burls, uneven stain coloration is always very attractive. Some woods, such as ash, oak, and mahogany, do not smudge. Therefore, your choice of wood is as important as your choice of stain.
Read more on Redwood vs Cedar for Decking 
How do you prepare a deck for staining?
Before applying a stain on a deck, ensure you clean the surface of dust, dirt, wood fibers, grease, and mildew. If the surface is not clean, stains may not stick well and may end up peeling. Follow these steps:
Sweep the deck thoroughly to remove all leaves and other debris.
Using a pump sprayer or roller, apply cleaner liberally but remember to wear protective equipment to avoid contact with your skin and eyes. If you have a large deck, work in small sections to ensure the area stays wet.
Wait 15 minutes, and then work the cleaner on the surface using a stiff synthetic-bristle brush. Scrub thoroughly to remove all residue.
The hose rinses the cleaner completely from the wood with a good stream of water. You may also use a power washer with a 45-degree tip set at 1200–1400 psi. Keep a distance of 8- to 12-inches from the surface and spray with the wood grain to avoid damage to the deck's surface.
After completely drying the deck, lightly sand any new wood areas to remove any remaining residue.
Check out our article on 3 ways to strip solid stains from a deck for more advanced preparations.
Do you need to sand a deck before staining it?
Well, it depends. Applying a light sanding won't hurt your deck. What matters is the condition and age of the deck. Sanding is more for the feel of the deck than to prepare it to accept a new stain. It would be best to consider whether you want a little rough wood for some extra traction or smooth and sleek wood, like freshly stained furniture from a showroom floor. Whether you want to take the extra time and expense to complete the process or whether the boards are warped makes it difficult even to sand it flat. All of these should be considered. However, sanding will not harm your deck. Learn how to sand your deck correctly from this: best way to sand a deck.
Is applying stain to a deck by brush or by roll better?
You are probably wondering whether a brush is better than a roll when staining a deck. The answer is simple: the brush is better when staining a deck than the roll. For anyone after excellent results when staining, deep penetration of the stain into the wood is of the essence for a long-lasting stain to protect the surface. Using a brush will allow you to apply the stain well and work it into the wood grain. When you apply the stain, keep some spare rags nearby to whip off the excess stain before it pours or starts to run.
How many coats of stain should you put on a deck?
Transparent stains need only one coat, although some experts argue that for better wood protection, two coats are ideal. For the following reasons, we oppose the idea of multiple coats.
After thorough research, we have established that multiple coats do not offer more protection to the deck. In particular, applying additional coats does not affect the protection but the color when using an oil-based stain. Any additional layers won't adhere to the wood grain the same way the first layer of stain did once applied. One coat is better than none at all. We're not saying you can't apply more than one coat to a deck; all we're saying is that if you only need a little extra protection, one coat will do.
summary: What are the best stains for a new deck?
Despite the name, you can use deck stains for any variety of wooden constructions and installations as long as they are meant to be used outside. Most importantly, if you have a deck in your backyard, using one of the best deck stains for a new deck listed above is important if you want your deck's wood to look great and stay looking great for as long as possible. With all of these best deck stains and sealers, you can also discover their primary aspects and factors. 
To protect your deck from mold, mildew, peeling, and cracking, then Cabot Wood Toned & Deck Siding Stain is the best. For Ultimate protection from sun and chipping, DEFY Extreme Semi-Transparent Wood Stain. And for a stain that matches your budget and project, Ready Seal 112 Natural Cedar Exterior Stain and Sealer comes in handy.