Today the deck is an essential component of the ideal home. It comprises part of outdoor living that is crucial as a playground for children and pets and suitable for holding parties. Whether it is during the building of a new deck or occasional maintenance, sanding is a crucial step before the finish application.
Often, it is recommended that one seeks the service of a qualified professional. However, if one is up to the task, the process is fun and not so difficult. Without further ado, what's the best way to sand a deck?
Let's see
How to Sand a Deck
Steps involved in Deck Sanding
Preparing the Deck
Sanding
Cleaning
Preparing the Deck
This first step in the sanding process is very important. Preparing the Deck for sanding is basically checking for nails that have loosened and stuck out, hammering them in place, or removing them and putting new ones to ensure the deck's integrity is in top-notch condition before the start of sanding.
Additionally, this step involves replacing spoiled boards with new ones, fixing holes on boards, and ensuring every piece of wood is held tightly in place.
Materials Needed
Safety Wear (goggles, gloves, earmuffs, appropriate footwear, and respiratory protective masks)
Hammer, appropriate nail pull equipment
Sanding equipment, such as a belt sander
Cleaning equipment
Sanding a wooden deck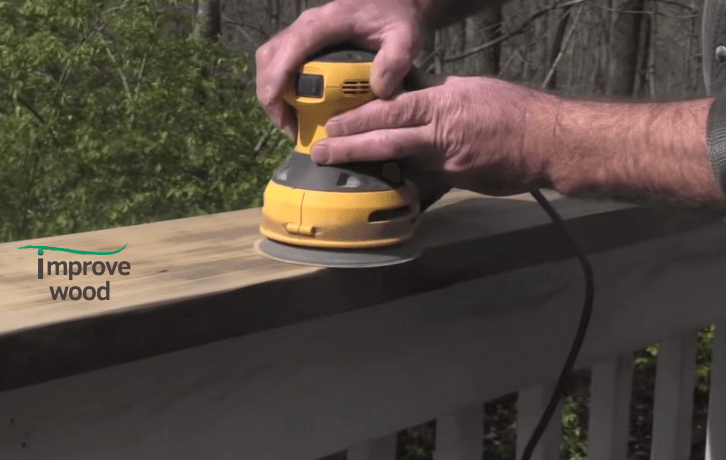 This process requires the right choice of sanding equipment if it is to work out as expected. There is numerous sanding equipment in the market, with the more common ones being:
Belt Sander.
Disc Sander.
Detail Sander.
Drywall Sander.
File Sander.
Orbital Sander.
Oscillating Spindle Sander(OSS)
Random Orbital Sander
Belt Sanders is best for a nonprofessional, and they work quickly. For open surfaces, 80-grit sandpaper is suitable. During the sanding process, move the sanding machine back and forth on the deck with equal pressure. For corners and hard-to-reach places, use a palm sander. Repeat the sanding process using finer grit to achieve a smooth surface. The deck must be cleaned after each sanding round.
Cleaning the deck after sanding
Deck cleaning is done after each successive sanding round to remove the sawdust and have a better view of the deck to determine how much more sand is required. The use of sweeping tools can achieve cleaning.
Why Does Wood Need Sanding?
Often, wood bought from millers has a coarse surface and is uneven with dents and marked with blemishes.
Additionally, it becomes necessary to repair your wooden deck with time, a process that requires you to sand it. This is because, as the wooden deck becomes worn through frequently being stepped on, washed, and exposed to the elements, it becomes uneven. Such a deck is uncomfortable to step on barefooted.
The purpose of sanding is to achieve a smooth finish even before it is stained. Consequently, your deck or other wood surface becomes aesthetically pleasing to the eye and comfortable to the foot. Removing solid stains from wood deck and sanding is also an important step before painting a wooden surface. In most cases, sanding is done to remove an existing coat on a deck as it becomes worn out with time to apply a new one.
When should you Sand your Deck?
Despite different types of woods with varying toughness qualities, it is necessary to conduct occasional deck maintenance. Sanding a wooden deck is one step in maintaining that deck to ensure longevity. For most decks, the applied finish is transparent and has a lifespan of about two years.
However, other semi-transparent finishes last for about five years due to their sun-blocking capabilities and can last longer. It is advised to begin your deck maintenance following the lifespan of the finish used.
What's the best way to sand a deck: A Summary
Although an outside structure, the deck needs as much care as other parts of the house. The duck is exposed to varying harsh climatic conditions such as rain, sun, and snow. For this reason, the deck needs even much more care than other parts of the house.
Often deck maintenance involves removing the existing finish to apply a new one. Sanding is a necessary step before the application of the chosen finish. Sanding brings out the beauty of the deck wood as it allows the finish to attach well and smoothly.
Most important, sanding removes blemishes and turns a coarse surface into a smooth, comfortable one. Hiring an expert to maintain or repair your deck is often expensive and not a smart move if you have the time since the steps for sanding are easy to follow and achieve.
Check out: the best stain for a new deck