If you're looking to start carving in wood, you might want to consider buying some power tools. It's not just about increasing the speed of your work, and it's also about how much more control you have over your final product! Carving with power tools can be intimidating at first, but once you get used to them and start learning their limits, you'll be carving wood like a pro in no time.
Carving with power tools entails using motor-driven equipment that rotates a shaft with cutting tools known as burs or bits mounted on the end of the rotating shaft. The bur is the tool that does the carving, and it does so in a very controlled manner, allowing you to carve delicate designs and intricate detail that would be difficult to carve with traditional tools.
We've put together a list of the best power tools for wood carving here so that you can compare the different features and figure out which one is right for you!
Best power tool for wood carving: Our top picks
The 5 Best Power Carving Tools for Woodworking-Review
The Dremel 8220-1/28 Rotary Tool Kit is a must-have if you're looking to power carve a piece of wood into a work of art. If you want to create detailed patterns or designs on your piece of wood, then look no further than the Dremel 8220.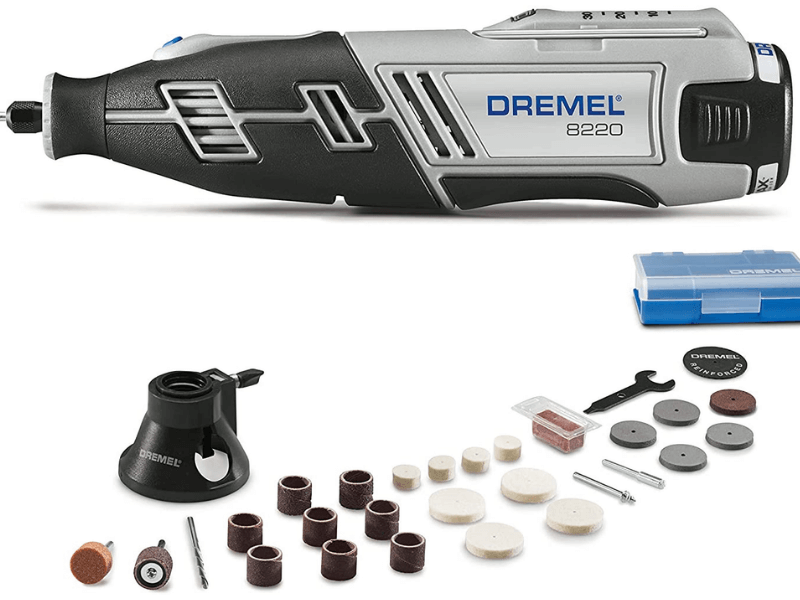 It is a rotary tool capable of cutting, sanding, and carving almost anything. It has variable speed and reverses functions, which come in handy when working with delicate items. With the chuck, users can swap out bits or use their own. It comes with one attachment and 28 high-quality Dremel accessories that you can easily swap out depending on the type of project you're working on. The accessories are interchangeable with all Dremel bits, allowing you to complete even more complex tasks.
This model comes with a 12V Lithium-Ion battery that can power the motor and give maximum performance at all speeds. The maximum performance and run time is 5,000-30,000 RPM at all speeds, and the lithium battery can last for hours before charging. It is simple to recharge after the charge has been depleted because it only takes one hour. In terms of visibility, the Dremel 8220 tool includes an LED light to help you see what you're doing while cutting.
This device also has a slim and ergonomic body that is light in weight, making it easy to transport in your area of operation. This design allows for 360-degree grip control in any position.
The 8220-1/28 comes at under $100, so you won't break your bank trying to get your shop up and running even if you're on a tight budget.
I would highly recommend this tool to woodcarver who likes carrying their carving tools in different places.
If you are looking to get started in wood carving, then why not look at WEN's range of products and see if they suit your needs. The WEN 2305 model is an excellent piece of equipment with many extra features that make it ideal for beginners. With low vibration and a wide range of accessories, it's simple to carve various shapes.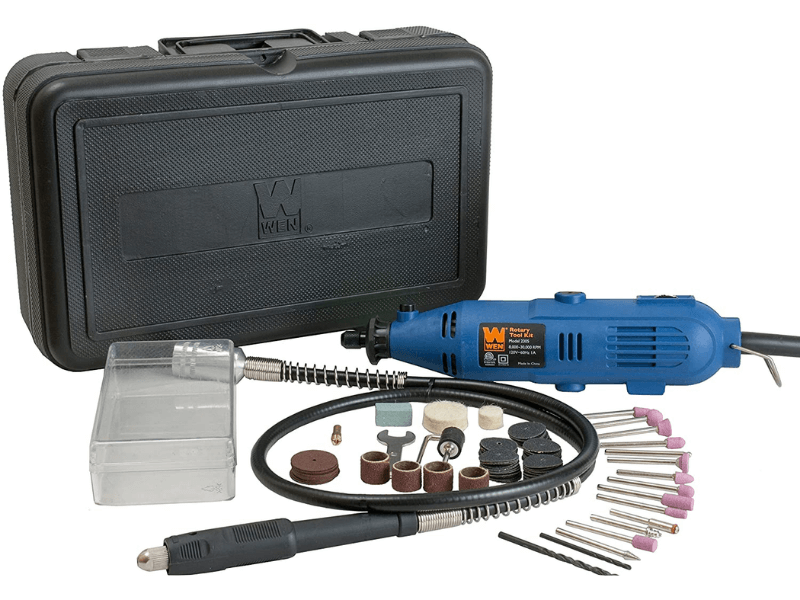 It comes with a wealth of attachments, but it also comes with a handy carrying case so you can easily store all your accessories while they are not in use.
It comes with an 80-piece accessory package that includes a wide range of bits and discs to meet the needs of any project. It even has a speed control feature that lets you choose how fast or slow you want your workpiece to move and variable speeds that allow you to work on different materials without changing tools.
This tool also includes a powerful 1 AMP motor that is double insulated for safety, runs on 120 volts, and has a variable speed range of 8,000 to 30,000 rotations per minute (RPM). I was able to adjust my work speed to the project's demands thanks to the varying speeds. The rpm is directly linked to the bur's pace removed from the wood. When carving, the faster a shaft moves at a greater rpm, the faster the wood is removed.
The 2305 kit also includes a flex shaft compatible with all of your favourite accessories. This gives you far more flexibility than any other rotary tool. The flex shaft eliminates the need for users to hold the actual rotary tool, providing you with greater control and comfort in your project.
To use the Flex Shaft, you attach one side of the flex shaft to the rotary tool and one to the end of the flex shaft: you attach your accessories, depending on the type of project you're working on. The flex shaft is ideal for projects requiring intricate design.
The machine is lightweight and portable, making it easy to take with you on jobs. The ergonomic design makes it comfortable, even when doing extended projects.
While some users report vibration issues, most are happy with their purchases. Therefore, if you're looking to work on woodcarving projects quickly, then look no further than WEN's powerful rotary tool kit.
Has an aluminium cast body which makes it lightweight and hard o beat
Has a forward-reverse Action cutter header that carves through the toughest woods with just simple hand direction
Comes with five blades
Has an 80-watt ball-bearing motor that delivers 10,000 vibrations per minute for 1mm cutting strokes.
The AUTOMACH Power Carver is an interesting tool. It's a powerful tool that you can use as a manual carving tool, but with additional power that lets you carve very quickly, as long as you don't push too hard on your work. With the newest advancement in woodcarving technology, this device will allow you to use your power drill to carve intricate designs and patterns into various materials, including softwoods and hardwoods.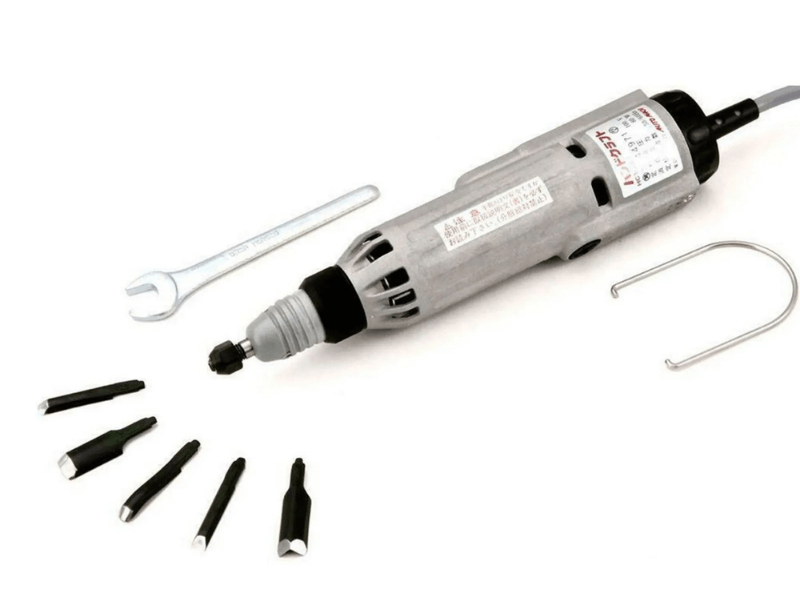 It comes with five-blade profiles: a medium Vee, a small #5 sweep gouge, a medium #5 sweep gouge, a small flat (about 4mm wide), and an 8mm wide medium bent gouge. The blades are easy to change, and it's simple to use; you simply insert the blade you want to use with the urgency of the project into the chuck with a spanner and follow the instructions included with the purchase. You can easily adjust the depth of the cut by twisting a knob on the machine's backside. This power tool is also compatible with Flexcut roughing gouges, and they fit the AUTOMACH just fine.
With an 80-watt ball-bearing motor, the motor is powerful enough to cut through hardwood. It can generate 10,000 vibrations per minute for 1mm cutting strokes. The laminated blades vibrate at 10,000 revolutions per minute with accuracy and speed, leaving a smooth-cut surface. The forward-reverse Action cutter header carves through the toughest woods without producing too much dust with just a simple hand movement.
For safety, free-floating action keeps blades motionless until pressed against the wood. The blade guard protects your hands from accidental cuts when not in use and ensures maximum safety when using the tool. It is also adjustable to accommodate various sizes of blades.
One of its most significant advantages is its ergonomic design, making it very comfortable to hold and use. The tool's aluminium cast body is lightweight and vibration-free, reducing stress on the hands, wrists, and arms. This makes it perfect for long-term use.
The price is also reasonable considering its features. Overall, I think the AUTOMACH power carver is one of the best power carving tools available on market today.
However, as with other power tools, if you use it for too long, it heats up to the point where you can no longer hold it. When I used it for about 20 minutes, I had to let it cool down for about the same amount of time. However, in terms of efficiency and ease of use, that reset time outperforms any other method I've tried. When using this tool, always be cautious!
The GOXAWEE Rotary Tool Kit is a full package of power carving tools essential to your woodcarving success. It includes an electric Mini Grinder, an accessory case, a sanding and polishing tool, etc. With these power carving tools, you'll be able to create almost any shape or design in any wood you desire. The GOXAWEE kit gives you maximum control with up to 50% better precision than hand-carved projects.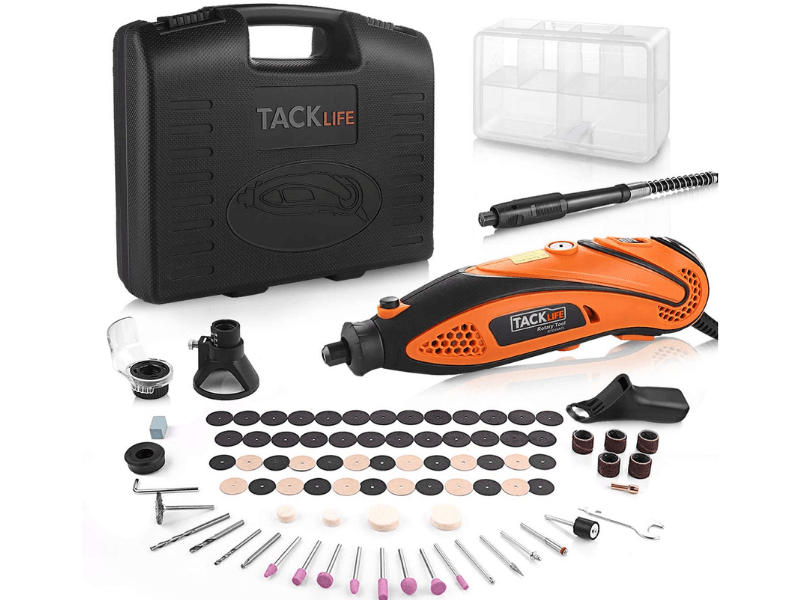 This is one of our top picks because it's affordable, easy to use, and can be used on almost any project. Whether you're looking to carve wood or create jewellery, the GOXAWEE Rotary Tool Kit will help you get started.
It also has variable speed settings, allowing you to work at various speeds depending on what you're doing. The variable speed control knob has a 5-step speed range ranging from 8,000 to 30,000 RPM. By adjusting the speed, you can easily make delicate engravings on wood, glass, metals, plastics, tile, and other materials.
Because of the high quality of the material, it will last for many years without wearing out. Its ergonomic, compact rotary tool design makes it easy to hold, lightweight, and quiet. It also comes in a sturdy carrying case that is both fall-resistant and moisture-proof, and the machine and accessories are well organised for easy portability. Nothing beats the GOXAWEE Rotary Tool Kit when it comes to power carving tools!
It comes with a 140 pcs  Attachment and Accessory set. It is a very high-quality rotary tool kit which can be used to carve, grind, polish, engrave or cut. The kit includes a variety of popular sanding bands (40 grits), carving burrs (30 grits), grinding wheels (100 grits), polishing pads (120 grits) and carving bits, etc. The most important thing is that all attachments are easy to change without any wrench needed. This power carver is suitable for woodcarvers, hobbyists, model makers, etc.
It has a flexible shaft, which allows you to get into those hard-to-reach places. This is an added advantage because the flexible shaft machines have the power to rough out carving and do well in detailed work.
However, a few people have pointed out minor problems in the tool, and there have been some concerns regarding the flexible shaft. The flex shaft attachment became loose from the inside, but they were able to fix it with a few tool skills, using epoxy to bond the flex shaft to the attachment, and it worked. However, if you don't have the necessary skills, I recommend that you replace them with a new one.
The majority of the reviews were positive. The majority are pleased with the tool's price and quality. It is an excellent choice for beginners because it is simple to use and requires no prior knowledge.
Check out our top choice if you want to get started with wood carving but don't have much money to spend on your toolset. The Dremel 7760 is a cordless rotary tool that comes with several different accessories and attachments. It can do it all, from cutting grooves in wood to sanding rough edges.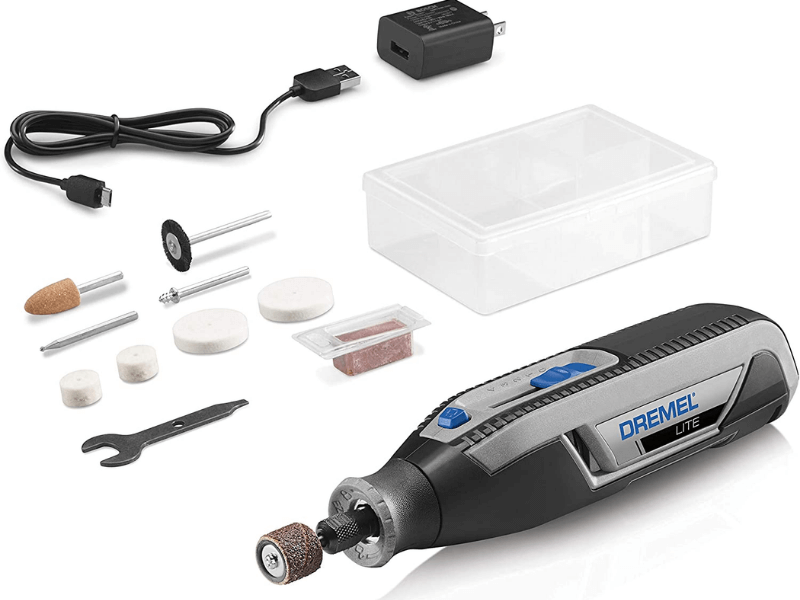 It has an easy-to-use design, making it ideal for beginners. It also has variable speed control, allowing you to work at your own pace. For optimal control and manoeuvrability, you can smoothly adjust the speed from 8,000 to 25,000.
The tool weighs only 1.29 pounds, making it easy to hold for extended periods without tiring or causing discomfort in your hands or arms. It is easy to store when not in use because it is lightweight and compact. It also has a 360-degree soft-grip material for comfort and precise control while working, and its cordless design allows it to be carried anywhere. It also comes with a convenient carrying case, so you can take it wherever you go!
It comes with a rechargeable 4V Li-ion battery and a handy USB charger, ensuring that it's ready whenever you are. The LED light illuminates to alert you when the battery needs to be charged again. However, when working on large projects, the charge will not last long, and you will have to delay your project to recharge, which takes about 2 hours to charge fully.
It is also fully compatible with other tools. It is compatible with a wide range of Dremel accessories and a variety of attachments sold separately.
The only criticism aimed at this tool was its short battery life. However, it is still a very good product that offers excellent value for money.
Buying Guide: How to Choose the Best Power Tool for Wood Carving
Factors to consider before buying a power tool for woodcarving
Once you've decided that wood carving is something you want to try, you should consider a few things when purchasing your tools. Before rushing out and buying any old tool that might be on sale at your local hardware store, there are a few factors to consider.
Safety
While safety is always a concern with power tools, it becomes even more important if you're learning how to carve wood. The last thing you want to do is get hurt while practising your new hobby! When operating a power tool, always wear protective gear, including eye protection and earplugs. It's also important to make sure your work area is clear of litter and other obstacles that could trip you up or get caught in moving parts. And be sure to read all the instructions before using any new tool.
size of project
If you're planning on doing small projects like wooden toys or picture frames, then a smaller tool might suffice. However, if you plan to carve larger pieces such as wooden bowls or furniture pieces, you will likely need something more powerful.
The Power of the Motor
The power tool should come with an electric motor. Any cordless device has a limited amount of use, so if you plan on doing a lot of wood carving, an electric model is more suited to your needs. When shopping for a power tool, check how many watts it's rated at, and then multiply that number by how many amps it takes to get your device started up.
This will give you an idea of how powerful your motor is—the higher the number, the more powerful it is. For example, a 1-amp/12-watt machine isn't as strong as a 2-amp/24-watt one. However, keep in mind that while there are some 2-amp machines out there, most are only 1 amp or less. So when comparing models side by side, look at their wattage instead; they might not be quite as strong as advertised, but they still pack enough punch to handle basic tasks.
Ease of Use
For amateur woodcarvers, ease of use is likely one of your biggest concerns. This means that you want a power tool that's easy to use and requires little instruction or user experience. You don't want to spend hours reading manuals and watching instructional videos before you can even begin carving.
Look for a power tool with simple controls—like buttons instead of dials—and easily accessible features like an eject button for when you need to change blades. If you have trouble operating it right away, it will be frustrating to use over time. A good rule of thumb: If you have trouble operating it immediately, there's a good chance it will be frustrating in five years too. So stick with something that feels intuitive from day one!
Consider whether or not your tool is corded or cordless.
A cordless drill is a powerful power tool that allows you to carve wood using an electric motor. They come with rechargeable batteries which means less money spent on replacement batteries. Cordless drills are versatile because they allow you to get into small spaces where a regular hand drill would not fit. They come in handy if you're carving intricate designs with smaller details.
However, Cordless tools tend to be more expensive but If you're looking for a power tool that can help you with some of your wood-carving needs, consider buying a cordless drill.
Rotary vs oscillating
It would be best to decide between a rotary tool or an oscillating tool. Both types of tools work well for wood carving, but each has pros and cons. Rotary tools tend to be quieter than oscillating ones, but they also vibrate slightly while in use, which can cause some discomfort after prolonged periods. Oscillating tools are often cheaper than rotary ones, but they produce more noise and vibration. Most people agree that oscillating tools are better suited for beginners because of their lower price point and ease of use. Once you've decided on all these factors, it's time to start shopping around!
Durability
The initial upfront costs of a power carving tool can be quite high, so it's important to ensure you buy something that will last. There are cheaper alternatives available, but these tools tend to be made from flimsy plastics and are prone to cracking after only a few uses.
Investing in a durable wood carving tool built to last makes sense if you plan to use it regularly. These products are usually more expensive, but they will save you money in the long run by lasting much longer than their cheaper counterparts. If you want to get started with wood carving, it pays to invest in quality products upfront rather than buying cheap models that need replacing often.
Know your budget:
You're going to be paying for your new power tool, so it's in your best interest to set a realistic budget and stick with it. If you don't have much cash to spend upfront, consider purchasing refurbished tools—they can save you up to 50 per cent off retail prices. In most cases, less expensive models will offer similar performance—and they might even last longer than their more expensive counterparts. If you're unsure what features are necessary for a given project, speak with an expert who can help guide you toward tools that meet your needs without breaking your bank account.
Learn about technical details.
While it's important that you like what you buy, it's even more important to purchase a tool that suits your skill level. Before buying, doing some research can help you learn about all of a tool's technical details. Things like trigger speed, length of charge, and size are just some examples. This way, you know exactly what you're getting. Start with our buyer's guide if you don't know much about power tools. And if there is anything else we can do to help, let us know! We want to be as helpful as possible when making sure you get what will work best for your project.
What comes with the device?
Identifying what comes with your new device is important, but don't overlook additional accessories that might be necessary. If you buy a battery-powered rotary tool, look into a lithium-ion battery pack and charger. A cordless drill might require an extension cord and drill bits. These extra purchases can add up quickly, and even if they aren't required immediately, it's best to know about them before you purchase.
Consider warranty and repair/service options.
Like any other big-ticket purchase, you want a wood carving tool with a manufacturer's warranty. This way, if something goes wrong with your new tool—like it breaks or malfunctions during its normal course of use—you have options for repairs or replacements. Remember that electric carving tools come with different service and repair options than manual carvers do; researching these options can save you time and money down the road.
conclusion: best power tool for wood carving
Power carving tools are an essential tool to have on hand. Power carving tools offer you the ability to create deep, intricate designs that would be difficult or impossible to carve by hand. Plus, power carving tools are often safer than traditional hand carving tools because they limit the amount of force you apply to the blade, which means your blade will be less likely to snap or break unexpectedly during use.
However, there are many different types of power carving tools on the market, and it can be difficult to determine which one is best for your needs without extensive research, as we have done above.