Buying a chainsaw can be a very costly venture. Most chainsaws in the current market cost an arm and a leg due to issues such as marketing costs and brand reputation. However, not everyone can afford to pay hundreds of dollars for a single tree-felling apparatus. This is where budget chainsaws come into the picture.
Cost-efficiency is all about buying at a low price without compromising on quality. With the right budget chainsaw, cost-efficiency is a guarantee as you will get premium features at a cheaper rate.  Below are some of the best budget chainsaws to ensure you get a high-quality machine while keeping within your budget.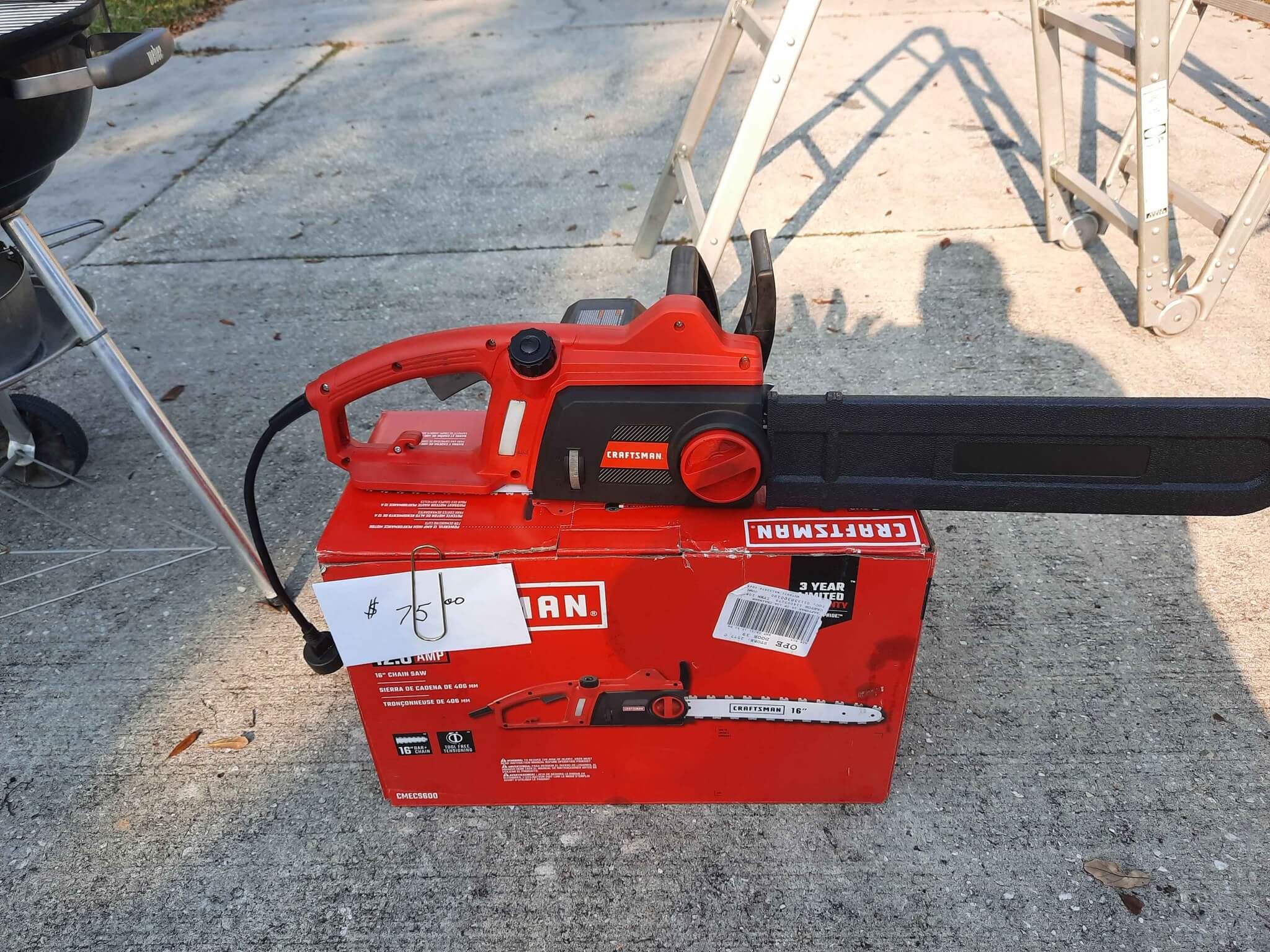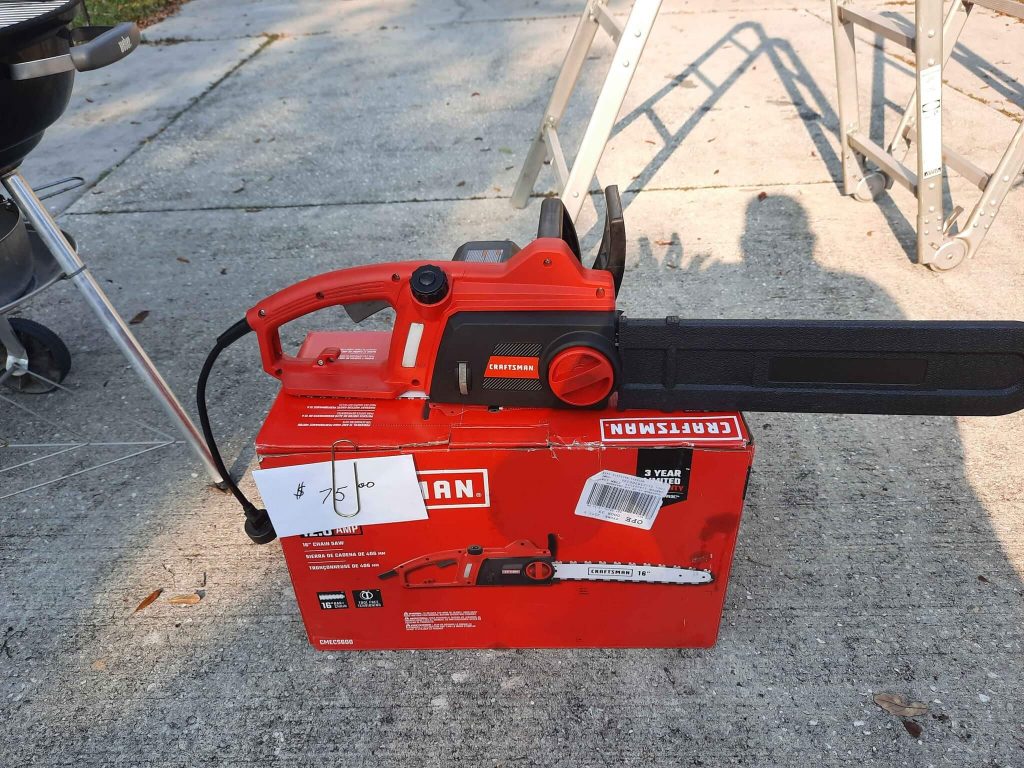 When it comes to budget chainsaws, the Craftsman CMECS600 is the pick of the bunch. It is well under the $100 mark and features a wide range of premium features for maximum efficiency. This 16-inch, 12 Amp electric chainsaw comes fully equipped with a powerful 3.5 horsepower motor that makes light work of even the toughest cuts.
The machine's design was also built with the operator in mind, as it features a built-in oil window to eliminate the inconvenience of priming and not knowing when to refill. It is also hailed for its ease of use as users can adjust the chain's tension without using any tools. 
Additionally, the Craftsman CMECS600 weighs only 6.2 pounds and has limited kickback. Thus, you can efficiently maneuver around thick spaces without worrying much about your safety.
The only drawback of the Craftsman CMECS600 is that it uses corded electricity. Therefore, it has limited portability, and you will be required to further purchase a 100 ft. or 50 ft. extension cord, depending on your intended use.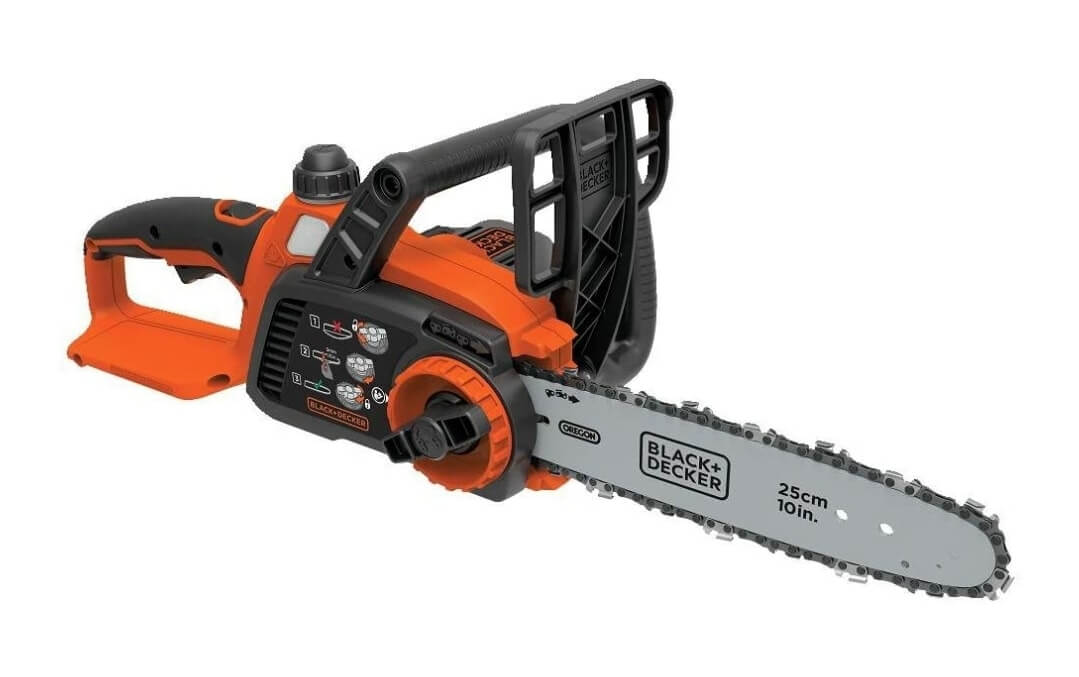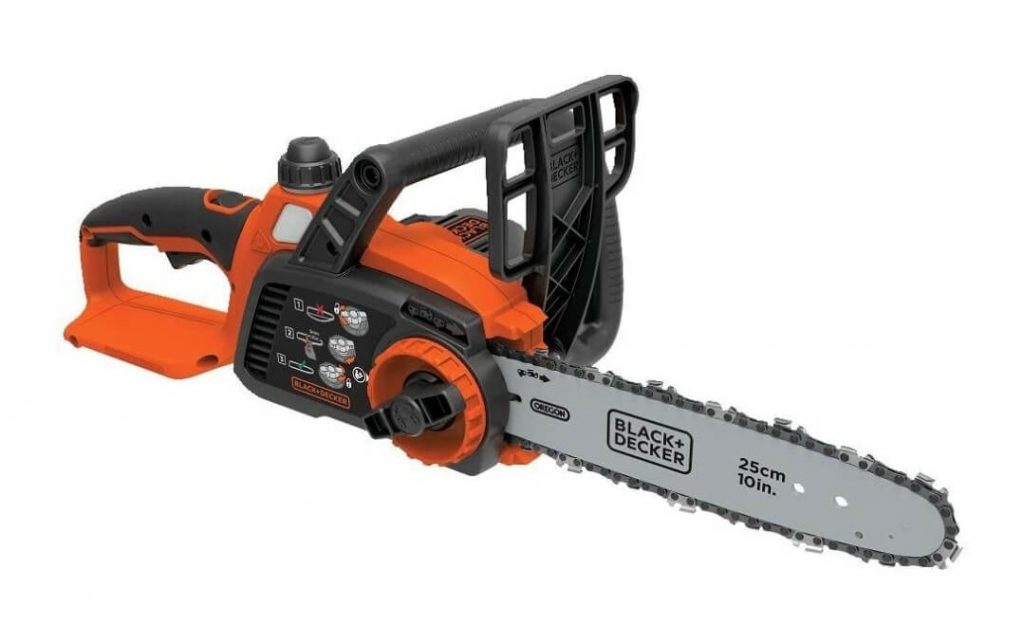 The Black+Decker LCS1020B is arguably the most inexpensive yet powerful cordless chainsaw. It features a low kickback output, an impressive 20V cut capacity of 10 inches, and a compact design. Combined, these features allow you to cut through tough logs and branches with more ease.
An integral part of its compact design is the chainsaw's wraparound bale handle which allows you to maintain a stable, firm grip with maximum comfort. The Black+Decker LCS1020B also comes fully equipped with an in-built automatic oiling system, ensuring the chain and bar remain lubricated.
The icing on the cake is its modular battery-powered system. It is powered using lithium-ion batteries of varying capacities. You can use a 4.0Ah battery for long tasks or a 1.5Ah battery if you plan on running a quick errand.
This feature accords users' portability and convenience of use. However, it also makes the Black+Decker LCS1020B a more costly option than the Craftsman CMECS600 since the batteries and charger are sold separately.
Other Notable Budget Chainsaws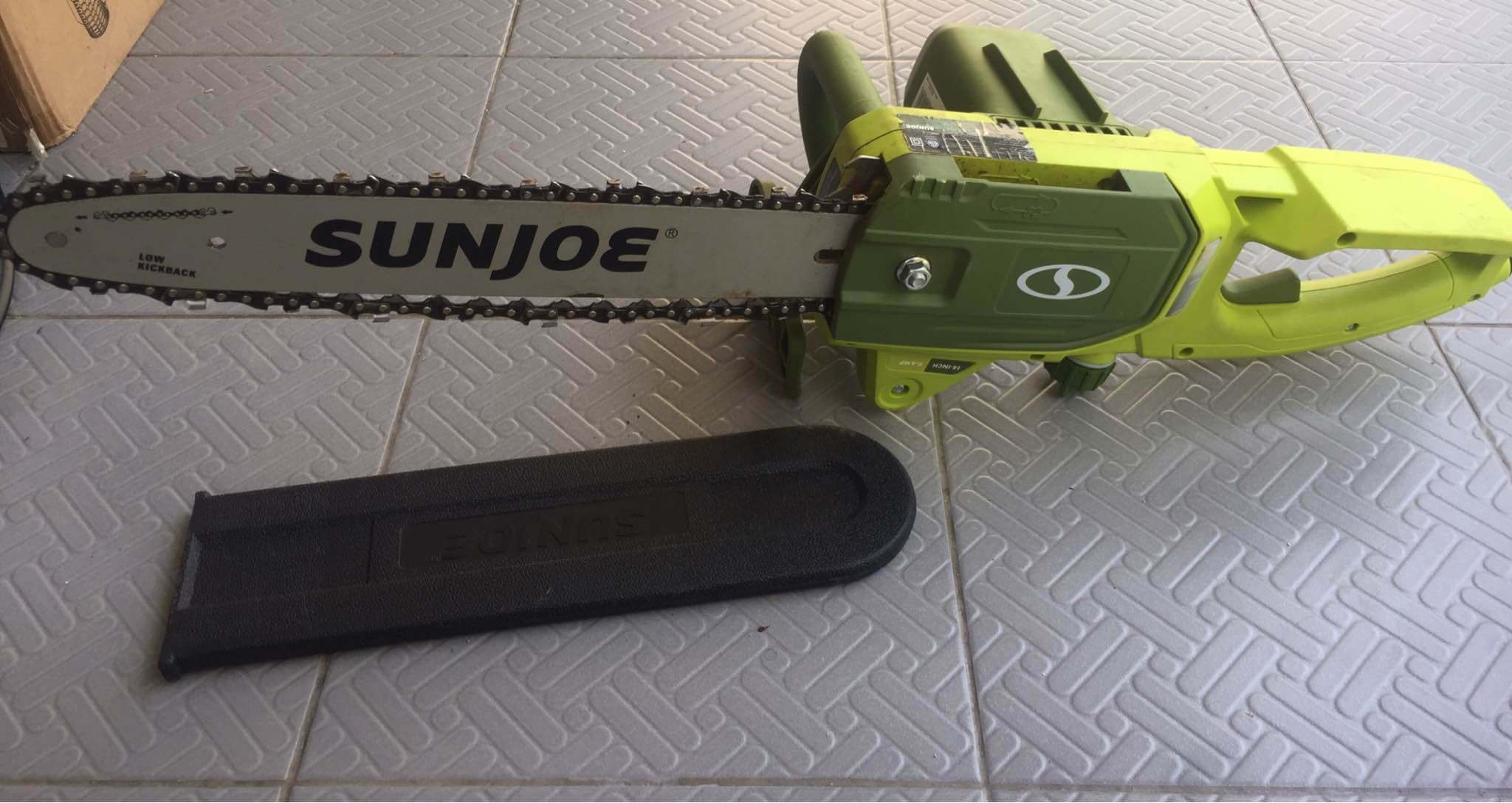 Another budget chainsaw worth mentioning is the Sun Joe Limb Master SWJ599E. It features 14 inches of Oregon bar and chain powered by a 9 Amp motor which allows it to cut through branches with a thickness of up to 13.5 inches. Unlike most chainsaws, this unit also has a safety switch.
It is designed to prevent the machine from accidentally starting, thus minimizing the risk of injury during use. The chainsaw also has a self-lubricating system that ensures continuous lubrication of the chain and bar. On the flip side, the Sun Joe Limb Master SWJ599E is powered using corded electricity, limiting its portability.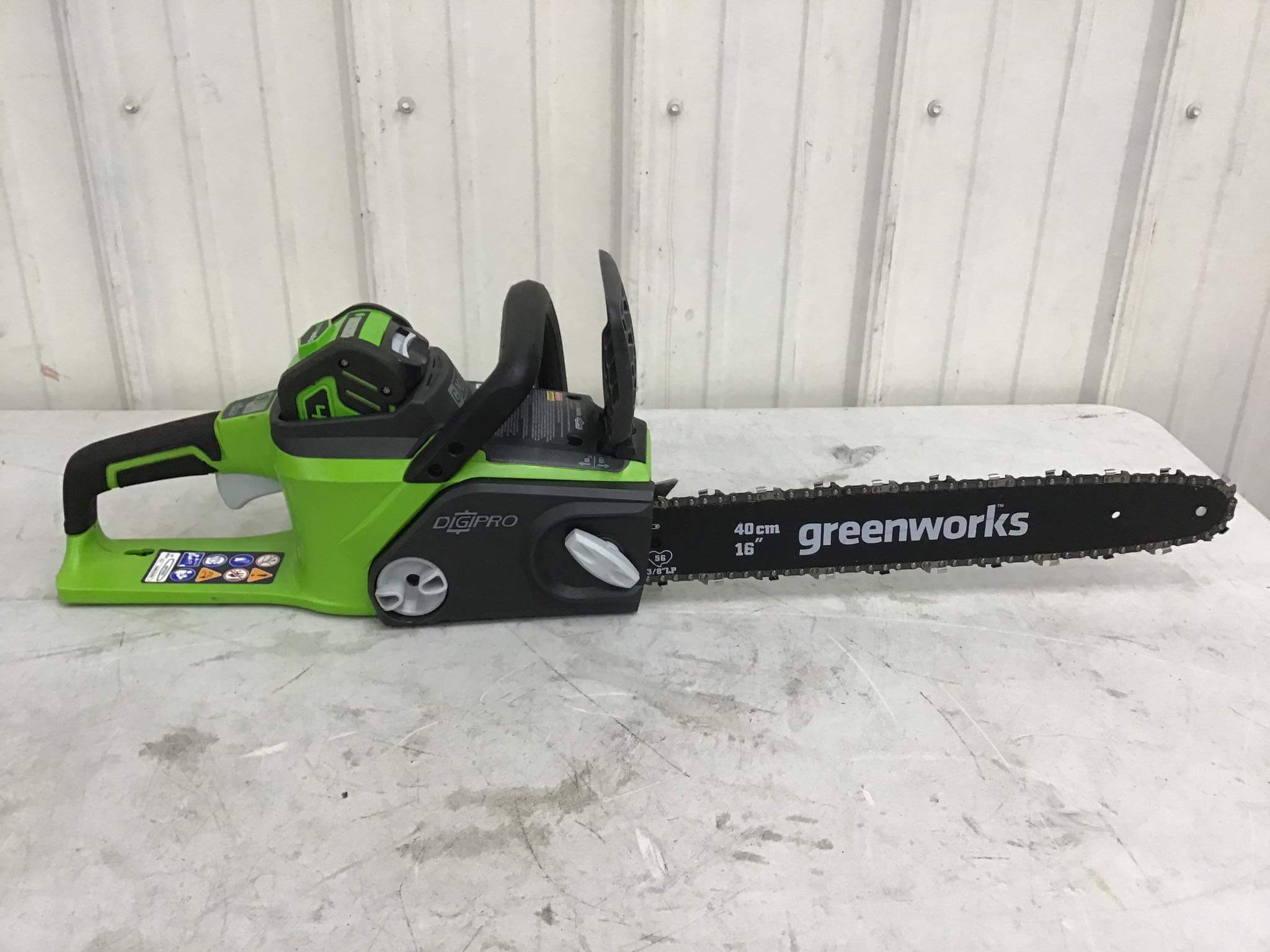 Another worthy contender is the Greenworks 20312. This 40V, 16-inch chainsaw offers massive power at a significantly lower price. It has a 4Ah battery that can offer up to one hour of cutting power for an ideal outdoor experience.
It also features an automatic oil lubrication system with an electronic chain brake that is activated whenever the bar or chain runs out of oil. The Greenworks 20312's motor technique is also a hanker as it features a one-of-a-kind brushless design.
This innovative feature provides you with 30% more torque, 80% more durability, reduced vibration, and minimal noise.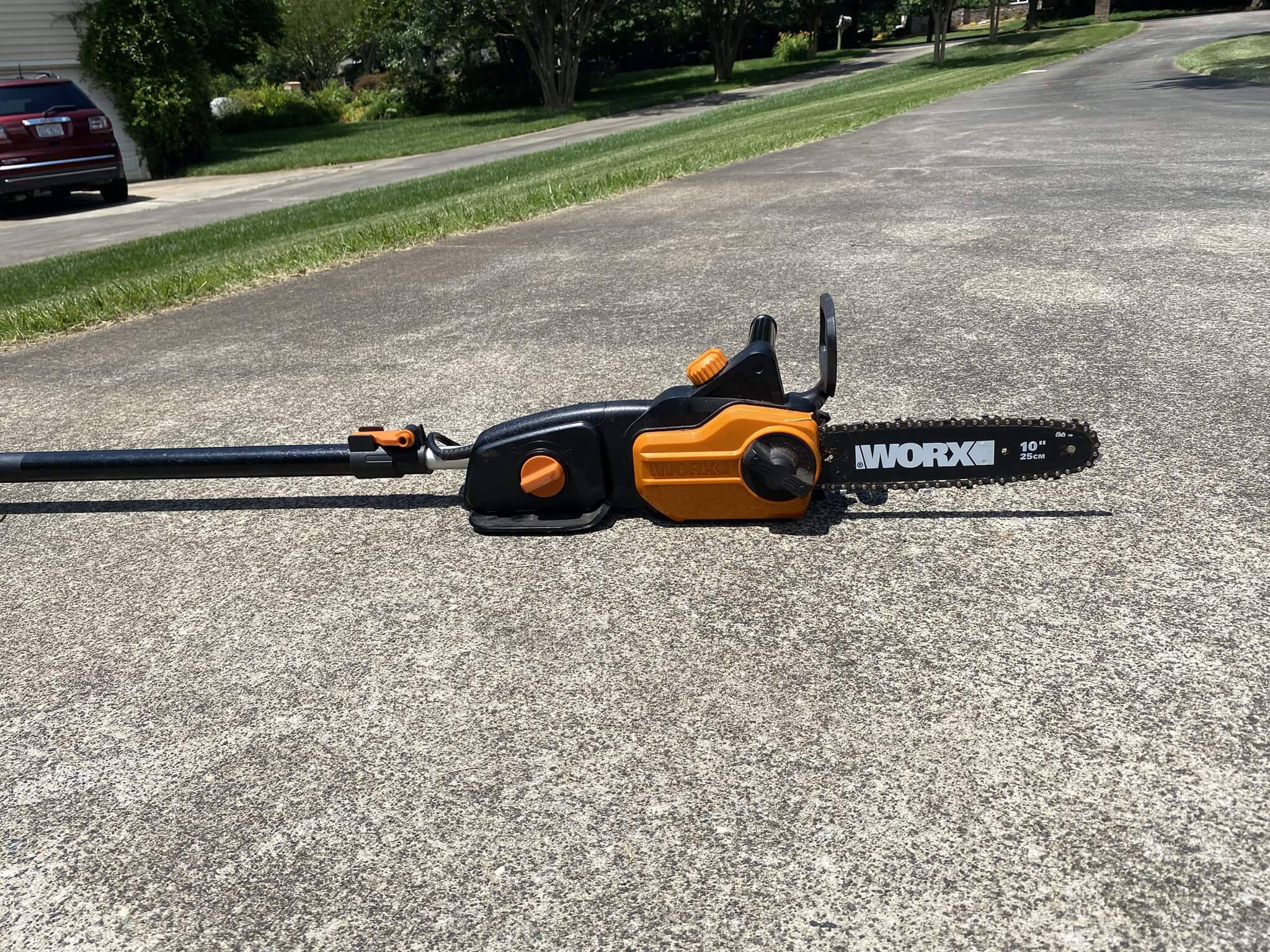 Lastly, the Worx WG309 2-in1 chainsaw also offers more for less. Despite its affordability, this is a very versatile unit as it features a pole saw and a handheld chainsaw. Thanks to this 2-in-1 capability, you can effortlessly switch from cutting high branches using its 8ft. extension pole to sawing down trees.
Other notable features include a fixed flow oil system, an ergonomic handle, and tool-less chain tensioning.
See tutorial: how to sharpen a chainsaw
Best Practices for Proper Chainsaw Maintenance
Getting an affordable chainsaw is never enough. You must maintain it properly to ensure it gives you good value. In this case, one of the most important factors to consider is chainsaw storage. Ultraviolet light, moisture, and accumulated light are detrimental to metals since prolonged exposure causes them to lose durability. Therefore, storing your chainsaw in a well-sealed bag and in a dry, dark area is advisable.
Clean fuel is also a must-have for any chainsaw. You must empty the fuel tank occasionally to prevent a build-up of the fuel mixture. You should also drain the carburetor and other internal parts to prevent moisture from accumulating. This practice will keep your chainsaw in tip-top shape, ensuring it starts easily and runs seamlessly.
A fundamental step in chainsaw cleaning is dismantling the machine to clean each one of its parts efficiently. With proper access to all the pieces, you can dust the whole chainsaw and apply mineral-grade oil needed for enhanced corrosion resistance. However, dismantling a chainsaw can be a challenging affair, especially for beginners. Watch the video below on how to disassemble your chainsaw for efficient cleaning.
See also the best chainsaw sharpening kits for home sharpening of your chainsaw.
Conclusion: The best low-budget chainsaw on the market 
You need not spend a fortune to get a high-quality chainsaw. There are several cost-efficient models out there. The Craftsman CMECS600 is the best budget buy as it offers premium features, including maneuverability, ease of use, user safety, and a hefty 16-inch cut capacity for under $100. Other notable cost-efficient chainsaws include the Balck+Decker LCS1020B, the Sun Joe Limb Master SWJ599E, and the Greenworks 20312.