Choosing the appropriate wood to carve with your chainsaw doesn't have to be difficult, but it can be if you don't know what you're looking for. When choosing a suitable wood for carving, three key factors are size, grain, and knot content. Keep reading to learn more about choosing the best wood for chainsaw carving and how to identify good quality lumber.
The best wood to use when carving with a chainsaw depends on the project you're trying to create, whether you're carving small decorative pieces or more oversized functional items. Several species lend themselves well to chainsaw carving, some of which are much better than others. Hence, it's essential to understand the characteristics of each kind before you begin cutting away at your log.
In this guide, we'll go over the basics of choosing the best wood for chainsaw carving and list out some of the top woods to use so you can start creating your next sculpture.
What to Look For in Wood
When carving wood, there are a few basic things you should look for: straight grain, intense color, and an even texture. You'll also want to ensure that any branches or knots don't protrude from the surface of your piece.
The chain saw is highly unforgiving when working with knots; if you want detailed carvings, be wary of knots in your wood and try not to work with pieces that have them. If you're looking for what to do with fallen trees and stumps on your property, chainsaw art is a great option—it helps clear space and gives way to beautiful finished products! Also, chainsaws offer more control than band saws or jigsaws can provide. If cutting patterns into wood interests you, consider taking up chainsaw art as a hobby. Good luck!
See how to sharpen a chainsaw.
Choosing the Best Logs
When choosing which logs will best suit your chainsaw carving project, there are a few things to consider.
The first is choosing a log that has not yet decomposed. A log that has decomposed can be a problem if you want to carve outdoors (where soil exposure will promote decomposition) or if you don't have access to a well-sealed garage or shed storage.
Pay attention to whether you need something easy to cut through (like pine) or rigid (like oak). But generally, the best wood for your chainsaw carving is softwood. This choice is made because softwood is easy to cut with a chainsaw since it has a weaker kickback and is also less prone to cracking.
Finally, try not to get hung up on size; any log more than 6 inches across should be OK. If it feels right, it probably is.
The Best Types of Wood for Chainsaw Carving
There are many types of wood, but I only recommend six kinds: oak, cedar, cottonwood, red cedar, basswood, and Ponderosa.
1. Oak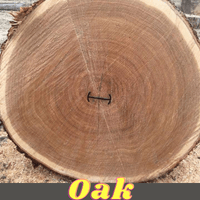 One of our top picks for chainsaw carving, oak, is a dense hardwood that helps you create detailed sculptures.
Features that make Oak Best for chainsaw carving
Oak works well for carvings because it has a thick grain that's also pretty dense, meaning that your carved piece will have lots of texture. You don't want anything flimsy!
The wood's hardness is particularly good for adding details to intricate designs. However, we recommend choosing another type of wood if you're starting. Oak is also available in large quantities, and lumber from freshly felled trees will carve better than older trees.
check Best Chainsaw for oak trees
2. Cedar
Cedar is a good choice if you prefer smooth lines and shapes to anything else.
It doesn't work well for textures, but it does mean that even unfinished pieces will be light-colored and interesting-looking.
Cedar is a good choice for ornamental cuts as it's softer than most other woods and easier on your chainsaw blade. It holds detail well, with its delicate texture, so you can use it to carve shapes with lots of detail (like faces).
The softness of cedar means that it's often used for sculptures or furniture rather than carvings. Soak it in water first if you decide to cut something out of cedar. Otherwise, you risk checking—that is, weakening—the wood by cutting across fibers rather than along them. Put your block of wood into a plastic tub or bucket full of water, and leave it overnight.
3. Cottonwood
Cottonwood is your best bet if you start looking for a light wood that won't cause too much vibration.
It tends to be soft, so it's also safer than other types of wood if you don't have much experience with chainsaws.
Since it doesn't contain resin, you don't need to worry about gumming up your saw with tree sap or pitch.
It will not easily splinter unless there are knots in the tree trunk, so use caution when selecting lumber from which to carve.
And while it tends to be softer than other woods, carving complex objects into cottonwood can lead to stress fractures along the grain.
Be aware that even though woodworkers consider Cottondale soft enough for fine-tuning, experienced carvers may find it difficult due to its tendency to split. So stick with smaller projects before moving on to bigger ones, like picnic tables and lamp bases. You can purchase a 2-foot by 4-foot plank at most big box stores and cut it away!
4. Red Cedar
Red cedar is widely used in various projects because of its clean, sweet smell and distinctive golden hues.
This softwood is relatively easy to carve, doesn't dull chainsaws quickly, and easily absorbs stains. It's often used in boats because it has a natural resistance to rot, making it an excellent choice for outdoor projects.
Red cedar holds paint well and won't splinter when cut or sanded. And it may be one of your best choices if you intend to use your carving as a business; some customers may be allergic to other woods, so cedar gives you lots of options. Finally, insects don't eat cedar—which means fewer termites!
If your carving is for outside, you need to know how to protect it
5. Basswood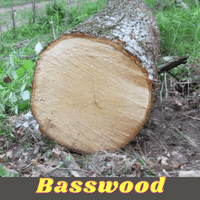 Basswood is a popular choice for beginners and seasoned carvers alike.
Although it falls into the category of hardwoods, it's easy to work with and is less likely than many other kinds of wood to crack or split while working on it.
It also takes paint well, allowing you to produce unique works of art!
The only real drawback to basswood is that it can sometimes be difficult to find at your local home improvement store; instead, visit a specialty lumber supplier. They should have several varieties available in varying thicknesses, making buying basswood easier and more affordable!
6. Ponderosa
This wood is one of my personal favorites. Because ponderosa pine is so straight and has a more open grain than most other pines, it's perfect for carving. Plus, it's native to North America. Because of their hardiness, trees remain standing long after harvesting. A bonus? It's available in just about every hardware store in the country!
Other Considerations of the Best Wood for Chainsaw Carving
The type of wood you choose is always essential.
Pine

,

Cedar and redwood are good choices if you're new to chainsaw carving because they carve easily with minimum effort.

Oak, ash, maple, and birch are tougher woods that also make excellent chainsaw sculptures but require a little more patience and skill.

And then there are harder-to-carve woods like mahogany, Bubinga, teak, eucalyptus, and ebony.
These varieties may look hard to work with—and sometimes they are!—but there's no reason not to try them; it's all about practice!
Factors to consider when choosing wood for chainsaw art include
In addition to considering whether you have experience or training, there are several other factors you may want to consider when choosing wood for chainsaw art.
1. The type of wood is one crucial consideration. For example, you may want softer woods such as basswood (also known as linden) that carve easily but aren't recommended for extended carving sessions because they can chip.
2. The density of grain: the closer together the grains are, generally speaking, the harder it will be to cut. It's also worth noting that these should be considered when planning your design if a piece has knots. You don't want to create a detailed design only to realize later on that there are knots in some of your key areas!
Certain types of wood should not be used for chainsaw art at all due to their natural tendency to explode or split apart into large chunks during cutting. These include eucalyptus trees.
3. Safety: Safety should always come first when dealing with sharp tools such as a chainsaw. Keep your eyes protected from flying debris, and keep your pants, legs, or sleeves away from the blade when using a saw.
The specks of dust created by woodworking can be dangerous if not appropriately filtered; many professionals wear masks while working.
Putting yourself in harm's way defeats the whole purpose of creating an artistic work out of nothing more than nature's bounty!
4. Check to ensure that you're paying for a high-quality chainsaw. Many stores try to sell low-quality saws painted green to appear professional at meager prices.
frequently asked questions
Is Pine good for chainsaw carving?
If you want something cheap and easy to carve, go with pine. Pine can be sanded down into a smooth surface, making it a good wood choice if you are just learning how to use your chainsaw. This wood is most commonly used in craft projects. It is also an easy wood to find at your local home improvement store. Like cedar, pine can warp after it has been cut, so ensure you have access to a dry place when you cut your pieces of wood for carving. We have more on chainsaw carving pine. 
Is Oak good for chainsaw carving?
Oak is a fantastic wood and is one of my personal favorites. It has a tight grain that cuts very easily and is relatively inexpensive. But be warned; it doesn't have high tensile strength and will break if you hit something hard with it (like a rock or tree root). Oak is best used when working on an indoor piece without such obstacles. If you decide to use oak, I recommend treating it before using your chainsaw by sanding down its top layer to highlight a nice contrast between your work and its natural coloring. Oak looks great with many colors, so feel free to experiment!
Conclusions
If you're looking for a new hobby, chainsaw carving is an excellent option. It's surprisingly accessible and advantageous. However, some woods are better suited to use with a chainsaw than others. If you want to start your project, be sure you're using wood that's easy on your chainsaw—choose softer or dried hardwoods like walnut or basswood.