Chip carving, like many crafts, requires the right tools to do it right. The right tools will take your skills to a higher level, whether you are a beginner or a pro chip carver. Therefore, the best chip carving knives are essential for chip carving. However, selecting the necessary chip carving knives, especially with so many carving tools available, is more complex than it may appear. This guide will walk you through everything to look for when shopping for the best chip carving knife. In addition, it helps you choose the right one based on your experience level and budget.
If you're ready to start this great craft, read on!
Best Chip Carving Knife
Detailed review for  TwoCherries Long
If you take good care of your knife by storing it safely when not in use and cleaning it after each use, you should be able to pass down your two cherries' long chip carving knife for generations.
Main Features
It's a traditional chip carving knife with a long, tapered, high-quality steel blade that lends perfectly to fine detail work and whittling.
The blade is also highly versatile and can be used for other woodworking applications such as spindle work and cross-grain sculpting.
The handle is made of hornbeam hardwood for good comfort and control.
It comes sharpened, but you must resharpen it before using it.
Perfect for all experience levels! However, the grip is small, so we highly recommend wrapping masking tape around the handle to make it easier to hold on to without slipping if you have large hands. The knife will also require sharpening and honing before use and resharpening and honing regularly.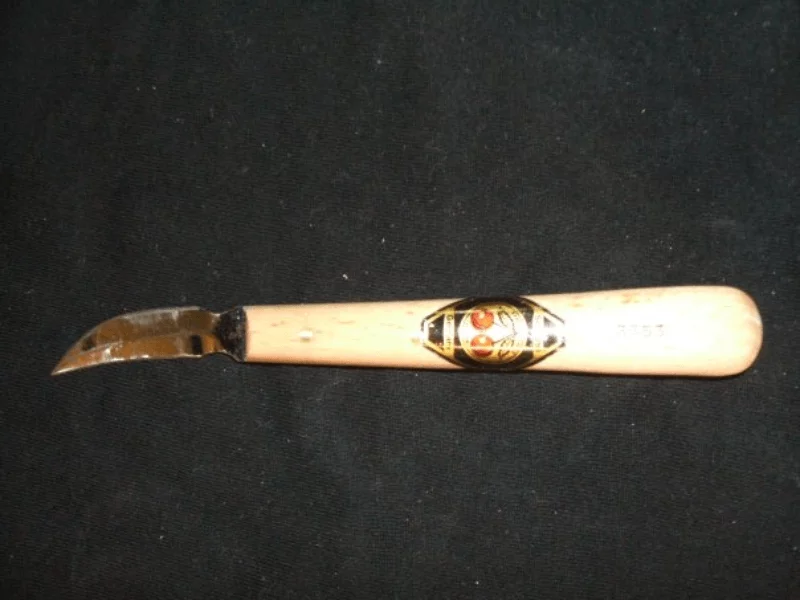 Pros
The knife is readily available at a reasonable price
Easy to use, especially for beginners
The blade is made of good quality
cons
It has a small grip which is hard to grip for people with large hands
The grip is slippery, and it requires you to use gloves
The knife requires resharpening before use
I highly recommend this knife for chip-carving newbies and those who want to spend less on their first whittling knife.
If a two-cherry long knife differs from the knife you're looking for, here are our runners-up.
Detailed review
If you're starting with chip carving, you need a knife that is both safe and easy to use. This S55 chip carving knife is perfect for the job.
When I first bought this chip carving set, which has three knives, I was so impressed by its sharp blades, all made from carbon steel. These blades are better than I thought, especially at this price point. Even after a few cuts, the blade maintained its sharp edges. I was also impressed by the leather pouch it comes with, as it helped me keep my blade safe and secure when I was not using it.
The unique handle design allows for more control, making learning the basics of chip carving easier. The handle can fit most hands, but the handle was uncomfortable and quite bulky. However, with a little sanding on the handle with my belt sander, I could fix this and make it comfortable to my preference.
It is well-designed so that novice and experienced woodcarvers can use it quickly and easily.
Pros.
It comes with a sharp blade right out of the box
 The blade holds the edge greatly and requires less sharpening.
 Its very thin blade makes it possible to carve a very intricate design.
 It comes with a stropping kit for polishing your knives.
Cons
The handle is not very comfortable
 They do not include carving gloves in the kit.
All in all, the S55 Chip Carving Knives are an ideal choice for
Detailed Review
PFEIL's blade is made from high-quality steel and can hold an edge for a long time. It also comes with a safety sheath that enables you to store your knife safely, and you'll love how well it balances in your hand. It makes carving simple wood fun!
This PFEIL carving knife is a terrific starter for small projects. The thickness of the blade allows for easy cuts, and its tight neck makes delicate, intricate cuts much more accessible than other options.
It's also durable: each piece is made of one solid piece of steel, so you don't have to worry about it snapping in half during use.
You can trust that you won't dull its blade over time; through high-quality manufacturing, users find that they can keep using it without needing to sharpen or replace their knives.
Most people find they can use their PFEIL carving knives longer without worrying about a replacement—or sharpening—which is unheard of compared to other brands in today's market.
Pros
The blade is pre-sharpened and can be used right from the box
The blade has high edge retention that most knives
The handle has a comfortable grip
Cons
The flexibility of the handle is sometimes disappointing
 stainless is more resistant to rust but dulls faster
Detail review
The Hutsuls knife was developed in Western Ukraine by renowned horticulturalists who were master craftsmen. As such, it's no surprise that he created an innovative tool that revolutionized chip carving knives!
The Hutsuls utilize many of his horticultural innovations, which allow them to cut wood much more effectively than traditional chip carving knives.
For example, each blade is made from high-carbon steel, heated, and folded over 300 times before grinding. This results in incredible strength, durability, and sharpness—it can even cut glass without chipping or dulling.
Combine all these features with a gorgeous design that makes it easy to grip and control, and you have one of (if not) the best chip carving knives on the market today! The perfectly ergonomically designed handle and ashwood construction allow you to work for long periods without becoming fatigued.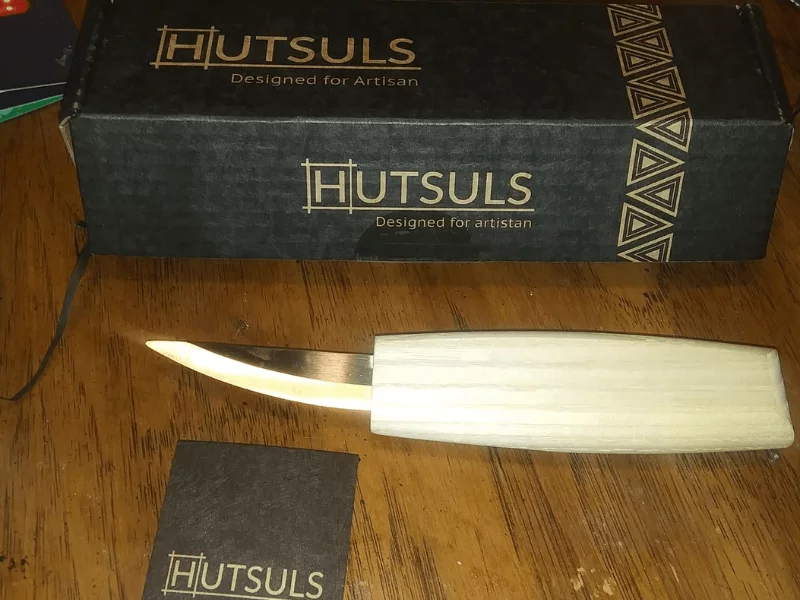 Pros
The carbon steel blades are razor-sharp right out of the box and will serve you for years of wood chipping.
They have an ergonomically designed handle which allows you to use them longer without getting tired.
They are packed in a beautiful box, unlike other chipping knives
It is ideal for professionals and beginners
You should get it! It's incredible! Please do yourself a favor and buy it.
Do you know how everyone always tells you to invest in high-quality tools because they last longer? If you have yet to notice, people are correct about such things. Please, get it!
Others Chip Carving Knives
The BeaverCraft C2 comes in second on our list of the best chip carving knives. This knife is an excellent chip carving knife for beginners and intermediate carvers. An award-winning carver created it, and it shows in the design.
It is well-designed so that both novice and experienced woodcarvers can use it quickly and easily. The handle feels nice on the hand. The handle can fit most hands, but you can do some modifications to satisfy individual dexterity and fit.
Main features
The size of the blade caught my attention first when I bought it. This 6.5-inch blade is a good size for most projects and allows precise cutting.
The thin pointed tip of the knife has an added advantage when dealing with delicate cutting on tight areas of detailed designs. The manufacturers have also done us the courtesy of sharpening it before delivery.
The blade is very sharp right out of the box, and you can start using it immediately. Not only does it come with a sharp edge, but it also includes a sharpening stone for quick touch-ups when you are out carving!
Unlike knives that will become blunt immediately after one project, the C2 blade can hold the edge quite well and remain sharp after long hours or weeks.
Its high-quality steel construction makes it highly durable, allowing you to use it for years without needing a replacement.
The handle is worth mentioning because it is very comfortable, especially when working long hours. After all, it does not fatigue you. This whittling knife has a much more ergonomic handle made of hardwood oak and is finished with natural linseed oil. It enables extended periods of comfortable wood carving without hand fatigue.
The nice thing about knives with replaceable blades is that you can buy one of each style or just enough for one project at a time and then change them as needed; they even sell these replacement blades on Amazon! I would invest in one of these if I were getting started in chip carving.
Positive features
The knife maintains a sharp edge even after long hours of using
The blades come Very quickly out of the box.
Its ergonomic design handle enables extended periods of comfortable wood carving without hand fatigue.
The edge is a good size for most projects and allows precise cutting.
Negative features
Although the knife appears in good condition, its initial sharpness is not impressive. If you want a professional edge, you'll need to give it a few passes with a good whetstone.
Flexcut makes carving knives that are professional-grade, high quality, and readily available online. Furthermore, they have almost every knife you need to carve chip carvings. Whether you do it professionally or for fun, these knives will produce satisfying results.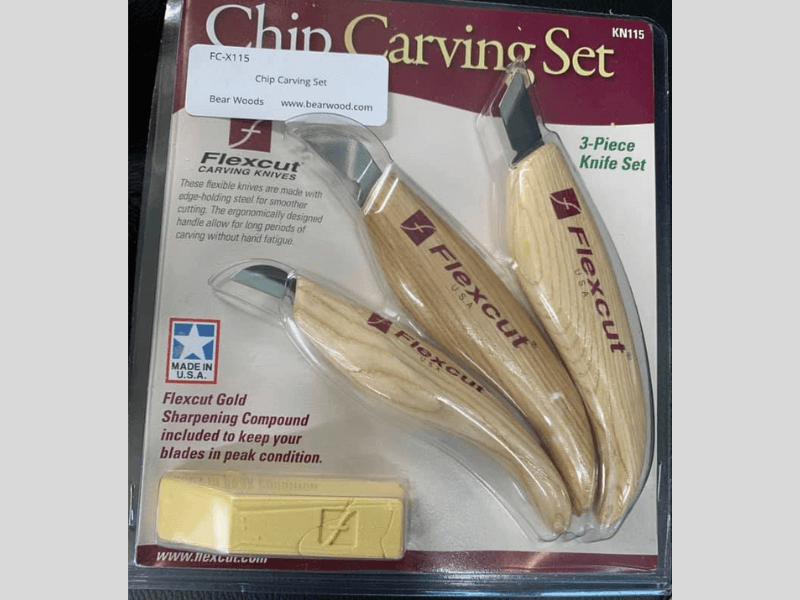 We recommend this set to people that don't want too much choosing between every single chip carving blade. This set gives you three blades that are perfect for beginners. A good investment that can see you develop both sharpening and knife-using skills. 
Main features
Flexcut has always been a respected name in wood carving tools, but they are best known for their woodcarving knives. Their best-selling model in chip carving is their KN115 kit which comes with a set of 3 different carving blades, which include;
Mini-chip carving knife – for incredibly intricate chip cuts that require extreme precision
a chip carving knife –
A skew knife- ideal for making vertical cuts, especially when space is limited
These will ensure you get started on your career path. These durable blades from high-quality, high-carbon German steel are perfect for sculpting and carving hardwoods like oak, basswood, mahogany, walnut, birch, and cherry. You'll also be glad to know that these harsh, long-lasting blades are sharp enough right out of the box, so you don't need to spend time sharpening them. The knife handles are all ergonomically shaped and made of solid ash, allowing extended use without tiring the hands.
Positive features
The blades are sold together with a bar of Flexcut Gold Polishing Compound to help keep your blades carving like new
The edges come sharpened and ready to use
Negative feature
Despite the pre-sharpening of the blades, their initial sharpness could be more impressive, and some customers complained that the edges were dull.
Carbon steel holds an edge better but rusts easily.
However, if you're looking for an affordable yet well-made product to start your first project or if you already carve professionally, a set of Flexcut chip carving knives will suffice.
These are some of the most popular and well-known carving knives available today. They're great for people just starting with carving, as they're easy to use and hold. This wood carving tool kit comes with five knives. The wood carving tool set includes:
A curved hook knife.
A whittling knife.
A chip detail knife.
A leather strop polishing compound.
A storage bag.
Main features
Using them for a long time will not harm your hands since they have a comfortable handle that's easy on your hands if you have carpal tunnel syndrome or arthritis.
These tools are made from high-quality premium carbon steel, so they don't need frequent sharpening and have high edge retention. But they should be treated regularly so rust doesn't damage them.
They come with a bag for easy storage and transporting your wood carving set anywhere. For best results, keep them dry when not in use.
They are multipurpose:
Wood Chip Carving Knife: Designed for delicate wood cutting and minor details, make your woodwork better.
Wood Carving Knife: Designed for wood carving, green woodworking, whittling, and roughing wood.
Wood Carving Hook Knife: Designed specifically for wood spoon carving, carving bowl, cup, and similar concave round edges.
Strop and a Polishing Compound: It can prevent the blade from rusting, making it glossier and sharper.
Positive features
The blades and complex and would not break easily
They have a comfortable handle: a more oversized handle that fits comfortably in your hand and gives you more control.
They stay sharp even after using for a long time
You can sharpen it easily when needed too!
These knives are ideal for beginners due to their reasonably simple build and low price point.
These blades come in various shapes, such as long and thin or short and stout.
Negative feature
If you don't take caution while using the wood carving knife, it might cut you since it is very sharp
Carbon steel holds an edge better but rusts easily
What is a chip carving knife?
Depending on your carving needs, there are a lot of different kinds of chip carving knives that you can use. First, let's talk about what a chip carving knife is.
A chip in woodworking or crafting is short for chip carving, a style that uses sharp chisels or small gouges (like dentists use) to remove tiny chips from a piece of wood to create detailed images or designs.
The name comes from using those same chips as canvases for your project because they look like little pieces of wood. So if you want to chip carve, you need a simple hand saw that lets you control where and how big each cut is or a carving knife! And it goes without saying that since it's a knife, it should be razor-sharp!
Best chip carving knives: Buying guide
Factors you should consider before purchasing a chip carving knife.
Steel Quality
When shopping for the best chip carving knives, you must first consider steel quality. You want a strong and rigid blade with just enough flexibility to make it feel comfortable in your hand. The most common material for chip carving knives is carbon steel. Its intricate qualities and affordability make it an excellent choice for beginning carvers. They retain their edge far longer than those made of stainless steel.
Blade Shape
Various chip carving knives are specially designed for performing intricate cuts. When choosing one, it's important to consider blade shape. These blades come in three primary forms: straight, curved, and chisel. The general rule is: to choose a knife with the condition that works best for you and your style. Look for a straight or slightly curved blade if you want something streamlined and straightforward.
Curved blades can be great if you enjoy creating different types of cuts, but they are less effective when executing fine details. Chisel-shaped blades provide maximum control for carvers who like more freedom when making cuts. The beauty of chip carving is that there isn't just one perfect tool; there are dozens!
Handle Shape and Materials
Many chip carving knives are available, so make sure you find one that suits your needs. Pick one with a shorter handle if you have small hands or prefer a smaller knife.
But a longer knife may be necessary if you need more leverage for complex materials like hardwoods. Go for an oval-shaped handle rather than around for better grip and control when carving.
If you're working on fine details, choose a lightweight knife made of stainless steel or titanium that won't conduct as much heat. A larger knife can help keep big chips out of your way with intricate cuts.
Ergonomics
Using a chip carving knife that fits you well reduces fatigue and keeps your cuts precise. A heavy, cumbersome blade will cause you to tire quickly, which can lead to sloppy or rushed cuts. Look for a lightweight design with a rubberized handle, but choose one large enough for comfort and stability.
Dull or sharp blade
Another common mistake new carvers make is underestimating how much pressure they should apply. Use more force than you think necessary (but never put yourself at risk), especially when using detailed patterns. Never use a dull blade on wood, either!
Dull knives are far more dangerous because they put extra strain on your hand and wrist; always sharpen before beginning a project with intricate details. Dimensions and weight of the knife you'll want a blade that is neither too heavy nor too light.
You should be able to control and handle your knife for hours without tiring. On the one hand, lightweight knives can slip off your carving lines easier than heavier knives; on the other hand, heavy blades can weaken your arm after prolonged use.
width or thickness of the knife
Depending on what you want to carve, the width of a chip carving knife can range from 3/16 inches (for fine detail work) to around 34 inches. 
Thicker blades are great for heavy-duty work, but they can slow you down—the thinner your edge, the quicker it will cut through wood and minimize waste. Thin blades also help with small details; imagine using an almost inch-thick knife!
Tool readiness
Choose a knife that is ready for use immediately after buying that is a knife that is already sharpened from the factory. A dull blade does more damage than a sharp one, so make sure your knife is as strong as possible. That said, avoid dulling it out by cutting soft materials or at too steep an angle—these things will cause your blade to lose its edge quickly.
How to sharpen a Chip Carving knife
You must sharpen your knife before every use. It might seem like a hassle, but it will make cutting through wood easier, safer, and quicker.
Sharpening chip carving knife with a whetstone
Horning is a crucial step in knife sharpening. The sharper your knife is, the more details you can carve. It doesn't matter what type of metal your carving knives are made from; you must sharpen them all on a stone.
Hold your knife at an angle of about 20 degrees in front of you with one hand (right if you are right-handed) and hold onto a whetstone with your other hand. Move it across and away from your body while pulling it towards yourself.
This should take about ten strokes on each side. If you have more money than time, visit a professional sharpener specializing in knives regularly. If not, be sure to resharpen after carving each piece.
Also referred to as wet sharpening, water is a lubricant for removing scratches and burrs during carving. It also creates a smoother edge than dry sharpening on sandpaper or other abrasive surfaces. Water stones do not require maintenance but regular flattening before use.
Wood carving is genuinely an art form; properly caring for your tools and following these directions can create beautiful carvings for years to come!
Sharpening with sandpaper.
Sandpaper is excellent for creating sharper edges on your chip carving knives.
Gently rub it in a circular motion over both sides of your knives' blades to keep them smooth and snag-free.
Only do so after carving; you may accidentally slice through any wood you've already started working on.
If your knife feels duller after prolonged use, use sandpaper and sand its blade with coarse-grit sandpaper to make it shine again.
Polishing with leather strops
We use a leather strap for razor sharpening. Strop your knife regularly after using it.
While stropping, place each side of your knife against one side of each groove on your strop while keeping it flat across.
Stropping is for giving an even blade all around. You don't want any burs or bumps near the tip of your knife. This could lead to possible injury when carving. If they appear, use emery paper or sandpaper (for woodworking) and lightly rub that spot off until it smooths again.
What is the best wood for chip carving?
Maple
Maple is a popular wood for chip carving because it's tough and holds up well over time. The tighter grain structure means that you can see small details. However, it's also harder to work with than other types of wood,
So I recommend starting with basswood or poplar.
They have softer grain structures, making them easier to carve detail into while giving you a final product that doesn't show wear over time.
Basswood
It is lighter in color and thus shows intricate details best;
poplar
Has a more muted coloring that makes it ideal for depicting smooth surfaces, such as animals
Questions related to chip carving knives
What size of knife is right for you
Your project will determine the size of your knife:
More extensive carvings will require larger blades.
A smaller blade works best for exemplary chip carving projects because it's easier to keep cuts straight and consistent.
Generally speaking, knives come in one of three lengths: 3 (76mm), 4 (102mm), or 5 (127mm). Shorter blades may require multiple passes to get your design down; longer blades are harder to control and produce less detail.
Ultimately, you should pick a size based on comfort and control; if you have larger hands than most family members, starting with a longer blade will give you better precision later. If you're uncertain about the blade's length, I recommend using a smaller model—you can always upgrade.
How do you start chip carving?
Like many other woodworking projects, chip carving is something you learn through practice.
Please start by selecting a design you want to carve and trace it onto your board. Then, using one of these knife options, carefully begin carving out your plan by following your outline.
As with any woodworking project, keep a sharp blade handy and always pay attention to what you're doing—don't rush; chip carving takes time. And remember: More than anything else, have fun!
How do you know what size of an end-grain carving knife is right for you?
If you're wondering how you can determine which size of an end-grain carving knife is right for you, there are a few things to consider.
Most importantly, you understand what size knives will fit your budget and what project you'll use them for.
Let's look at some of our favorites, and I can help guide you on what to look for in an end-grain woodworking tool! Beginners and professionals alike are often faced with a hard choice. They've got three questions: What size should I get? How much do I want to spend? And what brand is best? However, it turns out there's only one thing you need to know before making your decision:
What type of woodworking project will you be doing most often?
Most new chip carving artists start on small projects, such as cutting out leaves or small geometric designs from wood pieces. You can use coins or cereal boxes to practice making these minor cuts before taking on more extensive carvings.
You can also choose a pre-made design if you need help figuring out where to begin since many stores that sell carving tools offer these as instant downloads or templates.
If you want more detail in your work, a thicker piece of wood (such as fruitwood) will add dimensionality and detail that could go unnoticed otherwise.
Safety precautions to take while handling your tools
Finally, when storing or transporting your tools, remember to put them back into their sheaths or cases; they will be easier to carry and protected from damage!
Conclusions on the best Chip Carving knives
While chip carving is a skill that you can learn and hone with practice, there are ways you can make your efforts more efficient. With guidance from someone who's done it, you can use the right tool for the job.
For the beginner or intermediate carver who wants the best chip carving knives without breaking the bank, here's your guide to finding the right products!